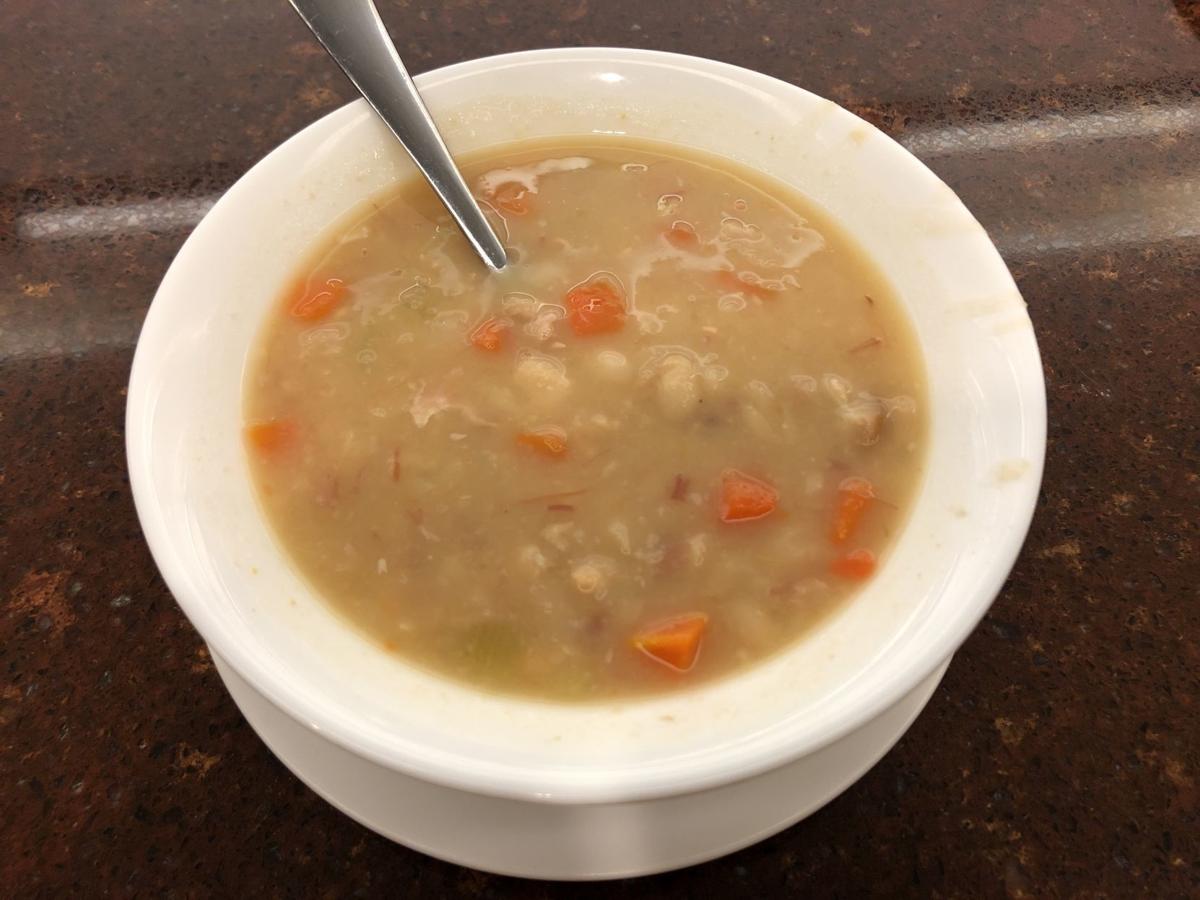 Reader Michelle Macias emailed last week to ask how best to use a bag of dry navy beans she'd managed to snag at the grocery store.
Because I am a daughter of Michigan, the second largest dry bean growing state in the country, Michelle's request literally hit home.
Little white navy beans gained their name because they were a mainstay for sailors — although Michigan's 19th century lumbermen also ate navy and other dry beans at every meal. A lot of those navy beans, then as now, came from the fertile soil in Huron County, at the very tip of Michigan's thumb, but dry beans are grown in almost every county in the Wolverine State.
Navy beans are well-suited to traditional baked beans because they hold their shape in cooking and can stand up to the long baking in that dish. They're also tender enough when cooked to mash into white bean hummus.
Sometimes I cook a couple of pounds of navy beans, use half in one or another recipe and reserve the remainder to use as an addition to salads, to mash for use in quesadillas, or to make a cold bean salad. Cooked, drained, rinsed and refrigerated, navy beans will keep fine for up to a week; it's important to drain them because their cooking liquid sours in just a day or two. If you'd like to freeze cooked beans, drain and rinse them, then place them into a container and cover with fresh water so they don't dry out.
But perhaps navy beans' highest use is in soup. My mother adored soups, especially bean soups, and we ate navy bean soup almost weekly when I was growing up. It was warming and filling, especially good when wintry winds howled around the eaves but delicious in all seasons.
While mom may have loved dried beans' flavor, I'm sure she was also enamored of the ability to provide such good nutrition at such a low cost – tasked with feeding five children and a hungry husband, she knew she could stretch her grocery money with dry beans.
Just a half-cup serving of navy beans provides eight grams of protein and a good dose of fiber, as well as folate and calcium.
My mom was a comfortably creative cook who understood the importance of building flavor. For that reason, she added diced carrot and celery to the skillet when she braised the onions for the soup.
Adding the buttery, aromatic vegetables to the soup just before serving, rather than to the stock pot, preserved their texture and flavor. Both would have been lost in the long cooking that unsoaked beans require.
Navy beans are so linked to Michigan's history that the U.S. Senate's restaurants, which have offered navy bean soup every day since the early 1900s, specify that Michigan navy beans should be used.
An Idaho senator created a version that uses mashed potatoes (or potato flakes) to thicken the soup; I am sure he wanted to honor his own state's most significant agricultural commodity, but I think the soup is best without potatoes.
For my taste, the soup is best when made with smoked ham hocks. But I have used smoked turkey wings, a meaty ham bone, diced ham from a smoked slice, and, oftentimes, a vegetarian version. The soup remains satisfying and delicious.
If you're not a meat eater, you can easily adapt this dish while still preserving its smoky flavor. Cook the dried beans as directed but add a couple of teaspoons of smoked paprika to the braised vegetables, and/or use smoked salt just before serving. You'll still get all the soup's excellent nutrition.
Vegans, you can saute the vegetables in a neutral oil; I would suggest cooking the beans in vegetable stock to intensify the soup's flavor.
Here's my mother's version of the navy bean soup served in the U.S. Senate, together with my suggestions for variations on the recipe.
The famous Senate restaurant bean soup recipe, adapted
This recipe, taken from the U.S. Senate's web site, can easily double, if you happen to have extra beans on hand. I've adapted the soup by adding chopped celery and carrot, the way my mother made it, but these can be omitted if you don't have them. I've also recast the instructions for clarity. If you don't eat meat, add 1 to 2 teaspoons of smoked paprika to the onion, celery and carrot when you braise them in the butter.
INGREDIENTS
1 pound smoked ham hocks, smoked turkey wings, diced ham
2 large carrots, cleaned and diced
PREPARATION
Wash the navy beans and run hot water through them until they are slightly whitened. Place beans into a pot with a snug fitting lid with hot water to cover by at least 2 inches.
Add ham hocks or wings, bring to a boil, cover and reduce heat to a simmer. Cook approximately three hours, stirring occasionally. Check periodically to be sure the beans remain well covered with water; add hot water as needed to keep beans covered.
Remove ham hocks or turkey wings and set aside to cool. Strip meat from bones, dice the meat and return to soup, discarding the bones.
In a large skillet over medium heat, lightly brown the onion, celery and carrots in butter. Add to soup.
Before serving, bring to a boil and season with salt and pepper.
Robin Mather is a longtime food journalist and the author of "The Feast Nearby." Follow her blog as she writes her third book, "The Feast of the Dove," at thefeastofthedove.com.
Satisfy your cravings
With our weekly newsletter packed with the latest in everything food.