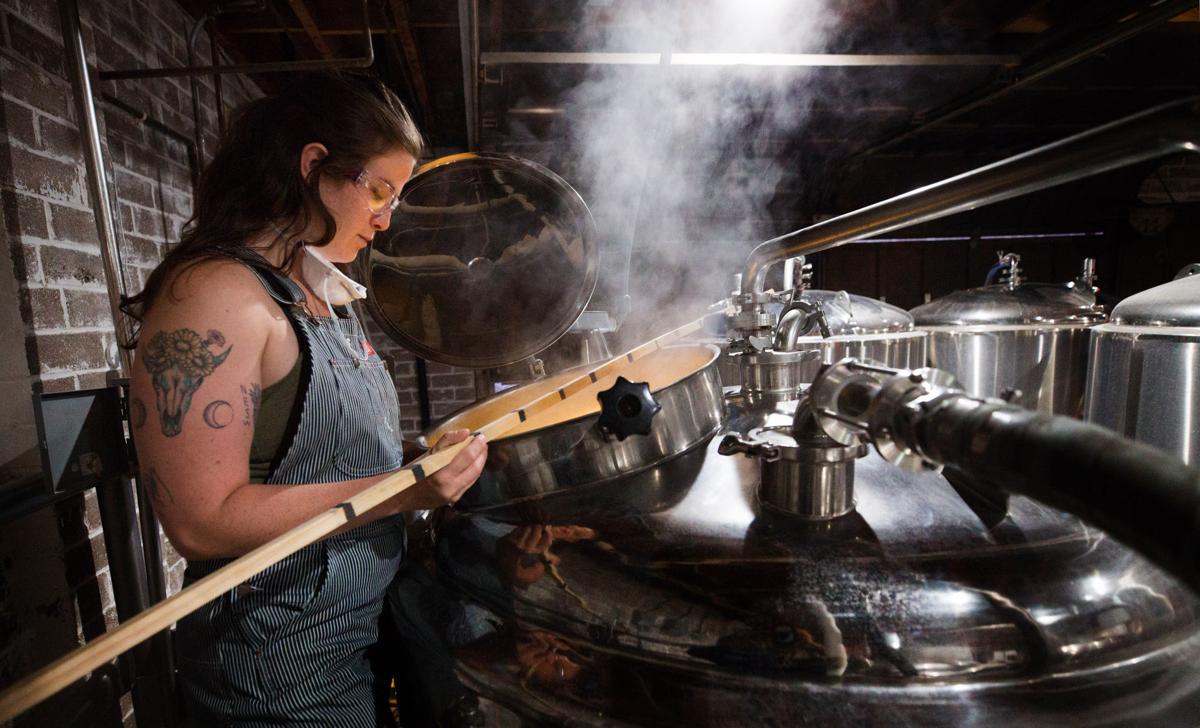 They arrived before the sun last Monday and gathered on the patio of Crooked Tooth Brewing.
The glow of a brilliant full moon hidden behind clouds peaked out above the leafy tree in the alley next to the Warehouse District brewery. Street lights cast enough of a glow on the patio to light the way for the small group to conduct their full moon brewing rituals.
It started with Crooked Tooth owner Julie Vernon lighting a fire in a small pit nearby that roared to life and nearly knocked her on her backside. Cassidy Johnson of Borderlands Brewing fanned the smoke from a smoldering santo stick with a feather onto Vernon and her Borderlands colleague Savanna Saldate one by one, head to toe, in complete silence. Then she invited the half-dozen onlookers to be "smudged," fanning the incense on each as the sun yawned awake.
Every month on the full moon for nearly two years now, this group of women brewers, members of the Tucson chapter of the all-female Pink Boots brewing club, take their cues from the universe to create a one-of-a-kind beer. They brew 10 barrels of it and when it's ready to drink, they sell it exclusively at Crooked Tooth.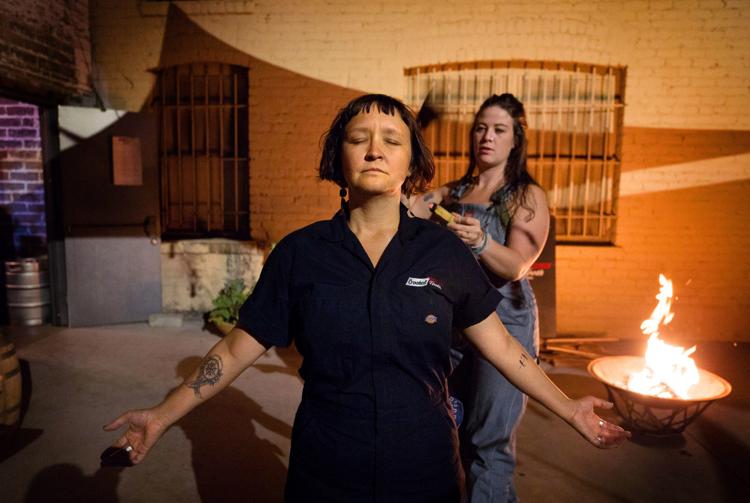 The camaraderie "is very, very special," said Johnson, who manages Borderland's production operations at the 8,750-square-foot Voltron Brewing Co. facility on West Toole Avenue that they share with Sentinel Peak Brewing.
"It's a real male-dominated industry so it's very powerful to be in a space that's male-dominated and take back that space," she said Monday after she and her colleagues had milled half a dozen 50-pound bags of grain and started brewing a kumquat turmeric Gose-style beer kissed with Himalayan pink sea salt.
In an industry that is marketed toward, and run by, men, women are starting to make their mark.
A 2014 Stanford University study found that in a survey of 1,700 active breweries in the U.S., only 4% of the head brewers were women, as reported by the advocacy group Women in Craft Beer. An Auburn University study that same year showed that women made up 29% of the workforce in brewing, hinting that women were going beyond their role as consumers of craft beer to becoming driving forces on the production side.
Arizona Craft Brewers Guild, which represents nearly 100 craft breweries in Arizona — 20 of them from Tucson — doesn't track demographic numbers of brewery employees. But Executive Director Rob Fullmer said that in the last six years, his organization that advocates for Arizona craft brewers has seen an increase in women involved in the industry as brewers and owners.
That list includes Vernon and Johnson as well as Dragoon Brewing's Ashley Azzone and Johnson's colleague at Borderlands, head brewer Ayla Kapahi.
"Fortunately that landscape is changing and more women are getting into the industry," Kapahi said one day in mid-May as she stood on a platform 8 or 10 feet off the ground and stirred the malt and grain mash in a giant gleaming tank.
HOLDING THEIR OWN
Borderlands is the only brewery in the state with an all-female brew crew, something that owner Mike Mallozzi said was not intentional. But when he started the brewery in 2011, "there was an intention to seek out underrepresented folks in the industry," an issue that he and his business are championing, he said.
"As far as I can see, women, especially on the production side, have a dogged work ethic as they are compelled to 'prove' themselves in this old boys club industry," he said. "Besides that they often have the emotional intelligence required to navigate today's tricky workplace."
Brewing on the scale of Borderlands, which produced 1,511 barrels — more than 45,000 gallons — of beer last year, is a physically demanding job that can often stretch into 10- and 12-hour days when they are brewing. On that mid-May morning while Kapahi was stirring the mash and adding buckets full of malt and oats from 50-pound bags at her feet, Johnson was hauling 31 55-pound bags of grains by hand from wooden pallets on the cellar floor. She hoisted them up to Saldate, who was standing on the elevated mill a few feet away.
Saldate lifted each bag to the lip of the mill and ripped them open with a knife, pouring the contents into the machine that sent the freshly ground grains to Kapahi at the mash tank.
"One of the things I like about this job is it's physically demanding," Johnson said. "I love that I don't sit at a desk all day."
Kapahi admits that when she first started commercial brewing about four years ago, she worried if she would be strong enough to do the physically demanding job. She stands 4-foot-11 and weighs 100 pounds — not much more than the weight of the bags of malt and oats that she scoops from when making beer.
But along her journey, born of a love for homebrewing, her mentors have encouraged her, assuring her that brewing is much more than just a blue collar physical job.
"There was never this assumption that you can't do this," said the California native, 28, who came to Tucson to earn a Ph.D. in family studies and human development at the University of Arizona before leaving academia to pursue brewing full-time.
Kapahi landed her first job with Public Brewhouse, where she spent three years learning the ropes before Mallozzi brought her in last year to fill in when their head brewer left.
After a few months, she ended up landing the job.
"Every day I wake up and it's like, 'How did I get here?,'" Kapahi said of going from hobbyist to head brewer of a commercial brewery.
Johnson, 25, started working in the tap room of Borderlands while attending the UA's school of film. By the time she earned her degree in 2017 she had pretty much made up her mind that she was going to make a career in beer. Mallozzi promoted her to production operations manager last May.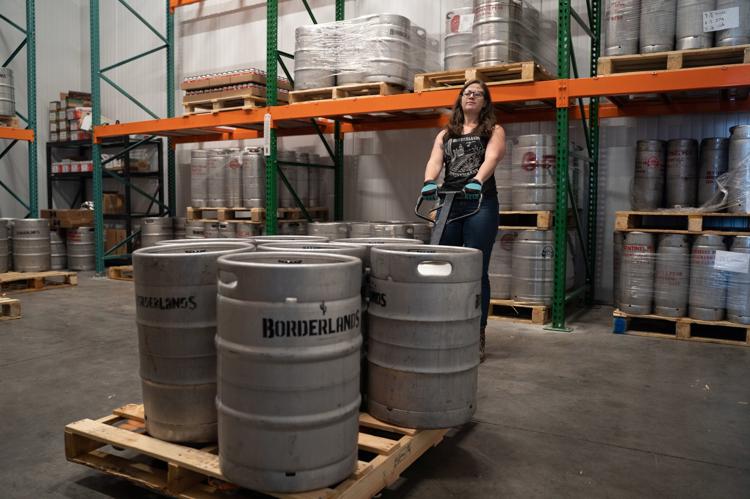 Saldate, 28, has a degree in family studies and human development from the UA, but working in the craft brewing industry, she said, is more fulfilling.
In addition to being a cellar worker at Borderlands for the past six months — assisting with the milling and cleaning out tanks — she works part-time as a bartender for Crooked Tooth.
"I love it," Saldate said. "I am learning so much every day. I'm in no hurry to get to the brew deck, but one day."
Dragoon's Azzone started working at the brewery as a draft tech in 2013, driving to area bars that carried Dragoon on draft and cleaning out the tank lines. Over the past few years, she has done everything from packaging beer to bartending before landing in production two years ago.
"I worked hard and made my way from the bottom up," said the 31-year-old former preschool teacher, who is expecting her first child this month. "Being a woman in an industry dominated by males, it has shown me that it doesn't really matter as long as you are knowledgable and work really hard and know what you are doing. ... I have made it pretty clear from the beginning that I can hold my own. I've never felt more supported in any job than I do there."
It will be weeks before Crooked Tooth taps into the June installment of the full moon brew in mid-July, at the next full moon.
Those beers are "always one of our top sellers, if not our top then the second or third," said Crooked Tooth's Vernon, a mother of three who started the brewery with her husband Ben three years ago. "It goes really quickly. People come in specifically for the moon beer, which is super exciting."
The ritual behind the ceremony of the full moon brew is shamanistic — Vernon has studied shamanism for years — but it's more about the sisterhood Tucson's female brewers have formed over beer.
"We obviously really, really love beer and we love all different styles of beer and we love crafting it," Vernon said. "One of my favorite things about beer is that it brings people together. You get to laugh and connect. It's kind of like a bridge. You sit down with a beer and there's a lot of connections that happen."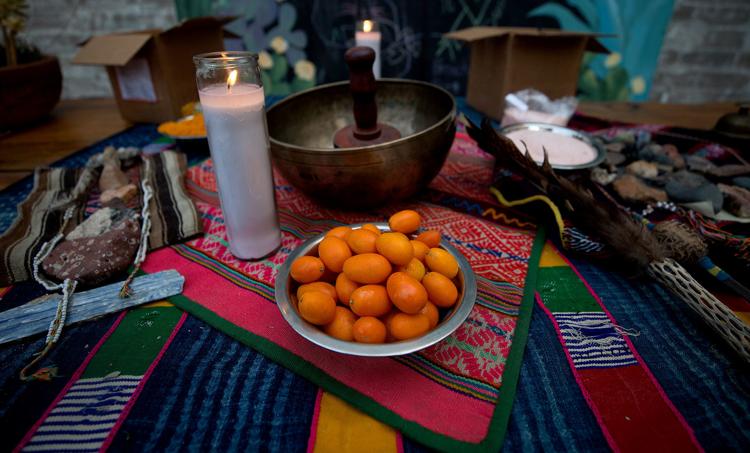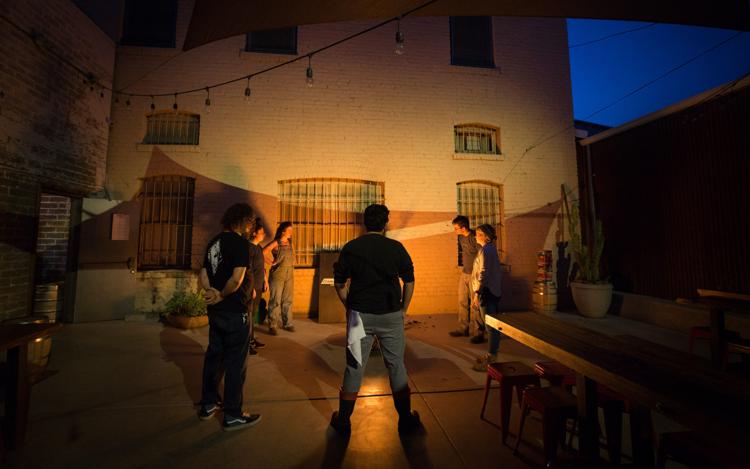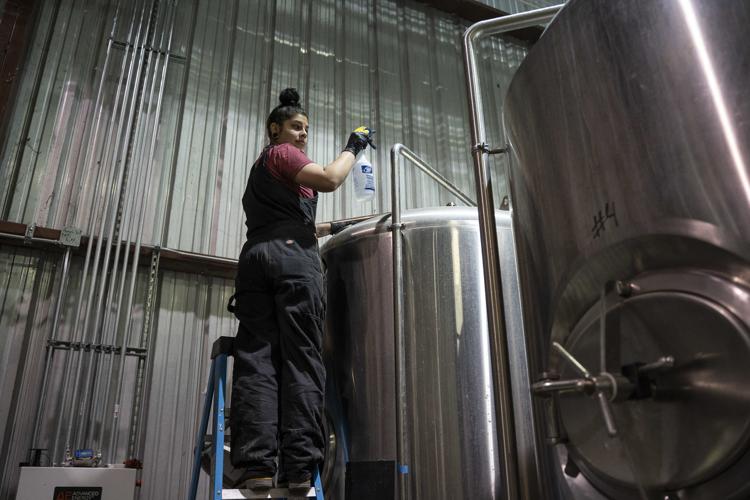 Contact reporter Cathalena E. Burch at cburch@tucson.com or 573-4642. On Twitter @Starburch
Satisfy your cravings
With our weekly newsletter packed with the latest in everything food.