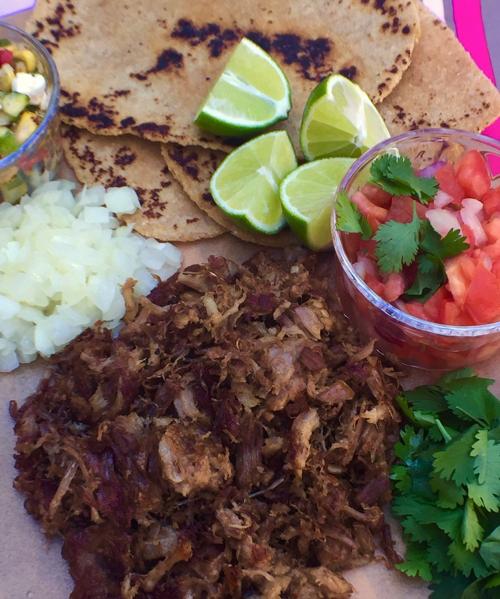 It's cool enough to make this Michigan transplant want stouter dishes for dinner, but not so cool that I want to heat up the kitchen with a long braise.
Instead, I turn to my Instant Pot – one brand of electric pressure cookers – to get that long-cooked flavor. I use mine several times a week, for everything from beans to pot roasts to chicken pieces to soups and stews to carnitas and shredded beef. Because I chronically forget to plan dinner, its speed makes long-cooking dishes easy to achieve on weeknights. It seems like its stainless-steel cooking pot is always in the dishwasher.
After writing about Sonora white wheat last week, I was eager to make a batch of flour tortillas. I haven't made flour tortillas in some years because I don't have to. We can get such excellent tortillas here in town that there's no need to make my own. But the memory of their deliciousness, still warm and fragrant from the griddle, served as a powerful motivator. And I was curious about the wheat's flavor in tortillas – I liked the idea of my palate knowing what Father Eusebio Kino probably tasted those many years ago.
One thing led to another, as it usually does for me in kitchen matters, and I decided to make carnitas to go with them.
There is something seductive about carnitas. The silky texture of the shredded pork contrasts with its crisp browned bits, and its rich fattiness brings a sense of luxury to a dish made from inexpensive ingredients.
Traditionally, cooks make carnitas by simmering chunks of pork in their own fat, usually with citrus juice, until the meat is tender and almost falling apart. Usually the meat is shredded with a couple of forks, but I've learned yet another lazy cook's shortcut. If you have a stand mixer, you can quickly shred any kind of meat by fitting the mixer with the paddle attachment and, working in batches on the lowest speed, let the machine do that tedious job.
Other cultures make carnitas, too, but they call them by different names, of course, and flavor them differently. In France, they're called rillettes. Germans call them zupfbraten. On the Yucatan peninsula, they're known as cochinita pibil.
I would hazard a guess that every culture where pigs play a role has a similar dish, if only because it's a good way to render tougher cuts more appealing. But because I'm now in Arizona, I use our name for the dish.
I don't make any claim that my recipe is authentic, however. As with most of my cooking, I work on instinct. My goal is always to create something that pleases me, as I hope this recipe will please you.
There's a little pork belly in my recipe because I wanted it to render its fat so the chunks of pork shoulder would have plenty of fat for their braise. Pork is much leaner today than it once was, and the pork belly provided a little insurance. Omit it if you wish.
Having a big batch of carnitas portioned out in the freezer provides a sense of security that I can't describe. With that on hand, I know tacos, quesadillas, burritos, enchiladas and more are just moments away. They're good at breakfast as an alternative to bacon or sausage, and they're good as a pulled-pork sandwich, sometimes with cheese but usually without. If that supper salad looks a little sparse, carnitas can save the day. A lazy cook's dressing made from half salsa and half mayonnaise complements them nicely in such a supper.
But most commonly, I eat them as tacos or quesadillas, because both are fast and easy to prepare from ingredients I commonly have around the house.
Paired with my admittedly rustic tortillas, misshapen and a bit gritty because I milled the flour but didn't bother to sift it, my tacos with carnitas were a sensual delight. Here's how I made them.
Instant Pot Carnitas
Makes about 3 pounds, or 12 servings
If you don't have an electric pressure cooker, carnitas are easily made in a slow cooker (3 hours on high) or in a Dutch oven in the oven (2 to 4 hours at 325 degrees). If you make them up to the shredding step, you can freeze them in portions and then crisp them by heating in a hot skillet or under the broiler. Then you'll have them on hand for tacos, burritos, chimichangas or enchiladas for easy suppers or weekend lunches.
Ingredients
3½ pounds boneless pork shoulder, cut into 2-inch cubes
½ pound pork belly, cut into 1 ½-inch cubes
Juice of 2 large navel oranges
6 cloves garlic, smashed and peeled
1 tablespoon chipotle powder or hot smoked paprika
1 tablespoon dried oregano
Pico de gallo or salsa, for serving
Chopped onion, for serving
Fresh cilantro leaves, for serving
Warm tortillas, for serving
Preparation
Combine pork shoulder, pork belly, orange juice, lime juice, garlic, onion, chipotle powder, cumin, dried oregano and salt in the Instant Pot.
Stir to make sure the seasoning mixture contacts all the pork.
Cover the Instant Pot and cook at high pressure for 40 minutes. Carefully release steam manually. (See cooking instructions and times above for slow cooker or oven cooking.)
Transfer pork to a baking sheet and shred roughly with two forks.
Or shred in batches in a stand mixer fitted with the paddle attachment.
Beat at low speed until the meat is shredded to your satisfaction.
Stir in enough of the cooking liquid to just moisten the shredded pork.
Serve immediately with warm corn or flour tortillas or portion the pork to freeze for longer storage.
Robin Mather is a longtime food journalist and the author of "The Feast Nearby." Follow her blog as she writes her third book, "The Feast of the Dove," at www.thefeastofthedove.com