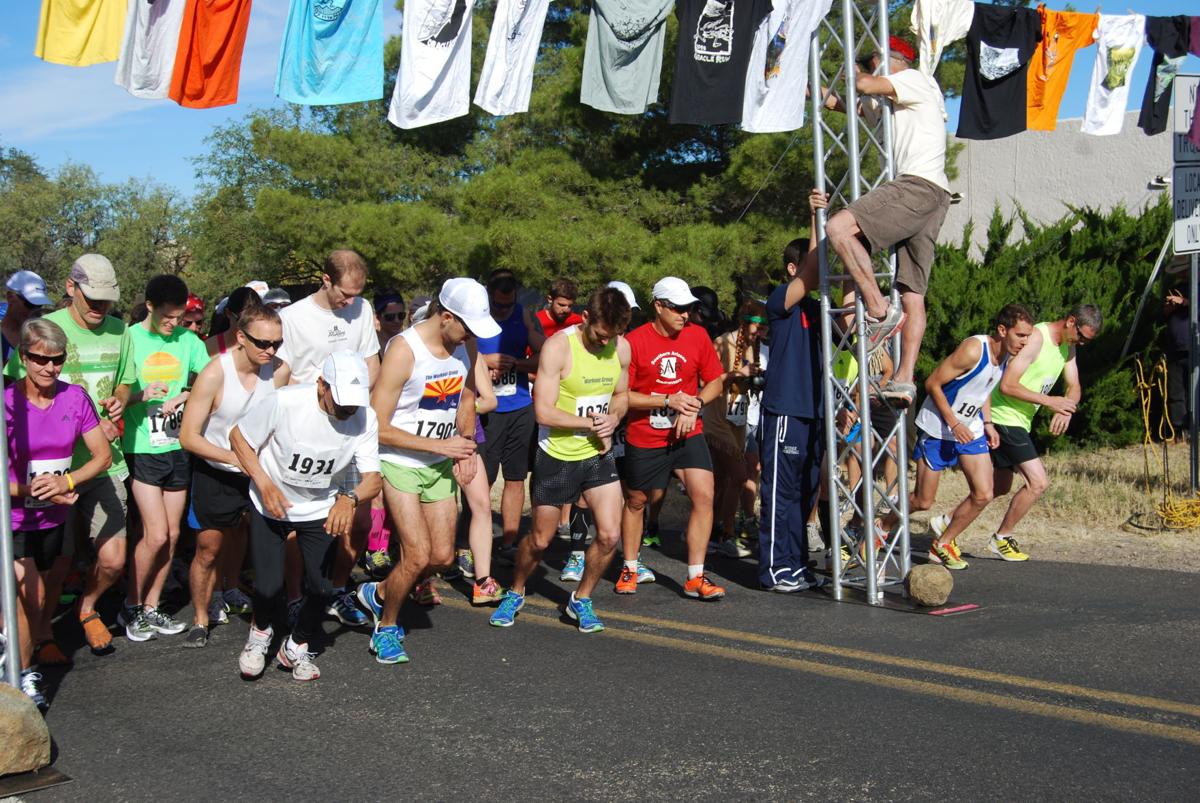 Welcome back to the Get Moving Tucson column. Last week we talked about some basic tips and strategies to help us get in shape. A few moments of stolen exercise every day goes a long way to a longer, healthier life.
Speaking of going a long way, statistics from the Road Runners Club of America and RunningUSA show that the two most popular running race distances in America are the 5-kilometer and the half-marathon.
The 5K distance is the most popular race distance in the country, mostly because most everybody can get in shape to walk or jog for 3.1 miles. The 13.1-mile half-marathon distance is popular because it's far enough to be a big challenge but not so far that you have to be an elite athlete to do it.
Now that you have started to do some daily exercise, it's time to pick an event to aim for. We all know that the process of getting in shape is easier if we have a goal in mind. Tucson's nonprofit running club, the Southern Arizona Roadrunners, produces a number of events every fall, but there are many other runs and walks in the Tucson area in September and October. These events often provide T-shirts, completion medals, and post-race activities to registered participants.
Let's take a look at some of them:
Today, Sept. 5: The 47th Annual TMC Saguaro National Park Labor Day Run continues the tradition of kicking off Tucson's running season. The TMC Saguaro event includes a 3.1-mile option for walkers and runners and the standard 8-mile run on the hilly Saguaro East loop road. This SAR event benefits the Friends of Saguaro and is the second leg of the 2016 Gabe Zimmerman Triple Crown. Registration has closed, but there's always next year!
Sept. 18: The Girl Scouts of Southern Arizona produce a family-friendly 5K at Brandi Fenton Park, along the Rillito River (girlscoutssoaz.org).
Sept. 24: Bring your children to the Sabino Canyon FitKidz One Mile Classic, a free 1-mile walk/run for all children under 12 (azroadrunners.org).
Sep. 25: The more adventurous can head to the Tucson Medical Center Catalina State Park Split Endz 5.2 & 10.35 mile trail race and 5K road run & walk (www.everyoneruns.net).
Oct. 2: Jim Click's Run 'n' Roll 8K and 2-mile Fun Run raises funds for the UA's Adaptive Athletic Department. This family-friendly SAR event is held on the UA Mall, near McKale Center. www.azroadrunners.org
Oct. 9: Another SAR event geared toward families is the Great Pumpkin Race 5K, a 3.1-mile walk/run through the pumpkin patch and corn maze at Buckelew Farm (www.azroadrunners.org).
Oct. 15: Q & Brew at Steam Pump Ranch, a 10K run/walk and kids fun run in Oro Valley (runsignup.com/Race/AZ/OroValley/QandBrew10K).
Oct. 22: The longstanding Oracle Run 10K and One Mile benefits the Oracle Historical Society (oraclehistoricalsociety.org or www.azroadrunners.org).
Oct. 29: is a busy weekend, with the Desert Boneyard 10K Run and 5K Walk/Run at Davis-Monthan Air Force Base (azroadrunners.org/community_events).
Oct. 29 and Oct. 30: The TMC Get Moving Tucson Halloween Running Festival weekend includes four running and walking events in downtown Tucson.
Oct. 29: Look for the Cox Charities FitKidz One Mile, open to all and free for everyone under 12; the Tucson Lifestyle 5K Run/Walk; and the TMC Girls on the Run 5K, solely for Girls on the Run participants (azroadrunners.org).
Oct. 30: The annual TMC A-Mountain Half-Marathon, Tucson's only urban half-marathon. This SAR event is the final leg of the 2016 Gabe Zimmerman Triple Crown, raising funds for Child & Family Resources (azroadrunners.org/races/detail/gmt).
Members of the Southern Arizona Roadrunners, Tia and Randy Accetta produce running events and coach runners around the country through their company, Run Tucson LLC. Randy is the director of coaching education for the Road Runners Club of America and is event director for the TMC Get Moving Tucson events on Halloween weekend. Tia coordinates The Workout Group for adult runners and coaches running at Sam Hughes Elementary School.
Be the first to know
Get local news delivered to your inbox!