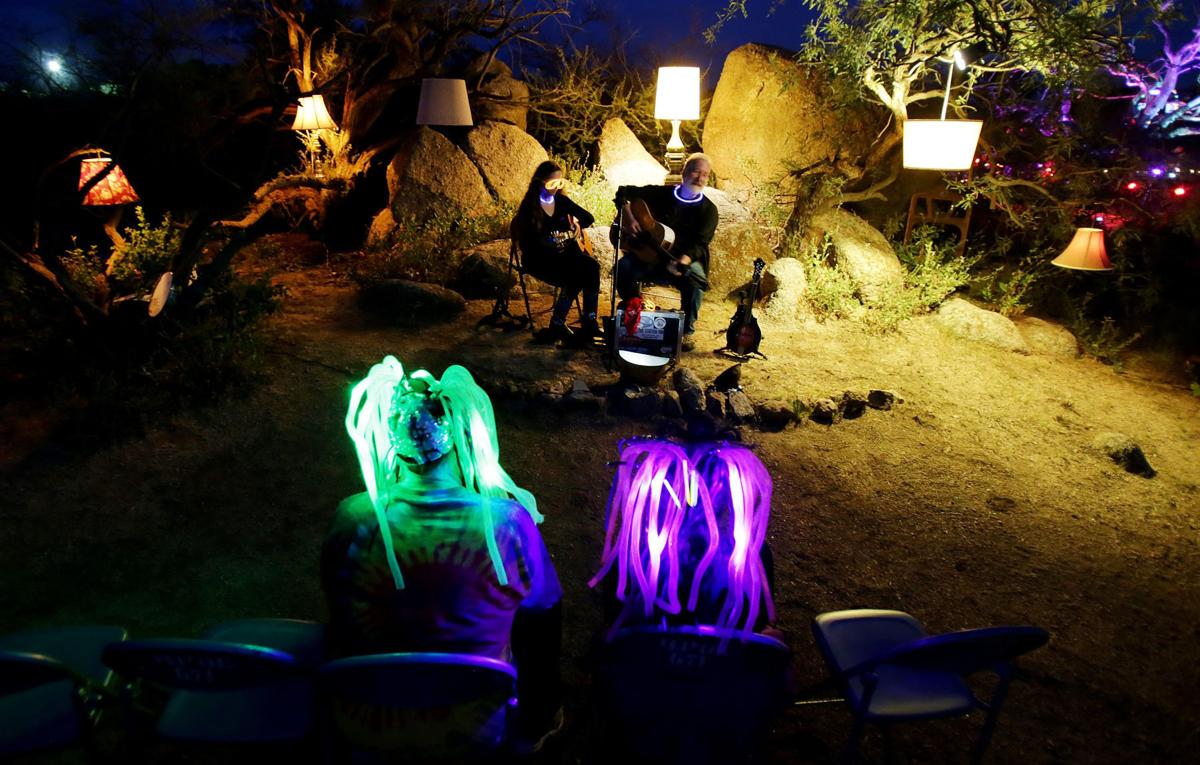 "I want people to just feel transported into another world that kind of is magical for them," said organizer Jim Pollack. "It's almost a dreamlike world. It chokes me up, actually."
The labyrinth of desert trails at the ranch will be home to more than 100 light-themed pieces created by more than 75 Arizona artists. Elements include glowing sculptures, interactive light-up activities, booths for performance art and stages for musical performances.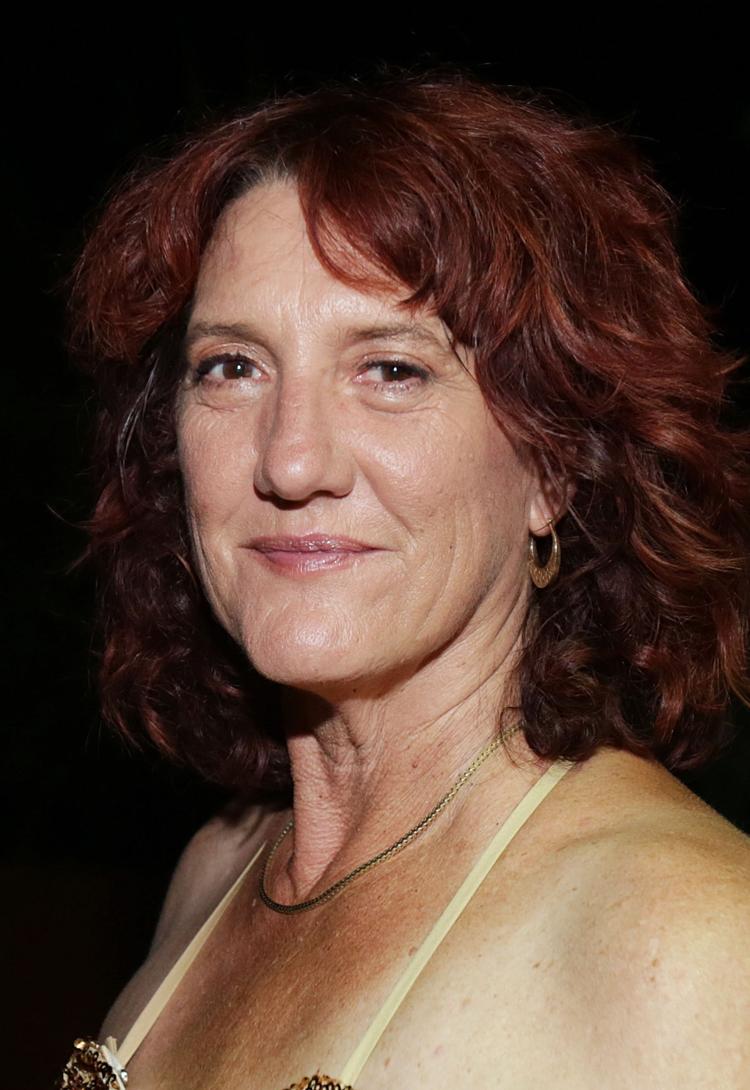 GLOW! began when Triangle L Ranch owner Sharon Holnback started clearing paths through what was then her new property. A metalwork artist, Holnback decided to invite some artist friends to bring an illuminated art piece to the ranch for an impromptu art party.
"It's funny because that first night, 500 people showed up," Holnback said. "We just had to continue."
Since the first event, the show has ballooned from a single path to dozens of intertwining trails lined with lights.
"The ranch is so beautiful. It's the desert. It's at night. It's the full moon," Holnback said. "It's sort of everything that I love, you know. Art, nature, the ranch and I just thought, 'What would be the most unexpected thing you would see if you came around this path.'"
Walking the dimly lit paths would be almost spooky if it weren't for the joyful sounds of performers wooing wide-eyed visitors and passing participants in neon costumes.
"You just have to relax into it," Pollack said. "A lot of people come in with their tensions like, you know, the parking and then getting in. I'd rather have them let all that go and just experience it."
Vsitors of all ages, which recently included a group of 40 residents from the SaddleBrooke Ranch retirement community, meander around sculptures. There is something odd and bewitching to discover down every path.
Even the bathroom at GLOW! is a spectacle. It's made of a giant metal tank with an open roof and a converted port-a-potty toilet arranged like a jungle throne with flowers and plants surrounding it.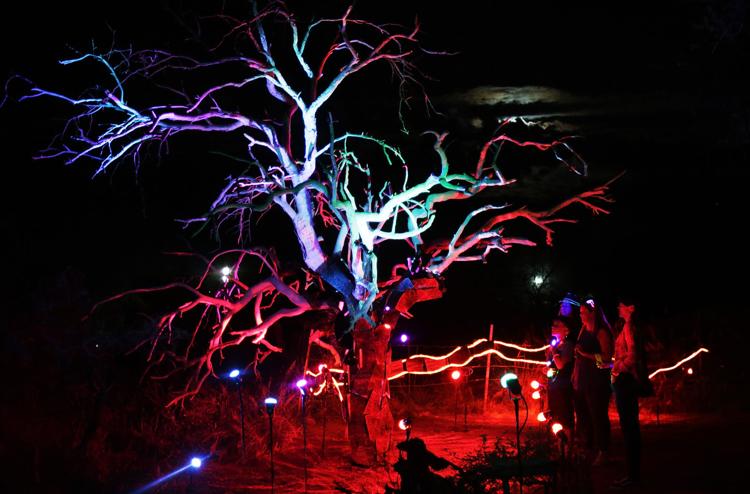 The first of four GLOW! events, entitled "Mystifying Oracle Night," has already passed, but there are three more opportunities to experience the magic — Steampunk Night, Fantasy Night and Spirited Away Night.
Pollack says his favorite areas in the park are the "remote promontories where you can overlook and see everything, but it's quiet and it's isolated and you kind of feel like a voyeur almost."
FEATURED ARTIST
Tucson artist Bryan Crow gathered old televisions from ranch owner Holnback's garage and turned them into a mixed-media projection of his own drawings. Stop-motion videos of Crow's drawings, along with videos submitted by his friend, Charles Rockwell, play on a loop on each TV.
"I wanted to kind of mimic the static, so I used the way that I draw to work within the context of these television sets," Crow said.
Crow, who usually creates sculptures, has been participating in GLOW! for 10 years. He says GLOW! allows him to experiment with light and video and make art that he wouldn't normally make.
"It's kind of magical," Crow said. "You walk down a path and then there is this whole other experience to be had."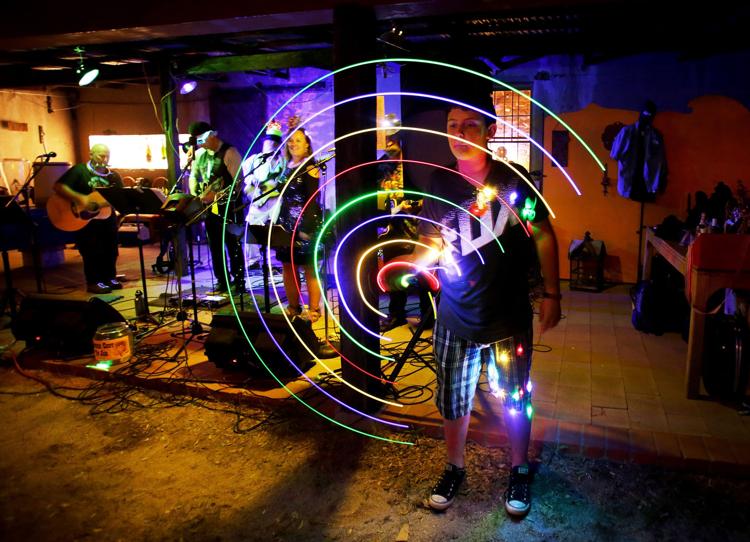 TIPS
GLOW! organizers only sell 500 tickets for every night, so get your tickets fast.
Bring a flashlight. Main areas are well-lit but secluded paths can be very dark.
Wear your dancing shoes. The main stage band starts playing at 9 p.m.
Get inspired. Dressing up for GLOW! is highly recommended. Some visitors prefer a simple glow-stick necklace while others go all out.
GLOW! organizers have some tips for how to dress on each themed night of fun. For Steampunk Night, think wild west or Victorian costumes in space. For Fantasy Night, witches and wizards are welcome, along with magical creatures and light-up supernatural beings. Lastly, on Spirited Away Night, be creative and become your own "glowing" spirit.
FUN FACTS
The majority of artists who participate in GLOW! are from Tucson and Oracle.
Over 100 volunteers from Oracle and Tucson worked to make GLOW! Happen.
Many sculptures that get lit up are actually a permanent part of the Triangle L property.
WHAT YOU'LL SEE
"There are a lot of abstract pieces too that are just a joy to look at and then you get some really classically done designs," Pollack said.
At the entrance to the park, visitors pass the shrine garden. From there, lantern-lit paths fork off in all directions. One will take you to a fluorescent painting to which you can add your neon handprint. Another leads a tree illuminated with colored lights and mirrors affixed to the branches by artist Karen Medley.
Highlights include:
A barn in the main stage area that houses the pieces that are sensitive to the elements
Gasoline alley, where all the sculptures are made from old gas cans illuminated by swimming red lights.
Tarot card reader.
Vignettes performed by players from the San Pedro Actor's Troupe.
Softly-lit labyrinth with All Souls Procession Urn at the center. The urn emits a light that changes colors.
Natalia V. Navarro is a Tucson-based freelance writer.