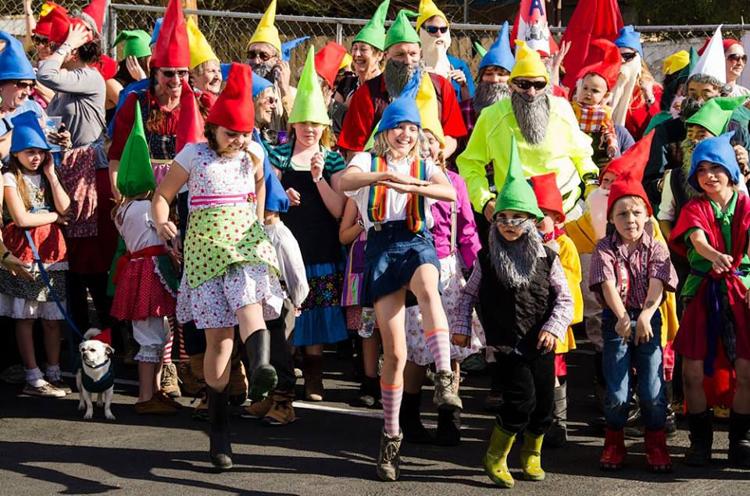 Get out your beards and boots, your skirts and suspenders and head over to Gnome Fest at Maracana Indoor Sports Arena, 555 E. 18th St. on Sunday.
The music festival, hosted by Metro Gnome Music, promises live bands, vendors and a food truck. It's free to get in, but the music shop is asking that everyone bring canned food to donate to the Community Food Bank of Southern Arizona. 
The store tried to break the record in 2014, but couldn't get enough people to show up in costume, says Todd Crawford, the owner of the store. 
The record, by the way, is 478 people dressed as garden gnomes in 2011. The group with that record hails from the United Kingdom. 
So Crawford decided to up the stakes. 
"To encourage people to come, we're giving away a $1,000 credit to the school that brings the most gnomes to the event," he says. A school's music program can use the credit for instruments, repairs or any other needs. 
To get gnome credit (and count for the record), you have to adhere to a certain dress code. 
For men, that's a gnome hat, beard, boots and a colored shirt and vest or a tunic and belt. Women gnomes should don a gnome hat, boots and a skirt and suspenders or a dress and apron. 
At 5:15 p.m., all gnomes will gather to see if Tucson holds the new record. 
Of course, you can also just come for the music in your street clothes. The Desert Sage will play at 3:30 p.m., Cabaret Boheme will do its first set at 4:30 p.m. and its second set at 6:30 p.m. And the Ronstadt Generations y Los Tucsonenses will close out the night, according to the posted schedule. 
For more information about the event schedule and the gnome dress code, visit metrognomemusic.com. 
When: Sunday, Oct. 22, 3:30 p.m.
Cost: Event is free to attended, participants are asked to bring in a canned food donation. 
Be the first to know
Get local news delivered to your inbox!