Gardening in Tucson is unique and there's a lot to learn, particularly if you want to garden with native plants. If you like to spend your free time with plants and other gardeners (and who doesn't?) you may want to consider volunteering at various community locations to get your plant fix and make some new friends.
These volunteering opportunities give you a chance to give back to your community, meet fellow plant enthusiasts, and learn planting and gardening tips from community experts. What's more, quite a few of them are outdoors, so you can enjoy our glorious winter weather. Make sure you check with each organization regarding their current COVID-19 requirements.
1. Pima County Native Plant Nursery provides plants for the county's various public projects such as parks, roadways and county lands that require rehabilitation. They grow around 20,000 plants, all of them native. The plants are not sold to the public. You can volunteer there during the week, and help the small staff out with necessary nursery tasks such as planting seeds, potting up, watering, and the like. In the process, you will learn a lot about native desert plants. Contact Amy Belk, (520) 488-8022 or Amy.Belk@pima.gov for more information.
2. The historic Mission Garden has plenty of volunteering opportunities, from working in the organic food garden to helping out with seed-saving, harvesting, and even cooking for special events. There are also various supportive opportunities, like handyman tasks and library organization. You can also train to be a docent. Check out the volunteer information page and sign up for an orientation (every other Wednesday and Saturday at 9 a.m.) For more information, call (520) 955-5200 or email missiongarden.tucson@gmail.com.
3. Native Seeds/SEARCH is a local nonprofit organization whose aim is to preserve arid-adapted seeds for local food production. These seeds are harvested and sold to the public, and also provided to local farmers. Every year, the best-adapted seeds are harvested from various sites to ensure a continuing source of food for our area. The organization is actively recruiting volunteers to work in the seed production gardens at the NS/S Tucson Conservation Center, 3584 E. River Road. Garden hours are Tuesdays and Thursdays from 7 to 11 a.m. Just fill out the volunteer intake form, and staff will contact you.
4. Tucson Botanical Gardens is our city's only botanical garden. There are a variety of volunteering opportunities, including working with the horticulturalist team on Monday and Wednesday mornings to help with any plant maintenance needed in the grounds. You do need to be a member to volunteer; membership costs $50 for an individual, $60 for couples and $70 for families, with discounts for seniors and military. If you have questions, call 520-326-9686, ext. *10 or email volunteer@tucsonbotanical.org.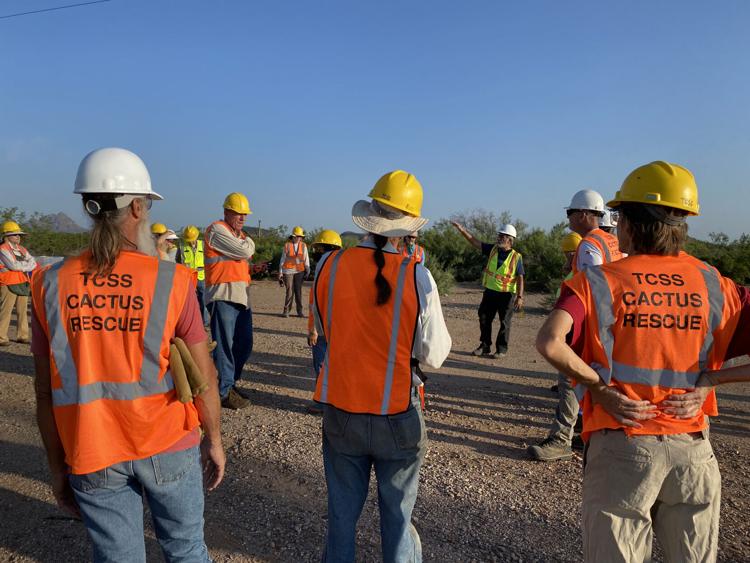 5. Tohono Chul likewise has a variety of volunteer opportunities. It's a 49-acre private park with gardens, a retail greenhouse, and a variety of exhibits. You can help with garden maintenance, work in the retail greenhouse, or help with plant propagation. If you want something less hands-on, you can train to be a docent. Check out the volunteer page for more information. 
6. The Tucson Cactus and Succulent Society is a nonprofit educational organization focused on teaching the public about (as you might have guessed) cacti and succulents. There are a huge variety of volunteering options, including working in the Pima Prickly Park, which the society co-manages with Pima County. Among a myriad of other options, you can help save local cacti from construction sites, pot up and plant various succulents in the park, and help out with plant sales. Membership is $15 per year, and it includes many bonuses such as monthly educational lectures and low-cost plant sales. Visit the TCSS volunteering page and take your time to explore the options.