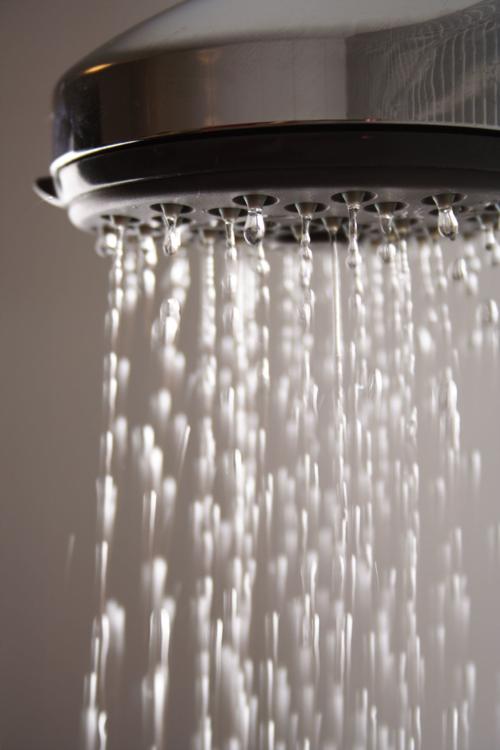 QUESTION: In the middle of the night, if we use the bathroom in the master bath and then go back to bed, water starts coming out of our showerhead; it drips and drips and drips. A plumber recommended installing a new showerhead and pipe, but that didn't work. How can we stop this from happening? Our house is about 16 years old.
ANSWER: We call that kind of thing a plumbing "ghost" — water running when no one's in the bathroom. If you've done all that plumbing work on the shower and the problem has persisted, I'd suggest buying a temporary on/off valve to put on the neck of the showerhead. It's not a highly technical device, it's just an on-off thumb knob that you can turn by 90 degrees to stop the water from dripping at night. See if that will stop the problem. You might also want to change the water pressure in your plumbing system. Get a low-cost meter to install on the intake pipe to measure the pressure. You don't want your pressure to be set at more than 65 pounds per square inch.
Q: I'm installing new laminate flooring upstairs and downstairs in my house, and I'm also doing the stairway myself. I've bought bullnose strips to put on the front of the stairs, and the manufacturer has recommended using a particular kind of glue to fasten the strips. But I have my own favorite — Gorilla Glue. Would it be OK to use that?
A: I wouldn't use some other type of glue than what the instructions call for. Go with the manufacturer's recommendations, and you'll be sure to protect the warranty on your flooring.
Q: Our air conditioner is about 10 years old. It's running pretty well, but a technician gave me a whole list of parts that still run but are getting worn out. The list includes the squirrel cage blower, motor, coil and condenser. Would it be OK if I replaced those parts by myself? My wife told me to call and ask if that was OK.
A: That sounds like a long grocery list of parts that would be expensive to buy and perhaps hard to locate. Even if I could do that job myself, I probably wouldn't try it. If you think your unit isn't running properly, you should get a second opinion. It's probably that you can keep that AC going for another 10 years.
Q: I have a peach tree that has leaves that are curling and dropping off. It started to leaf out earlier this spring, and then the small leaves shriveled up and dried out. Is there any life left in this tree? Can I save it? It's planted where another small palo verde died originally; and then another young peach tree died in the same place. So should I take this tree out as well?
A: It's a good thing to remove the tree since it's probably beyond recovery. But take a soil sample to an arborist to have it analyzed in a lab. If there is a fungal pathogen in that area, it would affect any new tree that you planted. The problem could also be due to overwatering.
For more do-it-yourself tips, go to rosieonthehouse.com. An Arizona home building and remodeling industry expert for 29 years, Rosie Romero is the host of the syndicated Saturday morning Rosie on the House radio program, heard locally from 8-11 a.m. on KNST-AM (790) in Tucson and from 9-11 a.m. on KGVY-AM (1080) and -FM (100.7) in Green Valley. Call 888-767-4348.