This year's slate of stops at the Sept. 1 garden tour by the Bisbee Bloomers illustrates how to make yards a joy to sit in, linger and relax.
The self-guided tour of 10 residential gardens and The Gardens at Mile High Ranch Bed & Breakfast will also feature artists at work and performing musicians.
Here's a sneak peek at what you can expect from the 17th annual Bisbee Garden Tour.
Accepting life
Suzanne and Ross Sheard's garden is meant to attract nature as it happens – birds and butterflies, ants and cats, plants and paths and porches.
Wild orchids, sages, grape vines and a desert willow tree are allowed to naturally stake their space, says Suzanne Sheard.
"I find comfort and serenity in all that interconnection," she says.
"I love the feeling of serenity this garden brings," she adds, "an acceptance of life on life's terms."
Fixing neglect
After years of neglect by former owners, Cooper Raphael's yard has become a soothing garden. She started by pulling out unwanted Bermuda grass and dead trees. She added a flowing stream, low-maintenance native and Mediterranean plants, and a steel fence that adds privacy.
"Serenity to me is sitting on the porch listening to the birds," says Raphael, "and watching them take baths in the stream."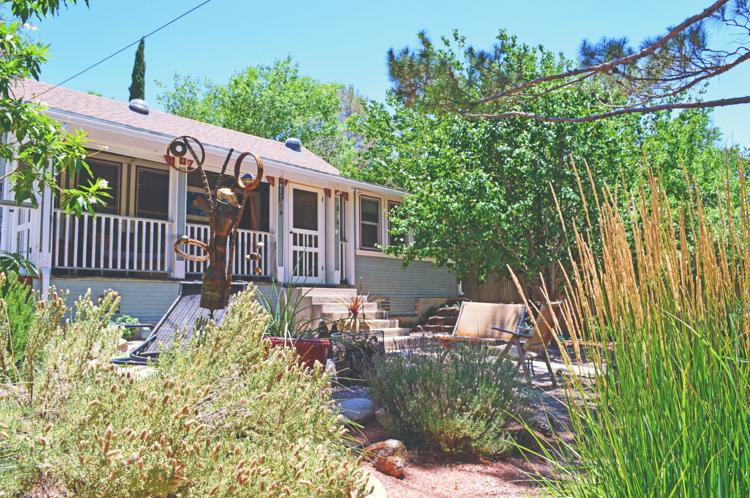 Cosmic combination
Long-gone trees have opened Bruce Syrett's garden to direct sun. He's discovered that cold-hardy succulents thrive in his self-described "austere" garden. Large patios and a wrap-around porch provide lots of seating.
The loss of the trees also allows the yard to provide grand nighttime views of the cosmos.
"With its unique exposure and with the benches," Syrett says, "I find it most amazing to sit out there in the night and enjoy the moon and the stars."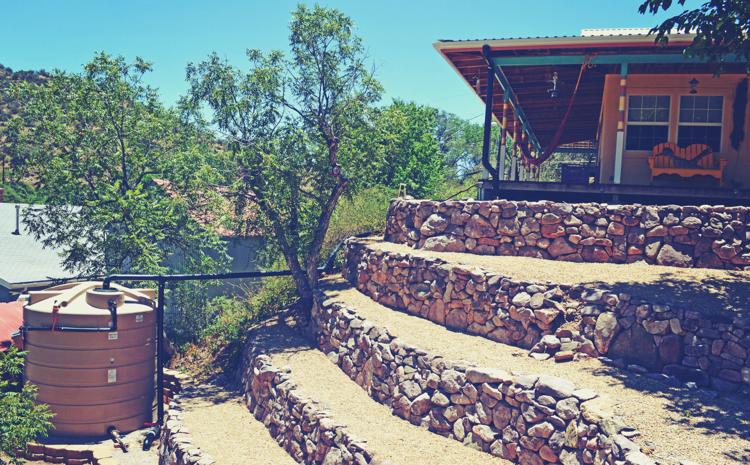 Natural Scents
Claudia Collins' hidden garden is a riot of colors and scents. A dichondra path leads to three beds of organically grown vegetables. Ornamentals and edibles share space where they are happiest.
"Flowers and veggies don't always want to grow well on a spot picked by me, so I'm flexible," Collins says. "Dog and cat join friends and me on the patio and enjoy bird-watching and the delightful smells of a healthy garden."
Therapy
Nearly 2 acres of lush gardens and 150-year-old cottonwood trees at The Gardens at Mile High Ranch are meant to be contemplative.
Guests can wander through a rose garden, past a pond and among plants that attract wildlife.
"Garden guests enjoy excellent opportunities for bird-watching, walking, meditation, picnicking and recreating," according to the resort's website.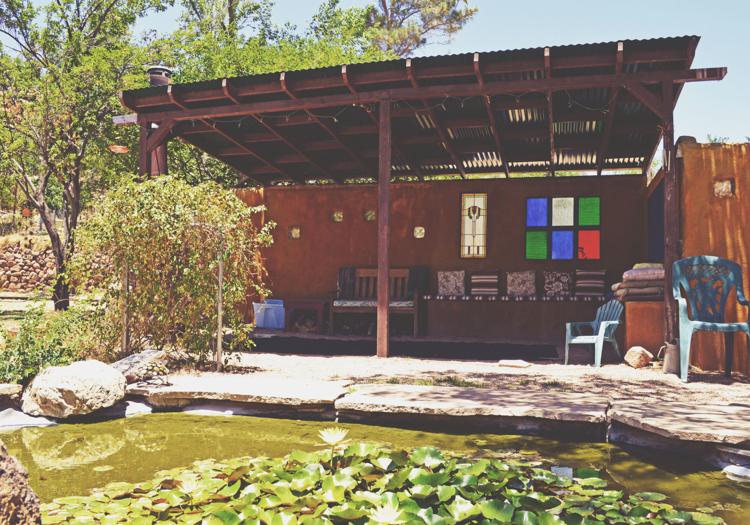 Small delight
Plant volunteers like hollyhocks and four o'clocks are part of Judee Edmonds' small garden. She often tosses out seeds and adds garden center plants that catch her eye.
She starts most days drinking coffee while enjoying the "calming soothing tones" of a small, rocky pond. A sandy path allows her to walk barefoot through the garden.
"It is a constant source of relaxation and delight," Edmonds says.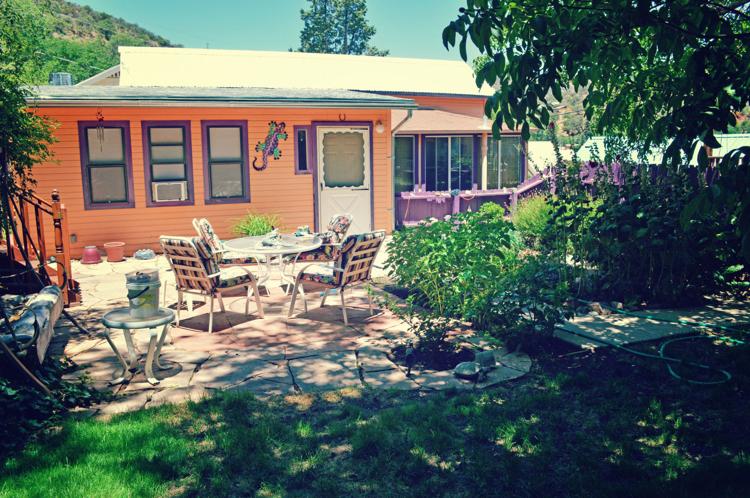 Hints of Italy
When Sloane and Danielle Bouchever bought their home seven years ago, they also got the lot next door. That allowed the couple to create "a kind of Italianate oasis with no grass to care for," says Sloane Bouchever.
The result is a garden that's more formal and ornate than most found on Bisbee garden tours. It features concrete paths, raised planters, a fire pit, redwood pergolas and garden art.
"I particularly love the half dozen Italian cypresses we planted on a little promontory built up with stacked stone," Bouchever says.
Harmonious chaos
Jane Geffer wanted the garden to harmonize with the home she and her husband, Peter, were building, so she made sure to have it installed at the same time as home construction.
"Now, 2½ years after we put it in," says Geffer, "the tiny front garden is a chaos of colorful native plants."
She picked plants that bloom most of the year, require the least water and provide a screen for privacy. The result is that the garden "is literally buzzing with hummingbirds, bees and butterflies," she says.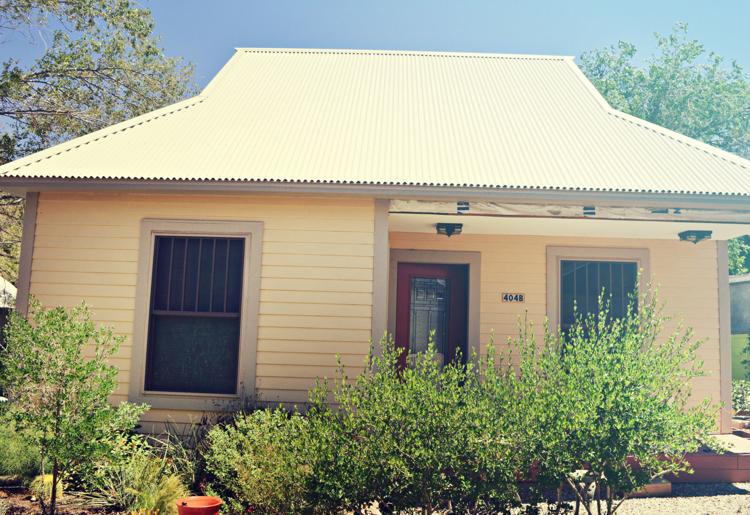 Water-wise
Frances and James Richmann didn't want to use much water. After much research, they opted for a xeriscape garden, which focuses on desert-adapted plants, efficient irrigation and good soil.
A 250-gallon tank stores rainwater, which then is used to irrigate roses, bushes and trees.
The couple delights in the many garden-art cats collected over the years.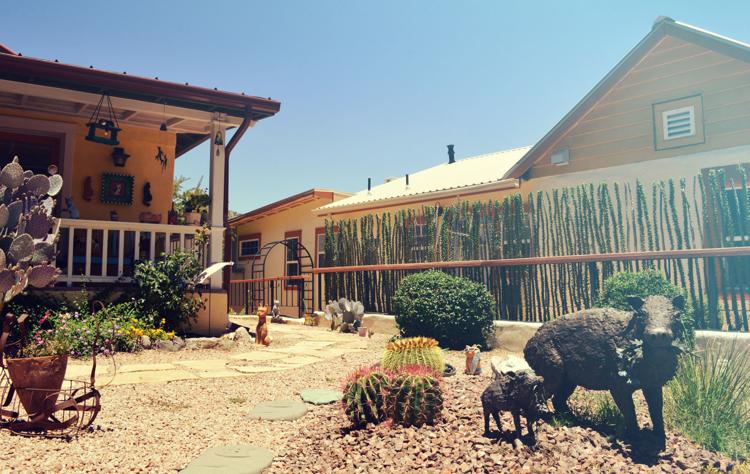 Garden views
After 10 years, Marsha Mayer has the garden she's wanted, one that provides views and private spaces.
"I feel a keen sense of serenity sitting on the front porch swing," Mayer says, "surrounded by ivy, watching the hummingbirds who had nests under the eaves of the porch."
She removed the walls of a potting shed and sits sheltered as she watches her plants grow.
A private terrace in the back allows her to garden as she sings to her favorite music.
"It is my favorite part of my gardens," she says.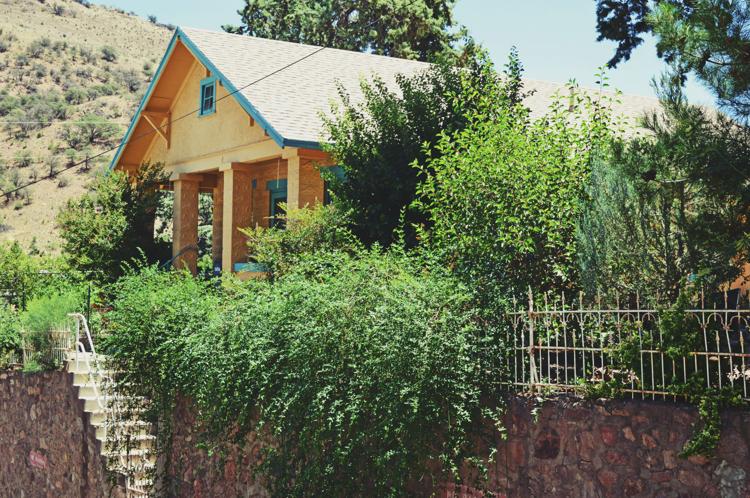 Getaway
A dichondra lawn and living ocotillo fence provide the cooling greenery of Dale and Ellie Faught's home.
Their cute wooden garden shed looks more like a whimsical playhouse.