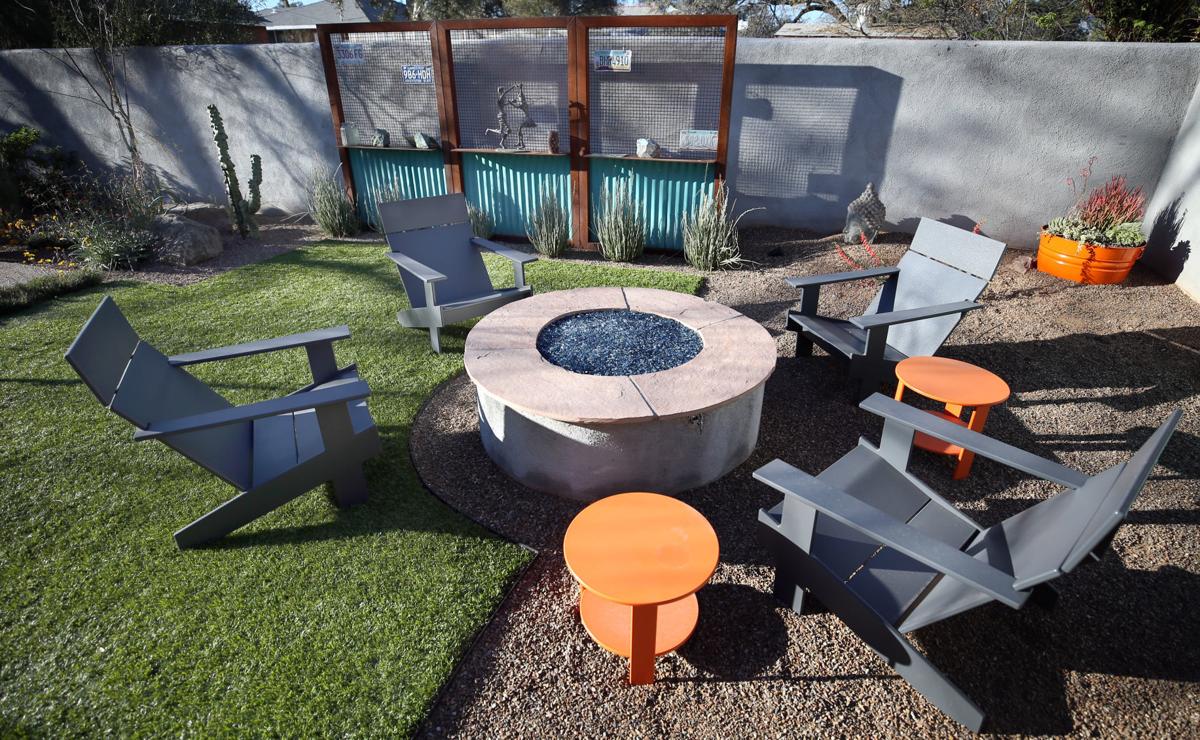 Most of the time, Arizona's climate allows us to spend a lot of time outdoors. With more conveniences and a variety of landscapes and accents, our backyards have become an oasis. In addition to a pool, there are many options available to enhance our backyards so we can enjoy them year-round.
Question: I expect to sell my home within the next couple of years. My backyard is rather boring. What can I do to add market value and still enjoy it while I am there?
Answer: Large entertaining areas with outdoor kitchens, pizza ovens and audiovisual are no longer luxuries. They are expected amenities by most homebuyers above a certain price point. Enhancements with lighting, shade structures and audiovisual elements are becoming more commonplace.
Fire pits and barbecues continue to dominate backyard landscapes. Because of the occasional no-burn restrictions, fire features are a great alternative outdoor accent because they are generally powered by natural gas or propane. If you need a gas line installed, be sure to hire a contractor licensed by the Arizona Registrar of Contractors. A permit for the gas line will need to be pulled for the installation.
Outdoor living is following the trends of interior design with more modern, mid-century and farmhouse designs. There is also a move toward wood, fire, water and dense planting elements. Mixed material designs have taken off. We are seeing a lot more blending of travertine, synthetic turf, pavers or concrete.
Be careful not to get too trendy because if you opt to sell your home later than your current estimate, the trend could be out of fashion and negatively affect the sale.
Q: With the Super Bowl coming up, I'd like to watch the game on my patio. Other than putting a TV out there what else do you suggest?
A: The incorporation of TVs and stereo systems on the patio continues to become more prevalent. Install the TV in a shady spot on a metal, heavy duty-wall mount that can pivot. You'll need a cable or satellite connection on the patio unless your cable provider offers a wireless connection. For an at-the game experience, connect the TV to external stereo speakers. Cover the TV when it's not in use with a weatherproof wrap. Because of the summer heat, store the TV indoors or bring it out only when it will be in use.
Space permitting, add a small outdoor refrigerator so you don't miss a moment of the game (or commercials) by running back to the kitchen to refill drinks and dip. Look for refrigerators, freezers, wine chillers, keg tappers and ice makers with a safety stamp from Underwriters Laboratories or another rating agency that ensures the appliance is safe to use outdoors. Choose stainless steel appliances — they're corrosion-resistant and may be easier to clean. Lights, ceiling fans, misting systems and comfy outdoor furniture creates a whole new room that's outside.
Q: How can I accent my landscape and garden with lighting?
A: Lighting has continued to evolve over the last decade — first with light-emitting diodes (LEDs), then with digital controllers that can be operated from our phones. The latest trend with color LEDs is not to make your house the right shade of purple, for example, but to color match. Select tones that bring out the natural color of the plants or items you are lighting. A different hue would be chosen to light up a blue yucca than an ash tree.
For additional ambiance, mix solar fixtures with low-voltage outdoor lamps on the patio and in the garden. Vary the intensity of the lighting. Creating shadows and dark areas in your landscape is just as important as creating light. Err on the side of too few lights. Outdoor lighting should be subtle, not harsh, so it creates a mood. Remember to include pathway lighting in your design as a safety measure. Light up the bottom of steps to points in the yard or patio where there's a change in direction and around any trip hazards. Avoid placing all of the lights in a row. It can give your yard the look of an airport runway.
There are so many elements to choose from to make your backyard your private oasis; one that will make the neighbors envious.
For more do-it-yourself tips, go to rosieonthehouse.com. Rosie Romero is the host of the Saturday morning "Rosie on the House" radio program, heard locally from 8-11 a.m. on KNST (790-AM) in Tucson.
Sprout new ideas
With our home & garden newsletter!