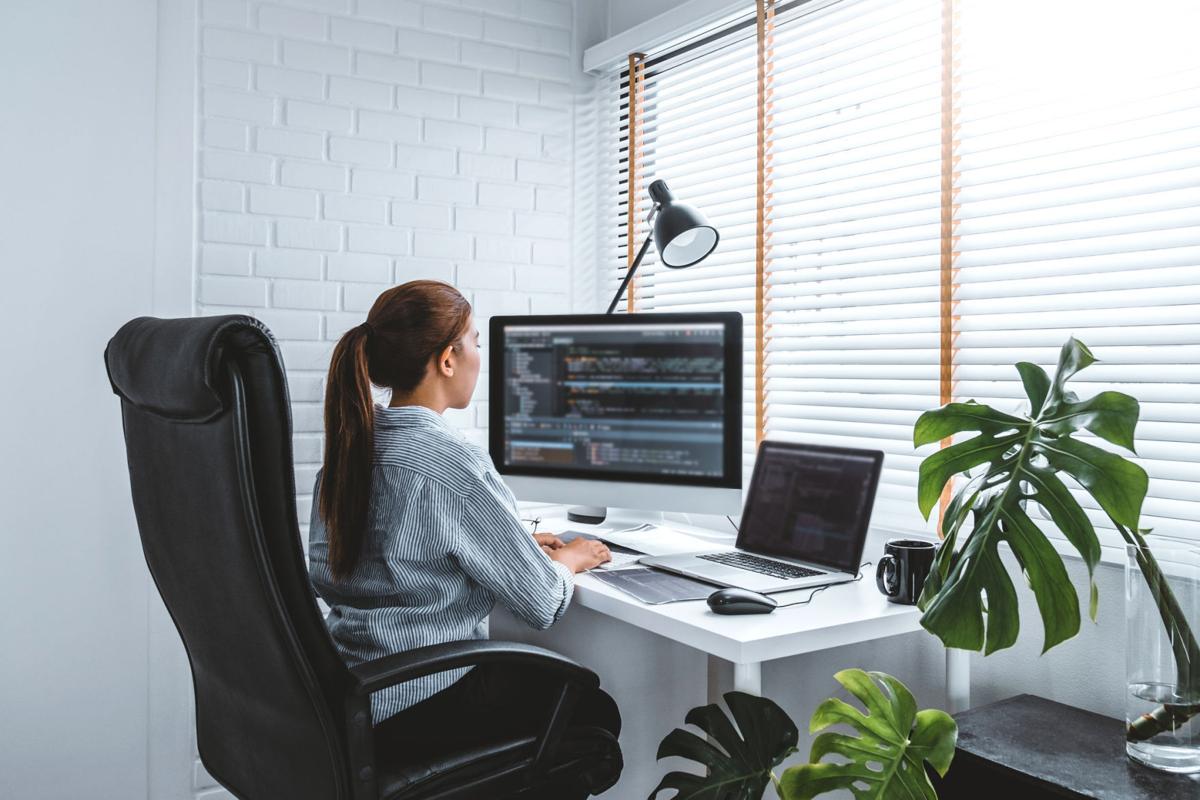 Question: My kids, husband, and I need private areas to work and study at home. What do we need to consider before creating those spaces?
Answer: There are many things to consider before creating these high-demand spaces. Start by tracking your home's traffic patterns. Look for empty spaces that never get used. These may be the ideal space for a new home office or study area.
Think through everyone's preferences. Who likes to work early in the morning or late in the evening? Who is easily distracted by noise? Who needs extra light? Are windows distracting? Who wants to sit or stand at their desk?
Find small bump-outs (an extension of a room or building that creates a projection in a wall) within a larger space, reconfigure spare bedrooms, repurpose a walk-in closet, or convert small outbuildings or garage apartments.
With virtual meetings and distance learning, it is important to have a space that is free of distractions. Be sure your spaces are private, have appropriate lighting, minimal noise, and are not cluttered.
"People will spend more time and effort in designing a unique working space to maximize their concentration, motivation and productivity," says Jing Xue, chief operations officer and co-founder of Décor Matters. "Things like location, colors, decorations, and furniture have a big effect on your mental and physical state. In fact, bright lighting has been shown to make people happier, ambient sounds help people focus, and poor air quality can lead to a drop in productivity."
Décor Matters, a virtual design studio, uses augmented reality and artificial intelligence technology that allows users to visualize the entire design in their real home.
Because multiple people are likely to be using the internet at the same time all day, make sure it can handle the demand. You may need to upgrade your plan and equipment.
If you need to order furniture or electronics for these spaces, note there may be a delay in receiving them. Because of the pandemic, contractors are still struggling with product acquisition and material delivery. Manufacturers and suppliers have not caught up since the stay-home order ended.
"The scarcity of materials means we must plan for a long lead time for products," said John Reuter, owner of Assurance Builders, a Rosie-Certified Partner.
Q: Do you have suggestions for creating an exercise room?
A: Whether you want a home gym, yoga room, or meditation space, incorporating natural light is important. Décor Matters suggests large mirrors will reflect lamp light and make the space feel spacious. Whites and metallics blend nicely with sports equipment. Mount small shelves on the walls, where you can store fresh towels and toiletries, making the room look more like a professional gym.
For a yoga and meditation space, choose pastel wall colors to soften the area. Wrap fairy lights around mirrors or place electric candles on the floor during your yoga sessions. Cushions, mats, and beanbags will enhance the cozy atmosphere.
Add framed motivational quotes or positive thoughts to hang on the wall. They are inspiring and announce the room's purpose.
Q: Because of the pandemic, we prefer to cook and entertain ourselves at home. What kind of changes can I make to accommodate our needs?
A: Reuter noted kitchen remodels remain popular because people are cooking at home more than they were before the pandemic. He is seeing a lot of homeowners who want to upgrade their appliances to modern and quieter versions. New appliances are a "big" item for his clients.
According to CNBC, outdoor space renovations are up by 300% year over year as homeowners look for more living, dining, entertaining, and recreational space in their own backyards. New decks and new landscaping designs are popular, creating a variety of outdoor spaces for families to stay active and staycation. Pool demand is on the rise as community and school sports continue to decline.
"New pools and pool remodel have become the new family trip," said Martin Lopez, construction manager and co-owner of Omni Pool Builders and Design, a Rosie-Certified Partner. "We're seeing family spending more time at home and investment in the backyard has become the norm. We have seen nonstop growth that doesn't seem to be stopping anytime soon with COVID-19 continuing. New pool sales are up 42% and remodels 38%."
Like Assurance Builders, Omni also has challenges with material shortages. Keep that in mind when planning your project.
Rosie Romero is the host of the Saturday morning "Rosie on the House," heard locally 10-11 a.m. on KNST (790-AM).