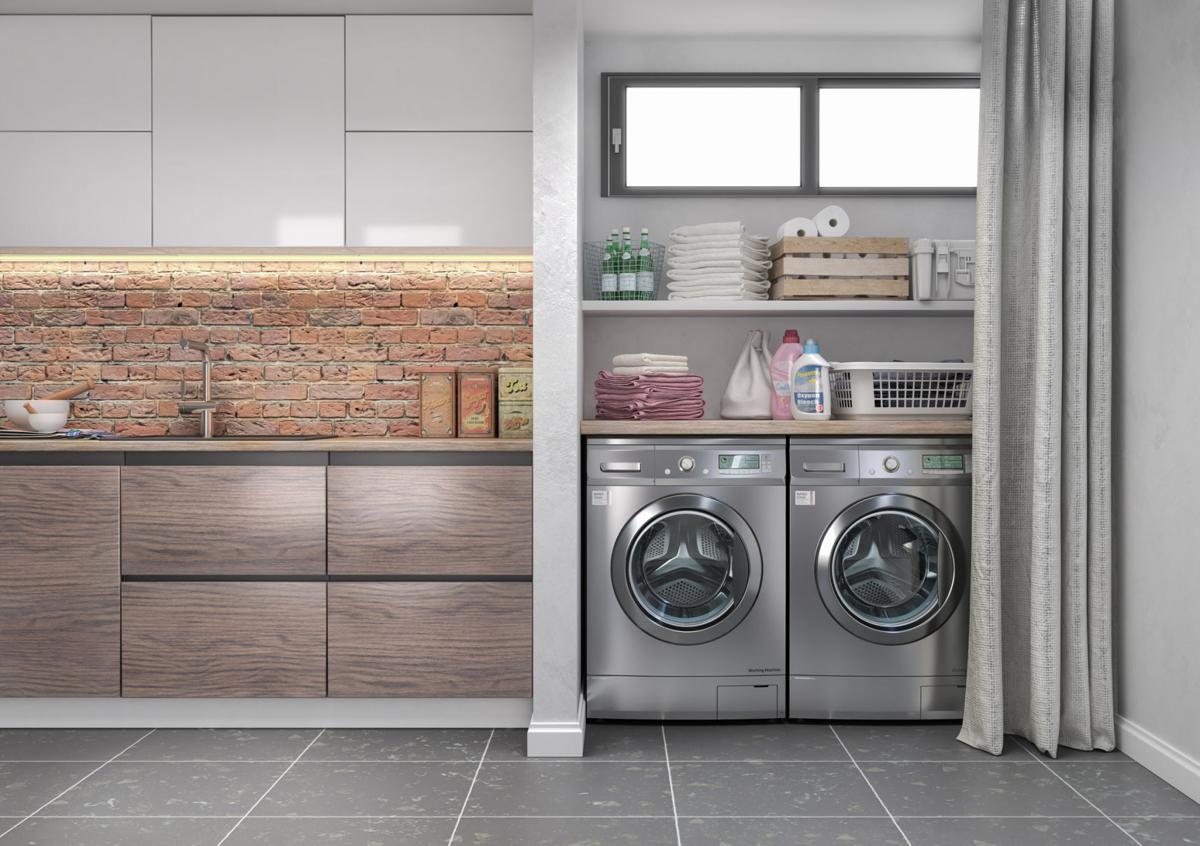 Question: How can I extend the life of my clothes dryer?
Answer: Clean the lint filter after every use. Wash it with soap and water to remove build-up. A few times a year, clean the vent outside of your house. Remove the vent cover. Unhook the vent line from the dryer. Snake a nylon vent brush attached to a long, flexible rod into the vent, and then push and pull it a few times to remove the lint. Reconnect the vent to the dryer. Replace the cover on the vent. If birds or other critters nest in the vent, add a durable, bird-proof flap. Lubricate the flap once a year.
In the laundry room, use rigid, nonflexible ductwork for efficiency that complies with building codes. Once a year, unfasten the duct from the dryer and vacuum to clear the vent of lint so air can easily pass through. A clogged vent and duct can severely restrict airflow and increase the possibility of a fire.
Q: What makes a front-loading washing machine more efficient than a top-loader?
A: Top-load high-efficiency machines use 12 to 17 gallons of water, whereas a standard top-load washer averages 40 gallons per load. There are two types of top-load washers: agitator and impeller/high efficiency (HE). In agitator models, the agitator rubs against the clothes to get them clean. Impeller (or HE) models utilize drum motions to rub the clothes against each other.
An Energy Star certified top-loader tumbles or rotates clothes through a stream of water rather than filling the drum. The temperature and water level are monitored through sensors. A high-pressure spray rinses the garments rather than soaking them in a tub full of water.
Front load washers use around 13 gallons of water per load. Because the front-loader spin cycle is so fast, it wrings most of the water out of the clothes, which means they need less time in the dryer. Some manufacturers claim their washers allow users to cut drying time by up to half.
Tip from Sweet Jennifer – though front loaders are wonderful in the way they clean and save water, it is a challenge to keep the front gasket clean of mold. There are things you can do to minimize the problem: regular cleaning of the gasket and leaving the door ajar, but keeping them clean is an ongoing issue with these units. Also, consider purchasing the boosters to raise the machines to make the opening easier for the elderly in your home to access.
If you are in the market to buy a new washer, look for "high efficiency (HE)" and "Energy Star Certified" rated models. It does not matter which style you choose. Both designations refer to the amount of energy used relative to conventional washers with a center-mounted agitator. Be sure to buy detergent with the HE logo.
Front-loaders are not as costly by comparison to top-load models as they used to be. US News noted in their "Best Washing Machines of 2021" article that top loaders range from $749 to $949 and up. Front-loaders start at $799 and escalate to $1,800 and up.
In Arizona, water conservation is important. Because there is less water to heat and they use up to 50% less electricity than top loaders, a front loader pays for itself in savings.
Q: What are the latest laundry room trends?
A: In a word: convenience.
The laundry room is becoming a multipurpose room designed to change over time as families' needs and interests change, and new products become available. In addition to just doing laundry, consider creating spaces for a variety of activities. Currently, one of the most popular multiuses is office space and distance learning. In this case, laundry will need to be timed around phone and video calls. Other activities for the space include art and hobbies, sewing, pet care, gift wrapping, seasonal storage, play and gaming, and exercise.
Good luck finding red, blue, or green washer and dryer sets that were trendy when front-loaders hit the residential market. Graphite steel is the trend in 2021.
Q: What's new with washers and dryers?
A: If you haven't bought a washer and dryer in the past decade, you might be surprised to hear what the new ones can do.
The new models come with luxuries, including dryers that can detect how much moisture is in wet clothes and will stop the drying cycle when the fabric is dry. There are refresh cycles that draw out wrinkles and odors from smoke, food and perfume from dry-cleanable clothes. Some models have dozens of cycles ranging from a "bloodstain" to a "soft toy" cycle that determines the water temperature and how fast they should spin the clothes.
With Wi-Fi and smartphone connectivity, you can check if the load is done or start a cycle remotely. When using internet connectivity through apps and smart technology, be sure to choose those that are password protected. Unfortunately, an app hasn't been designed to have someone unload, fold and put our laundry away.
Be mindful of models with a lot of smart features. The more bells and whistles there are, the more things can go wrong, thus resulting in costly repairs.
An Arizona home building and remodeling industry expert since 1988, Rosie Romero is the host of the syndicated Saturday morning Rosie on the House radio broadcast, heard locally from 10-11 a.m. on KNST (790-AM) in Tucson. Ask Rosie on the House your homeowner questions by emailing info@rosieonthehouse.com or call (888) 767-4348.