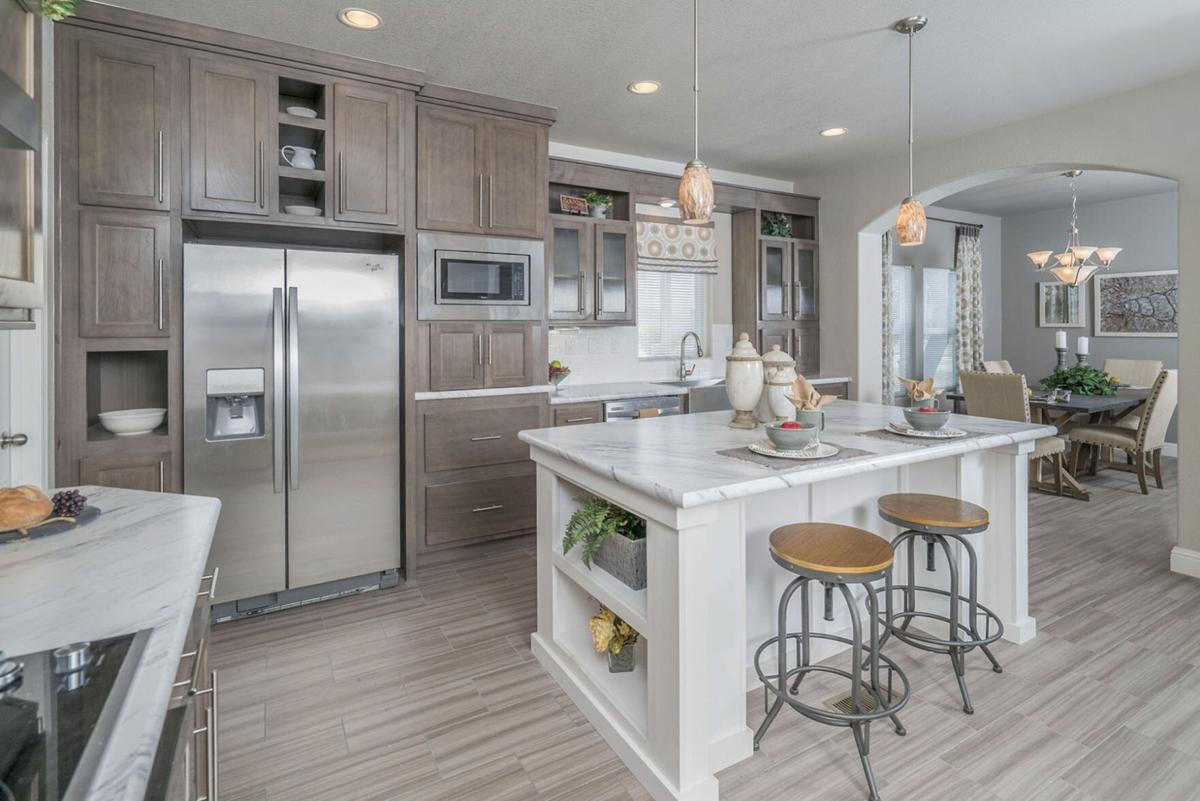 Question: Our family is thinking about moving out to a property we own in rural Arizona. What are your thoughts about the idea of purchasing a manufactured home to live in on the property?
Answer: The new models are not like trailers of old. Modern manufactured homes come with split floor plans, high ceilings, drywall and beautiful finishes. The great room includes a kitchen with an island and plenty of counter space and cabinet storage. There are spaces for your dining room table and family room as well.
Q: How much cheaper is a manufactured home than a site-built home?
A: To have a manufactured home built averages $49 per square foot while an on-site build ranges from $110 to $150 per square foot. The cost of the home is only part of the equation. To put a home down on a piece of property there are many other things to consider. Here are a few:
Zoning: Not all property is zoned for manufactured homes so it is important to know for sure before you make a purchase. For instance, you can't buy a manufactured home and put it in a planned community alongside site-built homes. It can be hard to find land properly zoned in an urban setting.
Mortgage: Manufactured homes are considered higher risk so not all mortgage companies will finance one. Galaxy Lending Group does offer financing. Owner, Harold Perkins tells us that homeowners who are applying for financing on a manufactured home can expect stricter guidelines for qualifying including higher credit score requirements. A slightly higher interest rate is likely as well. Conventional, HUD, VA and FHA loans are all available for manufactured homes. Note that the resale value on manufactured housing tends to be less than site-built homes.
Insurance: Manufactured homes carry distinct risks that are different from a home that is built on site. Due to this difference in risks, insurers prefer to group mobile homes into a different category, says Theresa Crest of Phocus Insurance Services.
Utilities: Electricity, septic, gas and water all require connection fees. The cost of utilities will be much higher if you purchase raw land and they have to be brought to the property.
Permitting: Permits from the city or county can take as much as 10 weeks. With partial staffing during the shutdown, it could be even longer.
Q: What kinds of protections are in place for owners of manufactured homes?
A: The Manufactured Housing Industry of Arizona, or MHIA, is an organization dedicated to the promotion and protection of the factory-built housing industry in Arizona. According to the MHIA, the industry is highly regulated. Buildings abide by stringent building codes, safety inspection standards and strict installation requirements. Companies that are members of MHIA may be found on their website. To join the MHIA, companies must sign off on a code of ethics.
A: You will find some great resources on the MHIA website, azhousing.org. In addition, we suggest:
Visit the Manufactured Housing Industry of Arizona website to see if the company you are considering is MHIA approved. Ask for referrals and investigate the experience others have had with the company.
Look for honest pricing. A good dealer will have prices displayed in full view.
Choose a company that will help you through the process. Is the salesman more interested in off-loading a close out item or in helping you to understand all the expenses and decisions involved?
Servicing a manufactured home can be challenging. Many manufactured homes are in rural areas outside the service area of many contractors. Check with other homeowners in the area to find out who is available to hire for repairs.
Rosie Romero is the host of the Saturday morning "Rosie on the House" radio program, heard locally from 10 to 11 a.m. on KNST (790-AM) in Tucson.
Discover the joys of gardening in the Sonoran Desert
Sign up for our Tucson Garden Guide newsletter and get helpful desert gardening info sent to your inbox twice a month