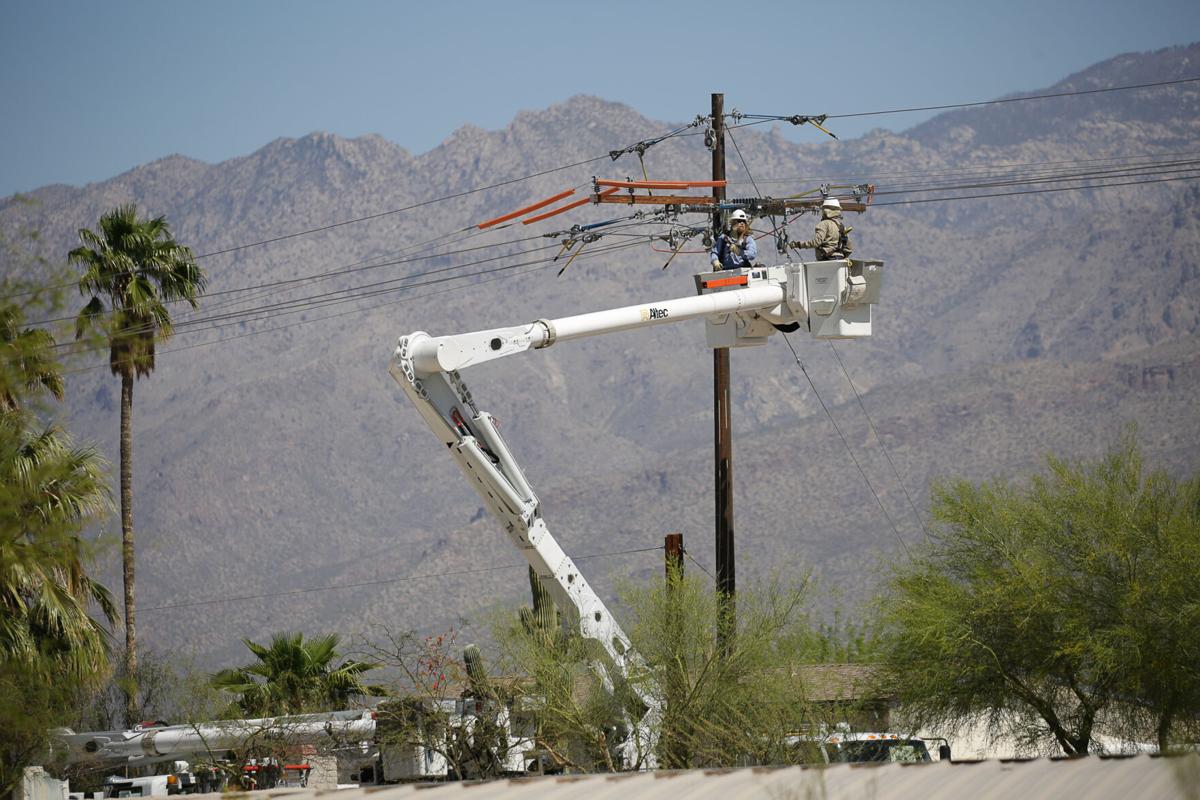 Question: How does Arizona get its power?
Answer: Arizona is served primarily by these utilities: Arizona Public Service Company, Tucson Electric Power and UniSource Energy Services. APS is the largest electric utility with more than 1.3 million customers in 11 of the 15 counties in the state. TEP serves over 433,000 customers in Southern Arizona. UniSource reports more than 98,000 residential and business electric customers in Mohave and Santa Cruz counties. APS and TEP are investor-owned utilities regulated by the Arizona Corporation Commission.
In addition, Salt River Project is a private, self-governed corporation serving more than 1 million customers in metro Phoenix and nearby areas.
Arizona utility companies live by "summer is our season." They spend all year preparing for the summer heat, monsoon storms and wildfires. They continuously monitor power flow.
Meeting supply and demand is a constant struggle. To effectively serve 7 million people, Arizona's utility companies must track minute by minute customers' real-time energy needs while anticipating how those needs will change. Energy isn't like water that can be stored in a dam for future use.
TEP spokesman Joseph Barrios is often asked whether they have enough power. Like APS and SRP, TEP looks at past energy use, weather patterns and other factors to ensure that they do.
"We are fortunate that Arizona is part of the Western Interconnection," says Barrios. "In the western grid, if a company requires additional resources, they can turn to one of their neighbors for help."
North America is comprised of two major and three minor alternating current (AC) power grids or "interconnections." The Western Interconnection stretches from Western Canada south to Baja California in Mexico, reaching eastward over the Rockies to the Great Plains. The electric utilities in the Western Interconnection are electrically tied together during normal system conditions and operate at a synchronized frequency.
The benefit of this is, for example, when it's 113 degrees as it was in Tucson this week, it will only be in the mid-70s in Seattle. They may have a surplus of electricity they sell to Arizona if the need presents itself.
"When summer comes along, we have to make additional purchases to satisfy our customers' energy needs. Given what happened last summer, TEP worked very hard to secure adequate resources," says Barrios.
Arizona is home to Palo Verde Generating Station, the nation's largest producer of clean, carbon-free electricity. APS operates the power plant and both APS and SRP have ownership in the plant, which produces enough electricity each year to power 4 million homes and businesses in the Southwest. Other power resources that make up Arizona's energy mix include hydroelectric, solar, natural gas, wind, coal, and biomass (converting wood products to steam). Despite Arizona's continued population growth, a new nuclear power plant is not on the horizon.
Q: How can consumers play their part to conserve energy in the summer?
A: Start with a whole-house energy audit. Learn where your home is losing energy and make corrections. It may be as simple as caulking a window seal, but it helps.
Sign up for a staggered energy plan. Reduce your energy use by optimizing on and off-peak energy.
Learn to supercool — I have been been touting this one for years.
1. Turn your AC down as low as you can stand it (68-74 degrees) during your off-peak hours. This will cool your whole house down to the studs.
2. Turn your AC up as high as you can stand it (78-85 degrees) during your on-peak hours. This will allow your AC to shut off and save money during the most expensive time of day. The coolness you built up during your off-peak hours should last well into the evening before the AC needs to cool you down again.
Supercooling works best with homes that are reasonably built and insulated.
Use a fan to cool your body instead of the entire house.
Utility companies offer a variety of energy- and money-saving plans. For example, TEP offers a few options:
Time-of-use and demand plans offer lower energy rates during off-peak periods but higher costs during on-peak hours. From Oct. 1 through April 30, on-peak periods are weekdays from 6 to 9 a.m. and 6 to 9 p.m. From May 1 through Sept. 30, on-peak hours are weekdays from 3 to 7 p.m.
The basic plan's energy charges do not vary by time of day, so customers don't need to worry about when they use electricity. But those charges are higher than the off-peak rates on the time-of-use and demand-based plans, so customers should be aware that switching to the basic plan could result in higher bills.
TEP's Marketplace offers items for purchase such as smart thermostats, Energy Star lighting fixtures, and LED bulbs, smart power strips, air cleaners, humidifiers and dehumidifiers, portable fans, room air conditioners and smart home devices.
If TEP is not your electric supplier, check with the one that powers your community.
"If we can level off the peaks, we will go a long way to stretch our current supply," says Barrios. "We know our customers are counting on us."
An Arizona homebuilding and remodeling industry expert since 1988, Rosie Romero is the host of the syndicated Saturday morning "Rosie on the House" radio broadcast, heard locally from 10-11 a.m. on KNST (790-AM) in Tucson. Ask Rosie on the House your homeowner questions by emailing info@rosieonthehouse.com or call 888-767-4348.