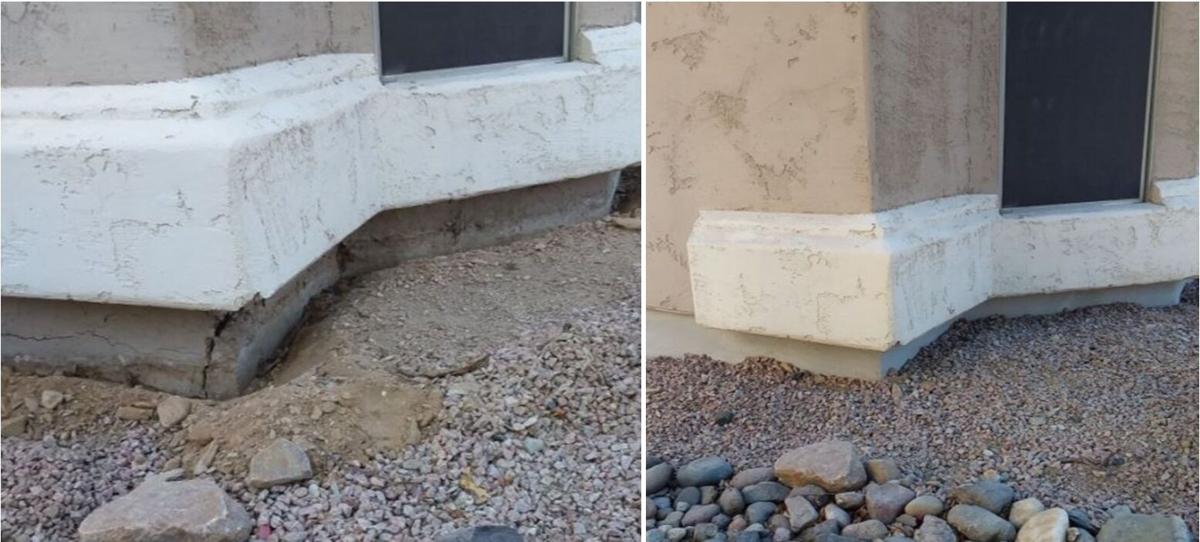 Question: While doing yard work, I noticed bits of crumbled concrete next to my house's foundation. Is it a big deal?
Answer: Yes, it can be if not remedied. The part of the house's foundation that you see is the stem wall, and it's an integral part of the building's structure. Bob Brown, owner of Arizona Foundation Solutions and a Rosie-Certified Partner, tells us why.
First, it is important to understand what a stem wall is. There are three basic foundation types:
Concrete slab foundations
Stem walls are a part of the slab foundation system. A building's stem wall attaches the walls of the home to the foundation. Stem walls are often composed of concrete and rebar. Given enough time and the right conditions, many stem walls will fail regardless of how well they were constructed. Variables such as moisture (either from the weather or landscape) may cause oxidization of the rebar contained within the home's stem wall.
Symptoms of stem wall failure may include cracking (vertical and horizontal), concrete crumbling at the stem wall, concrete spalling (flaking) at the stem wall, and erosion.
Stem wall failure is caused by chloride ion exchange in the moisture-laden pores of the concrete that facilitates the oxidization of the rebar. Once started, it is rather difficult to stop with traditional means. Sealing the crack with epoxy will not prevent the rebar from continuing to oxidize and expand.
Cracks may start small. They are a result of the rebar oxidizing (rusting). This occurs because the pores of the concrete contain minuscule amounts of water that actually conduct electricity, forming a tiny current between the rebar and the outside of the concrete wall. This current facilitates a flow of chloride ions that cause the rebar to rust. Eventually, the rebar grows large enough to break the concrete out completely on its own, causing total failure. Don't ignore the warning signs. The good news is that it can be repaired.
Foundation wall cracks generally stem from the porous nature of concrete, which allows moisture to build up and oxidize. This oxidization causes expansion and cracks that gradually grow and worsen over time.
There are a couple of traditional repair options used in these cases including:
Standard rebar replacement
Rebar replacement with epoxy coating
Unfortunately, all of these methods have issues. While they might solve the problem for a brief period, the oxidization will eventually recur. Cracking will begin again, or old cracks will reopen. While there are other methods, like electrical cathodic protection systems, which is a technique used to control the corrosion of a metal surface, these methods have their own problems. Notably, electrical cathodic protection systems are very effective at stopping oxidization. However, they are costly, running roughly $20,000 to $30,000, and designed for power plants and other industrial facilities, not homes.
Q: Is there a reliable and cost-effective stem wall repair system for homes?
A: Arizona Foundation Solutions engineered their proprietary system, NeveRust. They claim the following:
It is rust-free and non-corrosive because it uses a composite material that is non-corroding.
It is environmentally friendly because there is no rust. Therefore, it won't stain the stem wall or leach into surrounding soils, plants or water.
They offer a lifetime warranty against rust, which is transferable should the home change ownership.
The average cost of a repair using the NeveRust system runs $2,000 and covers approximately 20 feet of repair work.
Q: Will insurance cover the costs of stem wall repair?
A: Clay Jansen of Phocus Insurance Services, a Rosie-Certified Partner, tells us that for foundation repairs to be covered by insurance, the damage needs to be caused by an event your carrier accepts. Among them are lightning, fire, windstorm, water damage from plumbing, heating or A.C. overflow, and damage caused by a vehicle. Unfortunately, many of the common reasons for foundation damage are events your carrier will not cover including:
Natural settling, cracking, shrinking, bulging, or expansion of the foundation
But, it is always worth asking if the time comes.
Bottom line: Don't ignore cracks, crumbling concrete, or anything related to the foundation. Your whole house literally depends on a strong, sturdy and solid foundation.
An Arizona home building and remodeling industry expert since 1988, Rosie Romero is the host of the syndicated Saturday morning Rosie on the House radio broadcast, heard locally from 10-11 a.m. on KNST (790-AM) in Tucson. Ask Rosie on the House your homeowner questions by emailing info@rosieonthehouse.com or call 888-767-4348.