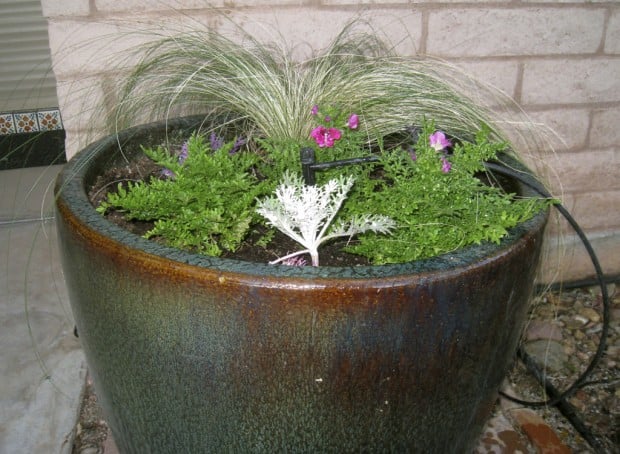 If watering your potted plants is becoming a chore, consider putting them on an automatic irrigation system.
It's especially lifesaving in the summer when gardeners don't often venture outdoors to water plants, says Marylee Pangman, owner of The Contained Gardener.
"They could die in a day of missed watering," she says.
Properly installed systems also ensure that plants are watered deeply enough and throughout the soil.
Water needs of potted plants differ from plants in the ground, so Pangman recommends a separate dedicated line for them.
"You don't worry about how many gallons per hour is going in," she says. "What we want is to saturate the soil all the way through so it runs out the bottom."
That could take no more than 10 minutes, far less than ground watering.
And because soil in pots dry out quickly, you'll want to irrigate more often than for plants in the ground.
Here are Pangman's other tips for using an automatic irrigation line:
• Use this system for pots with an interior diameter of at least 18 inches. If you irrigate a smaller pot, be mindful that you don't over-water.
• Don't use this system with succulents, including cacti, which need far less watering.
• A dripper doesn't sufficiently water all of the soil. Instead, install an emitter.
• For containers up to 22 inches in diameter, install one emitter near the center of the pot. For containers larger than 22 inches, place two or three throughout the soil.
• Don't install the line through the pot's drain hole if you plan to regularly move the pot.
• Install lines in areas you will move pots to. Close the emitters until you're ready to use them.
• Monitor water in saucers. You'll want to empty them to minimize mosquitoes and hardscape staining.
Pangman says a battery-powered timer attached to a hose bib is another popular automatic system.
She doesn't highly recommend it because of the need to change batteries.
However, homeowners like it because it's less costly and simpler than installing an irrigation line.
She recommends checking the timer to make sure it can run as briefly as a minute or two, which is all you may need.
WICKING METHOD IS EASY, TOO
Wicking is a popular way to automatically water plants.
A reservoir of water is slowly drained into a pot using a wick. They are available at gardening centers.
One do-it-yourself method is to fill a bucket with water and run a rope between it and the potted plant.
The Community Food Bank of Southern Arizona teaches gardeners how to create another type of self-watering container.
A container with a plant in soil is placed inside a container that holds water and a wicking chamber attached to the top container.
The food bank will hold a container workshop 9-11 a.m. Feb. 27, at its garden, 3003 S. Country Club Road.
It's free or $10 if you want to build a container. To make required reservations, call 882-3303.