Water — how to use it and how to save it — is the theme of several Tucson-area garden tours scheduled for Saturday, April 13.
The Pima County master gardeners, who are specially trained gardening educators, focus all four of their residential stops on efficient water use.
Hobbyists who make up the Green Valley Gardeners club will host five stops, at least two of which use irrigation systems that get the most out of their water resources.
A third tour will open community gardens to the public.
Here's a round-up of what visitors will see.
MASTER GARDENERS HOME GARDEN TOUR
"Water Wise" is this year's theme of the tour of gardens tended by Pima County master gardeners. Each stop will feature an educational talk.
Peggy Young and Mark Nearing quickly learned how expensive it was to irrigate the many grape vines and fruit trees that surrounded the home they bought in 2011.
"While the vines were pretty and we had loads of fruit, the water bill was like having an extra mortgage," Young writes in publicity materials about the couple's tour stop, "Hilltop Refuge."
Today most, but not all, of the water-sucking plants are gone. In their place are cactus, agave, aloe and other plants with low water needs.
Among their water-saving efforts are a xeriscape design, a rainwater harvesting pond, a check dam and zone irrigation with separate lines to areas with similar watering needs.
The talk topic at this stop is "Xeriscape Principles."
The other stops on the tour are:
"Sculpture in the Desert," which has many low-maintenance, desert-adapted plants, mature trees, garden art and a rock design that directs rainfall. Talk topic: "Redirecting Water."
"The Little Garden That Could," which started with only two plants some 20 years ago. Now it's full of herbs, succulents, flowering plants, citrus trees, vegetables and ground cover. Topic: "Active Water Harvesting."
"Nature Nurtured" with a certified wildlife habitat and a certified monarch butterfly habitat. They demonstrate xeriscape design, water harvesting and desert-adapted plants. Topics: "Passive Water Harvesting" and "Creating Habitats."
GREEN VALLEY GARDENERS
Patty and Paul Calver, whose home is tour stop No. 5 on the Green Valley Gardeners club event, have created a garden that fits their traveling lifestyle. The secret is the watering system.
"The big thing is we put in a six-zone drip irrigation system," says Patty Calver.
By having timers for each of the six separate lines, plants automatically get the water they need.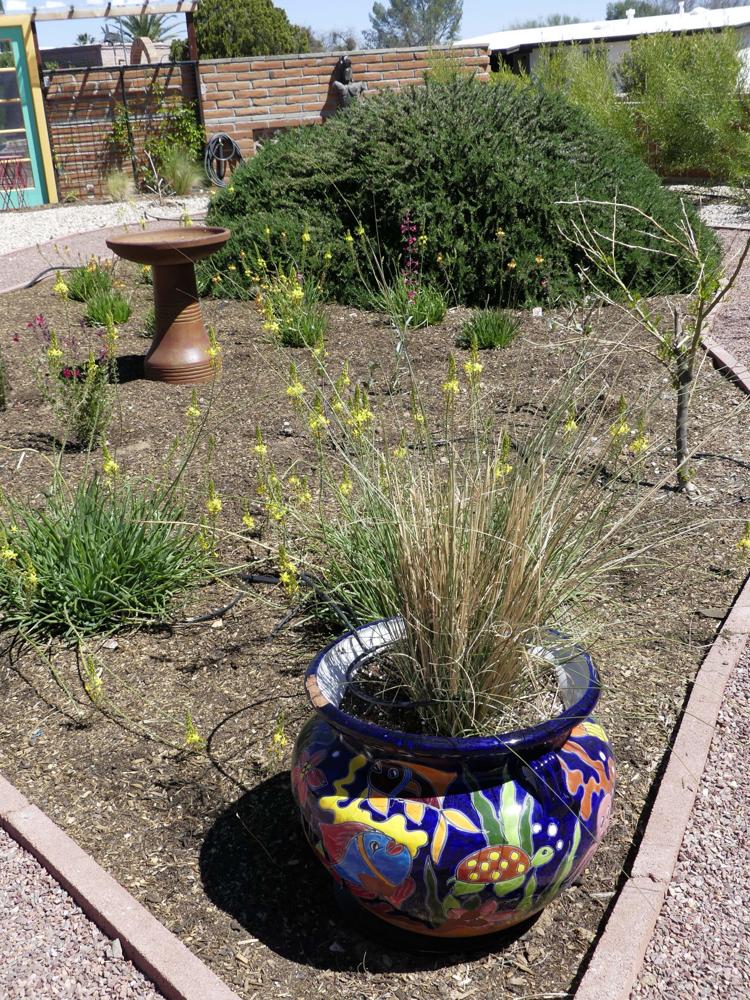 A weather app on Calver's phone allows her to remotely monitor rain conditions. And she can remotely adjust the watering systems if she needs to add or cut back on irrigation while away.
The couple also invested in plants that are cold-tolerant down to at least 20 degrees. This reduces the need to be home to protect plants from impending freezes.
Garden stop No. 4 on the tour harvests water for most of the irrigation to native and desert-adapted plants on a large piece of property.
Garden stop No. 1 has a wide variety of agaves, flowering plants, cacti and palms, plus a water feature.
Garden stop No. 2 is a professionally designed front courtyard that boasts colorful pots and trees, cacti and perennials.
Garden stop No. 3 features walls, arches and an outdoor kitchen covered in colorful tile. Artwork adds interest to the herb garden and other edible-plant beds.
COMMUNITY GARDENS
Users of two southeast side community gardens have joined forces to create this tour.
The Rita Ranch Community Garden is part of the Community Gardens of Tucson, an organization that coordinates 20 locations. The Civano Community Garden is run by residents of the master-planned Civano neighborhood.
"Visitors will learn how raised beds are built and we will be doing transplanting, composting and other demonstrations," says Elizabeth Smith, executive director of Community Gardens of Tucson.
Each garden will have hosts to answer questions and lead tours.