Bonnie and Mike Baron are stuck in the 1950s. And they love it.
"We like the old stuff," Bonnie Baron says about the couple's landscape and outdoor knickknacks at their far-east-side home. "It reminds us of our childhood. It's whimsical and fun. We don't take it seriously."
The Barons, who are in their mid-60s, grew up on Tucson's south side and attended Sunnyside Unified School District campuses. The Sunnyside High School sweethearts got married right after graduation. They moved to their current home 39 years ago.
The plant selection there isn't 1950s design. They opted to keep and add low-maintenance desert natives. It's a result of lean, busy years as they raised two children and held jobs as teacher, student council adviser and cheer coach (Bonnie) and telephone maintenance worker (Mike).
The naturalness of the front yard earned the couple a National Wildlife Federation certification as a wildlife habitat.
But mixed among the barrel and golden cactus, brittlebush, mesquite, cholla and other natives are finds from flea markets, antique stores and garbage bins.
There's the yellow Tonka haul truck that looks like the gigantic dump truck Mike Baron's dad operated at the Pima Mine. This one holds some columnar cactus.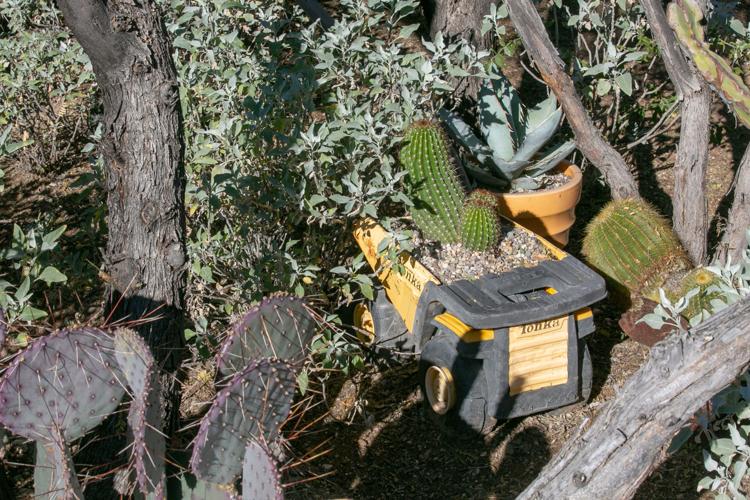 Next to it, another cactus is growing out of a food can Bonnie Baron saved from the kitchen one day. Clues to its previous contents are obscured by rust.
Stools are made from old tractor seats painted purple. A rusted wheelbarrow holds sparkly white cobbles that Bonnie Baron's mom gave her. A rusted push lawnmower hides behind a bush, as does a rusted toy pedal car shaped as a firetruck.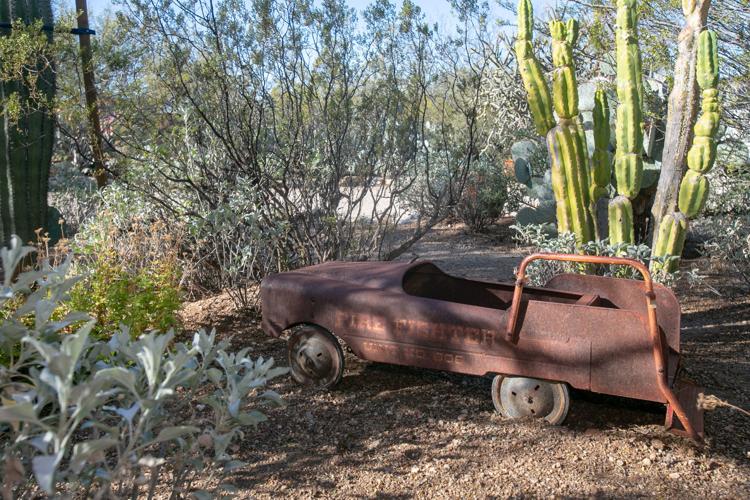 Metal javelina and roadrunner populate the space.
BARRIO GARDEN
In the center of the front yard is a fenced area that Bonnie Baron calls the "nana" garden or "shrine" garden. It replicates the Mexican-American barrio gardens of the couple's childhoods, especially those found in the Barrio Hollywood homes of Mike Baron's extended family.
Barrio garden style is marked by recycling items, especially from the kitchen, as plant containers. It also often includes shrines, medicinal herbs and modest outdoor furniture.
Shaded by a sprawling mesquite, the Barons' floor of the circular garden is made of old bricks that came from downtown buildings. Some of the post holes in the bricks are plugged by marbles Mike Baron found in a trash bin.
An Our Lady of Guadalupe statue stands on a cement altar, flanked by smaller Chinese shar-pei statues in honor of the couple's late pets and by bright blue Christian crosses.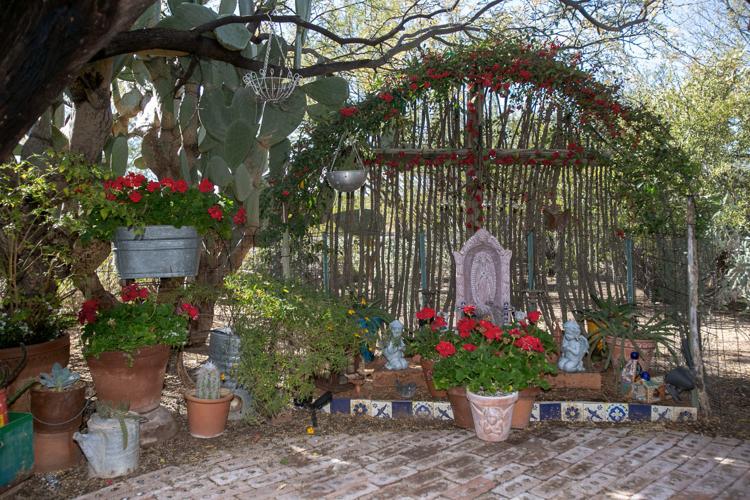 Geraniums, cacti and other plants reside in colorful pots, rusty cans and a hanging vintage star colander. Marigolds and other decorative items are added during Dia de los Muertos observances.
A tall, bushy rosemary bush adds scent, which is what Mike Baron likes the most about plants.
Mid-20th-century motel chairs provide seating.
The design for the courtyard garden was dictated by a path the kids naturally carved out when riding their bikes through the yard. Its size was determined by the length of a metal scalloped fence.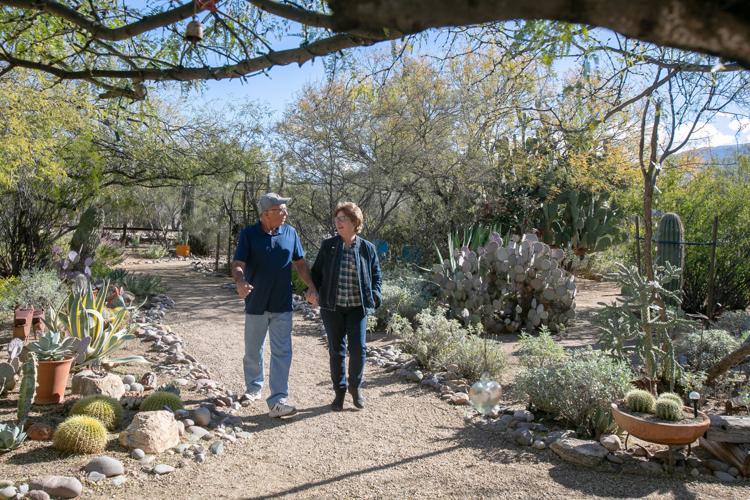 "We bought the fence and this is all we had," Mike Baron says as he sweeps his hand across the garden.
INVITING PORCH
The couple's newest project was completed a few months ago. They converted a breezeway from the carport to the front door into an inviting porch.
Bonnie says she got tired of looking at the cars from the door, so Mike built a floor-to-ceiling fence of ocotillo stems at that end of the walkway. It's not planted into the ground as a living fence, but potted jasmine is growing up the stems to add greenery.
Now the couple has a seating area that is walled on three sides. A short wall along the fourth side looks out on the gardens.
Cobalt blue, terra cotta and Talavera pots are filled with plants that javelinas will unlikely eat, says Bonnie Baron. They include crown of thorns, Moroccan mound (Euphorbia resinifera) and agave. A spider plant is tucked into a corner and sits on a high plant stand, making it less noticeable to the peccary.
A three-tiered Talavera fountain is full of jade and other small succulents.
A blue café table and chairs provide a place to relax.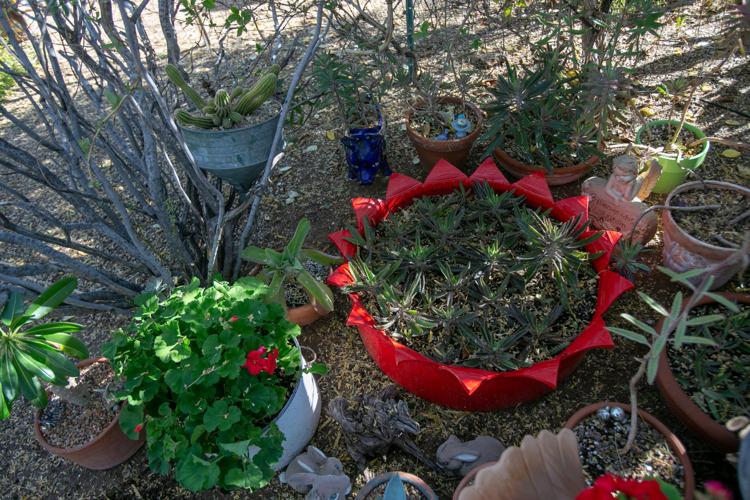 As retirees and empty-nesters, the Barons work part time as Sunnyside High School cheer squad coaches. That leaves a lot of opportunities to tend their landscape.
Plans call for starting a vegetable garden in the backyard of their 1-acre property. It will be set off from the pool and patio, the potting tables that Mike Baron built and the large section of mounding rosemary bushes.
"I'm an avid gardener," says Bonnie Baron, who recently completed the classroom portion of her Pima County master gardener training.
"I do a lot of the labor," adds Mike Baron. "We collaborate on this together. Now it's my hobby, I guess."
"He's being very modest," Bonnie Baron says. "He has dug every hole on this property. I was always raking and weeding."
The Barons' gardens are the results of years of creating comfort and naturalness as the mood and finances moved them.
"We didn't have a finished vision," Bonnie Baron says. "We just made it as we go."
Sprout new ideas
With our home & garden newsletter!