Ten-year-old Ryder Drachman has big dreams and it all starts in his garden.
The soon-to-be fifth-grader at Marshall Elementary School is growing melons and pumpkins in the hopes of making some money.
"I'm interested in gardening because I have a dream of watermelon and pumpkin sales," he says.
He learned gardening from his mother, Julie Drachman, when she used to work in the school garden.
She's taking a break, but Ryder wanted to keep going.
"What originally started him was we had a ton of weeds on the side yard," Julie recalls. "He pulled thousands of weeds on the side yard and I think he started dreaming. He said, 'Mom, I want to fix this up.'"
Ryder settled on growing melons and pumpkins for his potential fruit stand, as well as strawberries for the family and catnip for his three cats.
The seedlings are popping up in that side yard and underneath the trampoline in the backyard.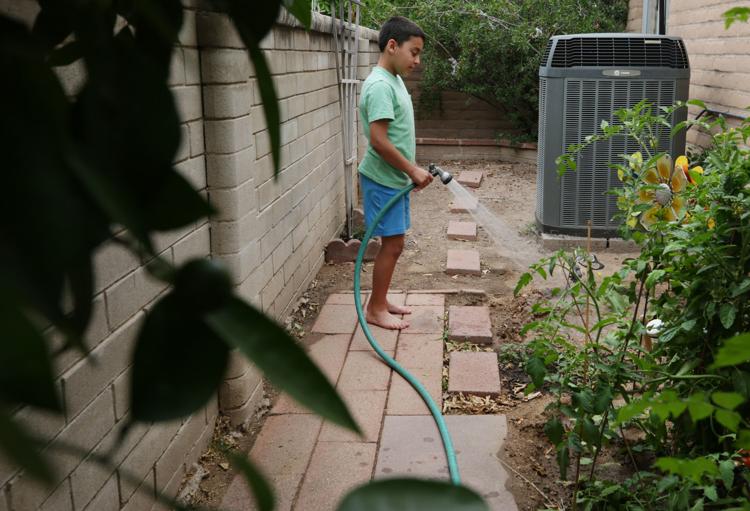 He's dedicated to working the garden, mostly by watering every day, even into the hot summer months. He's already thinking of what he needs to do.
"Wear a hat," he says. "And get your shirt wet."
That last bit of strategy is a family tradition whenever they work in the summer garden, says Julie. It keeps them cool while the runoff irrigates the plants.
Several gardening educators echo how important water is for plants, as well as young gardeners who want to keep growing stuff during the summer school break.
"I call it double-duty," says Anna Van Devender, owner of Nature to You and enrichment instructor at Miles Exploratory Learning Center. "We're using more water than we really need to right then, but we're also using it for two purposes."
Here are some other ideas that gardening educators offered for youngsters who want to grow plants in the toughest weather of the year.
PLANT
"I think potted plants are a wonderful way to keep kids gardening in the summer," says Moses Thompson, school garden program coordinator for Tucson Unified School District. They take up little space and can be moved to better conditions.
They can also be moved into the shade for watering or harvesting if it's otherwise too hot, says Clare Healy, school garden coordinator for the Community Food Bank of Southern Arizona.
Plant things that can easily be grown in the summer, such as basil, mint, rosemary, lemon grass and cherry tomatoes. Find desert-adapted or native varieties.
Sunflowers, poppies and chia also do well in summer.
"Grow plants that your family will eat and with recipes in mind," Healy says. That includes starting plants in the summer that won't be harvested until the fall or winter.
If it's too hot, consider growing plants indoors.
TEND
Besides watering gardeners along with plants, educators say to make gardening as comfortable as possible by not doing it during the hottest part of the day.
Thompson typically takes care of home landscaping chores after 7 p.m.
"I have two little ones ... and I let them loose with a small watering can," he says.
Using self-watering containers helps keep plants irrigated while the family is away on vacation, says Healy. Or find a friend who can temporarily take over and reward with participating in the harvest.
OBSERVE
Just spending time in the garden helps keep interest up in youngsters.
Encourage them to keep a journal of observations, drawings or poems of how plants change, Healy suggests.
Van Devender likes to bring her sons out before breakfast to water the garden and see what's happening.
"Just being outside makes it possible that they might notice a sunflower has opened today," she says.
And don't be discouraged if what's observed is a garden that's not growing well.
"Don't be afraid to kill things," says Van Devender. "Just keep planting."