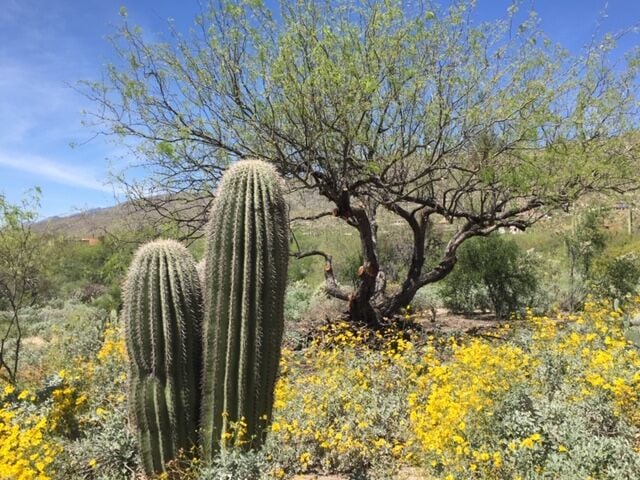 Tucson's hot, dry summer is a good time to reflect on your garden. Inevitably, that leads to thinking about changes to make your garden work better for you. Perhaps you want to add a pollinator garden? Or maybe you have a dead spot that you want to plant? Maybe you have a large area that you want to turn into a water feature? Whatever your garden's challenges, before you bring home a bunch of plants, think about the design of your garden.
Beautiful garden design can be a little difficult to pin down, but we know what we like when we see it. Designers use a process to create lovely and functional gardens and you can follow the design principles discussed here as well when laying out your garden plan. I will also talk about the elements you can use to bring the design principles to life.
A garden is very individual. There is no one "right" design for a given space — just one that works for you. Also, keep in mind that your garden is a dynamic, living space — plants will die, trees will grow and provide shade, and your needs will also likely change over time. With that in mind, here are some steps that might help you figure out what you want your garden to be. As you move through the process, take notes, gather ideas from other gardens, make sketches, and collect plant lists. You will refine your choices as you go along.
Starting out with your design
You can find some great inspiration online by searching images of other gardens. Keep in mind, however, that due to our unique climate and ecosystem, some traditional garden designs may not work well here. Looking at local gardens will help you narrow down your priorities, as well as learn about what plants look good here. Some places to start are Tucson Botanical Gardens, the Pima County Master Gardeners demonstration garden, and Tohono Chul. I also highly recommend walking through your neighborhood and seeing what others have done in a similar microclimate.
Before you start planning out your space, think about what you want it to do for you. Do you want a place for pets or kids to play? A spot for chickens? A wildlife garden? Do you want to grow food?
You will also need to consider how much space you have, and the sun and wind's effects on your garden. You need to do this even if you're just designing a small section. You can overcome some natural shortcomings of the space, but it will cost you — either in effort, in money, or both.
When you're thinking about your garden design, don't forget to include a plan for irrigation. Drip irrigation is the most efficient in our climate. If you're starting with a blank slate, you can consider setting up grey water or rainwater harvesting.
Design principles
Now that you've given some thought to what you want and whether it's feasible, here are some basic principles of design which can serve as a guide.
A garden has to have a concept that holds it together. Some refer to this as unity, style, or order. The idea is that the space isn't just a jumble of plants —someone has given some thought to what goes where, the relationship of the different elements to each other, and their purpose. For example, a free, messy pollinator garden can exhibit order of a sort — an order that comes from its purpose, plant selection, and spatial design, as well as plant color choices.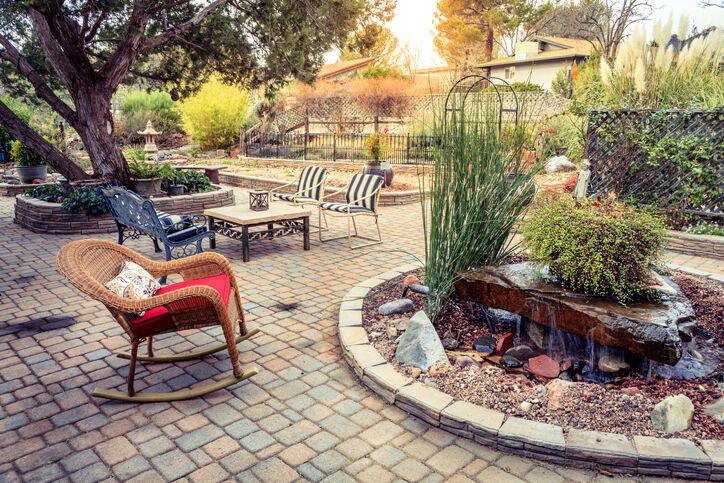 The garden should also have a flow or sequence that invites the audience to explore it. Even a small space can exhibit this quality, through visual tricks that add depth and suspense as you look at it or wander through (more on that below).
The space will likewise need to have balance and harmony, and exhibit the appropriate proportions. This does not mean that all the plants on either side of a path need to be the same size! A more formal garden will balance the design elements more rigidly, but informal gardens can be pretty free with their balancing elements.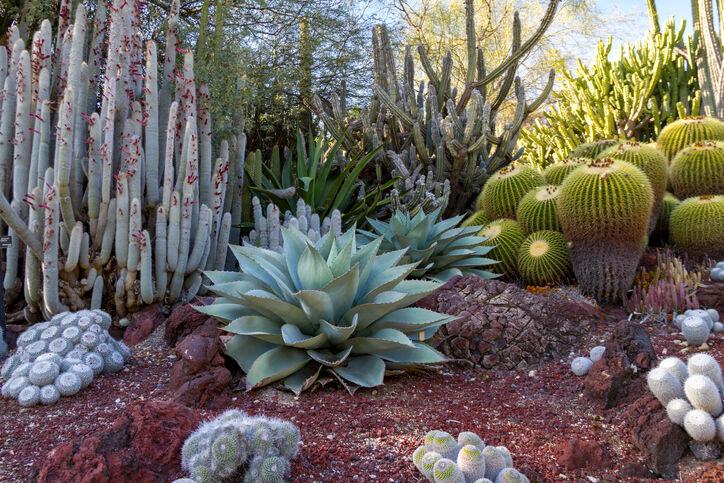 One mistake you can easily avoid is having elements that are the wrong scale — too big or too small for the space and for the surroundings. For instance, a fairly narrow, one-story house should not have a 50-foot tree in front of it. Likewise, a ½-acre yard needs to have fairly large planting beds or trees if they are not to look ridiculously small.
The human eye prefers odd numbers of things grouped together, so if you're planting a bed of (for example) pollinator plants, try to use at least three of each kind. In general, you can't go wrong with more plants (unless you have very little space or budget). Some may die or do poorly, and you want to end up with a mass of plants rather than a few sad little specimens scattered in the yard.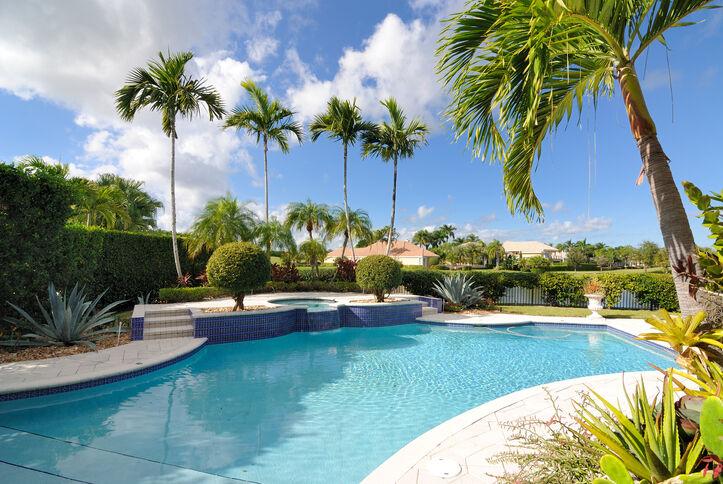 Design elements
So how do you achieve these principles in your space? Here are some design elements to use in your garden to achieve the looks and function you want.
Delineation of space: Some designers feel that a garden is by definition a space that is enclosed in some way. It may be a fairly open enclosure, consisting of plants that you can look through, or it may be more formal elements such as walls and overhanging roofs. The choice is up to you, but chances are that if you leave your garden space completely open, it will not exhibit the coziness and sense of anchoring that many want from their outdoor space. You can delineate your garden space with any number of objects or plants; keep in mind that pathways and patio areas also delineate spaces and help establish the flow and rhythm of the garden.
Repetition: Repetition of any sort will add a sense of harmony and balance to a space. Don't use too much, however, or you may end up with a boring garden. Examples of elements that you can repeat are plants, colors, textures, patterns, and forms.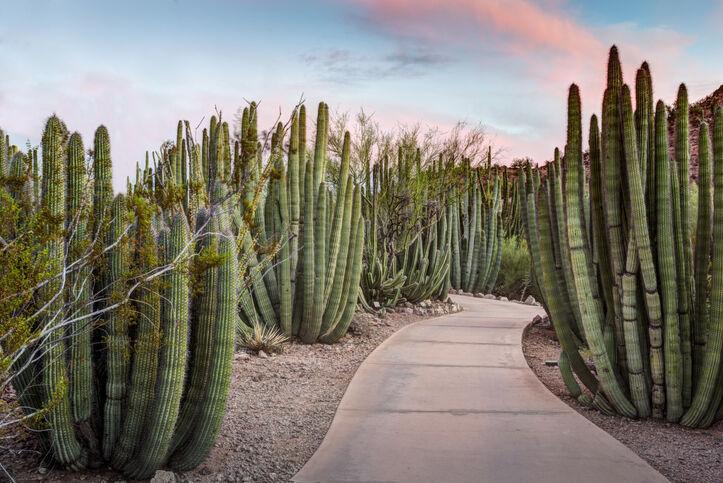 Shape/form/pattern/texture: Speaking of which, these design elements also contribute to your overall design. Curvy shapes feel more natural, while rectangles and squares are associated with more formal gardens. Patterns can be seen in your choice of wall or trellis, or even in the pattern of light that falls through a shaded tree canopy. Different textures can be used to bring interest to a space--for example the contrast of a tall spiky yucca with a softer-looking sage plant.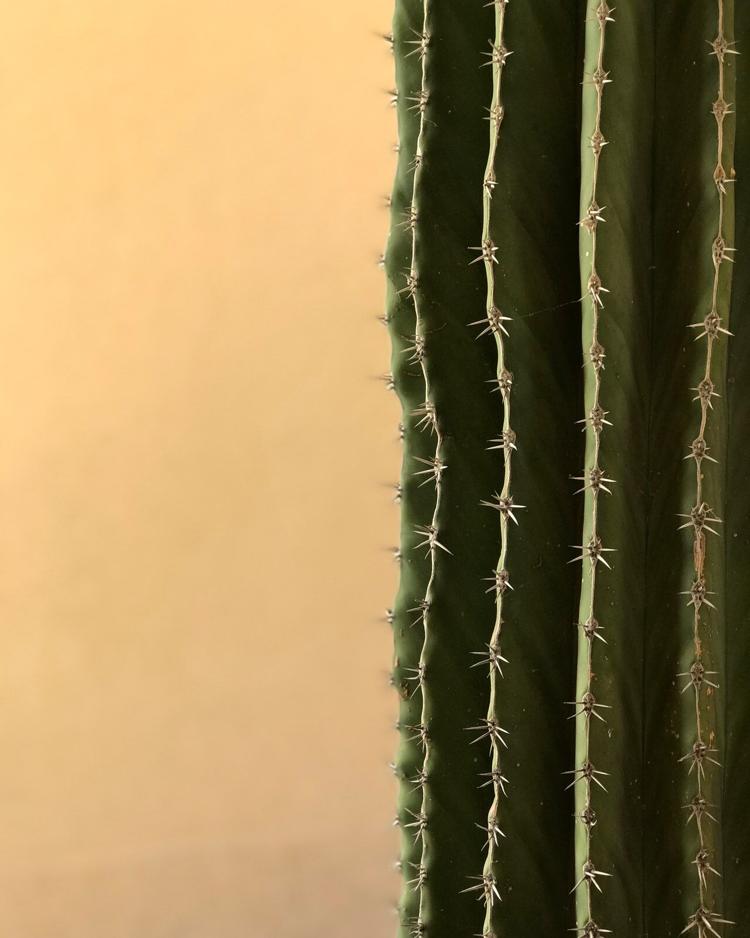 Visual layering: This is one of the ways you can add more depth and dimension to your garden. You can create layers most easily by grouping plants together according to size: smaller in front, mid-height, then tallest in the back. This will give a more natural impression, since that is how plants grow in nature — any given corner of meadow or forest will have varying height plants. If you want a more formal, balanced look, you can add layering by adding plants of a different color rather than varying the height. You can also use structures such as walls, water features, and trellises to add layers.
Focal points: You can use focal points to bring the eye towards a certain area. Focal points can consist of unique plants, water features, sculptures, walls, paths, colors, and many other things. Use these very sparingly, or your eye will be bouncing back and forth between them and the overall experience will be jarring.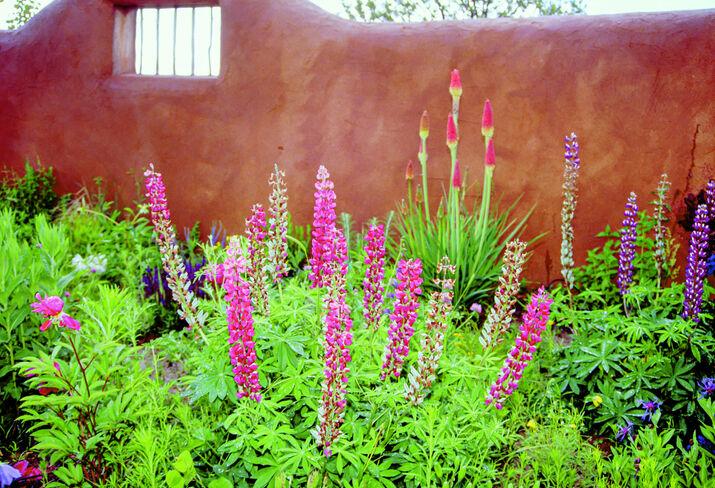 Color: Judiciously using color in your garden can add a huge dimension to the design. Warm colors such as reds and oranges tend to bring the eye forward, while cool colors give the impression of receding. So if you have a small space, you can use cool colors in the background to make the garden seem larger. You can also use color to add focal points--for example, colors on the opposite side of a color wheel from each other (like purple and orange) will tend to stick out, while colors next to each other (like green and blue) will blend together.
Light: Here in Southern Arizona we are blessed with lots of beautiful light — too much, at times. Using shade and light is a great way to add depth as well as functionality to your garden. Think about the position of your house in relation to the sun and where in your yard you want to have your morning coffee or afternoon relaxation and plan your shade and light accordingly. As your trees grow, the light falling on your landscape will change, and you may need to alter your design a bit. And don't be afraid to use bright colors — our bright skies can take the competition, and they won't seem overwhelming like they do in some climates.
Above all, keep in mind that your design is a process, and not an instant effect. You will be tweaking it over the years, but that's part of the fun.
More resources on garden design