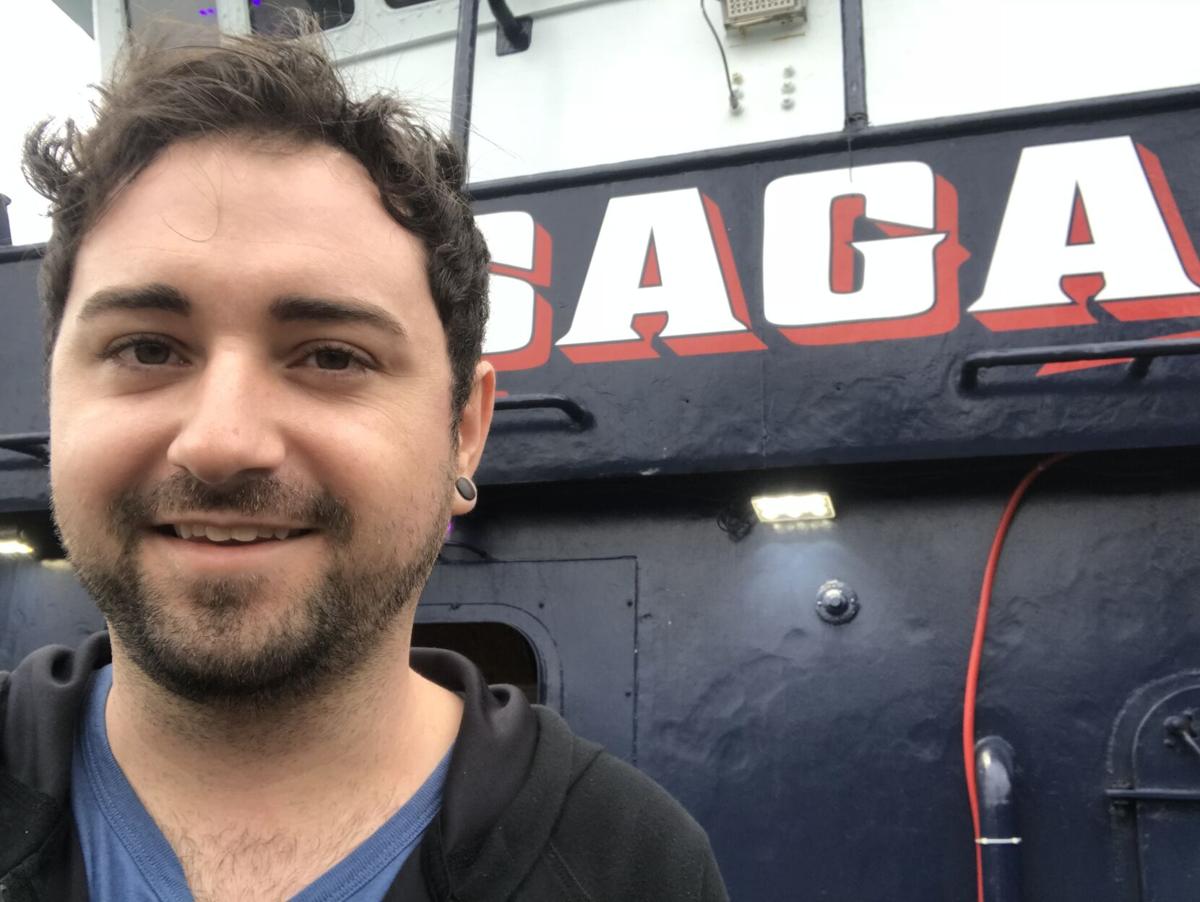 When storms in the Bering Sea bruise and batter the crab fishing boats from the popular Discovery series, "Deadliest Catch," it's Ironwood Ridge High School grad Nico Natale who makes sure the footage is broadcast-ready.
Natale has been on the production crew of the series since 2011. Today, he is an editor on the show, which celebrated its 17th season earlier this year.
His work turning weather-worn crews on boats with monikers like the Cornelia Marie and Northwestern into household names for viewers around the world has not gone unnoticed.
On Sunday, Sept. 19, Natale and members of the team with which he edits are up for Primetime Emmy Awards in the category, "outstanding picture editing for an unstructured reality program."
The long-running show is squaring off against several other programs of note, including "RuPaul's Drag Race" and the Netflix series "Cheer."
Natale said the process of finding the perfect shots, the right music and fine-tuning the story for television, often on tight deadlines, can be grueling work, but he is always up for the challenge.
"It is like a puzzle," he said. "Fitting all the pieces together and making something entertaining."
Natale has long had an interest in film and television, even at an early age.
Growing up in Oro Valley, Natale would often make elaborate skateboarding videos with his friends and was involved both behind the scenes and on stage with the drama departments in middle and high school.
"It's kind of always been a part of my life," Natale said. "I bought my first video camera when I was 10. I remember looking for the money to buy this video camera because I really wanted to film little movies. I still have it."
After graduating from Ironwood Ridge, Natale made his way to Southern California to pursue a job in the entertainment industry.
His earliest gig was as a footage logger, someone who watches footage from a series and types out everything that is taking place, for Original Productions. He was tasked with logging storylines from reality shows, such as "Ax Men" and "Ice Road Truckers."
"It's kind of like a production assistant position," Natale said.
In 2013, Natale was hired on as a clearance coordinator for Season 9 of "Deadliest Catch." Within a year, he was bumped up to an associate producer, then story producer and finally editor.
"I started at the bottom," Natale said. "I could see all these other people ahead of me that have been doing it for a while, and I was just like, 'I want that. That sounds so much cooler.' "
His time with the show has allowed him to hone his craft, but also travel to a part of the world that he had never seen before: Dutch Harbor on Amaknak Island, part of the Aleutian Islands in Alaska.
As an associate producer, Natale would travel to Dutch Harbor twice a season to ensure a healthy send-off for the production crews.
"It's this beautiful island full of cliffs," Natale said. "You fly in on this little plane and pass by these volcanoes. You land on this island and it's just like an industrial world of fishermen."
It has also given him a chance to get close with the fishing crews, to share in their joys and their sorrows and to witness some of the harrowing situations they find themselves in from afar.
"You watch a lot of raw footage, and you feel just as terrified," Natale said. "Some of these waves are 30-40 feet tall and you're like, 'holy <expletive>, that's terrifying.' "
Back home in Tucson, far away from the roiling waters off the Alaskan coast, Natale's father, Joseph Natale, is "immensely proud" of his son.
Joseph, who is part owner of the estate sale business, Grasons Co. of Southern Arizona, said his son's ambition comes from a mix of observing his parents growing up and being consumed by the nature of the entertainment industry.
"He comes from a family of hard-working people," Joseph said.
Joseph won't take credit for his son's accomplishments, but he is a believer in parents setting an example for their kids in hopes of absorbing their good character and demeanor.
"Once he got into the business, I remember talking to him a lot by just saying, 'Hey, you got to go out there and just work, hustle and network. Do the dirty work,' " Joseph said.
Whether he wins the Emmy or not, Natale already has his sights set on future projects on which he would like to work. He wants to get into scripted programming and even create and write his own show.
"I have a lot of goals," Natale said. "I'm just trying to knock off each and every one of them."