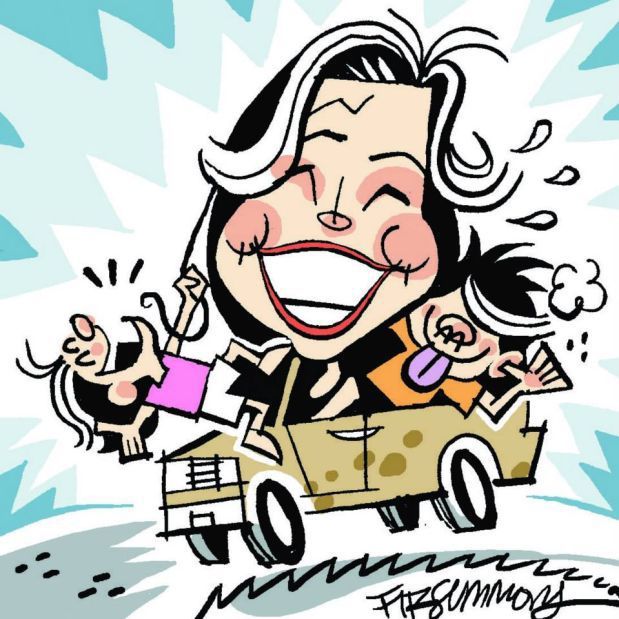 The parent giveth and the parent taketh away.
That is our strongest power. Especially when it involves an iPhone.
Although, I do fondly remember a time when indiscretions were easily and swiftly punished with an early bedtime. Ah, that was the best. Win-win, I tell ya.
But that doesn't cut it anymore. These days, technology holds the biggest sway. Or, in some instances, beauty equipment. I remember a friend taking away her teenage daughter's flat iron for a week as punishment. Brilliant.
Get 'em where it really counts — wherever that might be. In our house, it's gizmos.
And, of course, one kid — we shall not name numbers — loses that privilege more than the rest. Chalk it up to that lovely stage of 'tweeness. They're so full of — let's call it "sass," shall we, since this is a family newspaper? — and while I occasionally, grudgingly appreciate how this kind of blossoming yet obnoxious independence will serve her well later in life, for now it kinda sucks. I daydream about hightailing it to Pennsylvania and conning an Amish family into a child swap, so I can see what it's like to have a kid who's super obedient, not afraid of back-breaking labor, can churn butter and is cool with unfashionable clothes. I think I'll call her ... my favorite child.
Back to the missing phone, I noticed the other day that No. 2 hadn't been on her cell very much, or at all. Odd since Instagramming is her new favorite hobby. Don't follow her unless you want to see 100 pictures of the exact same thing (typically an extreme close- up of her new braces complete with turquoise rubber bands or a white blur that is actually our fast-moving puppy).
"I'm surprised you're not on your phone."
Oh, and let me clarify that it's not so much a phone as a severely screen-damaged (as in clear packaging tape is holding the glass shards together) device for connecting to the Internet that she inherited from her grandpa who dropped it. Hard. It doesn't have phone service, but what kid uses that anyway? She just wants Internet and the ability to record TV shows she's currently watching, so she can see them on the teeny screen rather than the supersized TV in front of her. Makes sense.
So anyway, I noticed she hadn't been on her phone.
"You took it away," she said.
Whoops. No memory of that whatsoever.
Now I feel really bad because I have no idea where I stashed it. I checked the usual spots — in a drawer by the TV, on the bookshelf (definitely safe there), tucked in with my shoes (safe because everyone knows NOT to touch my shoes). No sign of the phone, but I did turn up a remote control for the TV, two completely corroded batteries, an embarrassing number of vitamins and supplements that expired last year and… Easter candy (taken away for no doubt a good reason).
I have no clue where the phone could be.
Here's the weird thing: I'm wondering how hard I should really look for it, since now she doesn't seem to miss it. She has adapted to life without a cell, which is a very good thing. But, it's a very, very bad thing that my memory is already this shot.
It's driving me crazy that I don't remember where it is. So if you'll please excuse me, I have a phone to track down.
Contact Kristen Cook at kcook@tucson.com or 573-4194. As the kids polish off the last of their Halloween candy, Cook can't figure out why the teeny candy bars are called "fun-sized." Truly fun? A 5-pound Snickers.