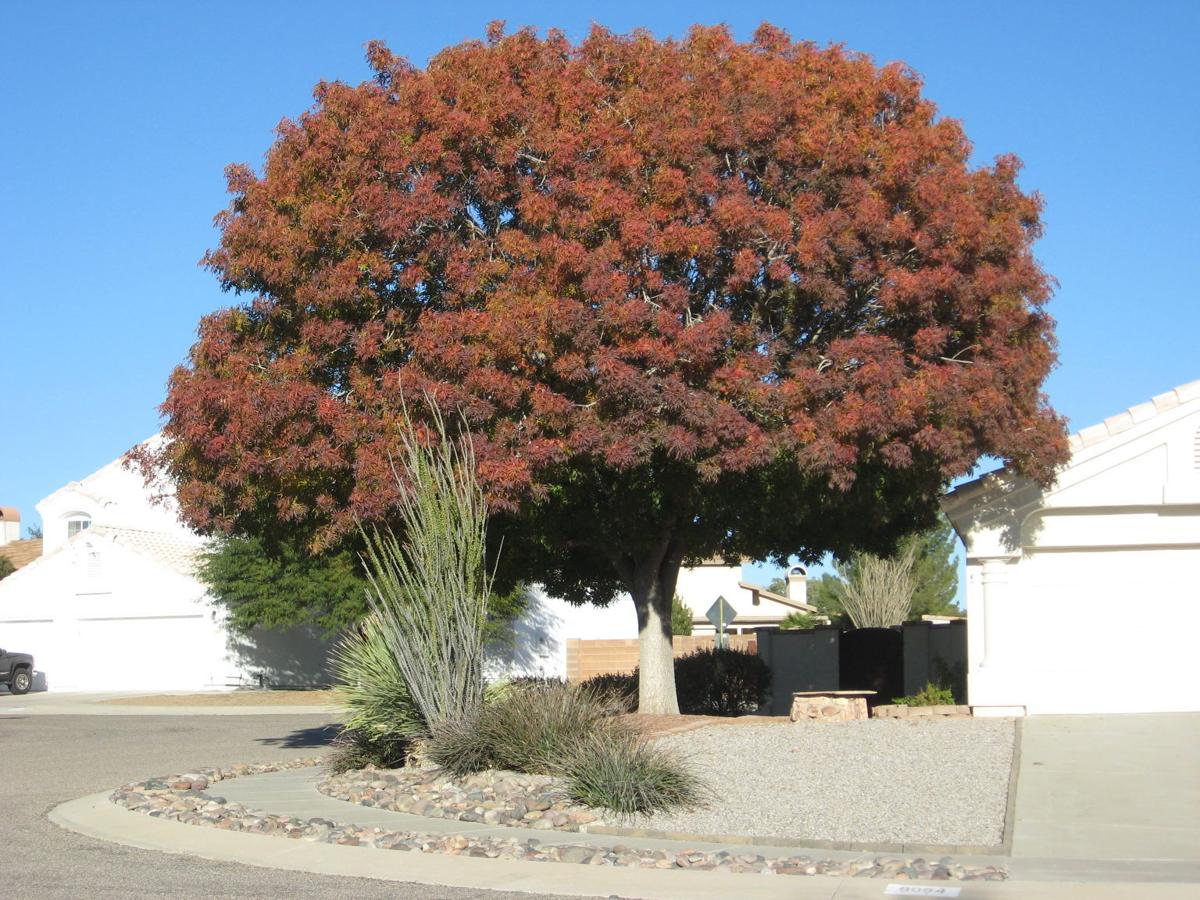 Each year, thousands of Arizona residents email or call Rosie Romero's radio show with questions about everything from preventing fires in their chimneys to getting rid of tree roots invading their sewer system. His goal is to provide answers that suit the specific lifestyle wherever someone lives in Arizona.
Q: What's your opinion of the red push pistache tree?
A: They're very beautiful trees that provide lots of fall color, as you probably already know. In the autumn their foliage turns a brilliant burnt-orange. They're fairly drought-tolerant, and they grow up to be good-sized shade trees. So you should always plant them in a large-sized yard with plenty of room for the tree's canopy. Since they're deciduous and lose their leaves in winter, pistaches are good to plant on the west side of your house. They will shade the house in summer, but allow more light in your home when their limbs are bare. As you may know, many of these trees are grown locally at the Arizona Pistachio Nursery in Marana that has a long history in this area.
Q: I'm interested in buying a solar generator. But would a generator like this work when the power goes out in your house?
A: A solar generator might be useful at a camp site or in a disaster area. For example, it could help power refrigeration for protecting your food supply in the great outdoors. But if you're looking for equipment that's more dependable for providing power in your home in an emergency, a gas or propane-powered generator would work better.
Q: I'd like to have a home office, but I can't dedicate a whole room to being my office. In the room I am using I have to keep my dog's crate and sometimes the dog, as well as my sewing machine. So how do I do that?
A: Lots of people face the same situation. All you really need is an area to install a desk with a knee space under it. You can easily install a keyboard tray in the kneehole for your laptop or PC and then install cabinets up above your work space. There are lots of solutions on the market that can help with your design like electrical outlets that also have USB ports in them so that you can clean up a lot of the wiring you need for your computer or laptop.
Your desk plus its countertop will be about 31 inches tall and you need a desk chair that can allow you to sit at the keyboard with your hands held in a comfortable position. You also want to ensure that you have proper lighting for the room.
An extra bedroom is often a good choice for a home office. Years ago, homeowners would put a computer station in their kitchens, but now they're less popular. People are ripping out those computer desks to provide more kitchen cabinet space.
Q: I had solar panels put on my roof. But now for some reason, my roof has been damaged and needs work. So what do I do now?
A: Solar companies should always have a roof inspected before panels are mounted so that any repair work can be done in advance of the solar installation. On a flat roof, the solar installers can leave a space underneath the panels for work to be done. But with a pitched roof, any problems need to be fixed first. If you need repairs on a pitched roof, there will be a cost to take the panels down for reroofing and then putting them back up on the roof.
For more do-it-yourself tips, go to rosieonthehouse.com. An Arizona home building and remodeling industry expert for 25 years, Rosie Romero is the host of the syndicated Saturday morning Rosie on the House radio program, heard locally from 8-11 a.m. on KNST-AM (790) in Tucson and KGVY-AM (1080) and -FM (100.7) in Green Valley. Call
888-767-4348.
Be the first to know
Get local news delivered to your inbox!