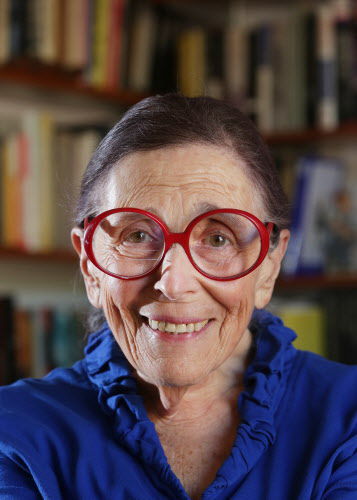 The New Year arriving in three days is a brand new year named 2020.
The year that is almost over was trying. We have been bombarded with astonishing, disconcerting and heart-breaking news from all over the world. There were some worrisome crises that we would all like to forget. I will be glad to see 2019 become history. However, as time marches on, it brings the problems deriving from such crises with it.
The numbers of our new year can be written 20/20, which stands for normal visual acuity. According to the American Academy of Ophthalmology, this is the number the eye doctor wants to achieve with prescription glasses and, with correction, the vast majority of us have 20/20 vision. We can see straight, and if we can see straight, we can think straight.
This led me to the first of my New Year's resolutions. I resolve to pretend the New Year is written 20/20. This will remind me to look for and see the truth, the good, the hopeful, the possible.
And I resolve to do the best I can to see, and work toward, the positives rather than despair over the negatives.
Some tiny, but important, positives arrived in my inbox recently. Both the Arizona Chapter of the American Academy of Pediatrics and the Arizona Vaccines for Children Program will work together to ensure every eligible child in Arizona is safely and appropriately immunized. An important step in the right direction to deal with the current measles epidemic and prevent future ones.
There is good news on the teen pregnancy front. The 2018 teen birth rate reached a record low of 18 births per 1,000 females, less than half the rate of 41.5 in 2008. Best news of all are the reasons for this drop: fewer teens are having sex, they are more likely to use contraception and there is more information available about how to prevent a pregnancy.
Though smoking (and vaping) are still horrendous problems especially in teens, the percentage of U.S. adults who smoke is the lowest rate recorded since 1965 when the National Health Interview Survey began collecting data.
The most exciting positive for me is the "child activism" we see all over the world. These young activists have the wisdom to be noisy and persistent to call our attention to the importance of solving horrific problems like gun violence and the acceleration of climate change.
But we all know there are many very difficult problems yet to be solved. Instead of getting depressed over these, I plan to focus my 20/20 vision on what needs to be done to turn problems into solutions. I do not pretend to have the wisdom or the energy to make a big difference but it's better to try than to fret and moan.
A decade ago, I gave a talk called "The State of the Children." I pointed out how children are, or should be, everybody's concern. I cited the Innocenti Research Centre, UNICEF: "The true measure of a nation's standing is how well it attends to its children — their health and safety, their material security, their education and socialization, and their sense of being loved, valued, and included in the families and societies in which they are born."
"It takes a village to raise a child" is an almost trite adage ... but think about the corollary: without children a village dies.
I will concentrate my concern and support on the future because children are the future. In order to survive and thrive, all children need a good start in life, good parental care, good education, opportunities, and a healthy environment.
I will advocate for and support access to health-care, including prevention as well as treatment. I support accessible prenatal care, parental leave, child care, and preschool for all. We need pro-family policies such as a family-friendly workplace and quality child care.
Our free public education, once the envy of the world, needs both attention and dollars STAT. Let's advocate for universal preschool, high expectations at home and in school, pay teachers more and reward good teaching, expand Head Start to reach all the children who need it. I always wanted to see a nationwide senior tutor corps that trained retirees to tutor students falling behind and I also fantasized about a student teaching corps of students doing well in school to tutor those schoolkids who are struggling.
What about the good opportunities and healthy environment all of us need, especially the children? My 20/20 vision sees much work to be done. The two things that hurt my eyes the most are inequality and our ignoring data about what is happening to our earth, the only home we have.
We are not paying enough attention to inequality. Tax policies, job losses, rampant rise in housing costs, and predatory lending have turned the American Dream into a nightmare. I still hear people grumble about government aid (A family member once told me it not only raises taxes but it weakens people who get handouts and the government has no business doing it. I politely disagreed; it was Christmas!)
Actually, the federal government has always helped: free homesteads to immigrants, free land to land grant colleges, the GI Bill, FHA, the highway system. Government programs can and do work. Social Security and Medicare lifted the elderly out of poverty. We got to the moon because we had the will to do so and legislated the cash.
We could creatively tackle root causes of poverty with the goal that people needing assistance today become taxpayers tomorrow. I can foresee establishing a parents' bureau in Washington, parent helpers corps in communities, family-to-family or senior mentoring of troubled families. New York Times columnist David Brooks suggests a sort of geezer's crusade, pointing out that, "Aging well includes generativity" and points out that us geezers do well by our own grandkids but don't think about helping other children. "We take money and opportunity from the young ... we should foment a generativity revolution and demand health care for all grandchildren!"
Novelist Alan Fry, in "How a People Die," presents a dialog between a social worker and law-enforcement agent on a reservation in Canada where a child died of neglect. "Poverty is more than economic hardship. Economic hardship is a part of it and if that were all it would be easily solved. Money would cure it. But poverty is failure and you can't buy off failure."
The way I see it with my 20/20 vision is that those disadvantaged by poverty need both the policies of the left (government aid) and of the right (jobs generated by capitalism).
Dr. Heins is a pediatrician, parent, grandparent, columnist and author. She welcomes your questions about people throughout the life cycle, from birth to great-grandparenthood. Contact her at marilynheins@gmail.com.