You know you want to do it.
You've been thinking about getting a dog that will adore you, or a cat that will ignore you for a while now.
And of course, you want to adopt — after all, more than 30,000 pets a year end up at Tucson-area shelters.
The upcoming Adopt Love Adopt Local event is your chance to do just that.
More than 25 organizations dedicated to finding homes for homeless pets will be at the fifth annual happening.
"It makes more sense to adopt; the shelters are overflowing," says Margie Dominguez, who is coordinating the Pima Alliance for Animal Welfare event.
Last year, more than 2,000 people attended Adopt Love Adopt Local, and 140 animals went to new homes.
But you don't have to go home with a pet; you can use the event to familiarize yourself with the shelters for a future adoption, says Dominguez, who shares her home with two calico cats she's adopted.
Still hesitant? Read on about the joy adopted pets have brought some Tucsonans.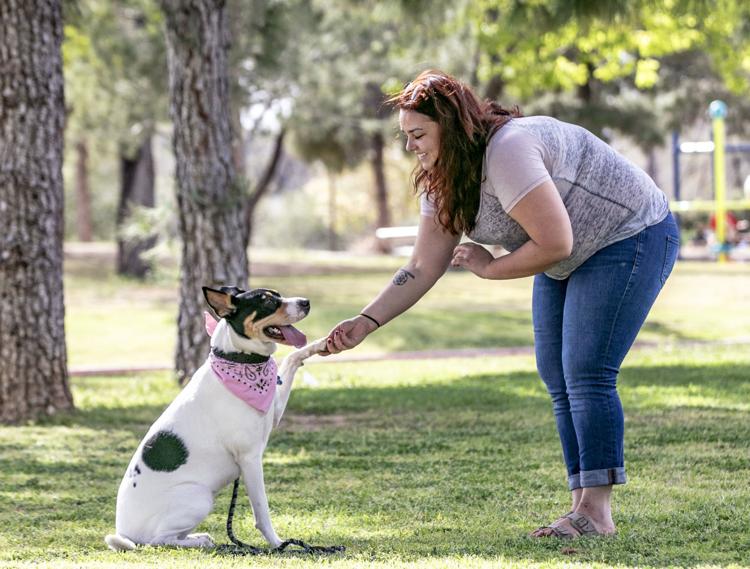 ADOPTION ADVENTURES
Melissa Lesinsky adopted her dog Riley at last year's Adopt Love Adopt Local. But that wasn't her intention.
"We were definitely not going there to adopt," says Lesinsky, who was at the event to help the group she volunteers with, Lil' Bit of Love. "I saw her face in a cage and I started crying. I knew that was my dog."
Riley, who just turned 1 in January, now makes her home with Lesinsky and her three (adopted) cats. Riley likes those cats, and helps to nurture the kittens Lesinsky frequently fosters.
And the pup is an eager companion.
"Since the adoption, she's visited the mountains, Patagonia Lake, she has made awesome doggy friends, visits the dog park weekly, destroyed at least 30 toys," says Lesinsky. "She goes everywhere with me. As soon as she's in the car, she knows she's in for an adventure."
Adoption of a pet is the only way to go, she says.
"Any place that takes in animals and helps adopt them out for a good life, that's where I want to get my pets from," Lesinsky says. "I want to support my local rescues, so I feel good paying a higher rescue fee knowing it will go back to give the pets a better life."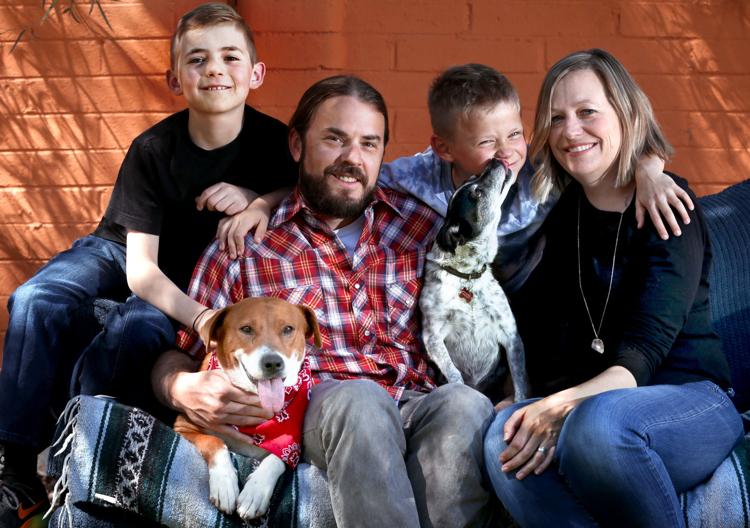 THE PERFECT DOG
Kelly Huber has been involved with Adopt Love Adopt Local since its inception. She already had one rescue dog, but she resisted adopting another.
Then she met May at last year's event.
"She was skinny and had a lot of broken teeth, apparently from trying to eat rocks," recalls Huber. Homeless, starving dogs sometimes eat rocks. "They told us she may have had tick fever, and I think she may have just had a litter. We thought she was just the perfect dog to join our family."
May has gained 20 pounds and has made herself very comfortable at the Huber household
"She's adopted one of our couches and she lays there like a queen," Huber said.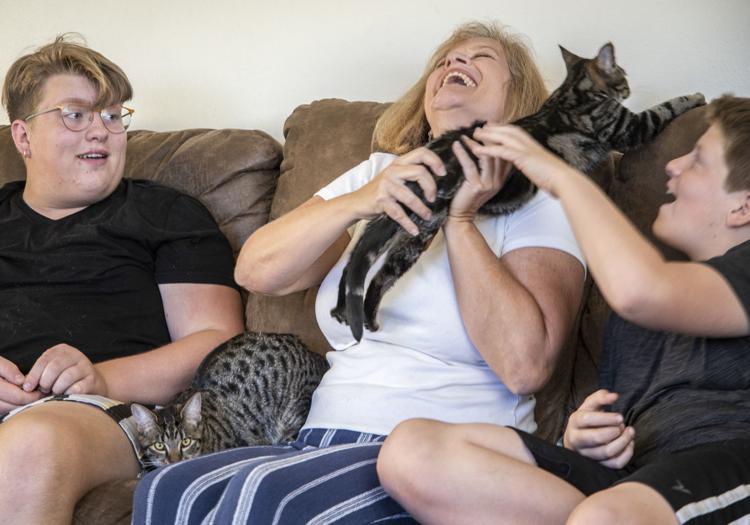 FOSTER FAMILY TURNED ADOPTIVE FAMILY
Diana Wilson is used to having cats around — for a long time, she and her children fostered them until they were ready to be adopted.
But that changed when Tabitha and Baba came to her in October of last year. The sisters were just 7 weeks old.
"They were so social and friendly and funny," says Wilson, who also has Luna, a 4-year-old adopted cat. "We just fell extra in love with them. We decided as a family in December that we were going to adopt them."
The kittens have entered their adolescence, so they are packed with energy and mischief. But she wouldn't have it any other way.
"Pets are the ultimate in unconditional love," she says.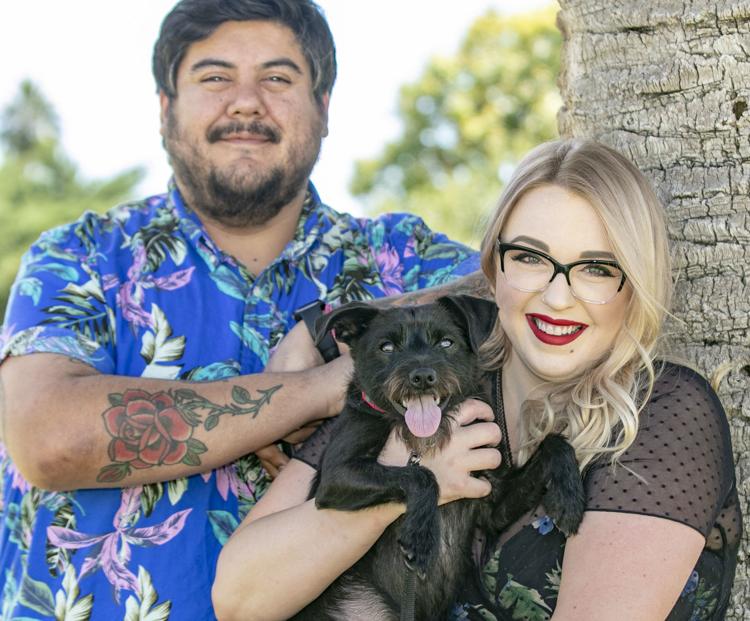 RELUCTANT RESCUER
Tori Oswald and Steven Yanez Romo adopted Felina last June from Cause for Canines, and their lives have blossomed as a result.
"She's such a great companion and comfort and makes us happier people," says Oswald. "We spend more time at home, more time outdoors, and I like my entire life more."
"She's made it harder for me to leave for work," he says.
He was reluctant to adopt a dog — as a child he was bitten in the face and had been a bit wary of canines.
"When I met Felina, I said 'take my money' and I took her home," he says. "I've sacrificed my side of the bed for her. She's shown me I am capable of loving unconditionally. She's perfect."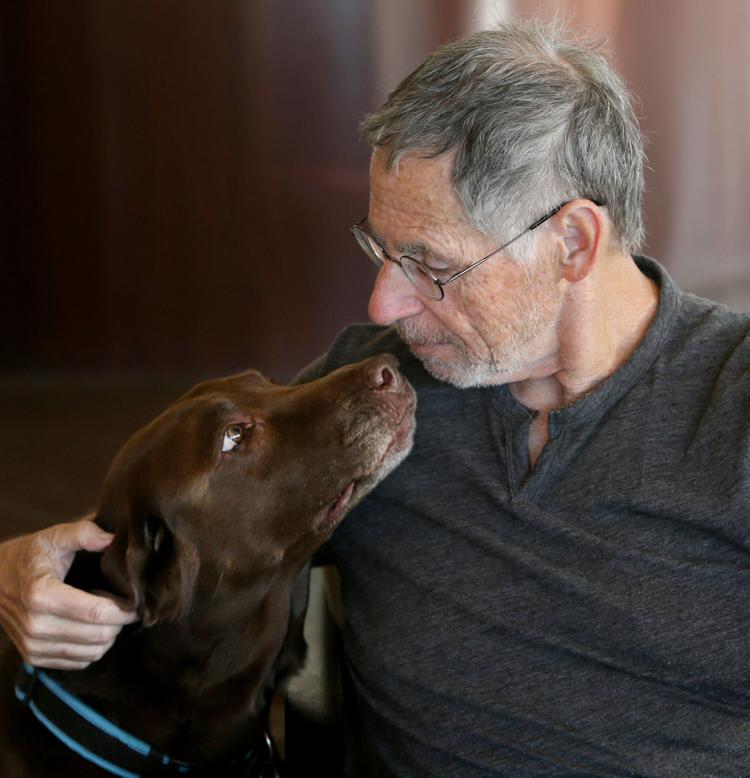 A GOOD HOME FOR DIEGO
After his adopted yellow Lab mix died, Mark Klugheit searched shelters for a year to find a pet that could replace her.
"Then I saw an ad on Craigslist. A woman had a chocolate Lab that she wanted to give up just for the cost of the shots."
Klugheit and the couple met at a park and it was an instant connection.
Diego was just 6 months old and was clearly well-loved. Giving him away was hard for the woman and her husband.
"It was the height of the recession," says Klugheit. "The husband had worked construction and they had a nice house. When he lost his job, they had to give up the house and move to an apartment where they couldn't keep the dog. They just wanted to find a good home for Diego."
Klugheit promised a good home for him.
"The husband was crying the whole time," Klugheit says. Just before he left with Diego, now 9, the man threw his arms around Klugheit and sobbed into his shoulder.
"Señor," he said, "please do not change his name."
He didn't. And he has come to understand the original owners' deep affection for the dog.
"He's the most wonderful dog I've ever had," says Klugheit. "Almost everybody in the neighborhood knows and loves Diego. He's the most loving animal you could possibly imagine."