CONQUEIROS, Portugal — The world's oldest dog recently celebrated his 31st birthday, according to Guinness World Records.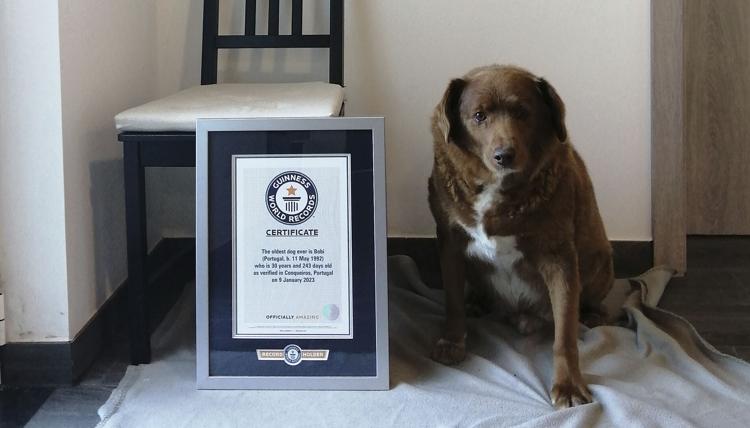 Bobi, a purebred Rafeiro do Alentejo, a breed of Portuguese dog, celebrated during a party Saturday at his home in the Portuguese village of Conqueiros, where he has lived his entire life.
More than 100 people attended the "very traditional" Portuguese party, owner Leonel Costa said.
Local meats and fish were served to up to 100 guests, with extra for Bobi, who eats only human food. A dance troupe also performed with Bobi participating in one of their routines.
Costa has owned several old-age dogs in the past, including Bobi's mother, Gira, who lived to 18. However, Costa said he never imagined any of his dogs would reach their 30s.
"We see situations like this as a normal result of the life that they have, but Bobi is one of a kind," Costa said.
One of the biggest contributing factors to Bobi's longevity is the "calm, peaceful environment" in which he lives, according to Costa.
Throughout his life, Bobi has freely roamed the forests surrounding the Costa house. He has never been chained or leashed.
The "very sociable" dog was never lonely because he grew up surrounded by many other animals, Costa said.
Now in his senior years, Bobi finds it difficult to walk, so he prefers to hang out at home in the yard. His eyesight has gotten worse, meaning he often bumps into things when he walks. Just like old-age humans, Bobi sleeps a lot. He immediately lies down in bed after eating, although on cold days, he chooses to nap by the fire, his owner said.
Bobi's birth date has been confirmed by the Veterinary Medical Service of the Municipality of Leiria, which registered Bobi in 1992.
His age also has been verified by a pet database authorized by the Portuguese government.
Costa, now 38, was just 8 years old when Bobi was born. For him, Bobi is a living reminder of the past, he said.
"Bobi is special because looking at him is like remembering the people who were part of our family and unfortunately are no longer here, like my father, my brother, or my grandparents who have already left this world," Costa said. "Bobi represents those generations."
5 best lick mats to entertain your dog and support oral health
What is the purpose of a lick mat?
Lick mats have a number of benefits for dogs. The feeder toy can soothe and calm your pet by redirecting anxious paw licking or chewing. The stimulating activity can also keep your dog entertained the next time you're in an important Zoom meeting.
In addition to the mental benefits, lick mats can support your dog's oral health. The silicone mats have soft grooves that scrape your dog's tongue and remove particles around the gums. The action of licking also produces more saliva to keep your dog's teeth healthy. At the same time, lick mats can slow down speedy eaters who always inhale their kibble.
What can I put on my dog's lick mat?
Coating your dog's lick mat with a favorite treat like yogurt or peanut butter is great for high-stress situations like thunderstorms and fireworks. For daily use, you can distribute their wet food on the lick mat to slow down eating or add pureed vegetables like carrots and pumpkin for a healthy treat.
What are the best lick mats for dogs?
If a lick mat sounds like the perfect solution for your hyper or anxious pup, check out our top picks. From tiny mats for small breeds to ultra-durable designs for power chewers, these are the best lick mats for every type of dog.
Best for Speed Eaters: LickiMat Slomo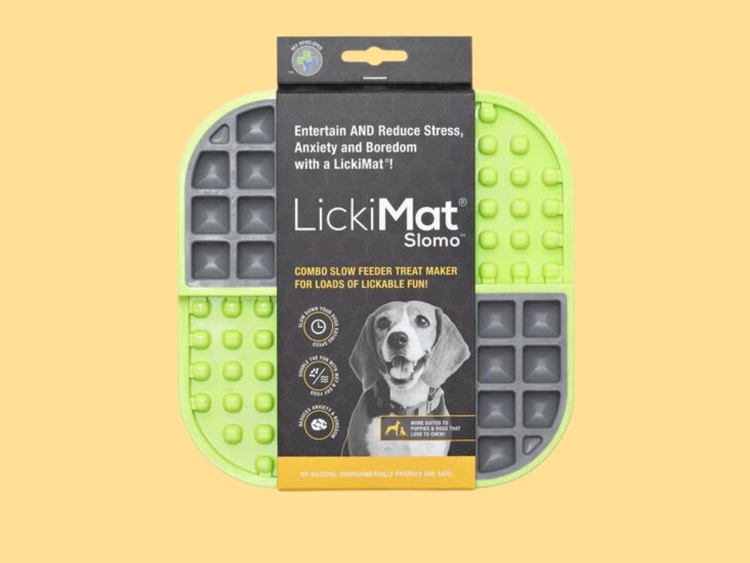 The LickiMat Slomo is the perfect combination of slow feeder and treat distributor for dogs who eat too quickly. The easy-to-clean grooves are designed to hold wet food, dry food, or treats. Grab one from LickiMat for $20.99 to extend mealtimes and relieve boredom.
Best for Small Dogs and Puppies: Rinse Ace Suction Lick Pad
This little lick mat from Rinse Ace is perfect for smaller breeds and puppies. The suction feature also makes it great for bath time since you can stick it to the side of the tub as a fun distraction. Buy it from Chewy for $7.99.
Best Stationary Lick Mat: Neat-Lik Slow Feed Licking Mat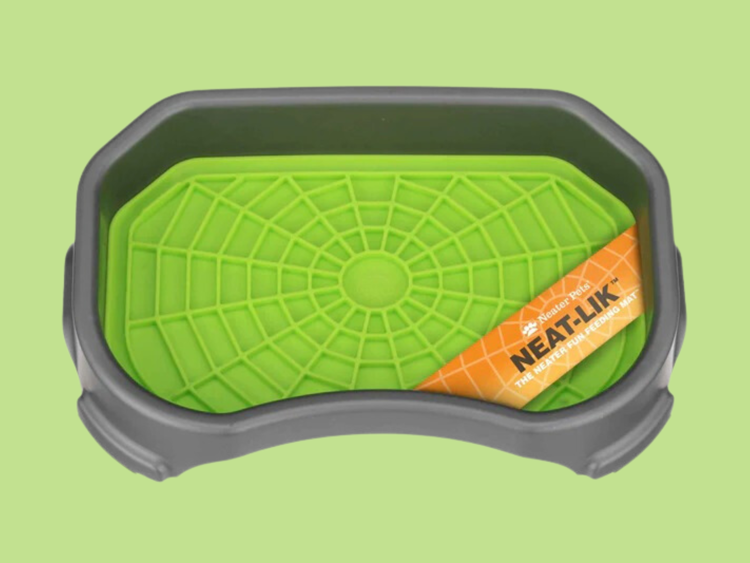 If your dog loves to drag and hide toys around the house, try this slow-feed Neat-Lik mat. The protective tray will keep the mat in your dog's normal feeding area, and the mat detaches for easy cleaning. Buy it from Neater Pets for $18.99.
Best for Anxious Dogs: LickiMat Soother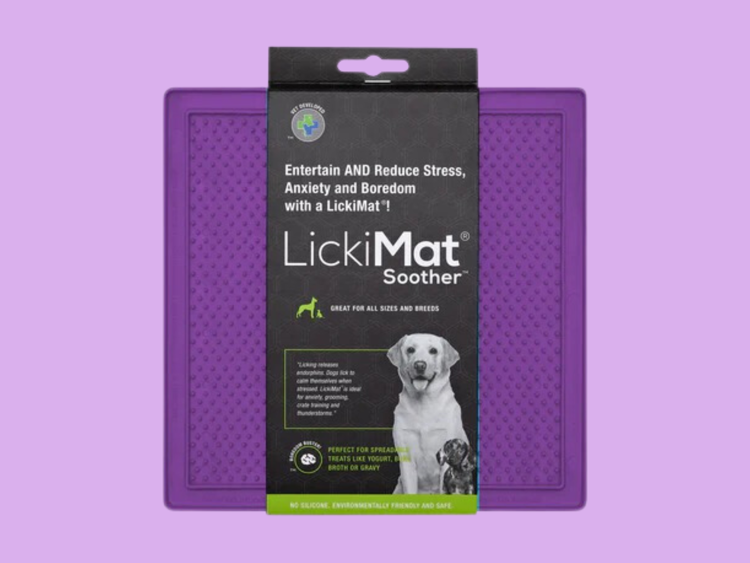 If you have a dog who cowers during thunderstorms, the LickiMat Soother is the perfect pick. Because the mat has more bristle-like grooves than others on the market, it can keep your dog entertained for longer. It's also a great tooth and gum cleaner. Buy it from LickiMat for $11.99.
Best for Crate Training: Avont Kennel Training Lick Mat
Puppies and dogs with crate anxiety will love this lick mat. The circular pad securely attaches to the side of your dog's kennel to provide an entertaining distraction while you're out of the house. Grab it from Amazon for $14.99.