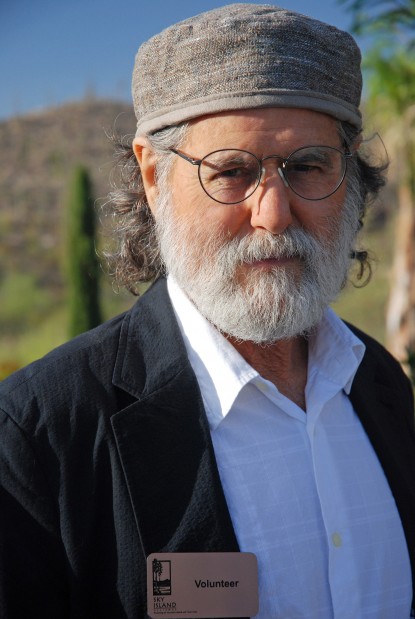 For Tucson poet and volunteer activist Jefferson Carter, the environment is a cause worth supporting. But he knows that environmental poetry can be boring.
How to resolve that aesthetic-political conflict is a topic Carter will discuss next Thursday to help kick off a series of talks timed to the 20th anniversary celebration of the group for which Carter works - the Sky Island Alliance.
Founded as a volunteer group to create a national conservation area in Southeast Arizona, the alliance today has a full-time paid staff of 14. It also has a broader mission: to protect and restore the natural heritage of the Sky Island mountain ranges in northern Mexico along with those in Southeast Arizona and southwest New Mexico.
The bearded Carter, who is 68 and the retired chairman of the writing department at Pima Community College's downtown campus, enters data from the alliance's scientific expeditions into a computer database. He also edits the group's grant proposals, scientific reports and newsletter.
"He spends so much time here he's like staff," says Sergio Avila, the group's Northern Mexico conservation program manager.
Carter says he admires the group in part because "these guys aren't tree huggers" - at least half the staff are scientists. He has spent months mapping locations of illegal, wildcat roads in the Coronado National Forest that the group had identified - roads that in many cases were later closed due to the group's efforts.
"I'm probably happier here than I was during 30 years of teaching at Pima," Carter said. "People here are nice to each other and so cooperative, with none of that petty academic conflict. Someone said once that academic politics are so vicious because there is so little at stake. The politics around here are so relaxed and helpful because so much is at stake."
Yet as an author who has published seven books of poetry, he has a different mission - to engage readers and use language to say something new and change perceptions. "I have a real conflict in writing about environmental issues ... and my desire to write surprising, interesting, original poems," he says.
Next Thursday he plans to discuss how hard it is to write good, spontaneous poetry when one has a preconceived notion about a subject, which he admits he "absolutely" does as a conservationist.
"One of the boring things about political poetry is that you are preaching to the choir," he says. "How many people are interested in reading a poem by Sarah Palin: 'Drill, baby, drill'?"
Carter links this issue to a broader difference between what he calls subject and language-driven poetry.
The first, more mainstream type, which he says he used to do but ultimately got bored by, focuses primarily on the topic. It operates under the theory that its language "has to be a clear pane of glass so it doesn't get in the way of the reader." Carter dismisses much of this genre as "competent poems that are basically prose memoirs, chopped into lines."
By contrast, language poetry treats the subject as less important than the texture of the words, he says.
"Language poets are as interested in the surface, the music of the language and the malformations in the glass itself," he says. "It's hard to write political poetry if you are a language-driven poet."
His compromise is to write his poems like a collage, linking seemingly disparate thoughts and stories - "You can do very disparate things that the mind puts together."
He has, in fact, written many poems that were provoked by scientific reports at Sky Island Alliance, and will read some in his talk.
"You start reading data - it kicks something off in me."
Two other poets speaking that night with Carter also seek to link words and nature. Eric Magrane and Wendy Burk practice what's known as "eco-poetics." The poetry journal of the same name describes it as "a term dedicated to exploring creative-critical edges between writing and ecology."
They're both MFA degree-holders in poetry from the University of Arizona. Burk works as senior library supervisor at the UA Poetry Center. Magrane is a senior hiking guide at the Canyon Ranch health spa and resort. They previously ran a UA program known as "Poetry Goes for a Hike," in which they lead hikes where participants learn about the desert ecology and how to write about it.
• What: The Sky Island Alliance 20th Anniversary Speakers' Series.
• When: Talks begin at 7:30 p.m.; next Thursday's talk has a 6:30 p.m. reception.
• Where: Zuzi Theater, 738 N. Fifth Ave.
• Cost: $5 suggested donation for each presentation.
• The lineup: Sept. 8 - Peter Mesquitey sings and speaks on "Road Across the Grassland." Poets Jefferson Carter, Wendy Burk and Eric Magrane speak on "Words and Wildlife." Sept. 15 - Tom Van Devender, the Sky Island Alliance's project manager for Madrean Archipelago Biodiversity Assessment, and Chip Hedgcock, a medical and biological photographer, speak on natural history and photography. Sept. 22 - Melanie Lenart, an environmental scientist and writer at the University of Arizona, speaks on "How a Living Planet Survives Climate Change." Sept. 29 - Author Ken Lamberton speaks on "Navigating Tucson's Dry River, the Santa Cruz." Oct. 12 - Historian and Sky Island volunteer Jack Lasseter speaks on "Cochise and his Apache war."
Did their ancestors, like
"After mass, December 23,
killed with rocks, 138 lbs,