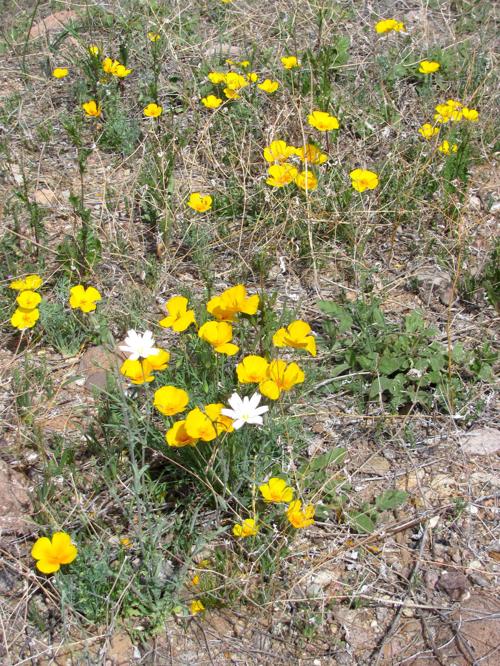 It may not be a banner year for wildflowers in deserts around Tucson — but a site in Saguaro National Park west of the city is showing off some brilliant gold poppies, blue lupines and other colorful blooms.
Visitors won't find the carpets of blooms that have graced the area in some previous years, but even the moderate wildflower display is more than some experts had predicted in recent months.
"I'm glad there are a few flower patches out there. It seems that even in the bleakest of circumstances Mother Nature finds a way," said John Wiens of the botany department at the Arizona-Sonora Desert Museum west of Tucson.
This spring's less-than-dazzling bloom can be traced to an almost complete lack of autumn rains, which are needed for a good germination of showy annual wildflowers such as poppies and lupines. Still, late-winter rains came to the rescue for some plants.
"These rains definitely saved any seedlings that germinated earlier," Wiens said. "I have my doubts that poppies and lupines could have germinated with the rains that hit us just five weeks ago and reached this blooming stage so soon. Improbable, but not impossible.
"My guess is that these patches (of blooms) are on very favorable sites, like washes, or areas of thin sandy layers over bedrock, or near roadsides that concentrate light rains. Perhaps the widely scattered storms that missed most areas last winter hit these areas."
Even if blooms of annual wildflowers are limited, perennial flowers, which aren't so dependent on autumn rains, could flourish in the coming weeks.
"Perennials, such as desert marigold, sweet bush, brittlebush and others are in a good position to take advantage of these late rains," Wiens said. "I've already seen lots of blooms on roadsides from Tucson to Yuma, where the rain was concentrated."
And there's always next year.
"Don't worry that annual flowers are scarce this year," Wiens said. "There is always a huge 'seed bank' in the soil, waiting for better conditions to germinate."
FIND SOME BLOOMS
One place to see some gold poppies, blue lupines, desert chicory and other wildflowers is near Picture Rocks Road in the northeastern part of Saguaro National Park west of Tucson. On Ina Road west of Interstate 10, drive west to Wade Road.
Turn south on Wade and follow it as it turns into Picture Rocks Road and continues to the park. Watch for a large parking pullout on the right at the bottom of a hill less than a mile into the park. Carefully cross the road and find some blooms along the road and in a flat expanse of desert south of the road.
Contact reporter Doug Kreutz at dkreutz@tucson.com or at 573-4192. On Twitter: @DouglasKreutz