Birds — tiny and huge — are among the attractions in scenic Madera Canyon south of Tucson this month.
The tiny ones are hummingbirds, flitting here and there in oak woodlands but easiest to see at feeders near the Santa Rita Lodge in the heart of the canyon.
And the huge birds? They're wild turkeys that roam many parts of the canyon — often in small flocks.
A visit to the mile-high canyon, about 40 miles south of Tucson, offers an opportunity to see a diverse array of winged wildlife ranging from canyon wrens and flycatchers to colorful elegant trogons in addition to hummingbirds and wild turkeys.
But the hummers and turkeys often grab attention by virtue of their stark contrast in size.
HUMMINGBIRD SPECIES
About a dozen species of fast-flying, hovering hummingbirds have been seen in Madera Canyon woodlands and at feeders near the lodge. Among those considered common in the canyon:
• Broad-billed hummingbirds
• Magnificent hummingbirds
• Anna's hummingbirds
• Black-chinned hummingbirds
• Broad-tailed hummingbirds
• Rufous hummingbirds
Binoculars and a camera with a telephoto lens are useful in getting a close view and photos of the minuscule birds — some of which weigh in at a fraction of an ounce, or less than a penny.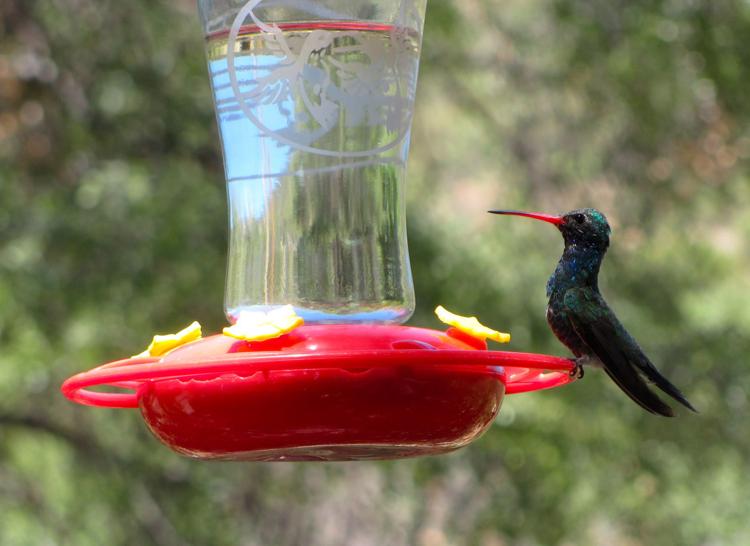 ABOUT THOSE TURKEYS
The Gould's turkeys that roam Madera Canyon and sometimes strut across the lodge grounds have longs legs and prominent tail feathers. And they weigh a bit more than a penny.
Adult males weigh 18 to 30 pounds, and adult females weight 8 to 12 pounds, according to the National Wild Turkey Federation.
They sometimes make gobbling sounds as they wander along trails and woodlands in the canyon.
FIND SOME BIRDS
You might come across hummingbirds or wild turkeys almost anywhere in Sabino Canyon. But here are some places with plentiful bird life:
A wildlife viewing area at Santa Rita Lodge, along the main canyon road at 1218 S. Madera Canyon Road. With a ramada and bird feeders, this is a place for reliable hummingbird viewing in season.
Carrie Nation Trail. This trail, which can be reached from a parking area at the upper end of the main canyon road, is popular with bird-watchers for the variety of avian species seen there. You might spot hummingbirds or wild turkeys, but also watch for owls and elegant trogons. A bird identification book can come in handy.
Nature Trail. The trail, which generally follows the course of Madera Creek and slopes above it, can be reached from the upper end of the main canyon road. Wild turkeys sometimes roam this area, but you'll probably spot other, smaller, birds as well.
Contact reporter Doug Kreutz at dkreutz@tucson.com or at 573-4192. On Twitter: @DouglasKreutz