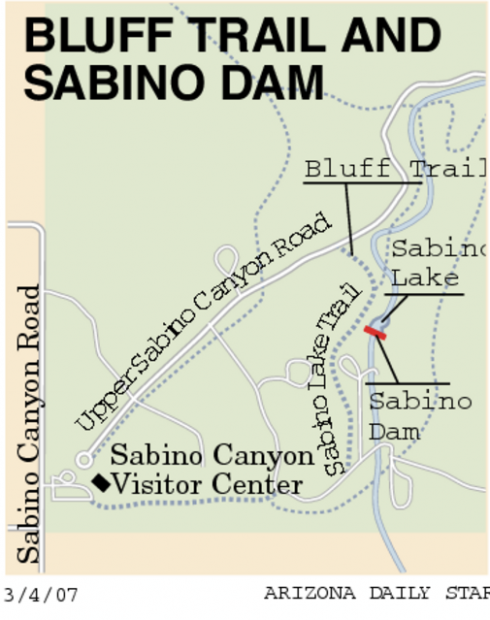 Travis Jones has two good reasons to find a family-friendly trail when he goes for a hike: his 4-year-old son, Creedence, and 14-month-old daughter, Indi.
A short stretch of the scenic Bluff Trail in Sabino Canyon proved to be the perfect path one day recently.
Creedence led the way while Travis followed — paying some devoted-dad dues by pushing Indi in a jogging-style stroller.
The 0.2-mile Bluff Trail and short connecting trails combine to form a fairly easy but fun-filled loop route for parents and kids.
The two-mile loop, which begins at the canyon visitor center, takes hikers through desert terrain, along a creek, past Sabino Dam and Lake, and near a lushly wooded oasislike spot beside the water.
While the Jones expedition made its way up the Bluff Trail segment of the route, squeals of delight came from the children of another family playing near the little lake.
A third group — this one made up of youthful bird-watchers — spotted several species in groves of trees near the dam.
To take the loop, start at the southeastern end of the Sabino Canyon parking lot and walk 0.4 of a mile east on a broad path. When the path reaches the Bear Canyon Road, go right on the road and follow it generally east about 0.2 to the signed Sabino Lake Trail on the left.
Walk the Sabino Lake Trail 0.5 to the Bluff Trail. Then follow the Bluff Trail 0.2 to the main canyon road. It's 0.7 back to the visitor center on the road.
Along the way, you'll see Sabino Dam. The small lake and wooded area are above the dam.
Children should always be accompanied on this and other trails by a responsible adult.
To reach the canyon, take Tanque Verde Road to Sabino Canyon Road and follow it north four miles to the entrance. You'll pay a $5 parking fee.
Other good trails for kids:
● The Cactus Forest Trail at Saguaro National Park East.
● The Nature Trail at Catalina State Park north of Tucson.