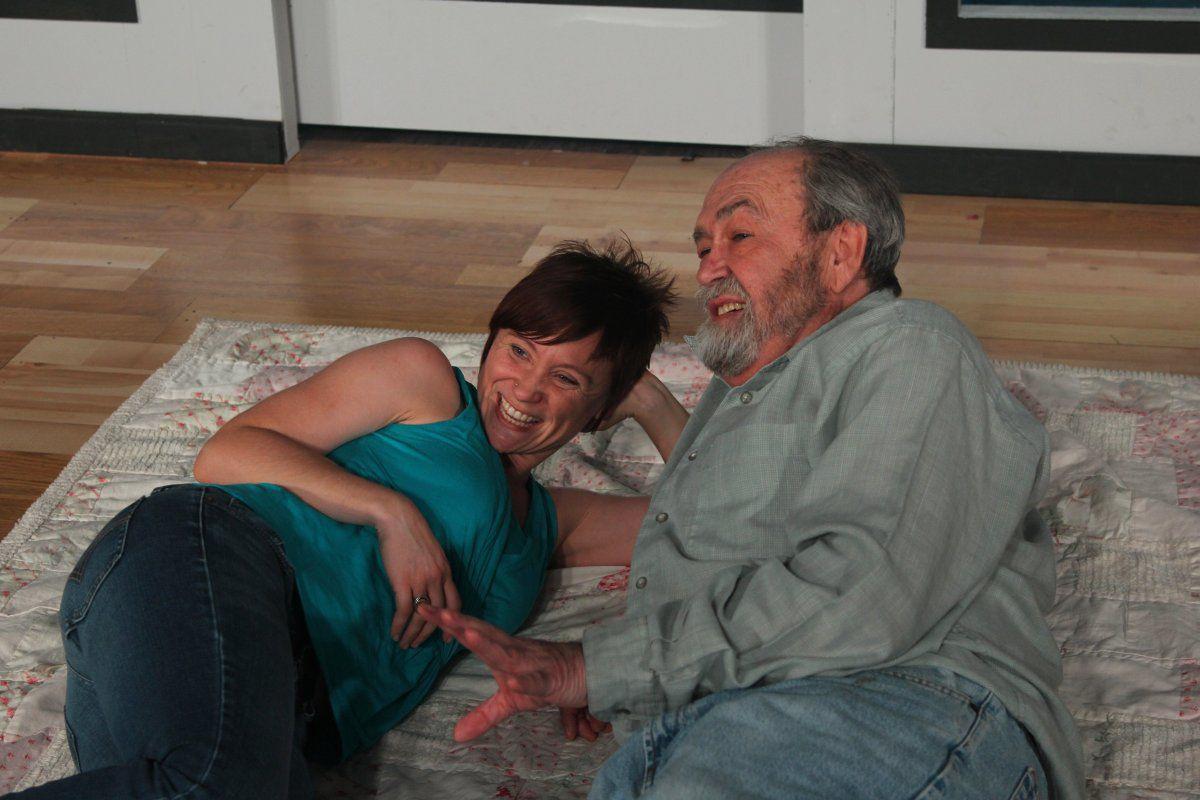 The uncertainty of a mismatched, May-December romance permeates "Heisenberg," Simon Stephens' 2015 play that opened Aug. 31 at Live Theatre Workshop.
The two meet cute: Brash, 40-ish American Georgie Burns (Dallas Thomas) plants a kiss on the back of the neck of a stranger, Alex Priest (Roberto Guajardo), a septuagenarian bachelor sitting alone on a bench in a London train station.
Reserved — priestly, perhaps — Alex is flummoxed by the Georgie's aggressive, profanity-punctuated language and her insistence on dragging him into conversation. She flits among subjects, stories, professions, truths and lies. He resists, unsure of what the Georgie wants.
The two-hander bears the name of Nobel Prize-winning German physicist Werner Heisenberg whose uncertainty principle helped define physics. No need to channel your inner Sheldon Cooper to delight in "Heisenberg" — the scientist's name is never mentioned.
Uncertainty, however, is ever present.
"Heisenberg" covers about six weeks of the couple's developing relationship. The audience remains uncertain of motives and perceptions. There are tender moments and joyful laughter, as well as uncomfortable moments amplified in the intimate space that is Live Theater Workshop.
The audience peers into Georgie-Alex world. Director Sabian Trout keeps the actors talking to and engaging with one another. Thomas and Guajardo move pieces of the simple set — two tables, two chairs and a couple of pillows — between scenes as if they are establishing boundaries or perhaps creating their own world.
Speed-talking Thomas' frenetic hand gestures add to Georgie's quirky, irrepressible energy. However, Stephens makes Georgie a rather shallow character that doesn't allow Thomas to fully draw out her character's motivations or emotions. Thomas could have handled more meat.
Guajardo, speaking with an Irish brogue, gives Alex a weary and wary tone and allows his character to emerge from a cocoon of isolation. Stephens draws a clear, stronger backstory for Alex and Guajardo skillfully brings his character's heartbreaks and love of music to the stage.
"Heisenberg" might make you squirm in your seat a few times. However, you'll giggle and laugh out loud — that's a certainty.
Be the first to know
Get local news delivered to your inbox!