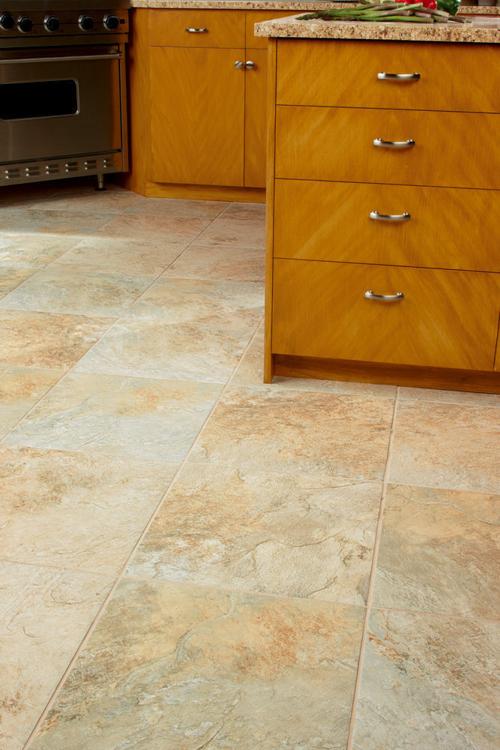 Each year, thousands of Arizona residents email or call Rosie Romero's radio show with questions about everything from preventing fires in their chimneys to getting rid of tree roots invading their sewer system. His goal is to provide answers that suit the specific lifestyle wherever someone lives in Arizona.
QUESTION: I had a full kitchen remodel in which my tile was pulled out, and they laid luxury vinyl flooring. The flooring ran from wall to wall; then they put in the cabinets and installed heavy granite countertops. Later I learned that the manufacturer of the vinyl flooring advises against putting cabinets on top of it. The contractor should have run only a couple of inches of the flooring under the cabinets and appliances, according to the manufacturer's instructions. Could the way my floor was installed keep the vinyl from expanding and contracting and then causing issues later on?
A: Your floor is probably not going to have any problems. But since the contractor didn't install it according to manufacturer's instructions, you should put all your concerns in writing to him when you make the final payment on the job. Make sure that he understands that if anything goes wrong, he will be responsible for repairing the problem.
Q: Is it a good idea to buy lady bugs and use them as a form of organic pest control to get rid of other insects?
A: You can give them a try. Lady bugs can eat aphids, white flies, mites and scale insects. However, lady bugs are very mobile critters, and you can't be sure if they'll stay in your yard or not. Release them in the early evening and they'll be less likely to fly away quickly. Typically, after they have had their fill of bugs in your yard, they'll leave for your neighbor's yard. Praying mantis might work better.
Q: I recently bought a house that was built in 1973. The last owner replaced the air conditioner in 2010. Now the living room and bedroom seem to me to have more air flow from the HVAC system than the rest of the house. Should I call in an air conditioning expert to check on this problem?
A: You should definitely have someone check on the situation before it starts to get really hot outside. You could benefit from having a whole house energy audit. An HVAC contractor can balance the registers for all the rooms of your house so the air flow is improved.
Q: I have old steel casement windows in my house that I want to replace. Is there any way that I can remove them without the glass breaking and shattering all over the place in the process?
A: What you are describing is a kind of window that was manufactured in the 1950s in Torrance, Calif. They're made out of what I call bulletproof steel. There isn't a more difficult window to remove that's in use today. The job is going to be loud and messy. But you do have to remove them because steel is a very energy inefficient material to use in windows. There's no way to seal them properly.
Q: I bought an older house recently, and there seems to be a lot of condensation between the panes of glass in the windows. So, I think I want to replace the windows. I've gotten quotes that range from $10,000 to $50,000. The lower prices are for vinyl, and I know you don't like vinyl. So what should I do?
A: Vinyl has improved a lot over the years. When vinyl windows first came out, the vinyl would fade, scale and peel. The windows would actually start to sag. They're making better performing vinyl windows now, but my advice would be to look at a fiberglass product and get a quote for that. Fiberglass is much more stable.
For more do-it-yourself tips, go to rosieonthehouse.com. Rosie Romero, an Arizona home building and remodeling industry expert for 25 years, is the host of the syndicated Saturday morning Rosie on the House radio program, heard locally from 8-11 a.m. on KNST-AM (790) in Tucson and from 9-11 a.m. on KGVY-AM (1080) and -FM (100.7) in Green Valley. Call 888-767-4348.