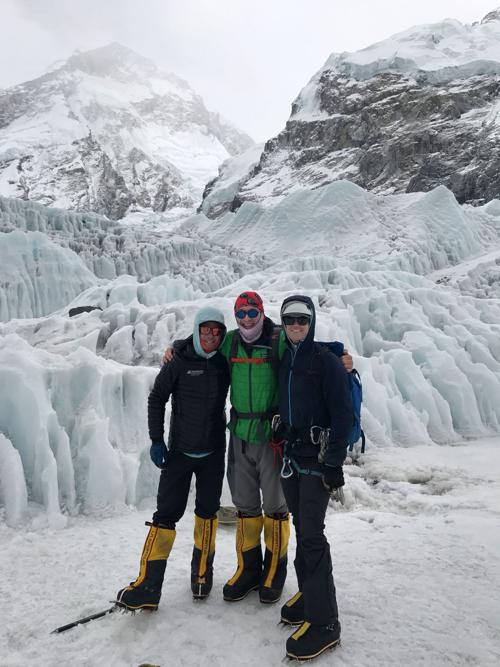 Orthopedic surgeon John Klein of Tucson was preparing to sleep, or at least rest, in his mountain tent. He was at Camp 4, one day's climb from the top of Mount Everest, the tallest mountain peak in the world at 29,029 feet.
By the following night, May 23, 2017, the personable climber would become one of 2,300 climbers who can claim they conquered Everest. Unfortunately, 300 others have never lived to tell their story.
Camp 4 is the highest camp at 26,085 feet. It is in the infamous Death Zone, which starts at 26,000 feet. Most climbers depend on extra oxygen in the zone. The mountain climber in the tent next to him would not be needing the oxygen. He passed away the day before. He became one of the six Everest climbers, on average, who die each year and never get to relate their experience to anyone. Climbers who, like Klein mentioned, "Leave wives and kids behind."
What brings climbers to the foot of Mount Everest each May when the weather window allows them a shot at the top? How did they develop the inner drive and undaunted will to even face such overwhelming obstacles as ultra-thin air, howling winds and ungodly cold?. Near the peak of Everest, the winds can gust to 40 mph and the wind-chill temperature can register 70 degrees below zero.
What does it take to have that inner drive to move into the Death Zone when temperatures are inhumanly cold, winds are whistling, and the will to continue starts to diminish? Are these people all Type-A personalities or even something beyond Type A?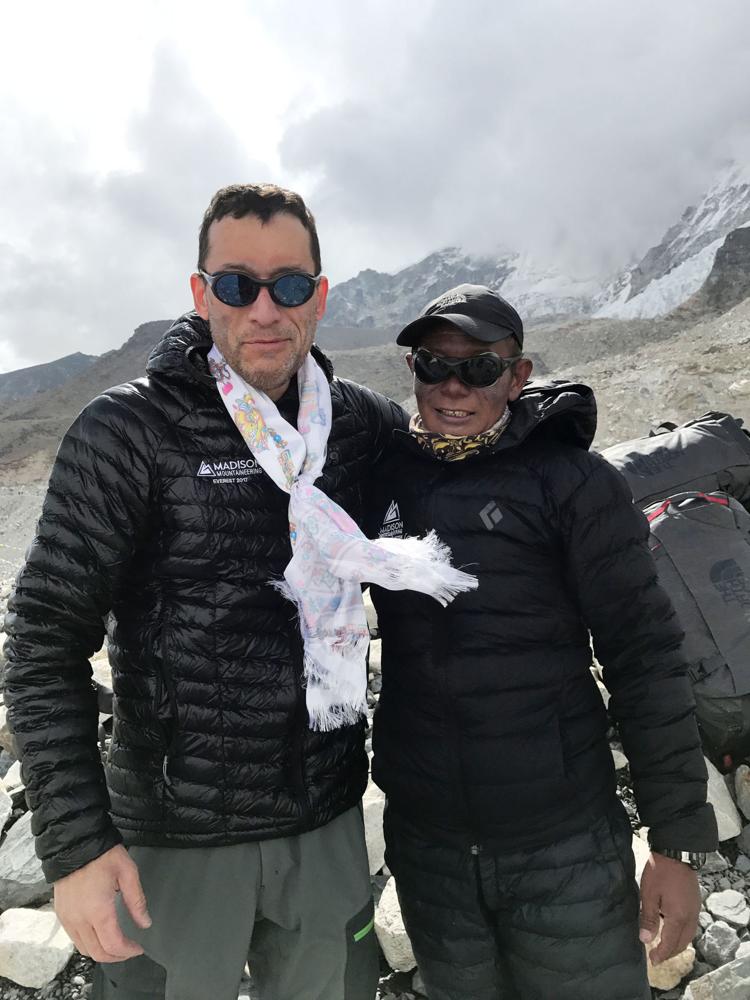 Klein came by his positive addiction of challenging peaks at an early age. His was nurtured by a grandfather and father who were both Eagle Scouts. Klein followed suit, only he broke the mold in a sense because he obtained his Eagle Award at age 12, far below the average for Eagle Scouts. He crammed for his award, in a sense, because kids can't join Boy Scouts until the age of 11.
Before he was 48, Klein laid the groundwork for Everest by first putting all the serious peaks in Arizona in his sights His father, at one time, served as President of of the Southern Arizona Hiking Club.
Klein has earned the Southern Arizona Hiking Club's 400 Peaks Award. He is one of six people who have climbed all the serious peaks in Arizona. There are 204 range high points.
Through 36 years of climbing, he has bagged more than 1,000 peaks in the state and conquered many of the serious peaks in the Western United States. He has challenged the peaks of central America as well.
He has been to Denali twice, but no summit due to bad weather. Instead, he has climbed Aconcagua (22,837 feet). He is returning to Denali this month, and if he reaches the top of Denali, he will have summited the highest peak on each of the seven continents.
Other accomplishments include 30-mile day hikes. He has arthritis in one knee and it shows when he walks. His response to the arthritis while up on mountain peaks is, "I just enjoy the sport." He also enjoys the challenge to achieve.
The climber's journey to the top of Everest, and back, takes about six weeks. It starts in Nepal's capital city of Kathmandu, where a short flight takes climbers and Sherpas (native guides), to the village of Lukla. From Lukla, climbers spend about 10 days hiking to Base Camp at 17,500 feet — which is 3,000 feet higher than most peaks in the United States, not counting Alaska.
Most hikers spend weeks at Base Camp, acclimating to the altitude by taking day treks to higher elevations.
Camp 1 is located at 19,000 feet and Camp 2 is located at 21,500 feet. Camp 4, the highest camp, is at the lower fringes of the Death Zone.
While at Base Camp, climbers train with ladders needed to negotiate the Khumbu Icefall, found between Camp 1 and Camp 2. The obstacle is also known as The River of Ice. Part of the highest glacier in the world, Khumbu is composed of sharp ice ridges and deep crevasses.
Climbers practice climbing up vertical ladders while in heavy mountain gear, wearing high-altitude boots and carrying a backpack.
Mountain climbing boots have a deep inner lining to withstand the cold and include electric straps that hook up to batteries to keep feet warmer.
The climbers also practice straddling across horizontal ladders wearing boots with crampons. In the icefall area, the ladders hang precariously over crevasses that can be up to 150 feet deep.
Although there are ropes that climbers hook onto while crossing the springy ladders, this is still one part of the excursion that unglues some of the bravest climbers.
Walking slowly, from one rung to the next, takes a lot of concentration and nervous energy. Those with exposure problems could end their journey here. These areas are too dangerous to take photos.
Climbers generally set their alarm for 3:30 a.m. the night before the icefall endeavor. Most have been awake for a couple hours already, thinking about this next challenge.
As of this writing, 44 climbers have died challenging Khumbu. Deaths have been attributed to falling into crevasses, sections of the ice fall collapsing and avalanches.
Some of those who died were the Sherpas, experienced guides who were crushed by an ice fall. About half of the people who have died on Mount Everest have been Sherpas. In 2014, 16 Sherpas died when an ice tower collapsed.
There are other things to consider while heading into the icy embrace of Everest. Groups tend to decrease in size when climbers panic, get sick or know their body will succumb to the stress it will face.
Klein's group of nine had dwindled down to six before they reached the top. The three who dropped out may have dealt with a number of things, including severe chills, frostbite, snow blindness, undue stress to the heart and other body malfunctions, such as cerebral and pulmonary edema, (Edema is excess fluid trapped in one's lungs, brain and other body parts). The edema can affect breathing and muscle control.
There is an added barrier to climbing to the top — a communication or language barrier. How do climbers communicate with each other when they speak different languages? How do they work together in an emergency?
Another important consideration is managing one's diet. Bathroom responses tend to change when high winds and subzero temperatures freeze any body part that is exposed.
One of the most serious precautions is to make sure water is purified to eliminate the possibility of debilitating diarrhea.
That last day, approaching the top, climbers don't eat much, and drink only what they need. They depend, instead, on willpower and good judgment.
On the way back down, climbers are encouraged to collect feces in a bag and take the bag with them. (At Denali, in Alaska, this is mandatory).
Other items have been taken back from the mountain, including empty oxygen tanks and, yes, some 300 of the bodies that once marred the route.
Klein himself passed bodies on the way to the top.
"It is hard to feel emotion, or deal with death, while passing bodies because one has to concentrate on what he is doing," Klein said.
How do you sleep knowing that the next day you'll be at the top of the world?
Klein was at 26,085 feet that night, already in the Death Zone. The next day he would attach himself to a guide rope with a tool know as an ascender. He would be using oxygen.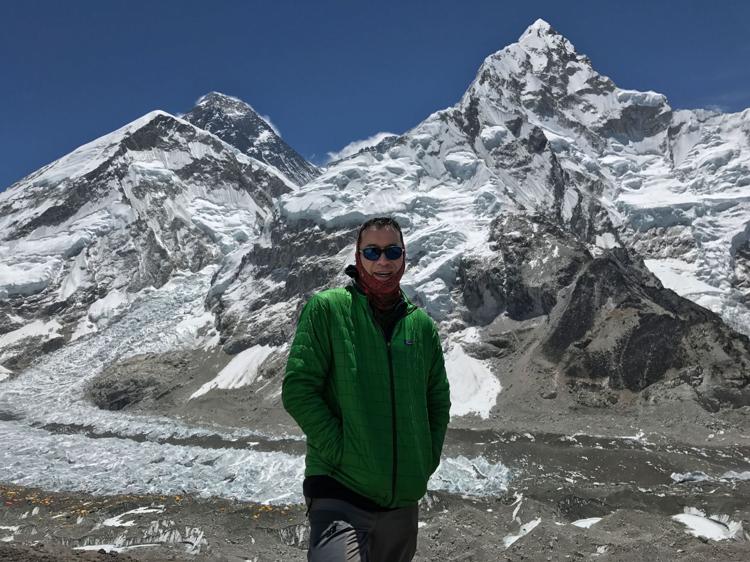 Thanks to the Sherpas and other guides, a fixed-line guide rope now extends from Camp 1 to the top of Everest. Naturally this helps climbers find their way. However, ropes make little difference if the climbers are not in top physical shape and lack that inner will to keep pushing themselves once they reach the outer limits of their desire to endure.
Good judgment is another saving grace, one that has its origins in psychology. Knowing when to turn back, if it isn't your day, can keep climbers on this earth longer. As Klein quoted, "Life is too precious to die over a mountain."
Klein has turned back on some of his serious climbs.
"Sure it's disappointing and you harbor a strong feeling of emptiness. But why take chances where the odds are against you?" he said.
One percent of all climbers on Mount Everest have found this out the hard way.
Klein continued, "You won't reach all your goals in life."
During that last day of climbing, Klein would need that fixed line. Everything looked blurry. Because of the cold and wind, his corneas had frozen. He needed to hook up to the fixed-line ascender.
The last 3,000 feet of elevation, round-trip, would take him approximately 16 hours. An important rule to follow is, "Go Slow or Get Sick." He would be using oxygen, walking slow, and seeing less than he had hoped.
Klein reached the top, alone, since the others in his group had summitted earlier. Although seeing less, he could still feel. He could still celebrate.
Once Klein started to descend, he was still in a blur. He would need his guide to help him down. His vision did not return until the next day at Camp 4, where he spent the night. "I just had to warm up," he said.
Life was good again and the euphoria of bagging Mount Everest could start to settle in.
One of the six in Klein's group who made it to the top was a woman from Norway. She was heroically tough.
Right after she got back to base camp, she started climbing another monumental mountain top in the area, the infamous Lhotse, at over 27,000 feet.
For her, it was just another day when you brave the limits of the Undaunted Zone.
Jerry Harpt is an Adventure/Travel and Human Interest writer who hails from the Upper Peninsula of Michigan. A retired teacher and coach, he winters, with his wife, Karen, in Green Valley, where he is an active member of Green Valley's Camera Club and Hiking Club. He is also an active kayaker, and bicyclist. He has recently had his first taste of biking Tucson's Loop.