It's been months since a black Lab puppy was found bloodied, his feet and knees nearly raw, in an Arizona desert.
The victim of a buckshot lodged in his spine — he was also hit near his thigh — Gil lost all feeling in his hind legs.
Though the recovery process is long for the dog, thought to be no older than 2, it took nearly no time at all for Tucsonans to mobilize in support of Gil.
It all happened sometime between March and July in Gila County, about 150 miles north of downtown Tucson. Gil went missing from his family and never made it home.
When he was found, his paws and knees were bloody and near raw from dragging himself up a mountain during the monsoon. A family heard Gil crying, wrapped him in a blanket and contacted a veterinary clinic.
Beyond his paralysis, Gil was near starvation, had tick fever, burned skin, possibly from the tire of a car, and a cattle wart on his face. He was so dirty that it took four baths to get him clean.
When Gil arrived at the clinic, the veterinarian recognized him from having vaccinated him earlier in the year. He was also still wearing a collar.
The staff called Gil's family, but because of the cost of his treatments, in addition to the care he would need, his family wasn't able to care for him.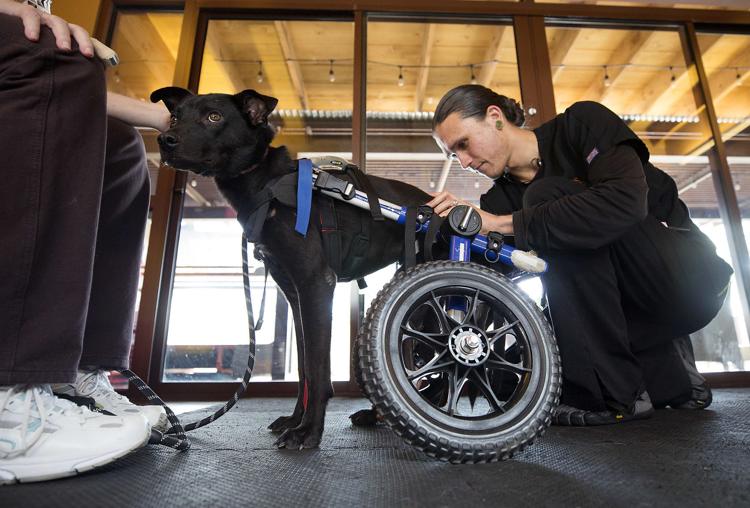 The clinic didn't think there were any rescue options for Gil due to the extent of his injuries and planned to euthanize him. But Nancy Young Wright, from Tucson, didn't let that happen.
Young Wright is a volunteer with Cody's Friends, an organization that helps shelters, rescues and people in need with pets. On July 21, Young Wright donated food to the clinic where Gil was being treated.
The veterinarian hadn't planned to show Gil during Young Wright's visit. But Young Wright was accompanied by a new volunteer and wanted to give her a tour of the clinic.
That's when they met Gil — just two days before his planned euthanasia.
"It was his spark. He had a will to live and I really felt he deserved a chance," Young Wright says, adding that she knew she had to help him. "I didn't know what happened to him, but I felt that it wasn't fair — that this young dog would have to be put to sleep for no fault of his own."
She posted Gil's photo on Facebook, seeking fosters. Three people volunteered, two of whom now care for him. Two days later, on July 23, the day of his planned euthanasia, Gil was taken to his new fosters in Tucson.
With the help of two foster families and loads of community support, Gil is now happier than ever. He has a wheelchair, wears diapers, and while he still has some scars, he's just as playful as any other puppy.
"That's what drove all of us — watching him. He just races around the room," says Evelyn Karwoski, one of Gil's foster moms. His other foster mom, Kimberly Kelly, cares for him on weekends.
While Gil was in bad shape when he was initially found, it was originally thought that he had been hit by a car. It wasn't until after he had been placed in foster care that the buckshot was discovered in his spine, on July 31.
A veterinarian said it looked as though the shot was fired at close range, and Gil needed surgery.
"We came out of that appointment in total shock," Karwoski says.
In less than a week, they were able to pay for Gil's first surgery — entirely funded by community donations.
Since his surgery in August, Kate Titus, with A Loyal Companion, a dog-recreation center in Tucson, has donated a wheelchair to help with Gil's mobility. Harnesses and medications have also been donated, along with thousands of dollars in donations.
THE ROAD TO RECOVERY
Gil attends physical therapy sessions at Tucson's PAWS Veterinary Center on East River Road. He starts on a giant yoga ball, then moves to an underwater treadmill. Both exercises are said to help him get used to moving his legs.
Gil also has acupuncture sessions, which help stimulate the nerves in his feet and legs. Despite the tiring therapy process, Gil is a good sport — just a little wiggly during acupuncture. He also does physical therapy at home.
And the good news? Gil is improving. He's started to move his left leg and can feel when you tickle his paws — things he couldn't do a few months ago.
He's also starting to use his hips and has wagged his tail.
"There are stories of dogs regaining use of their limbs much later after an injury," Young Wright says. "We take hope from those."
He's changed mentally, too.
"He has a brightness and joy in his eyes," Kelly says. "He zips around my house and is every bit as sweet and playful as a puppy without his issues."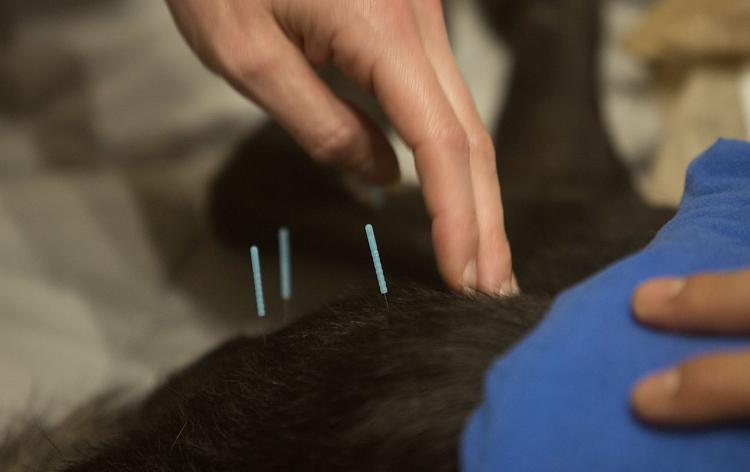 "It is one of my life's greatest joys to watch him," she says. "Truly, I can't believe how happy I am when I'm around Gil or how his evolution fills my heart with joy."
While Gil may never walk normally again, his journey is far from over.
Team Gil is actively looking for his forever family — ideally someone who is active with extra free time in their schedule. Respite foster help would also be appreciated.
Anyone wanting to donate to the cost of Gil's physical therapy can visit his GoFundMe page at tucne.ws/savegil
The Catalina Brewing Co. is hosting a meet-and-greet with Gil on Nov. 24. Team Gil is currently in search of raffle items, such as tickets to sporting events or gift certificates to local services. Money raised will go toward Gil's medical bills.
"This is truly an effort that proves it takes a village," Kelly says.