Most people think of cannabis as something you smoke, vape, or maybe eat in edible gummy or chocolate form.
For Meaghie Jane (a.k.a. Meaghan Gould), its synonymous with a five-course meal and a catered touch. Which includes oysters.
"I'm really trying to bridge that gap of... going to a cannabis event," she said. "It's not always the most inviting to people that aren't really familiar with cannabis."
That's the inspiration for Gould's high-end, cannabis catering company, Meaghie Jane LLC.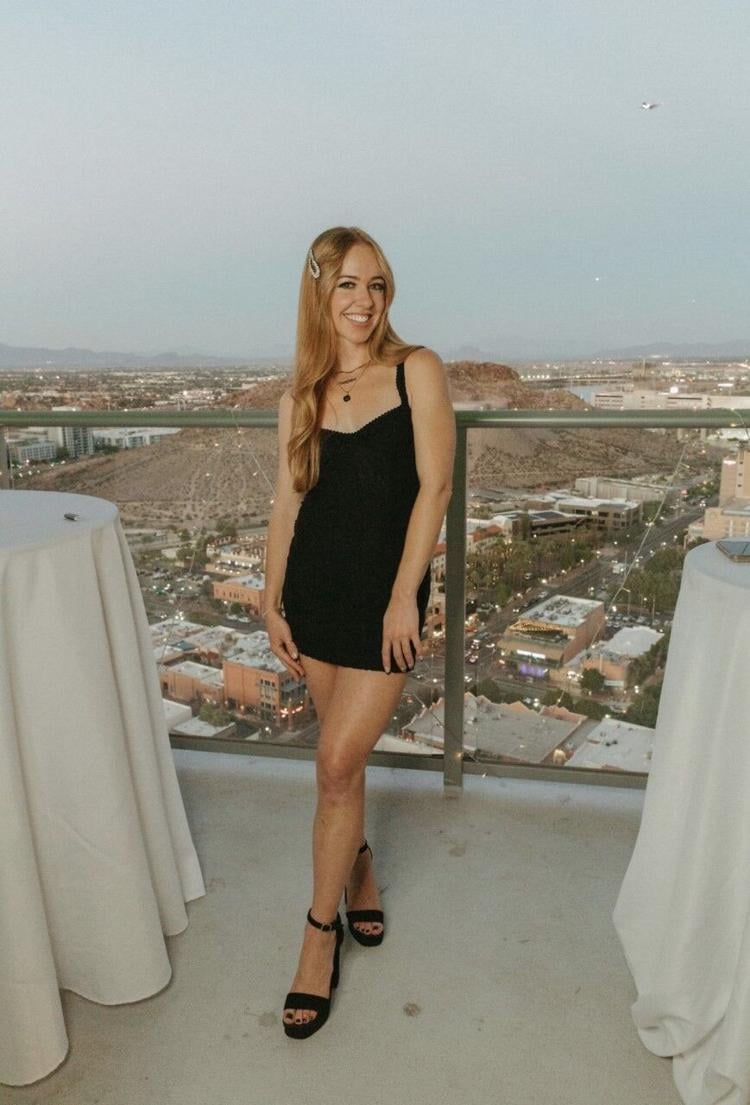 Gould's latest cannabis-catered event will be a five-course offering for local edible gummy giant OGeez! next week.
The company is holding a client appreciation dinner here in Tucson. It follows another private event she hosted with her team in Tempe earlier this year.
Events like Jane's are just beginning to take off in Arizona, but they aren't new in more established markets like California, Oregon and Colorado.
In Denver, a company known as Cultivating Spirits advertises intimate, private catered events to customers looking to enjoy their three-course meals with a little bit of cannabis smoking as a side.
The company is one of many that offers various packages at different price points, and it bills itself as part party, part educational opportunity.
"Our goal is to teach you the importance of becoming a cannabis connoisseur while enjoying world-class food and intellectual conversation while smoking, not infusing," according to its website.
That's similar to the vibe Gould and her team — made up of Chef Zach Kaczanowski (who is the current Sous Chef at The Parish here in Tucson) and sous chef Steven Parcenue — are aiming for.
"I want to help the industry and help it progress," she said. "I want to get these people on board that aren't so familiar with it and are still kind of like, 'Oh, it's so risqué having a cannabis dinner.'"
Gould's events do differ from Cultivated Spirits in one respect: the food will indeed be infused with cannabis. How much is up to each individual diner.
According to Parcenue, each meal for each individual is specifically catered, not just to their dietary needs (think vegan or dairy-free) but also to their potency preference as well.
"For this meal we have I think three or four vegan or dairy-free guests that actually want pretty high dosages," Parcenue said. "And so that was a nice challenge for us to actually be able to try to think of how can we give them the dosages they're looking for and still make the plates all the exact same, and also accommodate for their special requests that they're looking for."
Parcenue said that the team is able to take requests from customers before each event in order to better suit the meal to their tastes and dietary preferences.
That requires having a few different methods for infusing cannabis into meals, from simply dripping a few drops of high potency THC tinctures onto a dish, to actually infusing meals using cannabis cooking oils and butter.
It's a complicated process according to Kaczanowski.
"Doing your own infusions can be taxing especially with all the math that goes into it, but it's very valuable knowledge to have," he said.
Kaczanowski said he's been cooking with cannabis for about two years now, and enjoys being able to "combine two of my favorite things in the world."
Gould emphasized that the infusion of cannabis into the dishes is secondary, however. The most important thing is making sure the food is fresh, locally sourced, and above all, tastes great.
"We're definitely trying to keep it super local and keeping it fancy by just highlighting those Southwest flavors that people expect out of Tucson," she said.
All three agreed that its events like the private dinner Ogeez! is putting on that help break down barriers that some still have with cannabis and getting high.
"There is a stigma that infused food is just simple dishes or it's just brownies," Kaczanowski said. "I'm here to say with a lot more effort and thinking you can make anything infused, literally anything. You can make a fine dining/Michelin level meal that is infused. It's a lot more effort but it's worth it to flip the word edible on its head."
Ultimately, Gould would like to host more events like the one for OGeez!, both here in Tucson and up in The Valley.
But right now, she's focused on getting everything perfect for next week. 
She's rented out the AirBnb where the dinner will take place and is finalizing the menu and ingredients with her team.
"I really hope to kind of make a name for myself with these events," she said.
"But the events are the first part, like getting back to the community and really just meeting everyone and having these events for people to come to is kind of my goal of, especially for Arizona, I feel like we have a pretty big cannabis community," she said.
CONTACT INFO
Interested in having your next even infused? You can reach out to Meaghan Gould of Meaghie Jane LLC and her team at the links below:
For more from Zach Kaczanowski:
Eddie Celaya is a cannabis writer and host of the "Here Weed Go!" podcast. He graduated from Pima Community College and the University of Arizona and has been with the Arizona Daily Star since May 2019.