News from Arizona that went national
There are times when Arizona residents feel the state is barely acknowledged. These stories put Arizona in the collective consciousness of Americans, though not always in a good way.
1881: Gunfight at the OK Corral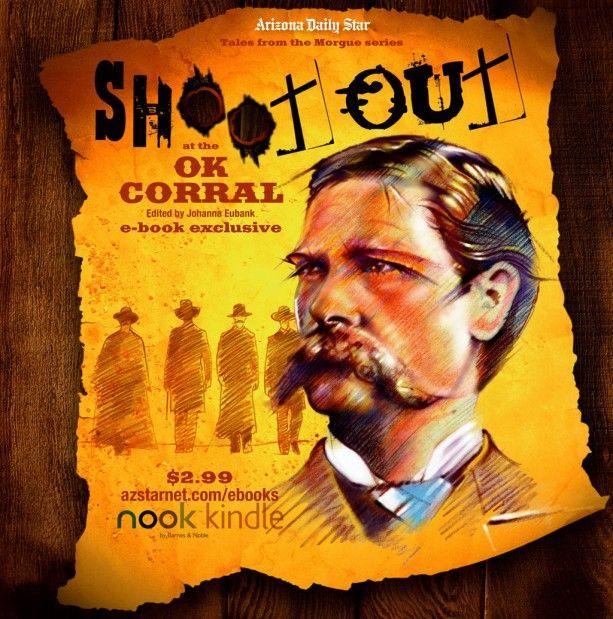 When the incident in Tombstone happened, it was barely a blip. The article in the Arizona Weekly Star didn't even have a headline.
If the Earps, Clantons and their respective companions had stopped there, Tombstone might not be a tourist site and dozens of movies and books would not exist.
Here is the story of the "sanguinary shooting affray" that ran in the Arizona Weekly Star, October 27, 1881:
(Special Dispatch to the Star.)
TOMBSTONE, October 26.—A sanguinary shooting affray occurred on Fremont Street this afternoon. Four cow-boys have been in town for a few days past, drinking heavily, and making themselves generally obnoxious by boisterous conduct. This morning City Marshal V. W. Earp arrested one of them for disorderly conduct, and was fined $25 and disarmed, in the Justice's Court. He left swearing vengeance. The Sheriff and Marshal Earp and his brother, Morgan, tried to induce them to leave town, but they were thirsty for gore, and refused to be pacified. About 3 p. m. the Earp brothers and J. H. Holliday met the four, who drew upon them at once, when a lively fire commenced from the cow-boys against the three citizens. About thirty shots were fired rapidly. When the smoke of the battle cleared away, it was found that Jim and Frank McLoury were gasping in the agonies of death, and Bill Clanton mortally wounded. Shortly after Morgan Earp was wounded in the shoulder, thought to be seriously. V. W. Earp received a flesh wound in the calf of the leg. Holliday escaped unhurt with several bullet holes in his clothing.
The streets immediately filled with resolute citizens, many of whom were armed with rifles and pistols. There is great excitement but no further trouble is anticipated. Ike Clanton, one of the cow-boys escaped with a slight wound and is now in jail. He was slightly wounded. The sheriff's posse are now under arms. Morgan Earp, after being wounded and fallen struggled to his feet and continued the fight till he emptied his revolver. His wound is not thought to be serious. Citizens are armed and determined to put down the riotous element at all hazards.
Read more of the story, told as it unfolded in the newspapers of the day, in the Star's ebook, available free for Star subscribers who have activated their account.
1912: Arizona becomes the 48th state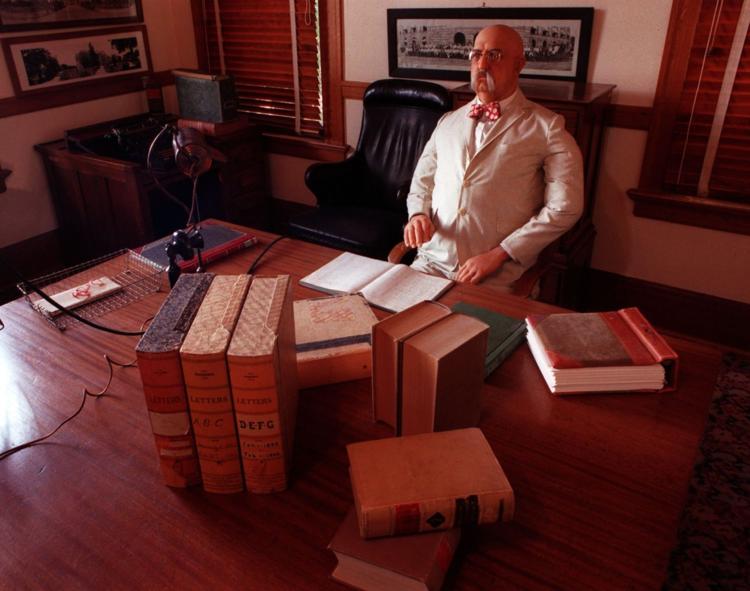 It was a long road to statehood, and President Taft signed the proclamation declaring Arizona a state February 14, 1912.
This is how the Arizona Daily Star reported the proclamation on the front page February 15, 1912:
PRESIDENT TAFT SIGNS PROCLAMATION DECLARING ARIZONA A SOVEREIGN STATE
By R. A. Kirk
WASHINGTON, Feb. 14.—"I welcome Arizona to the Union, and I wish her people all prosperity. I hope to see the valleys of the new state teeming with prosperity and afford homes to many thousands of people," said President Taft, as he turned to Delegate Cameron, after signing the proclamation admitting Arizona to the sisterhood of states.
The president was in rare good humor, and gave every opportunity for the ceremonies in connection with the event which means so much to the people of the new state. For the first time in the history of the country moving pictures were taken of the event. These pictures will be shown at a private cabinet meeting in a few days and will then be shown publicly.
When the Arizonians and other gathered for the signing they faced a battery consisting of four moving picture machines and twelve cameras. The president signed the bill with a gold pen which he later presented to Postmaster General Hitchcock, who was so largely instrumental in securing statehood for Arizona. General Hitchcock tells me he will have the pen appropriately engraved and at the proper time present it to the historical society of Arizona.
Before affixing his signature, the president asked if some of the members of his cabinet were present, and Postmaster General Hitchcock, Secretary Nagel and Secretary Wilson responded. Present also were Delegate Ralph H. Cameron, J. L. Hubbell, J. T. Williams Jr., R. A. Kirk, B. W. Zachan, Matthew Loring, M. W. Pickering, Charles Wild, J. E. Jones, General E. S. Godfrey, Ira Bond, Miss Morrison and Mr. Morrison, Mrs. Richardson and Mrs. Will C. Barnes and many others.
I am informed from an authoritative source that the nomination of Governor Richard E. Sloan for federal judge of the district of Arizona will be sent to the senate today.
There is no question that Arizona will be known from now on as the Valentine state. The correspondents have taken to the name and wired it broadcast.
The "Valentine State" name may not have stuck around as much as first believed, but we love it anyway.
Yes, Arizona residents were referred to as "Arizonians." That didn't stick around either.
1930: The discovery of Pluto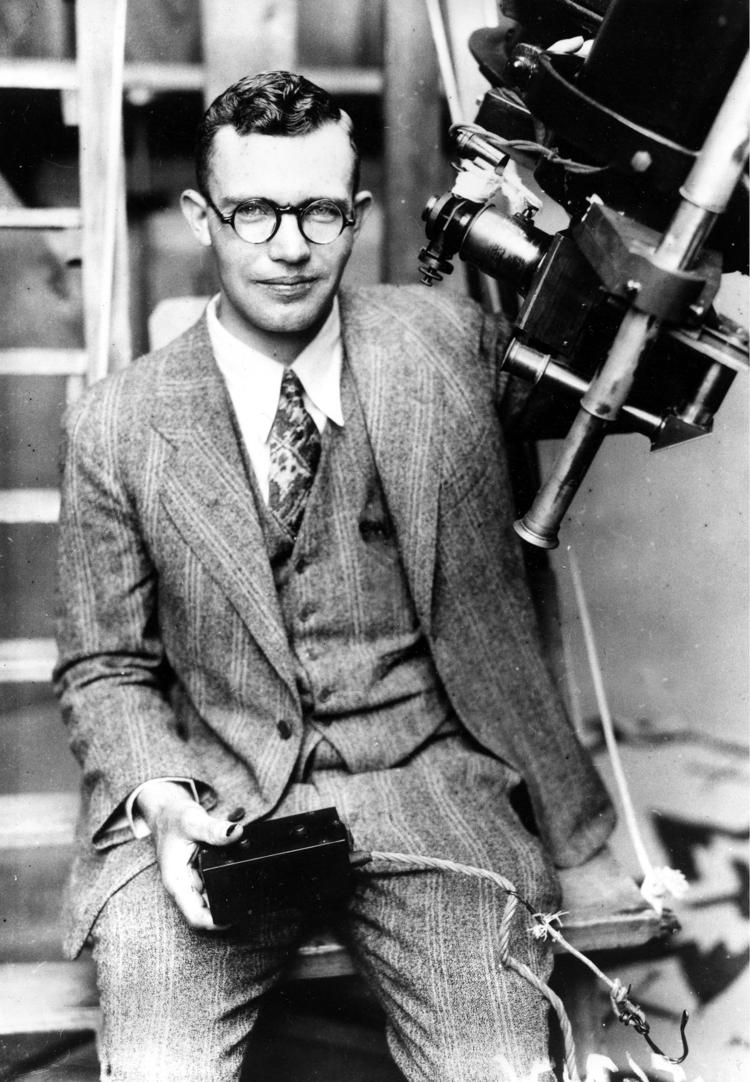 On February 18, 1930, at the Lowell Observatory in Flagstaff, Clyde Tombaugh discovered Pluto. The search for a ninth planet had taken 25 years.
The news went public March 13, and the planets new name was announced on May 1.
From the Arizona Daily Star, March 14, 1930:
ANOTHER PLANET DISCOVERED BY YOUTH, 23, AT FLAGSTAFF; FORECAST BY LOWELL IN 1905
__________
Discovery Made on February 18 by Extremely Delicate Photographic Telescope at Lowell Observatory
__________
ANNOUNCED BY DIRECTOR V. M. SLIPHER
__________
Ninth Planet in Solar System Is Beyond Neptune; Is Forty Times as Far From Earth As the Sun
__________
FLAGSTAFF, Ariz., March 13.—AP—A twenty-five year search of the skies by astronomers connected with the Lowell observatory here has ended—Dr. V. M. Slipher, director, having announced today that a ninth planetary member of the solar system had been discovered—the object of the search.
In 1905 the search started under the direction of Dr. Percival Lowell, astronomer. Nine years later he published an article predicting that some day a ninth planet would be found "somewhere beyond Neptune," and today, on the anniversary of Dr. Lowell's birth, Dr. Slipher announced it was on a line with "and far beyond Neptune," the new and nameless body in the skies had been located.
For years C. W. Tombaugh, photographer for the Lowell observatory has almost nightly taken pictures of the planets and their environs.
Several weeks ago, in looking over a finished picture, he noticed a faint "star-light splotch." Another picture, taken the next night, of the space near Neptune, showed the same hope of a startling discovery.
The photographer called C. O. Lampland, assistant director of the observatory. Lampland studied the photographs and then trained a high-powered telescope on the space where the sensitive photographic plate showed there was light. After several nights he was rewarded—for the first time the new planet had actually been seen.
Brother astronomers of Dr. Lampland were called, and they, too, saw the planet through the eye of the telescope that Dr. Lowell, many years before, through mathematical calculations, predicted existed "beyond Neptune" and the ken of man.
Dr. Slipher, in announcing the discovery of the new solar body, said it was of the fifteenth magnitude, and that on March 12 its position at three hours Greenwich mean time was seven seconds of time west from Delta Gemnorum, "agreeing with Dr. Lowell's predicted longitude."
The Lowell director said the distance of the new planet beyond Neptune had not been computed, nor had its orbit been calculated.
The Lowell staff is enthusiastic over the discovery, and nightly observations of the "find" are made.
Announcement that the planet had been discovered, Dr. Slipher said, was not made until "we were absolutely sure of it."
The Steward observatory, at the University of Arizona, was notified yesterday of the discovery of the new planet, the notification coming from Harvard observatory, after that institution had been told of the find by the Lowell astronomers, it was stated last night by Dr. Edwin F. Carpenter, assistant professor of astronomy at the university here.
In explanation of the position of the new planet, he stated that it was approximately 10 degrees south of Castor, and was very close to the third brightest star in the constellation Gemini, or the Twins. Its brilliance (or lack of it, since the star is of the fifteenth magnitude) is not of such a degree that it can be observed readily while a bright moon is in the sky.
The planet is out of the range of the human eye entirely, and its being found with a telescope on a brilliantly moonlit night would be a difficult task. The Steward observatory will make observations of the new planet, Dr. Carpenter stated.
Of course, just about everyone knows that Pluto is no longer considered a planet. The discovery is important nonetheless.
1930: Eva Dugan hangs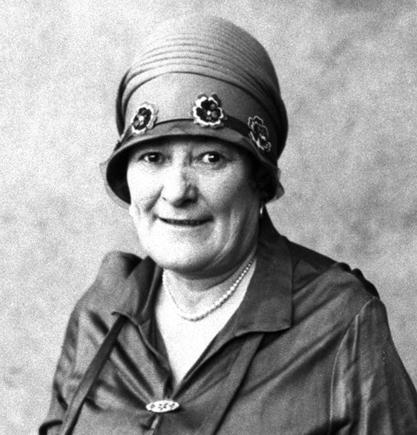 On Feb. 21, 1930, Eva Dugan was hanged in Florence for the murder of A.J. Mathis in Tucson.
Her hanging made news mostly because she was beheaded in the process.
The Arizona Daily Star reported the event on Feb. 21, 1930:
EVA DUGAN DIES IN PRISON
__________
WOMAN'S DEATH FINAL CHAPTER IN MATHIS CASE
__________
Slayer of Tucson Recluse Calm in Last Hours at Penitentiary
__________
SIXTY IN DEATH HOUSE
__________
Last Minute Reprive (sic) From Prison and Parole Board Is Denied
__________
STATE PRISON, FLORENCE, Ariz., Feb. 21.—Mrs. Eva Dugan, convicted slayer of A. J. Mathis, Tucson rancher, paid the extreme penalty on the gallows this morning. She was pronounced dead at 5:02 o'clock.
Mrs. Dugan walked to the gallows unaided, asked if she had anything to say, she remained silent and someone said for her "She has nothing to say." She mounted the scaffold at 5:01 and the trap was sprung immediately. As it fell, her head remained above the trap, while her body, completely severed, dropped below into a pool of blood. Two minutes later the room which had contained 60 witnesses was empty.
Shortly before the execution, searchers found three razor blades in Mrs. Dugan's waist and announced that a half hour earlier they had found a bottle of poison in her cell.
Mrs. Dugan will be buried in the little prison graveyard southeast of the tall penitentiary walls.
At 4 o'clock this morning the twelve reporters present were taken to Mrs. Dugan's cell. They found her outwardly calm. She shook hands with each of them and seemed to bear no resentment toward any. Her handshake was firm with no sign of a tremble, but there was noticeable a slight quaver in her voice.
She avoided making direct answers to any questions put to her, but repeated that she would walk to the gallows without assistance provided some one went with her. She displayed no emotion whatever, appearing to be unconcerned, saying goodbyes to the ones with whom she was acquainted in the same way she would say it if she were going away on a short journey.
Warden Lo Wright told the 60 witnesses who were waiting in the execution chamber that no one but himself would ever know who sprung the trap.
1931: Winnie Ruth Judd and the 'Trunk Murders'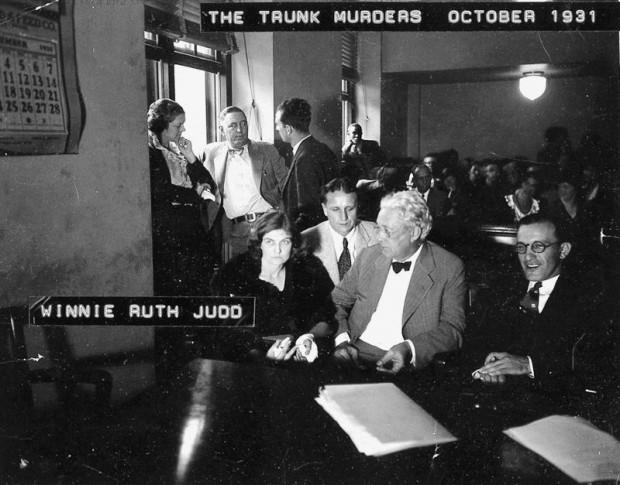 Bodies, one of them dismembered, were found in trunks at a train station in Los Angeles. The hunt was on for Winnie Ruth Judd, the woman who had shipped the trunks from Phoenix.
The bodies were discovered on October 19, 1931. The story unfolded over more than a year and didn't really end until Judd's death in 1998, when the truth that many thought had yet to be revealed died with her.
The first story ran in the Arizona Daily Star Oct. 20, 1931:
TRUNKS HIDE TWO TORSOS OF WOMEN
__________
Shipped From Phoenix To Los Angeles by Woman
__________
CONSIGNEE UNNAMED
__________
Employe of Clinic Is One Victim, Other Not Known
__________
PHOENIX, Ariz., Oct. 19.—(AP)— Backed by a chain of circumstantial evidence found in letters seized in a Phoenix apartment from which the bodies of two women were taken in trunks yesterday and in a constantly growing hoard of other details, police tonight broadcast requests for arrest of Mrs. Ruth M. Judd, a secretary at Lois Grunow Memorial Clinic, Phoenix, and her husband, Dr. William C. Judd, former first lieutenant, medical corps, U. S. army.
H. U. Grimm, owner of the apartment, who told the Associated Press he took the trunks to the Phoenix railroad station for shipment to Los Angeles, said he carried the occupants of the apartment on his books only as "Dr. and Mrs. Judd." He had been told they were employed at Grunow Clinic. He was told, Grimm said, the trunks contained books. Mrs. Judd, he said, to the best his knowledge, accompanied them.
Records at the United States Veterans hospital at Whipple Barracks, Prescott, Ariz., show Dr. William C. Judd to have entered there September 10, 1930, and to have been discharged January 13, 1931. He gave his address at that time as 823 Seventeenth street, Santa Monica, Calif., but asked that in case of emergency "Mrs. Ruth Judd, 510 W. Linwood street, Phoenix," be notified.
__________
LOS ANGELES, Oct. 19.—(AP)— B. J. Kinnell, said by police to be a brother of Mrs. Ruth Judd, wife of a Los Angeles physician, was arrested here late tonight in connection with the slaying of two women, whose bodies were found in two trunks at a railway baggage station here tonight. The authorities said they were searching for Mrs. Judd.
__________
PHOENIX, Oct. 19.—(AP)— H. U. Grimm told the Associated Press tonight he carried two trunks which Southern Pacific officials said were checked to Los Angeles and which were found to contain the bodies of two women, to the railroad station in Phoenix Sunday afternoon.
Grimm said the trunks belonged to a Mrs. Judd, and that Mrs. Judd accompanied him to the station and checked them. She told him, Grimm related, that she was going to Los Angeles to join her husband whom, Grimm said, he understands is a physician.
Mrs. Judd told Grimm, he continued, that the reason the trunks were so heavy was that they contained books.
Mrs. Judd, he said, was employed as secretary to a physician at the Grunow clinic.
Mrs. Judd had lived in an apartment belonging to Grimm for about a month. She called him yesterday afternoon to tell him she was leaving for Los Angeles, and asked him to come to the apartment and take her trunks to the station. Grimm and his young son loaded the trunks on the Grimm automobile.
Identity Wrong
The woman Grimm said he knew as Mrs. Judd signed her name, railroad officials said, to slips giving the value of the trunks as "B. J. McKinnell, 201 Pinchot street," leaving the blank for the city not filled. The baggage clerk said he asked her "What city?" and she replied "Phoenix."
There is no Pinchot street in Phoenix.
__________
NAME OF CONSIGNEE NOT MADE PUBLIC
LOS ANGELES, Oct. 19.—(AP)— Dismembered bodies of two women of undetermined age and identity were found tonight by police at the Southern Pacific Railroad station. One of the trunks was large, the other small. They had been shipped yesterday morning from "the Southeast," police said.
The headless torso of one of the women was in the small trunk. The two heads, the other torso and the amputated arms and legs were in the other.
Police said the trunks came from Phoenix, Ariz.
The trunks were consigned to a Los Angeles man whose name the police refused to reveal pending an arrest.
A woman called at the baggage room at noon today to claim the trunks, but employes had become suspicious because of a strong odor and refused to yield them. The man and woman walked away, and it was several hours before the trunks were open.
One of the slain women apparently was in the early thirties, with dark hair. Her face had been beaten in and was unrecognizable.
The other, whose body had been hacked into pieces, was younger, apparently about 20 years old, and had red hair. She had been shot and her face also had been crushed as though in a deliberate attempt to prevent identification.
Clothing had been packed down on the bodies and photographs believed to be those of the victims were found. Physicians said they believed the women had been dead 48 hours.
"Do Not Deliver"
On the tag of the small trunk was a note saying "don't deliver until you see me personally."
The numbers of the baggage checks were 663,165 and 405,749, and the trunks were marked with the name of the claimant and "will call."
As law forces were marshalled here and at Phoenix to solve the mystery, it was announced that the envelope containing the letters bore the address "Hedwig Samuelson, 529 Portland street, Phoenix."
Both women, it was determined at the county morgue, died from bullet wounds. Preliminary examination showed the younger woman had been shot at least three times in the breast, the shoulder and the temple. The middle portion of the body, from the waist to the knees, was missing.
The other woman had been shot in the temple.
Railroad officials said both trunks left Phoenix at 8:10 p.m. Sunday and a railroad message from Phoenix said the person sending them gave a ficticious name and address.
The older woman's body was in the larger trunk and had not been dismembered. The body lay on its side, the knees doubled back.
Police said the condition of the bodies indicated the women had been slain within the last two days.
The trunks arrived on Southern Pacific train No. 3, which reached Los Angeles at 7:40 a.m. today.
In the larger trunk was a picture of a young man taken by Photographer Otto N. Hartness of Portland, Ore., and bearing the penciled notation, "Hugh Angle, Christmas 1928, 20 years old." The trunk contained several other photographs and an envelope.
There was also a long bread knife, bent, but not bloodstained and a woman's purse in which several cartridges and empty cartridge shells were found.
In one of the trunks was found a picture of an attractive brunette girl with "Hedvig Samuelson, Lands, N. D.," penciled on the back. A diploma bearing the same name and issued July 24, 1925, from the North Dakota state normal college at Minot, N. D., also was found.
__________
WORKER IN PHOENIX CLINIC IS MISSING
PHOENIX, Ariz., Oct. 19.—(AP)— Officials of the Grunow Memorial clinic of Phoenix said tonight Mrs. Agnes Anne Leroi, clinic X-ray technician, has been missing from her home at 2929 North Second street since Saturday night, and expressed belief one of the bodies found in a trunk in Los Angeles tonight may be her.
Miss Hedvig Samuelson, who maintained her home with Mrs. Leroi, could not be located by newspapermen who called at the North Second street address. Neighbors said they ahd not seen either of the women since Saturday.
The two women recently moved to the Second street address from 529 West Portland street.
Southern Pacific officials said one of their baggage clerks reported to them trunks bearing the check numbers given by Los Angeles authorities as containing the bodies were brought to the station late Sunday afternoon by a man and woman. The woman purchased a ticket to Los Angeles and checked the trunks.
The trunks were brought to the station on the running boards of the couple's car.
The clerk said the man did not get out of the car. He described the woman as being about 25 years old, and said she had a bandage on her head and another on her wrist.
After the train on which the trunks left had pulled out employes noticed a pool of blood on the station floor near where the trunks had been, but did not connect the blood with the trunks, they said.
Read the Star's eBook about Winnie Ruth Judd, telling the story as it unfolded for Tucson readers in the pages of the Star.
1934: Dillinger captured in Tucson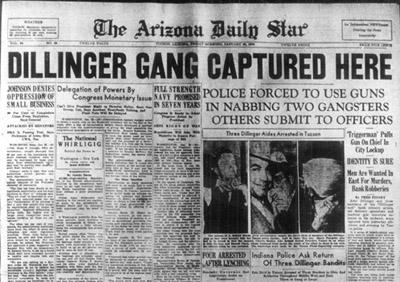 This is a favorite of "Tales from the Morgue" readers that ran when StarNet's first "Morgue Lady," Elaine Raines, wrote this blog.
The following article ran in the Arizona Daily Star Jan. 26, 1934:
DILLINGER GANG CAPTURED HERE
POLICE FORCED TO USE GUNS IN NABBING TWO GANGSTERS OTHERS SUBMIT TO OFFICERS
Triggerman Pulls Gun On Chief In City Lockup
IDENTITY IS SURE
Men Are Wanted In East For Murders, Bank Robberies
By Fred Finney
John Dillinger and three members of the "Dillinger mob" bank robbery artist, jail delivery specialists and machine gun terrorists supreme in the Midwest, were captured here yesterday afternoon and evening by Tucson police.
In a series of breath-taking captures, each of which might have at any moment culminated in a stream of lead and death, which included lightning displays of gangster armament and as sudden squashing of murderous hopes by officers, Dillinger himself, Charley Makley, 50, Russell Clark, 39, and Harry Pierpont, 31, the "trigger-man" of the gang were apprehended, were stripped of a young arsenal apiece, subdued, identified, and locked up in the county jail for safe-keeping.
The jail was under double guard last night.
The four are being held under fugitive warrants and, in addition, charges of assault with deadly weapons were preferred by the county attorney, Clarence Houston, against Clark and Pierpont. All will be arraigned at 9:30 this morning in justice court before Judge C. V. Budlong.
Dillinger, Pierpont, Clark and Makley, sought throughout the country for months, are wanted for the murder of Sheriff Jess Sarber, of Lima, Ohio, following their jailbreak last October 12. At the time of the jailbreak and murder of the Ohio sheriff, Dillinger, Pierpont, Clark, and Makley were being held, charged with the robbery of the Blufton, Ohio, bank of $2800. Sheriff Sarber's widow has named "Pierpont, Dillinger mob "triggerman," as the murder. In addition, Ohio, Indiana, Pennsylvania and Wisconsin banks charge the quartet with robberies aggregating more than $154,000 gained from recent sensational bank holdups. 
Women Also Held
Three Women companions were also arrested and held as material witnesses. These are Ann Martin, Dillinger's companion, Mary Kinder, nabbed with Pierpont, and Opal or Bernice Long, arrested with Clark. A fourth woman, said to be the companion of Makley was released when it was learned that she was an entertainer in a local cabaret and had no connection with the gangsters prior to their arrival here a few days ago. The Kinder woman said to be wanted by Chicago City, Ind., in connection with murder charges there.
After three members of his mob had been arrested yesterday afternoon, Dillinger, one of the most sought-for criminals in the United States, walked into the arms of three waiting traffic officers at 927 North Second avenue, totally ignorant of the arrest of his men. The three traffic officers, who throughout the afternoon, had been specializing in the arrest of notorious eastern gangsters, were on watch at the house occupied by Makley and Clark "just in case."
Sneering at the effrontery of the "small-time cops" who had nabbed them, Dillinger, Pierpont, Clark and Makley were taken to police headquarters, stripped of numerous hand guns, five sub-machine guns, enough ammunition to run three Mexican revolutions, and a half dozen bullet-proof vests of the latest design. Of the four only Makley was unarmed at the time of his arrest.
Photographs and fingerprint identifications were fixed positively by a U.S. department of justice agent and Mark Robbins local identification expert. Search of the four men and three women held disclosed nearly $27,000 in currency, serial numbers of which were noted by C. J. Endres, U.S. operative, sent here from Phoenix on order of J. Edgar Hoover at Washington for further check against currency losses of the mid-western banks.
When booked at the police station, Makley, first in the series of arrests, gave the name of J. C. Davies, and his business as a "garageman." Clark gave the name of Art Taylor, business tailor. Pierpont, the "trigger-man" gave the name of J.C. Evans, "tourist."
The identification of Dillinger came as a surprise to the police. The officers had booked him as Frank Sullivan of Green Bay, Wisconsin. Letters and automobile certificate of ownership taken from his pockets were in the name of Frank Sullivan.
Identified
As Frank Sullivan he was taken to the fingerprint room to be searched, photographed and fingerprinted. After being fingerprinted and as the man was dressing, Robins started classifying the prints. This done, he turned to the police files of the Dillinger gang. As he came to the picture of John Dillinger he looked up and compared the picture with the man in the room. "This is Dillinger," he remarked quietly.
Then to be positive he looked for a scar on the left wrist and another on the upper lip. Both scars were there on the man the police had booked as Frank Sullivan, although Dillinger had the scar on the lip hidden by a mustache. In addition he was wearing glasses.
When Dillinger was finished dressing Officer Evan picked up the glasses and started to hand them to him. "You can have them," Dillinger said quietly.
"What, you don't need them?" Eyman said.
Dillinger smiled in answer.
The series of apprehensions dates from the Congress hotel fire of last  Monday. Registered in the hotel, Makley and Clark were the first men to obtain aid in having their baggage removed. It came down the aerial ladder truck from the Tenth street side of the hotel. Firemen William Benedict and Robert Freeman affecting the rescue. Makley or Clark presented the firemen with $12 as a token of appreciation, and were remembered for their anxiety.
The next afternoon, while reading a recent issue of a detective magazine. Benedict and Freeman recognized the picture of Clark and Makley, and later checked this with records of wanted men from the sheriff's office and police station. The police went into action. Checking deliveries of baggage from Congress hotel, police officers located a recently rented house by one Davis, at 927 North Second Avenue.
The First Capture
Four officers went to this house early yesterday afternoon where Clark was arrested, but not without bloodshed. Chet Sherman went to the front door, a paper in his hand simulating a searcher after a strange address. Behind was Dallas Ford. To the rear door went Frank Eyman and Kenneth  Mullaney. As Sherman reached the door, he saw Clark leap from divan and come to the door with a woman. Sherman drew his pistol and Clark, accosting him, grabbed the gun.  The two men struggled for its possessions, through the living room of the house and in to the bedroom adjacent. Clark, by far the larger and more powerful, pushing Sherman ahead of him and the plucky officer hanging on to the pistol like grim death.
In the meantime the woman had shunted Ford to one side and slammed the door on the officer's hand, breaking a finger. Reaching the bedroom, still struggling for the gun, Clark forced Sherman down on the bed, at the same time grabbing a pistol from down under a pillow.
That was his last affirmative move for a while as Ford's pistol landed on his head. Simultaneously Eyman and Mullaney reached the scene. Clark's struggles were soon halted and, his head a mass of blood, he was carted off to the station. A trail of blood drops from the bed across the living room out the door and down the walk marked his march to the police car.
Dr. George Purcell, county physician, pronounced the lacerations superficial. After arriving at police headquarters, Clark's head was bound up by Drs. I. H. Howard and Jack Eason.
Makley was arrested peaceably in the Grabe Electric company store entrance and had no firearms on his person at the time. In the North Second avenue address were found two Thompson sub-machine guns, one, of the regulation, 45 calibre and one of the new "tank gun" models, chambered for the superior powerful 351 calibre rifle bullet.
In addition there were two of the latest type steel and velvet bullet-proof vests and many hundred rounds of ammunition. Two handguns were also taken. On a tabourette, near where Clark was sitting when the officers arrived, stood a half-consumed bottle of Schlitz beer bearing the caption on the label "Repeal Special."
Shortly after the men arrived at the police station, O.E. Glover, Tucson attorney, entered, stating that he had been asked to represent Davies. Last night Glover stated that he believed Pierpont had called him on the telephone relative to Davie's (Makley's) case.
Has Inspiration
While police officers were booking and fingerprinting Clark and Makley, Motorcycle Patrolman Earl Nolan had what looked like an inspiration but which was, in reality, but the reaction of a trained officer and observer. It resulted in the appreciation of Pierpont, "trigger-man" of the Dillinger mob.
Nolan remembered talking to a man Wednesday night, a man with a soft voice, a new car bearing Florida license plates (the car of the original pair of gangsters bore Florida plates) and a pile of luggage in the rear of the same type and pattern as that seized in the arrest of Clark and Makley.  Nolan also remembered he had seen a Florida licensed car in a South Sixth avenue tourist camp.  The car with the Florida license, loaded and packed, was just leaving.  The driver politely agreed to come to the station for questioning.
Eyman drove down with him, the other officers following in the police car.  The man was tall, slender, soft voiced, very polite.  His mild gray-blue eyes peered through glassed.  His manner was that of a diffident, retiring scholar.  At the station he walked down the corridor and into Chief Wollard's office.  Here he whirled and pulled out a pistol form his waist.  Eyman thrust his gun in the man's ribs and the man's gun was relinquished.  As quick as a flash the man drew another gun from a shoulder holster, but again Eyman was ready – first.
The glasses fell off; the expression changed to one of pure un-adulterated venom.  It was Harry Pierpont, the killer, the "trigger man" for the Dillinger mob.
Almost immediately identified by the department of justice operative and Robbins, Pierpont sneered at the "small-town cops," looked the group over coolly and said, "I'll remember you – and you – and you.  I can get out of any jail.  I'll be back, and I'll not forget."
Again a carload of expensive clothing and luggage, as in the instance of the first arrests.  Again a deadly little Thompson sub-machine gun and worlds of ammunition.  Also several pair of handcuffs and a set of brass "knucks."
As Pierpont was being booked at the desk, where he was never unshackled, it became certain that he had something in his mouth.  The slender "trigger-man" only gave up a small wad of paper when extreme pressure from a set of "come-alongs" on his wrist was applied.   Later it was found that he had a crumpled mass of paper in his hand.  This was extracted from him clenched fist via the same method.  The moistened wad of paper Pierpont released offered no clue as the writings had become too blotched to be legible.  The paper in Pierpon't hands was an Indiana driver's certificate made out in the name of John Donavan.
Plenty of Money
On Pierpont's person officers found $3,116.20.  The prior search of Clark and Makley had produced $6,500.  The cars were 1934 Studebakers and Buicks and all luggage was of the finest quality, as were the sub-machine guns and ammunition. 
Dillinger, he who walked into the waiting arms of three enthusiastic young police officers, had one hand-gun on his person, and $9,174.44.  Of this sum $15 was in hoarded gold.  Among his effects in the car were found two more sub-machine guns, an additional 500 rounds of ammunition, a young bulldog puppy and a suitcase containing $6,500 in coin and currency, and two shortwave police radio sets.
Like Dillinger, Pierpoint also carried hoarded gold, $22.50 of it.  Dillinger was driving a Hudson sedan, Wisconsin license number 27001.  The waiting arms which so gladly gathered the gang leader belonged to Milo Walker, James Herron and Kenneth Mullaney, the latter of whom yesterday raised his average to three gangsters, grade AAA, in three times up.
Dillinger was arrested as Frank Sullivan, this being the name he gave.  Cooly he stood at the desk, his hands manacled behind him, while his money was counted.  Shown a slip with the total, the prisoner nodded his head.  He was then taken into the office of Mark Robbins, finger print expert for the police department.  Robbins from his files drew the identification data on John Dillinger, brains of the terrorist mob.  Fingerprints checked to a "T."  Then Dillinger admitted his identity and even signed his proper name "John Dillinger" to Robbins' criminal record card.
Dillinger told officers he had rented, yesterday, a house at 1304 East Fifth street.  He had also gas and electric receipts.  He was captured quite by surprise at the North Second avenue address about 8:30 o'clock last night when he drove up, being ignorant of the arrest of the other members of his gang.  Dillinger was walked over to the county jail to join his fellows, manacled and under heavy guard. 
A check-up on the recent activities of the Dillinger mob showed that the men were here about three weeks ago, driving other cars with California licenses, left for the coat, and when apprehended here yesterday had other newer cars with Florida licenses.  Clark and Makley entered Arizona last January 21, their on the ticket windshield showed.
From unofficial estimates last night a total of approximately $30,000 in rewards, some of the "dead or alive" category stands against Dillinger and his mob from all parts of the country.  On this basis a number of Tucson police officers should have a very good fiscal year what with this and that.
Notable in yesterday's sensational series of captures, was the work of Chief C.A. Wollard's younger men, notably the traffic squad.  Featured with Chief Wollard in yesterday's wholesale round-up were Officers Dallas Ford, Chet Sherman, Frank Eyman, Kenneth Mullaney, Earl Nolan and Milo Walker.  Mark Robbins, finger print expert, make all the true identifications of the various members of the gang.
Identifications were made through bulletins in the possession of the police department and augmented by a confidential bulletin on the gang issued by the American Banker's association.  This was brought to Chief Wollard by a local banker who, after learning who had been arrested, passed through the group of officers, giving each a heartfelt handclasp.  The American banking group had posted a $1,000 "dead or alive" reward on each member of the Dillinger mob.
The aggregate rewards for the bank bandits were unofficially totaled last night at $30,000, which, it was said, included a number recently published by various bankers' associations.
1935: Hoover (Boulder) Dam dedicated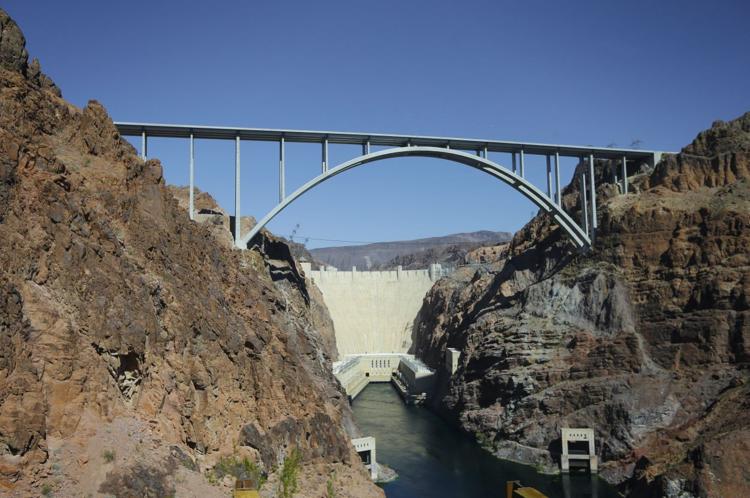 It was meant to supply power to Nevada, but the Boulder Dam, later called the Hoover Dam, spanned the border from Arizona to Nevada.
It was dedicated Sept. 30, 1935, and an article ran in the Arizona Daily Star Oct. 1, 1935:
ROOSEVELT, DEDICATING BOULDER DAM, PROMISES GOVERNMENT WILL BUILD POWER LINE FOR NEVADANS
_____
Sees Project As Yardstick to Measure Costs Throughout U. S.
_____
PRAISES JOHNSON
_____
Thinks Arizona Might Also Get Some Benefit From Development
_____
BOULDER DAN, Nev., Sept. 30.—AP—President Roosevelt today told private industry to take over "principal responsibility" for accelerating employment in dedicating under a brilliant sun the towering Boulder canyon dam as a symbol to government work.
To the applause of the distinguished leaders of the Rocky mountain states seated behind on the temporary structure overlooking the concrete wall in the swirling Colorado river, Mr. Roosevelt proposed that the government promote a state power line into Nevada from the project "to measure the cost of power throughout the United States."
Citizens from the wide open spaces crowded the narrow winding roadway in the rocky slopes of the canyon and swarmed the little available space in the 1081 feet driveway across the crest of the world's largest dam. Speaking into a microphone over a nation-wide radio broadcast, Mr. Roosevelt emphasized the effort of government to take over the unemployment problem through projects of this type and smaller ones and then in strong tones asserted:
"We have come to the point where private industry must bear the principal responsibility of keeping the processes of greater employment moving forward with accelerated speed."
Beside Mr. Roosevelt stood Harold L. Ickes and Harry L. Hopkins, two principals of his huge works relief undertaking whom he is taking with him on a vacation cruise in the Pacific this week while the measure of private pickup and federal employment is gauged.
Ickes Presides
As secretary of the interior, Mr. Ickes presided over the brief exercises on the rock hewn abutment high above the Colorado and far below the towering precipitous rocks above.
In emphatic words, the secretary gave credit for the mammoth undertaking to Senator Hiram Johnson, of California, who led the long congressional fight for authorization of this flood control, power and irrigation project.
Looking over the towering ledges beyond Arizona, the President reiterated his determination that similar government regional units shall be completed in the other three corners of the nation.
He did not specify the other three, but it was assumed he referred to the Grand Coulee dam in the Columbia river in the northwest; the Tennessee valley experiment in the southwest; and the proposed St. Lawrence waterways development in the northeast.
"These great government power projects," he said, "will affect not only the development of agriculture and industry and mining in the sections they serve, but they will also prove useful yardsticks to measure the cost of power throughout the United States.
First Yardstick
"It is my belief that the government should proceed to lay down the first yardstick from this great power plant in the form of a state power line assisted in tis financing by the government and tapping the wonderful natural resources of southern Nevada.
"Doubtless the same policy of financial assistance to state authorities can be followed in the development of Nevada's sister state, Arizona, on the other side of the river."
Leaving his special train at the new town of Boulder established for the 4,000 workers on the dam, the President with Mrs. Roosevelt motored about the community of white houses and then started down the steep seven-mile winding road leading to the dam 3,000 feet below.
Reaching the dam the President motored across the crest highway and stopped to leave his car midway to look over the concrete wall at the mass of sloping concrete stretching 725 feet below to the riverbed.
"I'm speechless," he remarked as he stood in awe at the man-made harnessing of the unruly Colorado which has brought flood devastations and then again gone dry to spread droughts.
Crossing over into Arizona, Mr. and Mrs. Roosevelt again left their car at another point of observation to view the gigantic undertaking from another angle.
Returning across the dam they motored to the flag draped temporary stand where they were greeted by a band and the Rocky mountain state governors and officials.
Senator Pittman, of Nevada, introduced the President and stood with him as he looked over the dam to explain details.
1964-1966: The Pied Piper of Tucson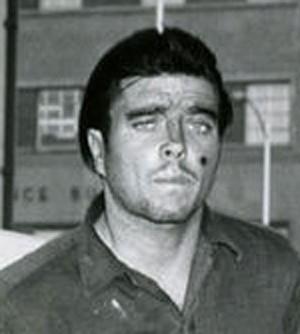 It all began with a missing 15-year-old girl. Then two sisters went missing.
The story of Charles Schmid, a young man who seemed to draw teen girls to him and appeared to have an inflated sense of his own power, made headlines around the country.
Many of the stories were unflattering to Tucson, which was called a hayseed town. Speedway was a seedy street.
In the end, Schmid was convicted of murdering the missing girls and burying them in the desert. Others were involved, but Schmid was at the center.
Time Magazine ran an article about the case and the Arizona Daily Star reported on it on Nov. 24, 1965:
Time Gives Full Treatment To Schmid Case
Magazine Tells Of 'Image Building'
Charles H. Schmid, facing charges of murder in the deaths of three Tucson teenaged girls, is described in this week's Time magazine as a swinger who "always had wheels, money, tall tales and an inexhaustible supply of available girls' phone numbers."
The news magazine article also said Schmid went to bizarre lengths to build his image.
"He added 3 in. to his meager (5 ft. 3 in.) frame by stuffing rags and folded tin cans into his black leather boots. He dyed his hair raven black, wore pancake makeup, pale cream lipstick and mascara," the magazine said.
Time also reported that Schmid's supply of cash was from a generous weekly dole from his mother. "Schmid bragged to the boys," the story said, "that it (the money) came from smuggling cars into Mexico, to the girls that it came from women whom he taught '100 ways to make love.'"
Schmid landed in jail after Richard Bruns, 19, turned informer and told police Schmid had taken him into the desert and shown him the bodies of Gretchen and Wendy Fritz and boasted he had killed them.
Bruns also told police that Schmid had shown him a grave in another desert location in June of 1964, shortly after Alleen Rowe, 15, disappeared from her home. Acting on the Bruns story, police also rounded up John Saunders, 19, and Mary Rae French, also 19.
Time says that according to their statements, Schmid, who was dating Mary French, and Saunders were at Mary's house the night of May 31, 1964, when Schmid idly wondered if they could kill someone and get away with it. He suggested Alleen, a bright pretty student who had once stood Saunders up for a date; the others agreed.
Mary French, the Time story says, persuaded the girl to go for a drive with them. She was taken about five miles into the desert, where Schmid and Saunders walked her down to a dry stream bed and hit her on the head with rocks until she died.
Time also hints at a curtain of silent conspiracy. It said:
"Almost as fantastic as the murders themselves was the disclosure that at least 30 teenagers, all friends of Schmid's, had apparently heard him brag about the crimes — and said nothing. Confided one 16-year-old coed at Tucson's Palo Verde High School: 'A lot of people knew, but it was already too late. Telling would just have made it tough on everyone.'"
Schmid was convicted, escaped from prison several times but was always caught and died in prison in 1975 after he was attacked by several other prisoners who stabbed him numerous times.
Read the entire series of stories in Tales from the Morgue.
1967: Jet crashes into Food Giant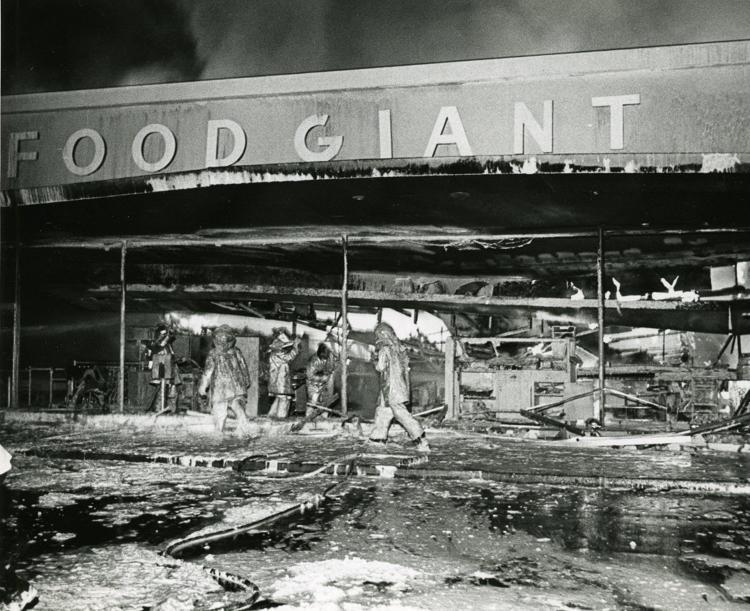 On December 18, 1967, an Air Force jet crashed into the rear of a grocery story in Tucson. Falling debris left destruction in the jet's path.
There were stories of courage and loss for several days.
From the Arizona Daily Star, Dec. 19, 1967:
Plane Plows Into Tucson Shopping Center
15 FEARED DEAD IN FIERY CRASH
2 Homes Razed By Falling F4D Near Airbase
By KEN BURTON
Fifteen persons were believed killed last night and at least a dozen injured when a U.S. Air Force F4D jet crashed into the rear of a Food Giant store at the Cactus Shopping Center at E. 29th St., and S. Alvernon Way.
Capt. Ellis Franklin of the Tucson Fire Dept. said at press time this morning that he feared the death toll might reach 15.
Eight of the deaths were confirmed as still more bodies were being removed from the gutted store and homes to the rear of the market.
At least two houses to the rear of the shopping center complex were also destroyed as a fireball of JP-4 aviation fuel engulfed the area, creating a holocaust.
Air Force officers said the two-man crew, Flight Lt. Jack R. Hamilton of the Royal Canadian Air Force (RCAF), the pilot, and U.S. Capt. Gary L. Hughes, the navigator, were able to parachute from the plane before it crashed.
Tim Oned, of ---- E. 32nd St., was standing on S. Winstel Ave. when the plane hit the ground shortly after 5:30 p.m.
"I saw two planes heading north above me," said Oned. "They were flying side-by-side, when two objects shot out of the eastern aircraft . . . I realized later these were parachutes."
Witnesses, including Oned, said the aircraft then turned on its side and descended upside down. Oned said when it hit, "It exploded like a bomb you see on television."
Another witness, 15-year-old Roswell Burk, of ---- S. Baxter Pl., said he was just blocks away from the supermarket when he saw the jet approaching.
"When the plane came over, it tipped a little and it looked like a wing caught on one wall — and it just blew up," Burk said, explaining how the craft slammed into an alley directly behind the store.
The plane was loaded with more than 16,000 pounds of volatile JP-4 aviation fuel, which it had taken on prior to leaving Davis-Monthan AFB. The plane was based at Nellis AFB, Nev.
The fuel exploded across houses and ripped a fiery path through the grocery store, which was dotted with holiday shoppers and employes.
Ernest Sanchez, a Tucson Gas & Electric Co. employe who was driving by the store when the crash occurred, stopped his car and ran inside to help men, women and children escape.
Reports indicated that between 20 and 30 persons escaped before the fire completely engulfed the store's inside.
Aby Mogy, a self-employed truck driver who runs Mogy's Towing Service, was helping a stranded motorist some 300 yards from the supermarket when he saw the plane fall.
Mogy said he heard "a thud," saw "not more than 20 people" run out, and immediately got on his two-way radio in his wrecker and called for the fire department. He was credited with the first alarm.
More than 85 city firemen — 50 regulars, plus 35 off-duty men called back to work — responded to the three separate alarms that sent a total of 10 pieces of fire and rescue equipment to the tragedy.
Firefighting teams also rushed to the blaze from David-Monthan and Air National Guard headquarters. D-M also sent several ambulances and teams of medics.
Some 100 city policemen and other officers from South Tucson, the Arizona Highway Patrol, the Pima County Sheriff's Office, plus Civil Defense teams, the Sheriff's Search & Rescue Unit and the Red Cross—all rushed to the crash site.
"We've got every law enforcement and rescue agency in the city and county out here fighting this thing," said one city patrolman. "I don't think we've missed anyone."
Residents in the block behind the market said it looked as though four houses were hit by the initial fireball.
J. A. Eribe, ---- S. Winstel Blvd., lives directly across from one home that was hit. He said he heard "a loud roar, and a terrific explosion." Before his family reached their windows, Eribe said they could see the fire racing in behind them.
Outside, Eribe recalled, a man came running from his own home screaming, "My baby! My baby! She's still in there!"
The home was believed occupied by the James Tilton family, at ---- S. Winstel. Two bodies were recovered from that residence early last night. One of the dead was identified as Sherri Tilton, 19, trapped in her bedroom.
Eribe later told a reporter: "I'm getting the hell out of here and moving. I'm not going to live here any longer."
Meanwhile, the 21-year-old Sanchez said he saw "at least" six people inside the stopre, adding: "Those people didn't have a chance." Sanchez dragged a hysterical mother from the store as she started to go back for her child. The spot where her child had stood was a searing fireball.
"It was the worst thing I've ever seen in my life." Sanchez said. "One minute they were picking greens. The next minute , they just weren't there."
Tucson's hospitals went on alert last night, but it was not necessary to put their disaster plans into full effect, chiefly because there were relatively few injured.
Physicians and off-duty nurses reported in great numbers to St. Mary's, St. Joseph's and Tucson Medical Center emergency rooms as soon as they heard of the tragedy.
The hospitals were prepared to treat any number of victims, and had opened their disaster supplies of bedding, plasma, and burn remedies in preparation for patients from the accident.
At press time, all the injured treated at local hospitals had gone to the emergency rooms with members of their families, not by ambulance.
Firemen and city workers, under the direction of Tom Price, superintendent of the Sanitation Dept., loaded debris into five pickup and six dump trucks last night. Captain Franklin estimated that the men may not finish their mop-up operation until noon today.
Deputy Fire Chief Kenneth Dirks, in charge of the giant fire and recovery operation, said the blaze "could wind up being one of the worst tragedies in Tucson history."
First reports concerning the number of people trapped inside houses to the rear of the store and in the store itself were confused. Dazed witnesses who had fled the supermarket could only mumble when asked how many failed to make the doors.
Admitted for shock at St. Joseph's Hospital last night was Mrs. Rayalda Chavez, 40, --- Calle Colado, a Food Giant cashier who was not otherwise injured.
Mrs. Victoria Steffania Palmer, 55, a clerk at Food Giant who had reported for work only five minutes before the crash, was identified by her husband, James, late last night at Bring's Mortuary. She lived at ---- Monthan Strav. and is survived by a son and two daughters.
Read more about the crash in Tales from the Morgue.
1970: Pioneer Hotel fire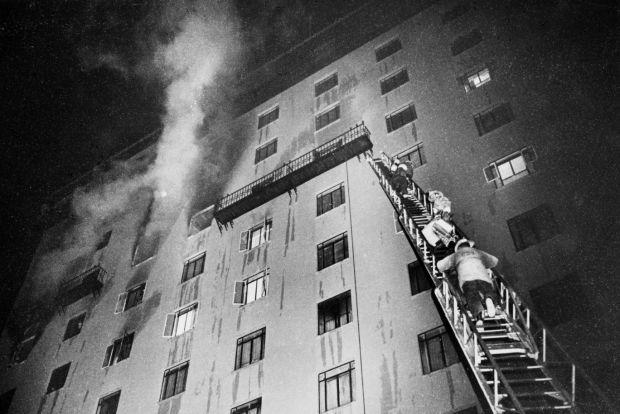 The Pioneer Hotel was Tucson's first "skyscraper" when it was built in 1929. When it burned shortly before Christmas in 1970, 29 people died.
The fire was determined to be arson and 16-year-old Louis Taylor was arrested and tried for the crime. He was convicted and sentenced to life in prison.
The case made headlines again when Taylor was released recently. He has always proclaimed he is innocent, and now there are many who believe him, though his conviction still stands.
The Arizona Daily Star's coverage of the fire began on Dec. 20, 1970:
TWO KILLED, 15 INJURED IN PIONEER HOTEL BLAZE
Guests Plunge From Windows
At least two deaths were verified and more than 15 injuries were reported in fire that swept through the 41-year-old Pioneer International Hotel early this morning. It was feared the death toll would be much higher.
Reporters on the scene said that four bodies were brought to the mezzanine level about 2 a.m. and firemen had called for a resuscitation on the ninth floor. Several other sheet-draped bodies were seen there. The fire broke out shortly after midnight.
Robert Trooper, hotel auditor, said he got a call from a guest who said she saw flames in the stairwell on the third floor.
An unidentified room clerk said the flames shot up the elevator shaft of the 250-room hotel, leaving a wake of smoke in the upper floors of the 11-story building.
At 1:45 a.m. St. Mary's hospital had reported one person dead on arrival and 15 others injured. At that time it was not known whether any injured had been taken to other hospitals.
Those injured included persons who jumped from the upper floors.
One witness said, "People were jumping from the windows and splattering on the sidewalk. It was awful. Firemen were screaming to people through their horns to stay on the floors for oxygen."
Witnesses said they saw bodies, illuminated by floodlights, leaping from the rooms of the 10th floor and the roof.
Mrs. Lee Atkinson, who had just left the hotel when the fire broke out, said she heard young people screaming. "I wanted to go back in and help them. It was awful," she said.
"I'll never forget this as long as I live. People hanging on the ledges, yelling."
At 1:15 a.m. a man named "Bill" found his way to a balcony on the eight floor overhanging Pennington Street. A friend on the street below, who had found his way out of the hotel, called to him to remain where he was, that he was safe where he was.
"Bill" disappeared and reappeared at another window on the east side of the hotel. A sheet rope from the floor above him dropped past the window. He grabbed at it and slid down to the fourth floor of an addition to the building.
The dead person was later identified as a woman who jumped from the seventh floor, struck a balcony overlooking Stone Avenue and fell to the sidewalk. Her name was not available.
Firemen pleaded with hotel guests not to jump from the building. At first the message was given in English by Capt. Ellis Franklin. Later, an unidfentified fireman spoke to the guests in Spanish.
With flames still out of control at 1:55 a.m. the fire department issued a "Yellow Alert" putting all emergency equipment in the city into action. "This is like a disaster sutuation," the department spokesman said.
Edwin Santschi, retired electrical inspector for the City of Chicago, said flames were biting through the door of his room on the fifth floor. He said he tried to douse the flames with water from an ice bucket. In the hallway he said he saw four other guests crowding at the window "ready to jump."
Father Cahelare, of St. Augustine Cathedral, arrived at the scene soon after midnight. He was seen giving the last rites to a guest on the second floor of the hotel.
Several hundred employes of the Hughes Aircraft Co. were at the company annual party. Some left, and others sped through the building leading guests, most of the elderly people, to safety.
"Many were doing brave things," a witness said.
One man stood on a window ledge on the fourth floor for 15 or 20 minutes before firemen could get a ladder to him.
Fire escapes on the north side of the building were blocked by fire, making escape by that avenue impossible. Several volunteers on the south side of the building obtained a fire ladder to raise on that side of the building to help guests escape.
Three hook and ladder trucks were used to assist in rescue work, two on Stone Avenue and one on Pennington.
Officers sped to the scene from regular duty with the sheriff's office, U.S. Border Patrol, South Tucson Police Department and the Tucson Police Department.
One police officer, at the early stages of the fire, braved the interior of the hotel to give aid, but could only get to the third floor where he was stopped by smoke and flames.
At the height of the fire some of the guests lowered themselves to the annex building which houses Shoe City on Pennington Street.
Fireman Arth Apodaca fell four floors from a fire ladder. Observers said he did not appear to be critically injured.
Despite the intensity of the blaze, electricity oddly remained on in the hotel and on its signs.
The fire department's command post was established in front of Steinfeld's department store. Harold Steinfeld, owner of the store, and his wife, Peggy, live on the ninth floor of the hotel.
Firemen poured a tremendous amount of water on the flames. Water was seeping through the upper floors to the lower levels and after the fire had been controlled, C. Edgar Goyette, vice-president and resident manager, began salvaging records on the mezzanine floor. He was working in a small sea of water.
The hotel was built in 1929 and has long been a Tucson landmark. Albert Steinfeld built the Pioneer at the corner of Stone and Pennington on property which housed an old Methodist church when he bought it in 1904.
Harold Steinfeld recalled in later years that it was not considered a good business deal, as the property was "away out of the business district."
Under the Steinfeld ownership the site saw first, a building housing the offices for the Southern Pacific of Mexico and the old Epes Randolph railroad lines. This was in 1910. The ground floor was occupied by a fruit and vegetable shop, a drug store and other shops.
Baum and Adamson, one of the city's oldest auto supply firms started business on that corner.
In 1929, Albert Steinfeld built the Pioneer on the site with the idea of financing the hotel and then selling it to outside interests. The Depression wiped out the deal and the hotel remained in the Steinfeld family hands until early 1963, when it was sold to a group of Tucson businessmen.
The hotel has gone through several remodelings, the latest major one was in 1967 with a price tag of $750,000.
Read more about the Pioneer Hotel Fire in the Arizona Daily Star's ebook, available for Kindle and Nook and free to Star subscribers who have activated their account.
1976: Reporter killed in car bombing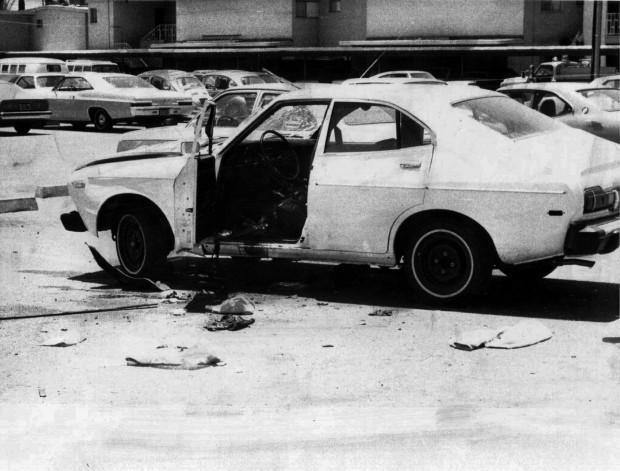 Don Bolles was a reporter working at the Arizona Republic when he went to the Hotel Clarendon in Phoenix to meet a source on June 2, 1976.
The source didn't show and Bolles went back to his car. A bomb in or under the car went off severely injuring Bolles, who died from his injuries June 13.
The bombing was linked to organized crime.
From the Arizona Daily Star, June 3, 1976:
Bomb In Car Injures Newsman In Phoenix
PHOENIX (AP) — Don Bolles, 47, an investigative reporter for the Arizona Republic, was critically injured yesterday when a bomb exploded in his car, police said.
Bolles' right leg was amputated above the knee during five hours of surgery.
A hospital spokesman said Bolles remained in critical condition after the surgery. Doctors had said they night have to amputate both his legs.
Police said there was no doubt that the explosion outside the Clarendon House Hotel in north central Phoenix was a deliberate attempt to murder the reporter.
Paramedics who rushed to aid Bolles said he told them he was "working in a Mafia story."
Police Sgt. Robert Konkle said Bolles identified a person who might have planted the bomb. That person was being traced.
Police Detective Dan Dryden said Bolles also was heard by several persons at the scene to say, "John Adamson and Emprise."
Political officials expressed shock at the incident, and the Arizona Senate stood for one minute of silence yesterday in honor of Bolles.
The state, newspapers and private citizens offered rewards for information about the bombing. The well-known Bolles was considered the dean of investigative reporters in the state.
According to the Arizona Republic, fellow reporters at the State Capitol said they found a not in the press room, "John Adamson, Lobby at 11:15, Clarendon House, 4th and Clarendon."
Emprise was a former corporation involved in dog racing in Arizona. It was reorganized as Ramcorp by the Jeremy Jacobs family of Buffalo, N.Y. Ramcorp, with the Funk Greyhound Racing Circuit, owns all of the dog tracks and Prescott Downs Horse track in Arizona. Bolles had investigated Emprise operations since the 1960s.
A spokesman at the Clarendon House said Bolles had been there a short time when he received a telephone call on an outside line, went to a parking lot, entered his car and began to drive off.
The explosion severely damaged the car. Investigators said a fragment of the auto was found on the third floor of the hotel and that the blast blew out the window of another car and broke windows in the hotel.
Fire Battalion Chief Robert Richards said a bomb had been placed beneath the floorboards of Bolles' car, on the driver's side. Investigators said tests will be made today to try to determine the type of explosive used.
Fellow reporters said Bolles left the Capitol pressroom at about 10 a.m., leaving a note saying he was en route to the Clarendon House to meet an unnamed person from San Diego who had information concerning Rep. Sam Steiger, R-Ariz.
Another Republic reporter said Bolles told him the information reportedly involved "some money exchanging hands." But he said Bolles told him he didn't think the information was true.
Following the incident, Steiger said from his home in Warrenton, Va., that he could not understand the motivation,
"I've never been in San Diego in my life," he said. "I can only think that whoever did this may have figured that using my name was one way to get Don's attention."
Steiger, an outspoken opponent of the corporation, filed a $2-million lawsuit against Emprise in April 1974, charging that company officials, employes and agents "conducted a campaign to harass, intimidate and interfere" with his performance of his congressional duties and to suppress his criticism of the firm's operation and what he called its underworld ties.
In January of 1974 Emprise named Steiger in a $1-million lawsuit accusing him of conspiring to defame the racing concession company.
Gov. Raul Castro, appalled at the incident, requested assistance from the U.S. attorney for Arizona, William Smitherman, in Tucson. Castro said Smitherman assured him all appropriate action would be taken.
Democratic Majority Leader Alfredo Gutierrez, D-Phoenix, read a statement saying the Senate was shocked and appalled at the violent and cowardly attack on Bolles, a respected member of the Capitol press corps and a well known investigative reporter.
"Such an attack strikes directly at the fundamental right of a free press to gather and disseminate information and at the right of the people to be informed, a right that is indispensable to a free and self-governing society," Gutierrez said.
"We pledge the fullest resources of our state government to bring justice to the persons responsible for this cowardly attack."
Phoenix Mayor Margaret Hance also issued a statement expressing shock at the incident.
"I understand there is a possibility that the automobile explosion which has sent Mr. Bolles to a hospital in critical condition is a result of an investigation in which he was involved as a reporter," she said. "Phoenix is not and will not be the kind of city in which this kind of occurrence becomes commonplace.
"But the questions about who, how and how to avoid it will be handled by the police. For the rest of us, I can only ask that we pray for his recovery and swift return to his work."
1978: Jet crashes near University of Arizona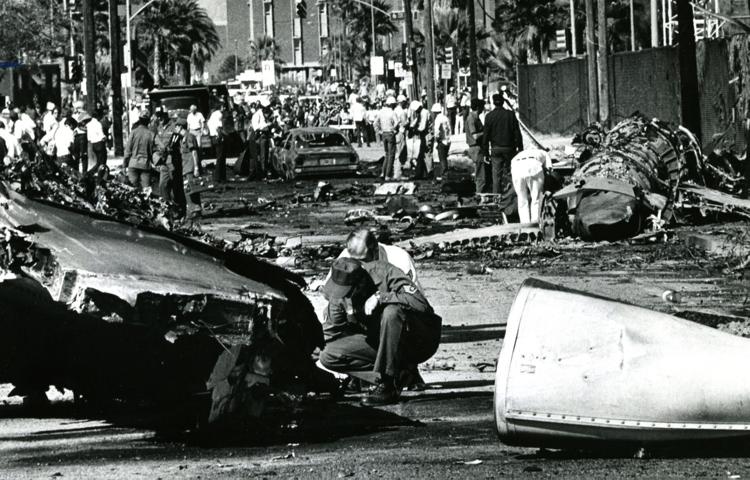 An air force fighter jet had engine trouble on October 26, 1978, and the pilot aimed the jet for a UA football practice field and ejected. The plane crashed into a street instead.
The jet narrowly missed Mansfeld Junior High School, causing a great deal of worry for many parents.
From the Arizona Daily Star, Oct. 27, 1978:
Jet kills 1, spares kids
Fiery debris spews over school area
By DIANE JOHNSEN
The Arizona Daily Star
An Air Force jet fighter crashed in a street just south of the University of Arizona shortly after noon yesterday, killing one person but narrowly missing students on the playground at Mansfeld Junior High School.
The plane's pilot suffered only a scraped ankle after he ejected 200 feet over the UA campus, but the aircraft ignited a wall of flames several stories high as it hit on one wing and skidded along North Highland Avenue south of East Sixth Street. Six persons were injured, one very critically.
After compression in his engines failed, the pilot aimed the plane for a UA football practice field just east of Highland, but instead it plummeted onto the street, showering cars in the area with burning fuel and debris.
Engines on his plane, an A-7D Corsair II, stalled eight miles north of the Davis-Monthan Air Force Base runway for which he was headed, said Brig. Gen. Robert S. Kelley, commander of the base.
Harry Brannon was sitting outside his home at ---- E. Silver St., when he heard a popping sound from the plane as it passed over North Sixth Avenue and East Grant Road, then the engines died.
"I thought he was turning on his afterburners to slow him down, but then he went to coasting," he said.
The crash raised anew questions of the safety of D-M flight paths over the university. Rep. Morris K. Udall, D-Ariz., called a meeting of city, county and Air Force officials for 9 a.m. today in the City Council chamgers to discuss the incident.
The 40 A-7Ds at the base will not be grounded and will be flown normally pending the investigation and a review of the planes' maintenance history, said Maj. Myron Donald, assistant public relations officer at the base.
A long string of Air Force jet flights over the UA continued unbroken after the crash. Students cramming the sidewalks near the site had to shout on occasion to make themselves heard above the planes' roar.
The woman who died in the crash and the most seriously injured victim were in a compact car engulfed in flames from the plane. They have been identified as sisters, but hospital officials were not sure last night which had died. An imprint of the dead woman's teeth was taken, and positive identification was expected today.
Believed to have been burned to death was Leticia Felix Humphrey, 22, of ---- N. Columbus Blvd. Her sister is Clarissa Felix, of ---- E. Eighth St. The woman believed to be Clarissa was in extremely critical condition in University Hospital last night with third-degree burns over 90 percent of her body.
Alice Minder, 48, of --- N. Vine Ave., and her 18-year-old daughter, Joan, were in stable condition at St. Mary's Hospital after their moving car was ignited by debris from the plane several feet farther south on Highland.
Another daughter, Erin, 12, was walking nearby at the time and suffered cuts while pulling her older sister, crippled by a birth defect, from the car. Erin was treated at University Hospital and released.
In stable condition at University Hospital was Richard Flagg, 56, address unknown, who apparently was walking in the area when he was knocked unconscious by the force of the crash.
Mansfeld seventh-grader Christopher Duarte, 12, was released from University Hospital after being trreated for bruises he received when he was thrown to the ground by the concussion.
The crash burned four unoccupied cars on Highland, officials said.
Though the plane is equipped to carry 20,000 pounds of weapons, it was unarmed.
The plane's pilot, Capt. Fredrick L. Ashler, 28, ejected as the plane soared powerless over the UA campus. Seen by scores of students from high-rise classroom windows, he parachuted down to land on a grassy area outside campus police headquarters at East Fifth Street and Highland.
Students lounging in the sun during the noon hour on the UA mall heard an explosion overhead as Ashler ejected, then rushed en masse the few blocks south the where his plane came to rest at about 12:16 p.m.
"Everybody was just looking at it — and it was like 'Oh, my God.' Then everybody was running over there," said UA student Frank Hunt, 23, from Tucson.
UA sophomore Danny Taylor, 21, said the plane hit the ground at an angle of 45-60 degrees. "I was walking back to my dorm. There was a loud explosion first when the pilot ejected, and then the plane crashed. It was the loudest thing I've ever heard."
Kelley said Ashler, an instructor pilot with more than 1,000 flying hours and 764 in the A-7D, had intended to set the plane down on the practice field. But witnesses said that after he ejected, the aircraft suddenly veered eastward to its right and slammed into the street between the field and the school. The plane was going about 200 mph on impact, Kelley said.
He said a compression failure caused the plane's engines to stop, and praised Ashler for doing all he could to land the plane safely. Witnesses at the UA agreed.
"He laid it down really nice," said Mario Zappia, 22, from Oracle. "He didn't know he was going to hit anybody. The cars turned onto the street after he had chosen it."
An investigation into the cause of the crash will be conducted by the Air Force. The Federal Aviation Administration will not be involved, said Carl Swanson, FAA representative here, because a military craft was involved.
Ashler, who had been assigned to the 357th Tactical Fighter Training Squadron here for about five months, was picked up by Air Force medics within minutes after he parachuted to safety. He was hospitalized overnight for observation, and unavailable for comment.
The fiery crash drew at least 150 law-enforcement officers, according to Police Capt. Leonard Dietch. It took 35 firefighters in four engine companies and two ladder trucks to quell the flames with foam, officials said.
A crowd of thousands formed around the crash site within minutes, and several hundred remained behind police barricades as long as two hours later. Police arrested Lawrence Dunn, 33, of --- E. University Blvd., and charged him with disorderly conduct when he refused to leave the scene, they said.
Shortly before 2 p.m., a parade of D-M vehicles, including two dump trucks, a bulldozer and a long flatbed truck, arrived escorted by motorcycle police to being cleaning up the plane's debris. They finished the job by 5:30 p.m.
Police officials doubted that Highland would be reopened immediately, however, because of deep ruts the plane scraped into the asphalt. The road was scorched for several hundred feet, beginning about half a block south of Sixth where the plane first hit.
The plane knocked down a telephone cable, and service was cut off to 200 customers between East Sixth and Seventh streets from North Mountain Avenue to North Cherry Avenue, said Mountain Bell spokesman Rick Hays. He said service should be restored by 3 a.m. today. A power outage in the area lasted about 45 minutes.
Udall said he hoped the meeting this morning would help clear and "perhaps reassure some people" about flight safety in the future.
"As long as I've been in Tucson, there've been arguments about Davis-Monthan, its proximity and flight patterns. But I think D-M has done a pretty good job with the least possible danger to the university and to the city."
UA President John P. Schaefer, who was out of the state yesterday, issued a statement calling for talks between community leaders and Davis-Monthan officials to work out ways to "minimize danger to the public." He had not yet been notified about today's meeting, but spokesman Hugh Harelson said the university would be sure to have a representative at the session.
City Councilman Tom Volgy, a UA political science professor who saw the plane go down, said he and a Udall aide had talked to D-M officials three or four weeks ago about the danger and noise caused by the Air Force landing patterns over the campus.
The safety of D-M planes over the city has been a persistent controversy in Tucson. The issue has been a sleeping one, however, since a furor over the crash of an F-4D jet into an eastside supermarket that killed four persons in 1967.
"We don't like to crash airplanes," said Kelley yesterday. "We're proud of the fact that we've had a very good accident record."
Read follow-up stories about the crash in Tales from the Morgue.
1981: The first female Supreme Court justice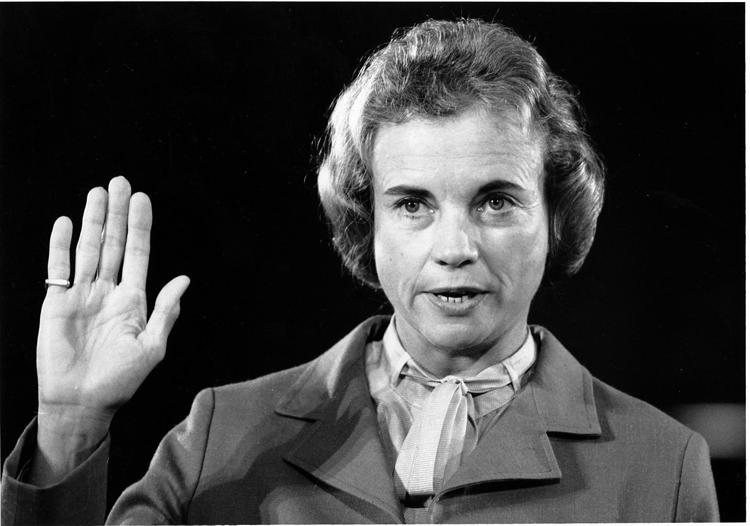 President Ronald Reagan nominated Arizonan Sandra Day O'Connor for the U.S. Supreme Court. She was unanimously confirmed by the Senate September 21, 1981, and on September 25, 1981, became the first woman to serve as a Supreme Court justice.
The Arizona Daily Star carried an Associated Press article about her confirmation on September 22, 1981:
Arizona woman gains Supreme Court bench
WASHINGTON (AP) — The Senate, ending an all-male tradition nearly two centuries old, unanimously confirmed Sandra Day O'Connor as an associate justice of the Supreme Court yesterday.
O'Connor, a 51-year-old judge of the Arizona Court of Appeals, will be sworn in Friday in time to join the court for the opening of its 1981-82 term on Oct. 5.
The vote was 99-0, with only Sen. Max Baucus, D-Mont., who was attending an economic conference in his home state, missing from the tally. He had supported O'Connor in earlier committee action.
After the vote, O'Connor appeared on the steps of the Capitol with Senate leaders and Vice President George Bush.
Grinning jubilantly, she said she was overjoyed by the depth of Senate support for her nomination.
"My hope is that after I've been across the street and worked for a while that they'll all feel glad for the wonderful vote they gave me today," she said.
Once installed on the court, she said, "I'm going to get very busy, very fast."
"Today is truly a historic occasion," said Sen. Strom Thurmond, R-S.C., chairman of the Senate Judiciary Committee, leading off a series of 27 speeches in warm praise of President Reagan's first high-court nominee.
Hailing a "happy and historic day," Reagan said in a statement that the confirmation of his nominee "symbolizes the richness of opportunity that permits persons of any sex, age or race, from every section and walk of life, to aspire and achieve in a manner never before even dreamed about in human history."
As the vote neared, a small knot of conservatives who had questioned O'Connor's views on abortion fell into line behind her nomination.
Jesse Helms, R-N.C., leader of the most conservative bloc of Senate Republicans, voted for O'Connor, saying that although she wouldn't say so publicly, he believes she opposes the 1973 high-court decision legalizing most abortions.
Helms said that on the day Reagan announced that O'Connor would be his first Supreme Court nominee, he met privately in the White House with the president and was assured that O'Connor shares Reagan's opposition to a national policy of legalized abortions.
Sen. Joseph Biden of Delaware, the Senior Democrat on the judiciary panel, said however that it is fruitless and risky to predict how any Supreme Court nominee might vote once he or she is sworn in.
"Once a justice dons those robes, enters that inner sanctum across the road (in the Supreme Court building)," Biden said, "we have no control. All bets are off."
The late President Dwight Eisenhower nominated Earl Warren, believing he was a "mainstream Republican," and he turned out to be the most liberal Chief Justice in Supreme Court history, Biden recalled.
Biden said O'Connor won such broad support from conservatives and liberals from both parties because she has "superior intellect," strong moral character and the right temperament to be a judge.
"That's all I have a right to ask," said Biden, criticizing conservatives who attempted to make O'Connor's views on abortion the sole criterion on whether she should be confirmed.
O'Connor will become the 102nd person to don the black robes of a Supreme Court member since the court was created as one of three equal branches of the federal government 191 years ago.
A graduate of Stanford University Law School, she worked as as Arizona assistant attorney general before serving in the Arizona Senate, where she eventually became majority leader.
O'Connor served as a Maricopa County Superior Court judge, and was later named by Gov. Bruce Babbitt to the Arizona Court of Ap;peals.
Nothing Reagan has done in his eight months as president has won such broad support and acclaim from so many sides of the political spectrum on Capitol Hill.
O'Connor's confirmation represents a major political victory amid growing opposition to the president's economic, diplomatic and military programs.
In three days of testimony before the Senate Judiciary Committee, O'Connor said she finds abortion personally offensive, but declined to give her constitutional view of whether a woman has a legal right to end a pregnancy.
Reagan has said repeatedly that he disagrees with the Supreme Court decision to legalize abortions, and has supported legislative efforts to reverse it.
Because O'Connor's votes in the Arizona Legislature 10 years ago indicated some support for legalized abortion, Helms said in one Senate speech, "some uncertainty yet exists" about her position on abortion.
If O'Connor turns out to be a supporter of legalized abortions, she will have betrayed Reagan's long-stated views on the subject, Helms said.
Abortion was the only issue on which any opposition developed surrounding Reagan's choice to replace retiring Potter Stewart on the high court.
Only a few senators were on the floor yesterday during during four hours of debate set aside for the nomination, and there was effusive praise from liberals and conservatives of both parties.
Sen. Edward M. Kennedy, D-Mass., said the inability of groups like the Moral Majority and other anti-abortion groups to block the nomination demonstrated that single issue politics "has no place" in the confirmation process for a high-court justice.
He called O'Connor's confirmation "a significant victory for the cause of equal rights," in part because she is a woman.
Thurmond said that during her confirmation hearings, O'Connor demonstrated herself to be a "person who understands that federal law is changed by Congress, not by the court."
Several other senators said they believe O'Connor's history as a state legislator and state judge would make her more likely to play a restraining roll on the Supreme Court, which has been criticized by conservatives for tackling issues like abortion and busing for school desegregation.
O'Connor retired from the Supreme Court in 2006.
1982: Battle at Miracle Valley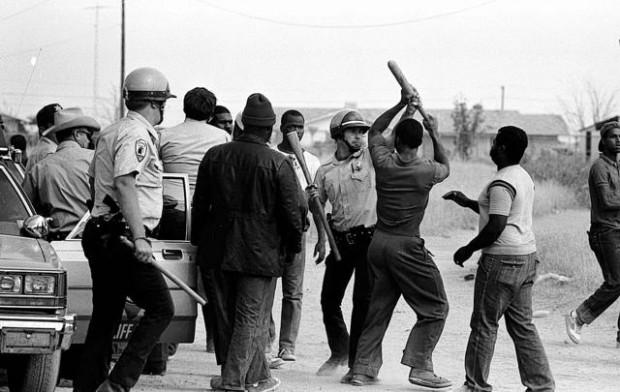 On October 23, 1982, a controversial church in Miracle Valley, Arizona, was the scene of a battle that ended with two church members dead, two lawmen with gunshot wounds and several more with less serious injuries.
From the Arizona Daily Star, Oct. 24, 1982:
Effort to arrest 3 leads to violence
By Paul Brinkley-Rogers, R.H. Ring and Don Dale
The Arizona Daily Star
MIRACLE VALLEY — A leader of a controversial all-black church here and another church member were shot to death yesterday in a wild melee that left at least two lawmen wounded and dozens more with broken arms, cuts and bruises.
Nine people were arrested after the bloody confrontation. It errupted shortly after 9 a.m. when deputies keeping watch on the community from the sheriff's substation across the road responded to a call for help from two other deputies, who were shot as they supported Deputy Pat Halloran, who was trying to serve three traffic-related arrest warrants.
An attempt to serve the same warrants Friday night failed when the two arresting officers were surrounded by scores of club-wielding church members and forced to withdraw.
One of those killed yesterday was William Thomas Jr., 33, son of the church pastor, the Rev. Frances Thomas,  and the militant theoretical leader of the church. He suffered gunshots in the arm and the side. The other church member killed was identified as Augusta Tate, 52. Tate was William Thomas' father-in-law. Autopsies are to be performed today in Tucson.
At least five injured lawmen were taken to Sierra Vista Community Hospital, two suffering from gunshots and the rest suffering from broken bones, cuts and bruises. One sheriff's deputy, David Jones, was transferred to St. Joseph's Hospital in Tucson. He suffered shotgun wounds in the face and upper chest, and was reported in stable condition last night.
The other lawmen, including Sgt. Larry Dever, who was shot along with Jones, were treated at the Sierra Vista hospital and released.
Two injured church members were transferred from Sierra Vista hospital to Tucson hospitals. Roy Williams, whose spine was severed by a gunshot, was listed in critical condition at Tucson Medical Center in Tucson. And John Jamison, who was shot in the shoulder, was taken to University Hospital, where he was listed in serious condition.
Deputies who responded to the call for help were punched, beaten with pipes and sticks, stabbed with broken soda bottles and then shot at with shotguns and rifles.
In all, as many as 100 men, women and children from the church were involved in the fight with 35 Cochise County deputies. Other than the two who were initially taken to the Sierra Vista Hospital, it was not known how many church members were injured in the fighting, but the number appeared to be high.
Dever said that when he and Jones arrived at the scene, several other officers already had been surrounded and were fighting with church members armed with "pipes and other things."
When he and Jones stopped their police truck, "we saw a lot of people with weapons, pointing them at us," Dever said. Jones stepped out of the truck and was hit by a shotgun blast, Dever said.
Dever also was hit by a few shotgun pellets in the face, but he was able to drag Jones back into the truck, he said.
Lawmen who were not struggling directly with their assailants and who were able to fire back used a variety of weapons, including assault rifles, carbines, shotguns and handguns. They shouted warnings to each other as church members ran toward them firing their weapons.
Other deputies held off men and women swinging clubs, and they dodged large rocks hurled at them by the cursing crowd.
After 15 minutes of fighting, in which as many as 100 shots were fired, the deputies withdrew to Arizona 92 and set up roadblocks on both sides of the community.
Within minutes, five carloads of church members appeared with wounded people inside. The deputies checked the occupants quickly and then sent them up the highway toward the hospital in Sierra Vista, instructing other units along the way to let them pass.
An air of tension spread across this border area as the day progressed. Roadblocks diverted Arizona 92 traffic between Sierra Vista and Bisbee, and some people living close to Miracle Valley blocked their driveways with vehicles.
Until about noon, it appeared that church member Julius Gillespie was involved in negotiations with Sheriff Jimmy Judd. He entered and left Miracle Valley at least three times in the company of Sheriff's Lt. Frank Peterson.
Judd would not comment during the day, but last night Department of Public Safety spokesman Allan Schmidt said Judd had met with the Rev. Thomas and Harold Hurtt of the Phoenix Police Department, who has been involved in previous Valley negotiations. Schmidt would not elaborate except to say the talks and force of lawmen are designed to "ensure that peace will prevail."
Lawmen running "hot," with lights flashing and sirens screaming, sped down County roads to take positions of reinforcement.
Police from neighboring communities including Huachuca City, Sierra Vista, Douglas, Benson and Bisbee were called in to back up Sheriff's deputies, and the DPS later took over the investigation of the morning shooting.
Jim West, aide to Gov. Bruce Babbitt, said, "the governor is monitoring the situation closely and is in communication with Cochise County Sheriff Jimmy Judd and DPS director Ralph Milstead. He has instructed Director Milstead to provide Sheriff Judd with additional Highway Patrol manpower and other assistance Milstead deems necessary. The governor has also asked the FBI to investigate the shootings, and they have agreed to do so." FBI agent John J. Hinchcliffe later said he would look into any civil rights questions.
The Pima County Sheriff's  Department's special weapons and tactics squad appeared in the early afternoon to help secure the perimeter around the church property. The county also sent a large motor home to serve as a command-and-control center.
By that time, the situation appeared to be a standoff between as many as 80 lawmen and church members, some of whom, lawmen said, were holed up in their church building with rifles. Police sharpshooters crouching behind their patrol cars kept scope-equipped rifles trained on the building. The Pima County SWAT team, dressed in camouflage uniforms and heavily armed, stayed in the background at the Southern Arizona Bible College across the highway from the church. Judd, in almost constant conference, was in his substation trailer nearby.
He only emerged once, at 4 p.m., to talk briefly in a strained voice with reporters. "We are here to do one thing," he said. "We're here to do our job."
As dusk neared, lawmen watched the community from behind the line of cars parked on the highway. They leaned on their cars, and used binoculars and kept shotguns handy.
About 20 church members stood in front of the church store, Crescendo Limited, about a hundred yards from the watching lawmen. One man carefully cleaned windshields on several cars parked in front of the store.
At one point, a car with two women in the front seat and four children in the rear pulled out of the community and slowly drove across the front of the line of lawmen.
Deputies picked up their shotguns and cocked the hammers, keeping watch on the car until it passed and turned back into the community with children peering out the rear window.
Just at dusk, when deputy yelled out to reporters and lawmen: "Look out, you got a rifle sighted on you out of the doorway of that store." Lawmen and reporters hunched down as some deputies hurried away in a crouch, and a truck of lawmen drove out at high speed.
Nothing more came of the warning, or of similar incidents throughout the day.
Meanwhile, investigators worked hurriedly to review film that was taken by police photographers during the fight, trying to identify some of the church members.
And by late afternoon, the last three church members were arrested when deputies moved in squads into the community to seek out church members they had recognized in the morning confrontation, Schmidt said.
However, the three men deputies were trying to arrest when the melee broke out were still at large last night. All were wanted on traffic-related counts: one of felony fleeing and two counts of failing to appear in court.
A man who saw the fight that those warrants sparked said it was a church member who fired first.
Urbane Leiendecker, 59, watched "from the next yard over" and said the shooting was triggered by teen-age church member who had charged into the fight with two pieces of lumber he used as clubs.
After the teen-ager was disarmed, he ran back into a nearby house and came out with a rifle, Leiendecker said.
"He got down behind a tree and shot through the fork" in its branches, Leiendecker said.
"I suppose he took dead aim on a deputy," he said. "He fired one shot and went back into the house. He seemed very nervous."
Leiendecker, the landowner who gave two square miles of land to enable evangelist A.A. Allen to build Miracle Valley in 1958, said he was watering trees in the yard adjacent to where the deputies fought with church members.
He said he saw the first two deputies to arrive at the scene. The deputies drove up, knocked on the door of the house and got no response.
Four or five church members approached and surrounded the deputies, Leiendecker said, and were quickly reinforced with others who arrived in cars.
The church members "started pushing" the deputies, "trying to pull their guns away, just picking on them, maybe slapping them," Leiendecker said.
The deputies called for help on their radios, and about 10 patrol cars showed up, he said.
Then more church members came "from every direction," he said. "There were women with rakes in their hands, men with shovels, picks, axes, two-by-fours. Some of them didn't have anything, so they pulled off their shoes and used those," Leiendecker said.
One man, apparently a lawman, was taking photographs with one hand while he kept attackers that day with the pistol held out straight in the other, Leienecker said.
"He said, 'Back off, boy,'" Leiendecker said.
About that time that first shot was fired, Leiendecker said. "It appeared none of the deputies knew where the shot came from," he said.
A second church member who aimed at lawmen with the rifle from a nearby vacant lot was "cut down" after he refused to drop his weapon, Leiendecker said.
"It almost made me vomit that I didn't have a pistol in my hand," he said. "I'm a dead shot." He said he fled on his bicycle when rocks started to fly.
Arizona Daily Star reporter Paul Brinkley-Rogers told much of the story of the fight in a first-person account. He and a Star photographer followed law enforcement officers to the scene as they responded to a call for help from deputies attempting to serve a warrant on some members.
From the Arizona Daily Star, Oct. 24, 1982:
2 die in Miracle Valley battle
Long expected, the shooting finally comes
By Paul Brinkley-Rogers
© 1982 The Arizona Daily Star
MIRACLE VALLEY — "You've got to kill us if you want us, man," Robert Luckett yelled at the sheriff's deputy backing away from a woman with a large rock in her hand.
Then Luckett screamed, "Wait right here till I come back with a gun, and then we'll see who's the dead man."
But by the time Luckett ran back, with nunchakus — an Oriental weapon — instead of a gun, Deputy Ray Thatcher was gone. He was lost in a sea of church members attacking him and 35 other deputies on Axehead Drive with everything from teeth to gun butts.
That's what Arizona Daily Star photographer Jim Davis and I saw first as we leaped from my pickup after following close on the heels of half a dozen sheriff's patrol cars responding to an urgent appeal for help.
A few minutes earlier, two deputies had driven into the valley to try to serve a warrant for a traffic violation on Frank Bernard, a member of the Christ Miracle Healing Center and Church. They were quickly surrounded by angry church members, and called for help.
We heard the backup sheriff's cars roaring into the valley from across Arizona 92, jumped into the truck, and stayed with them in the dust.
Standing there, watching the anger, the hate and the fury of the church members, it didn't really seem possible. Not in this quiet neighborhood of single-story homes built by ardent followers of Jesus Christ.
At times, in past months, deputies had told me that one day it would come to this — someone getting shot. I had agreed.
But when guns started blazing and both church members and deputies started dropping to the ground, shot, I felt like I had just been dragged against my will into a role in a real shoot-em-up movie.
"Murderers, murderers," screamed Sister Minnie Rae, an elder in the church, to the lawmen trying to fend her off. She was running from deputy to deputy trying to hit one and then another with her clenched fists.
I knew that lady. I had watched her before, Bible in hand, quoting the Scriptures to her enemies. We had even laughed together a few times.
But now she was creeping toward me, snarling, "You are writing your last story." I was trying to take down her words in my notebook and watch for the women behind me running toward the lawmen with ax handles, hammers, baseball bats, gardening implements, scissors and even a broom. I was worried about the rocks the size of coconuts whizzing through the air.
Sister Minnie Rae was saying, "You are writing your last story, Paul. You're hell-bound. You'll pay for this, just like the others, and I will send you to hell. If I don't kill you today, I'll kill you tomorrow."
I looked for a more rational church member. After all, I had reported the church's position on more than one occasion. There. There was Brother Brooks, the gray-haired man who always asked me in a kindly fashion what I was reading. He was fighting, too. But he was punching it out with another church member — Rickie Brown, a 20-year-old.
Brooks and Brown were hammering away at each other. Brown tried to break away and run toward the lawmen chasing a man with a shotgun. Brown had a knife. He waived it over Brooks' head.
And then came a bunch of tiny black children, all dressed up in their Sunday best, and they ran in among the pushing and shoving combatants screaming: "My momma's been shot. They shot my momma."
The shooting started with the pop of a gunshot to the rear of the quiet residential neighborhood. Heads jerked around in the direction of the shot, somewhere back toward William Thomas Jr.'s blue-painted home.
Then another pop from somewhere else. The lawmen, fighting with the yelling, kicking, screaming, spitting mob of men, women and children, tried to push them away and level their weapons at the sounds of the shots at the same time.
"I don't believe this," marveled a young deputy trying to halt an angry woman waving a rake at him like a spear. "I might get shot."
The woman lunged at him, calling him a "filthy honky killer," and he used the butt of his Mini-14, a semi-automatic assault rifle, to crack her on the jaw and knock her to the ground. Then he turned toward the popping shots and pulled the trigger.
The woman on the ground grabbed his ankles and pulled the deputy to the ground. Another woman with a rock banged away at the gold-colored crash helmet on his head. Children jumped on his back and tore at his clothes.
Somehow he got out of it. There wasn't really time for anyone else to run over to help him. Each deputy was busy fighting off three or four attackers. In a swirl of dust in the middle of the street, Luckett and his friends were taunting other deputies. Luckett had a pair of nunchakus in his hands. He lunged this way and then the other, swinging the heavy ebony sticks by a chain around his head.
"Come on, fight me, fight me," he yelled, baring his teeth. "Kill me, kill me."
There were bursts of automatic rifle fire. A Mini-14 firing on the right. A .30-caliber carbine pumping away. People staggered. People ran for cover. They looked at each other to see if they had been shot. Here and there men and women were wailing as they picked up a body from the ground.
Finally the deputies were ready to pull out. "Let's back up, let's back up," shouted Lt. Frank Peterson as the lawmen ran for their cars.
"Let's make sure we haven't left anybody in the grass." the deputies made one more quick sweep. They had gotten their injured out.
Now it was the turn of the church members to search for the dead, wounded and injured. "Honkies, honkies, you are going to be killed," they shouted, as the deputies gunned their engines. Some of the church members were crying. Others were still taunting remaining lawmen to fight.
I looked for Jim. He was still shooting pictures. A man was walking closely behind him as he walked toward me, and the man was telling Jim he was going to die, too. But Jim was able to jump into my truck, and we sped away.
Back at the highway, 300 yards distant, the retreating deputies moved out as shocked residents who are not members of the church stood open-mouthed, watching the convoy go by. For 12 months they had told Sheriff Jimmy Judd they wanted decisive action. But it appeared even they could not quite believe that death had come again to the valley the church said was chosen by God for the redemption of souls.
1984: 'Revenge of the Nerds' is filmed on UA campus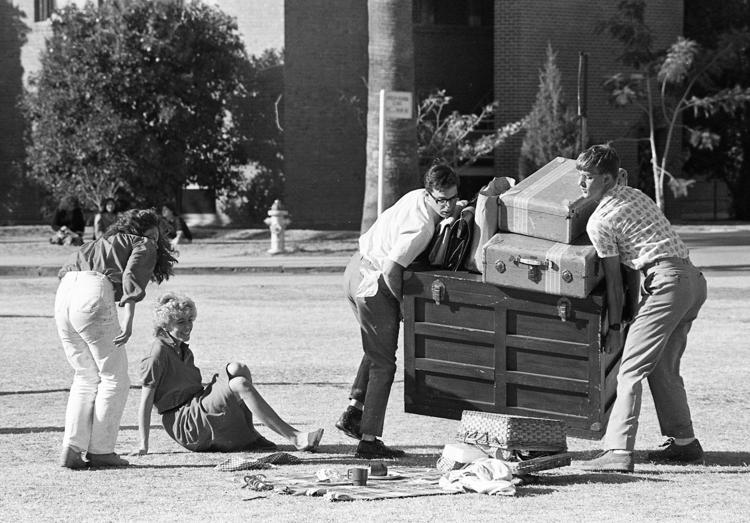 While the motion picture "Revenge of the Nerds" made national news, the fact that it was filmed largely on the campus of the University of Arizona was not so widely know.
Even less well known is the controversy surrounding the filming. First the UA said "yes" to the filming, then "no" — it might damage the university's reputation — and then, finally, "yes."
Two Arizona Daily Star writers offered opinions.
From a commentary in the Star, Dec. 21, 1983:
UA officials keep forgetting who owns the campus
By Steve Emerine
The Arizona Daily Star
University of Arizona officials were right to reverse themselves and OK the filming of "Revenge of the Nerds" on the UA campus.
But for a few days last week, those officials forgot an important lesson: They invariably get themselves in trouble whenever they begin regarding themselves as owners of the university instead of caretakers of it.
During those few days, UA policy-makers seemed oblivious to three facts:
Tucson's citizens, business leaders and government officials have been doing anything possible to attract movie crews for more than 40 years,
State officials also are working to expand Arizona's movie and television business.
Inflation or not, $4 million is a rather large sum of money to throw away.
And so school officials told Twentieth Century-Fox Film Corp. that it couldn't film "Revenge of the Nerds" on their campus.
These leaders of an institution pursuing truth and new ideas called "Nerds" a "raunchy" film and said it might put college life, and particularly sororities and fraternities, in a bad light.
It may be "raunchy." But as a fraternity member and part-time UA instructor, I could suggest that any bad light has already been cast by the people involved in colleges, fraternities and sororities.
Whatever perception the general public has of ivy towers or Greek organizations is already present and won't be affected much by one movie, no matter how "raunchy" or unflattering it might be.
Besides, movie officials had promised that the UA wouldn't be referred to or identified in the film.
There is more to the opinion, but the argument is clear.
Also from an column in the Star, Dec. 22, 1983:
Fast money a high price for film's damage to UA
By Ed Severson
The Arizona Daily Star
I think one place that needs a dash of stuffiness is the University of Arizona.
The reason I bring up stuffiness is because if you ask me the UA just made a $4 million mistake.
First it said "Yes," then "No," and, finally, "Yes" to the company that wants to film a comedy about a freshman fraternity on the UA campus. The comedy is titled, "Revenge of the Nerds."
It should have stuck with "No" to the Nerds, even though doing the film at UA will mean about $4 million will get pumped into Tucson. But after the "No," UA officials apparently changed their mind about Nerds when screams arose.
"They don't understand that the film industry is a tight, old-boy network, that Hollywood is a small town, and that you need just one problem like this and it gets around in a day," Don Haskell, assistant dean of the College of Fine Arts said, after UA officials told Hollywood, "No."
"I would be surprised if this city hears from a film company for another five years," he said.
With expected stuffiness, UA President Henry Koffler said: "I have been told that some aspects of it (the film) would reflect negatively on the university."
But when the heat got hotter, the UA "No" turned to "yes." As far as "Nerds" is concerned, I'm 100 percent for stuffiness.
Not too many years ago, anybody who lived in tucson knew about the UA's reputation. It was a play school. It was the kind of place where Playboy magazine routinely dispatched photographers to photograph local color. It was where you went of you'd just scraped through high school. If nobody else wanted you — and your folks had the dough — you were shipped off to the UA, to the sunshine, the palm trees . . . and to the loads of marvelous courses you could breeze through without breaking a sweat.
Back when I went to the UA, one such course was Introduction to Sociology. In those days, you knew if you just showed up for class you practically had a passing grade in the bag. As a matter of fact, that's one of the reasons I took the course.
Something's happened since then.
Recently, the Conference Board of Associated Research Councils polled 5,000 scholars across the country to rate the quality of their peers in 32 fields of study.
The UA sociology department ranked ninth in the country. The anthropology department ranked fifth.
"In competing against some of the most prestigious schools in the country, the top 10 is pretty difficult to crack," said a UA official. "And you don't often do it in more than one field of study."
In April, a survey by the National Science Foundation ranked the UA 21st in the country in a comparison of research and development spending. UA research and development spending was more than $80 million in 1981, almost 147 percent over 1976 when the UA was ranked 33rd in the country. The UA had moved ahead of 12 major universities, including Ohio State, Purdue and Pennsylvania State.
In other words, little by little, the UA has been getting a nice reputation as a top-notch school. Nice reputations are fragile.
Again, there is more, but again, the argument is made.
The movie was filmed on the UA campus, and whether or not the university's reputation was damaged, it has survived and done well.
1988: Gov. Evan Mecham impeached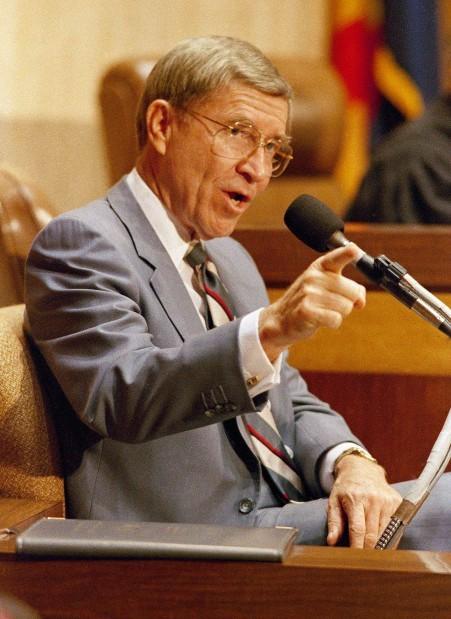 When Arizona Gov. Evan Mecham was impeached, there was a recall election in the works and a criminal trial looming.
The recall wasn't necessary as it turned out. The Senate convicted Mecham on charges of wrongdoing and ousted him from office.
From an article in the Arizona Daily Star, April 5, 1988:
Mecham convicted
Recall status in doubt
Criminal trial is next for ousted governor
By Melissa Rigg
and Susan R. Carson
The Arizona Daily Star
PHOENIX — The Senate voted decisively yesterday to oust Evan Mecham from office, finding him guilty of two charges of wrongdoing and making him the first U.S. governor to be convicted in an impeachment trial in almost 60 years.
However, a vote on a provision known as the "Dracula" clause, which would have prohibited him from holding an office of trust again, failed 17-13, leaving unresolved the question of whether Mecham's name will appear on the May 17 recall ballot.
Mecham sat between his attorneys during the historic conclusion to his 25-day-old trial, but never turned to look at senators while they cast their votes sealing his fate.
When he left afterward, Mecham smiled at reporters and said he would announce his plans later this week.
"Options open"
"They don't like my politics, so we finished the political trial. It's as simple as that," the first-term Republican governor said. "We'll hold all of our options open."
Mecham has said he would appeal a conviction to the U.S. Supreme Court.
He is the first Arizona governor to be impeached and is the fifth governor in the United States to be convicted in an impeachment trial since the Civil War.
The last governor in an impeachment trial was Oklahoman Henry S. Johnson in 1929.
Despite death threats during the day, senators voted 21-9 to find Mecham guilty of the first article of impeachment, which accused him of obstructing justice.
They then found him guilty of misusing public money in a 26-4 vote on the third article.
Senators voted on only two of the three articles delivered to them by the House of Representatives on Feb. 8.
They dismissed the second article last week in a surprising 16-12 vote — a move that speeded up the trial's conclusion.
Republicans split
The second article, which accused Mecham of trying to conceal a $350,000 campaign loan, was considered the strongest because Mecham also was indicted by a state grand jury in connection with the loan.
All 11 Democrats voted to convict Mecham on both charges yesterday, but Republicans were divided in the obstruction of justice charge.
Even those Republicans who voted to acquit Mecham did not speak highly of his administration.
Sen. Jan Brewer, a Republican from Mecham's hometown of Glendale, said she was deeply troubled by the actions of his administration, which she called "Shameful, embarrassing and disappointing."
Three Democrats broke ranks to vote against the clause to drive a stake through Mecham's political heart, including the Seante minority leader and the minority whip.
"A pretty heavy thing"
Some observers speculated the Democrats want Mecham on the recall ballot so he will further split the Republican Party and increase the chances of one of their own winning.
Senate Minority Leader Alan Stephens, D-Phoenix, said he voted against the Dracula clause because "to take away someone's civil rights and permanently bar them from ever running for school board or deputy registrar, it's a pretty heavy thing to do."
The Arizona Constitution requires that 20 of the 30 senators find an officeholder guilty of a high crime or misdemeanor or malfeasance in office to remove him from his position.
To make their decision, senators used the standard of clear and convincing evidence, instead of a criminal trial's standard of beyond a reasonable doubt.
Decision called political
Arizona Chief Justice Frank X. Gordon Jr. said Mecham could appeal to the higher court, but added that it would be unusual for the U.S. Supreme Court to accept jurisdiction. Gordon served as the impeachment court's presiding officer.
Before the Senate trial started on Feb. 29, Mecham asked the Arizona Supreme Court to postpone the impeachment trial until after his criminal trial concluded, but it refused to accept jurisdiction.
Mecham is scheduled to go on trial in Maricopa County Superior Court on April 21 on six felony counts in connection with the $350,000 campaign loan.
His attorney, Jerris Leonard, who was fired from his Washington law firm when he agreed to represent Mecham, said yesterday that the defense "put on a hell of a case, a convincing case. I think it was a political decision."
"Let's face it, he's a plurality governor," said Leonard, who said he spent part of the lunch hour praying at a Phoenix church. "That's the seed for political disaster."
Mofford makes statement
Mecham was elected with 40 percent of the vote in November 1986 in a three-way race for governor. He had run unsuccessfully for governor four times.
Acting Gov. Rose Mofford was in her office signing letters when the vote was taken, and her staff monitored the proceedings.
As secretary of state, Mofford became Mecham's successor once the vote was recorded, but she still needs to take the oath of office, said John Shadegg, an assistant attorney general.
Mofford said at an impromptu conference that "it is time to put all that behind us and move forward."
"As we work together to bind the wounds of the last few months, let us purge our hearts of suspicion and hate," she said, reading from a prepared statement.
She declined to answer reporters' questions but will hold a press conference at 4 p.m. today.
Somber mood
Unlike the highly emotional, 46-14 impeachment vote in the House on Feb. 5, the mood in the Senate trial chambers was businesslike, although somber.
Senators met in separate caucuses after the court recessed to discuss their return to state business. They plan to reconvene as a court tomorrow to discuss attorneys' fees.
They are not meeting as a court today because Senate leaders feared some lawmakers might request a new vote on the charges. Motions to reconsider a vote can be heard only within 24 hours.
1991-1993: Biosphere II's grand experiment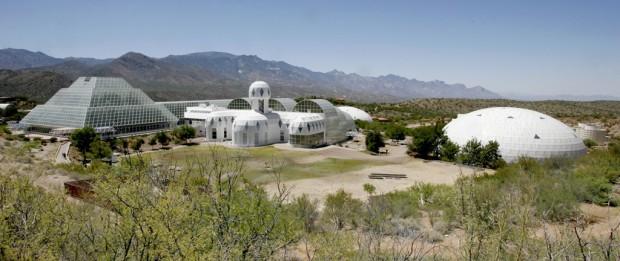 On Sept. 26, 1991, a grand experiment began. Eight people were locked in the giant terrarium, Biosphere II, to live without physical contact with the outside world for two years.
Biosphere II was a miniature version of Earth with an ocean, a desert, a rainforest and the other ecosystems of Biosphere I — also known as Earth.
From the Arizona Daily Star, Sept. 26, 1991:
'Bon voyage' 8 biospherians begin journey in greenhouse
Jim Erickson; The Arizona Daily Star
ORACLE - Ed Bass slammed the massive front door of Biosphere 2 shut yesterday morning, but it popped back open a fraction of a second later, as if one of the eight crew members had second thoughts about spending two years sealed in a greenhouse.
But with a little help from Margret Augustine, chief executive officer of Space Biospheres Ventures, the Texas multibillionaire finally secured the airlock at 8:18, signaling the long-delayed start of the $150 million ecological experiment.
Biosphere 2, the latter-day Noah's ark that's been praised by some as visionary and panned by others as pseudoscientific glitz, set sail yesterday in a ceremony attended by more than 500 people and featured on national television.
After being blessed by a chanting Crow Indian in headdress, a robed Buddhist monk from Tibet and a Mexican dancer burning incense, the eight bio-spherians filed up the steps of a stage designed by Evening Star Productions.
With the sun rising behind the eight-story glass-and-steel structure, the great-grandson of Alfred Nobel, founder of the Nobel Prizes, extolled the project and the eight "courageous humans" who will join 3,800 species of plant and animal life "on a two-year odyssey to find answers and solutions to the survival of the planet."
Someone from the governor's office stepped up to proclaim the day Arizona Biosphere 2 Closure Celebration Day.
Bass, the project's main financial backer, compared Biosphere 2 to Galileo's telescope, Leonardo da Vinci's imagined flying machines, and the Wright brothers' airplane.
"Today we gather here to inaugurate a new instrument to probe not the heavens, but the mysteries of our very own home planet," Bass said.
"Like Galileo, we don't know what we'll find; and like the Wrights, we hope to soar.
"So, biospherians, my good friends, bon voyage and fly your spaceship well, that all humanity may fly its Spaceship Earth better in the future," he said.
Wearing blue jumpsuits with green piping, the four men and four women of the Biosphere 2 crew stepped to the podium, one at a time, to deliver brief and sometimes teary farewells. Then it was down the green astroturf runway, a wave to the crowd, and into their new 3.15-acre home, the largest airtight self-sustaining life-support system ever built.
A few seconds later, they appeared at an inside window to wave to the crowd one last time - as had been rehearsed earlier in the morning - and then the "closure" was over.
Shut inside are: Mark Van Thillo, 30, of Belgium; Sally Silverstone, 36, of England; Mark Nelson, 44, of New York; Linda Leigh, 39, of Racine, Wis.; Taber McCallum, 27, of Albuquerque; Roy Walford, 67, of Los Angeles; Abigail Alling, 31, of New York; and Jane Poynter, 29, of England.
For the next two years, or at least until something goes seriously wrong, they will tend the self-sustaining miniworld, with its tropical rain forest, savannah, marsh, marine and desert habitats.
They will breathe recycled air, drink recycled water and grow all their food. After a hard day harvesting corn, milking goats and picking agaves, they will relax in plush private apartments equipped with stereos, computers and personal libraries.
They hope to learn more about the Earth's ecological systems while making money for Space Biospheres Ventures through technology development and tourism. Some 100,000 people have already visited the sprawling complex 35 miles north of Tucson and near Oracle. Tours, by reservation only, resume today.
The company expects to show a profit within two years, Bass said Wednesday night during a brief interview at a catered pre-closure party attended by several hundred Biosphere 2 backers, curious locals, and media representatives. The finale was a laser-light show and fireworks.
"Certainly I expect to see a return on my investment, but I also want to open people's eyes about our own biosphere, planet Earth," the maverick son of the Texas oil family said as guys in white hats carved slices of ham and turkey onto paper plates.
Bass, standing in the center of a big-top tent, was surrounded by firefighters from San Manuel, the Tibetan monk, planetary scientists from the University of Arizona, members of the stage crew, former Arizona governor and presidential candidate Bruce Babbitt, former countercultural icon Timothy Leary, and long-time friend John Allen.
Among the other celebrities in attendance were comedian Steve Guttenberg, and several members from the television show "Cheers."
Allen is director of research and development for Space Biospheres Ventures and lightning rod for much of the criticism that has recently been heaped on the desert megaproject.
Carol Line, a former associate of Bass', has repeatedly alleged that Allen exerts unusual control over his associates, and that Allen physically abused Bass years ago at a New Mexico ranch. Those accusations have been repeatedly denied.
The other main source of criticism comes from the "it's not real science" faction. Some scientists say Biosphere 2 tries to do too much. With 3,800 species in seven interconnected habitats, it will be impossible to determine the relationships between any of the components, some critics charge.
"To know what's going on in there, to understand dynamics, forget it," said Bassett Macguire, a professor of zoology at the University of Texas in Austin.
"It just seems to me this is a situation where they're multiplying the complexity much more than is useful and necessary, and that makes understanding what's going on in there that much more difficult," said Macguire, an expert on the ecology of closed systems.
"Maybe what we're doing here isn't science but the engineering and tinkering that will lead to a science, which is biospherics," said botanist Tony Burgess, designer of Biosphere 2's desert habitat.
"We're not quite to the science level yet - it's premature for that - but it's a new way of looking at things to lay the foundation for a science to come," said Burgess, of the U.S. Geological Survey in Tucson.
The crew did, indeed, remain in Biosphere II for two years, but there were hiccups along the way. A crew member, Jane Poynter, sliced off the tip of her finger and had to leave the biosphere for surgery. Oxygen had to be pumped in when the oxygen levels inside were too low for the health of the biospherians. The airlocks were also opened a time or two for samples to be removed.
On the morning of Sept. 26, 1993, the crew emerged from Biosphere II thinner and craving foods they had missed during their mission, but otherwise healthy.
From the Star, Sept. 27, 1993:
Biospherians return to world 2-year mission described as 'magnificent'
Jim Erickson, The Arizona Daily Star
ORACLE - More than 2,000 people gathered outside Biosphere 2 yesterday morning to greet the project's eight crew members as they emerged, gaunt and pale but smiling, after two years in the giant terrarium.
Trumpets sounded a fanfare and the crowd rose to its feet and applauded as the four men and four women stepped through the airlock doors and walked down a red carpet at about 8:25 a.m.
Abigail Alling, 34, the first crew member out, appeared to be trying to catch her breath as she stepped to the microphone to address the crowd.
"It's really a very different atmosphere," Alling said, gasping. Oxygen was pumped into Biosphere 2 twice because levels of the life-sustaining gas declined slowly but relentlessly throughout the two-year experiment.
"This has been an extraordinary experience and a magnificent journey for the last two years," said crew member Linda Leigh, 41. "I glimpsed paradise."
Critics lambasted the $150 million Biosphere 2 project throughout the experiment, dismissing it as more show business than science. Even Biosphere 2's own scientific advisory committee said the project's research program was plagued by poorly defined goals, excessive secrecy and a lack of qualified personnel.
And though the crew succeeded in raising most of its food on a half-acre farm and recycling all wastes, the self-proclaimed "self-sufficient system" opened its doors 29 times in 24 months to remove research samples and bring in supplies.
But yesterday morning belonged to project supporters, who declared the first mission an unqualified success and lauded the crew as brave, selfless pioneers who helped blaze a trail toward the human colonization of space.
"This is one of the magic moments in history, and we're sharing that moment together," said renowned primate researcher Jane Goodall, whose Tucson-based institute will be moving to Washington, D.C., next month.
Ed Bass, the Texas billionaire who bankrolled the Biosphere 2 project, also donated the building on Speedway that houses the Jane Goodall Institute.
Bass, who slammed the airlock doors shut two years ago, was back yesterday to open the door for the Biospherians.
"Biosphere 2 has flourished," he proclaimed. "Today we can say to the eight Biospherians, 'Welcome home, and save me a good hug.' "
The Biospherians wore the same blue jumpsuits that they donned two years ago when they embarked - about 15 percent heavier than they are today - on their stormy maiden voyage. But the jumpsuits fit snugly yesterday, suggesting that the garments were altered for the occasion.
Gone were the matching black Reeboks that carried all eight of the Space Biospheres Ventures employees into the big greenhouse on Sept. 26, 1991. In their place was a mix of hiking boots, running shoes, tennis shoes and cowboy boots.
Dr. Roy Walford, 69, sported sunglasses, and three of the women wore earrings. Makeup lessened the crew's pallor, and seven of the eight appeared to be wearing pinkish lipstick when they faced more than 200 reporters and photographers at a press conference later in the morning.
"It was a tremendous feeling to inhale, and I kept wanting to breathe more because it felt so good," Alling said at the press conference.
"I was taking very deep breaths to get an idea what the air was like," crew member Taber MacCallum, 29, said of his first moments outside the 3.15-acre, glass-and-steel structure.
"The air in Biosphere 2 smells like rich farm soil - it has that musty, good, earthy smell to it, and it's very rich," said MacCallum. "The air out here, when it comes off the mountain, it's very, it sort of smells like rain. It's nice."
MacCallum lost 46 pounds in the first six months inside the Biosphere and cut his total serum cholesterol level by 90 points during that time.
Cloudy weather and pest problems reduced Biosphere 2's crop yields severely during the first six months, and daily caloric intake for the crew members averaged 1,780. The average American ingests 2,500 to 3,000 calories a day.
Mark Nelson, 46, said that adapting to the dietary regimen during the first six months was the toughest part of two-year endeavor. Hunger was a nearly constant, nagging presence. It was tough even to concentrate on a movie, he said, because he tended to focus on what the actors were eating.
Crew members looked thin yesterday, but not as hollow-cheeked and haggard and they appeared a year ago. Food production was up during the second year and the crew regained some of the lost weight. Nelson, for example, entered Biosphere 2 at 147 pounds, bottomed out at 117 and left the miniworld weighing 126.
Walford has recommended a fiber supplement to ease the crew's transition from a low-calorie, mostly vegetarian diet. But that transition might be abrupt since Smitty's grocery stores presented crew members with baskets crammed with their most-missed delectables yesterday at noon, and a private cocktail party and dinner was scheduled for last night.
Other hardships cited yesterday by crew members were fatigue and sleep problems caused by the oxygen decline, and criticism of the project that appeared in the press.
"It's hard to do something that is challenging, that demands all that you can do, and to have people misinterpret you and misunderstand you," Alling said. "But it never got to the point where we all wanted to quit."
The other members of the first Biosphere 2 crew are: Jane Poynter, 31; Sally Silverstone, 38; and Mark Van Thillo, 32.
Several of the team members will be back inside Biosphere 2 today to begin mapping and measuring every plant in the structure.
The location of all of the roughly 12,000 plants was mapped before the two-year experiment began, and new maps will be drawn up for comparison.
"We need to figure out who lived, who died, who grew, and how much they grew, and that's not a trivial effort," said University of Arizona botanist Tony Burgess, who will participate in the mapping project.
A different crew will begin a new, one-year Biosphere 2 mission in February.
Biosphere II is no longer a completely enclosed operation. It is used for scientific research, but people come and go through the airlocks. But the experiment did give scientists insight into what may be necessary to set up such a living area on another planet if we someday are able to colonize other worlds.
1997: Arizona basketball wins the NCAA tournament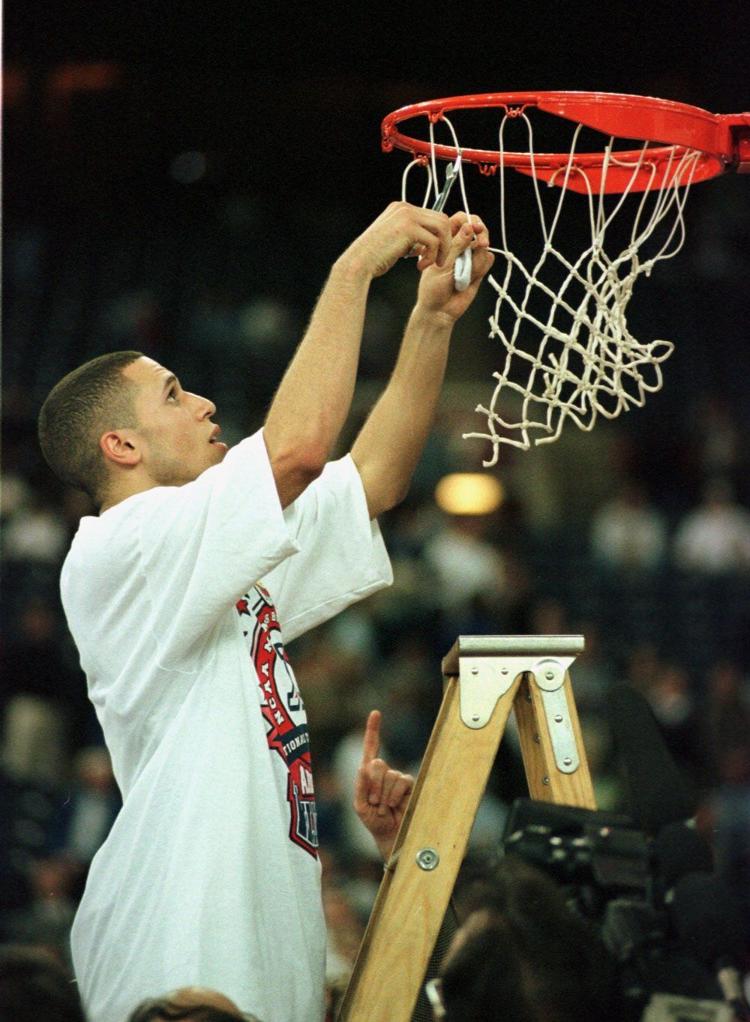 When the University of Arizona basketball team won the national title, the jubilation in Tucson could not be contained.
The team had defeated three No. 1 seeds to win the championship.
From the Arizona Daily Star, April 1, 1997:
'Tough group of Cats': Young UA lifts Olson to 1st title
Javier Morales
The Arizona Daily Star
INDIANAPOLIS - The Arizona Wildcats completed last night an NCAA Tournament run that no other team has accomplished.
The UA not only won a title with nine losses, they beat three No. 1 seeds - Kansas, North Carolina and Kentucky - along their magical and unexpected trip. Never before had a team beaten three top seeds.
Those traditional powerhouses combine for 11 championships. Arizona won its first in school history last night.
"Our kids showed their toughness to the very end," said UA coach Lute Olson, who at 62, does not have to worry now about retiring without a championship. "What's most impressive is three No. 1 seeds went down.
"This is one tough group of Cats."
The Wildcats streak embodies more than a six-game joy ride through the tournament, ending last night with an 84-79 win in overtime over Kentucky at the RCA Dome. Arizona became North Carolina State last night. The UA knows how Villanova felt 12 years ago.
Olson did not run all over the court like N.C. State's Jimmy Valvano. His hair was out of place, for once, however, because Bennett Davison fulfilled his promise to run his hands through his coach's mane if the UA won the championship.
Simon knelt down on the court, hugging the ball, looking like Michael Jordan when he won his first NBA title.
"It was such a war," he said, slightly shaking his head with a smile. "This is the most unbelievable thing I've ever done."
Jason Terry ran from baseline to baseline, waving Arizona's championship cap in the air. Simon and Michael Dickerson, the cornerstones of the team, embraced. Mike Bibby was mobbed by the UA reserves.
"I thought we had a chance next year, but not this year," said Bibby, who had 19 points and nine rebounds. "Still, we had nothing to lose."
Walk-on Jason Stewart lay on his back at midcourt, eyes closed, praying with a throng of cameramen around him. UA assistant coach Phil Johnson stood alone, letting it all sink in.
"This will go down as one of those special championship teams in college basketball history," Johnson said. "We beat three great programs along the way. This is something they'll talk about years from now."
With each possession and field goal attempt in the last 11 minutes of regulation, the tension grew. In that span, there were 11 lead changes and six ties. Neither team took a lead of more than three points.
Scott Padgett, not All-American forward Ron Mercer, was the catalyst for Kentucky. Padgett became hot from the outside, scoring 14 of his team's 18 points in one stretch.
After Padgett's two free throws with 2:09 left in regulation put Kentucky ahead 68-67, the UA scored five straight points. In the process, Jared Prickett became the first of five Kentucky players to foul out when he intentionally wrestled down Simon on the break with 1:27 left.
"It was one of those games where no lead was safe," Padgett said. "Neither team was going to give in."
With the UA ahead 72-68, Mercer nailed a three-pointer to cut the lead to 72-71 with 51.1 seconds left. Arizona responded with a pass off penetration from Bibby to Bennett Davison, putting the UA up 74-71 with 18.7 seconds remaining.
Undaunted, Anthony Epps hit a three-pointer with 12.1 seconds remaining to tie the game at 74. Simon tried to drive against three defenders on the other end, but the ball was slapped loose.
Padgett grabbed the ball, and his pass was intercepted by Terry. Five more minutes of overtime separated the UA from a national championship.
"Coach Olson gave us that same speech, 'Who's going to be the stronger team? Who's the toughest out there,' " Terry said.
The Wildcats already showed they were tough enough to handle Kentucky's press. That was a non-factor in the game because the UA only had three turnovers off of that pressure.
Donnell Harris embodied the characteristics of the UA's gutty team in overtime, grabbing a couple of rebounds, and making a couple of free throws. Slowly, Kentucky started to melt away. Ron Mercer would foul out and then Padgett.
Anthony Epps cut the UA's lead to 79-76 with 1:46 remaining, and Kentucky would not score again. Simon closed out the game making four straight free throws. The Final Four MVP was 14 for 17 from the line, and he finished with 30 points.
"Simon going to the line 17 times tells you something," Kentucky coach Rick Pitino said. "It shows he was relentless. He took it to us. I really like their team.
"I like any team that can pass, catch and shoot. Their team is something to watch. I'm very proud of our team, and I'm very happy for Lute Olson and the Arizona Wildcats."
The team hasn't won another championship. Yet. The fans remain hopeful.
1998: Linda McCartney dies in Tucson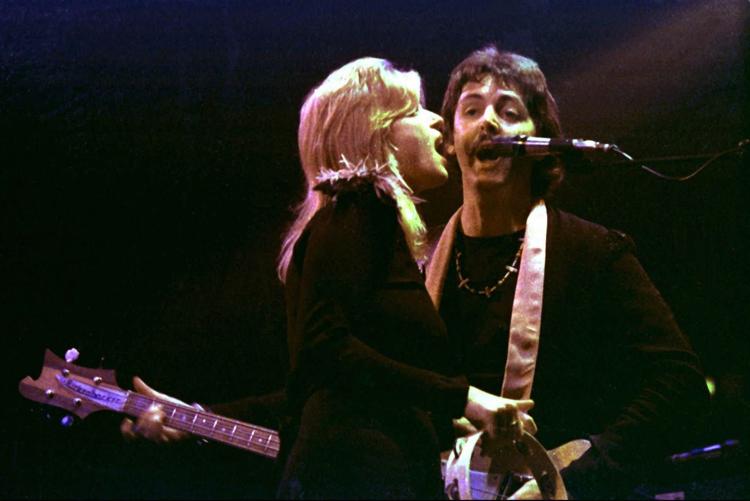 Linda McCartney, wife of for Beatle Paul McCartney, passed away April 17, 1998. from breast cancer.
The early reports of her death said she died in Santa Barbara, California, but after reporters were unable to find a death certificate — public record in California — they turned to Tucson.
It took a while to get the truth. Death records are not public in Arizona. But the truth was eventually revealed.
From the Arizona Daily Star, April 23, 1998:
McCartney died in Tucson; locals kept site a secret
M. Scot Skinner
The Arizona Daily Star
Linda McCartney's family members cherished their privacy in Tucson, and locals helped them keep her death here a secret for almost a week.
An Arizona Cancer Center doctor signed the death certificate last week, and Pima County Medical Examiner Bruce O. Parks authorized her cremation, a local government official said last night.
The 56-year-old wife of Paul McCartney, a photographer and animal-rights activist, was diagnosed in 1995 with breast cancer, which spread to her liver.
While the media worldwide reported Monday morning that McCartney died while vacationing in Santa Barbara, Calif., officials and friends who knew she died here kept mum.
The director of the Arizona Cancer Center at the University of Arizona refused to comment yesterday.
"There are legal issues involved concerning patient privacy," said Dr. Sydney Salmon. "I really take offense at this type of thing. Patients are entitled to privacy, whoever they are."
Parks, who could not be reached for comment last night, on Tuesday declined to confirm or deny whether his office authorized McCartney's cremation.
The McCartney family spokesman said yesterday that Linda McCartney did not die in Santa Barbara, but in a location that was not disclosed so her family could return to England "in peace and in private."
"When Linda died last Friday with her family around her, it was in a place that was private to her and her family," publicist Geoff Baker said in a statement released to the British media.
"The family hopes that they can maintain this one private place that they have in the world."
That private place is the McCartneys' ranch in Tucson, sources said, where the McCartneys were staying since at least the weekend before her death. The McCartneys bought the eastside 151-acre ranch in 1979, more than a decade after Linda McCartney studied art history at the UA.
Half of her ashes were scattered at the Tucson ranch, a source close to the family confirmed, and the British press reported that her ashes also were brought to the family's farm southeast of London.
The McCartneys cherished their Tucson home because it afforded them a measure of privacy unknown to them in England, according to friends.
"They didn't want their sanctuary here to be desecrated," a family friend said.
However, when doubts began to surface about the Santa Barbara diversion, press attention turned to Tucson.
Yesterday, reporters from the United States and Great Britain began arriving here, looking for confirmation that McCartney had died in Tucson.
Producers with CNN said yesterday that the network would broadcast live from outside the McCartney property at 4 a.m. today.
Because death certificates are not public record in Arizona, officials would not publicly confirm or deny the existence of a death certificate.
The Pima County Attorney's Office on Tuesday was reviewing whether the county could legally verify if a death certificate had been filed here. However, yesterday the matter was turned over to State Registrar Renee Gaurdino, who would not release any information.
The Santa Barbara County Sheriff's Department said yesterday that it was investigating why no death certificate had been filed for McCartney there. In California, death certificates are a public record.
"We would like nothing better than to call off this investigation," said Lt. Deborah Linden of the Santa Barbara County Sheriff's Department. "But we need official confirmation of the location of her death, and the family spokesman is not enough."
Santa Barbara was named as the place of death for the sake of the family, said Baker, the family's publicist.
"In an effort to allow the family time to get back to England in peace and in private, it was stated that she had died in Santa Barbara," Baker said.
McCartney's Friday death was not reported until Sunday.
Arizona Daily Star reporter Jane Erikson and The Associated Press contributed to this story.
1999: Kartchner Caverns opens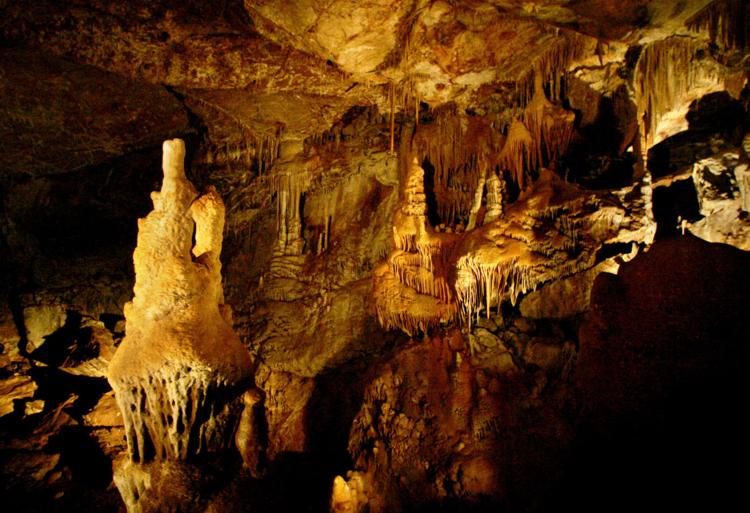 When the "live" cave, Kartchner Caverns finally opened to the public for tours, phone lines were jammed as people tried to make reservations to see the caverns.
In an effort to preserve the cave, tour slots were limited and many had to wait months to see the attraction.
Kartchner Caverns opened for tours on November 13, 1999.
From the Arizona Daily Star, November 12, 1999:
Cave curiosity overloads Benson phone lines
Ignacio Ibarra
The Arizona Daily Star
Kay Rylance is nothing if not persistent, but it hasn't helped her secure the tickets she needs to get visiting family into Kartchner Caverns State Park over the holiday season.
And the Green Valley resident's odds aren't getting any better. Cave tours are booked from tomorrow - the park's public opening - through Christmas.
And even if Y2K's OK with you, you'll be in for a wait if you haven't made reservations and can't get a weekday off. There isn't a weekend cave tour available until some time in mid-February.
Stories and photos in The Arizona Daily Star and other media have piqued so much interest in the magnificent caverns that the telephone system in Benson has been overwhelmed, said Arizona State Parks spokeswoman Ellen Bilbrey.
The problem is expected to continue as word of the "live" cave trickles out to newspapers and television outlets across the United States and Europe.
On Tuesday, the pressure of up to 10,000 incoming calls was so severe that the switching office in Benson had to block calls to the Kartchner reservation line for about an hour so that local residents could receive incoming calls.
The volume is starting to level off, said U S West spokesman Jim Roof, but "when you have calls coming in that are two and three times the normal volume, there are going to be times when calls are not going to get through."
Rylance began her quest for tickets Monday. By Tuesday she'd pounded the redial button on her phone and listened to it spew out the tones for the reservation number, 520-586-CAVE, hundreds of times to no avail.
It was time for a more direct approach.
Rylance and her husband, Bob, drove from their home to the state park near Benson in hopes of securing the tickets in person. Bob drove while Kay continued trying to connect on a cell phone.
They were turned away at the gate and told by the state worker at the booth to keep trying.
She took the advice and tried again yesterday, but she's given up, for now.
"It's so frustrating," she said. "We wanted tickets for 11 people and we were hoping to get them for the day before Christmas. The grandkids were so excited about it.
"Today I e-mailed everyone and said, 'Why don't we make it a year from now?' "
More than 35,000 reservations have been sold so far, and reservations are flowing in at a rate of about 1,100 a day, Bilbrey said.
But that means there are still about 110,000 tours available over the next year.
Bilbrey said that because no tour slots are available, no one's sure what will happen tomorrow when the park officially opens to the public. People who drop in without reservations won't be able to see the cave, but still can have a good time at the park, she said.
"We think other people are going to come and pay the $10 (parking fee) to see the visitors center, go through the hummingbird garden and see the facility," Bilbrey said. "If there's a lot of them, we may have to sort out the ones who have reservations and make sure they get in."
If you go
To reach Kartchner Caverns State Park from Tucson, follow Interstate 10 about 40 miles east to exit 302, then take Arizona 90 about nine miles south.
Reservations are crucial, especially on weekends. Call (520) 586-CAVE to reserve a spot.
If you get a fast busy signal, that means the call did not get through the switching station in Benson; a normal busy signal is coming from the state park.
Once a call gets through, it takes nine minutes on average for it to be answered.
Be prepared to provide information including your credit card number and number of people in your party. Reservations can be made for no more than eight people at a time.
The park entrance fee is $10 for a car with up to four people, $1 for each additional person. Cave tour admission is $14 for people 14 and up, $6 for children 7 to 13 and free for kids 6 and younger.
The park is open every day except Christmas from 7:30 a.m. to 6 p.m., with cave tours running about every 15 minutes from 8:30 a.m. to 4:30 p.m.
2001: Post championship game riots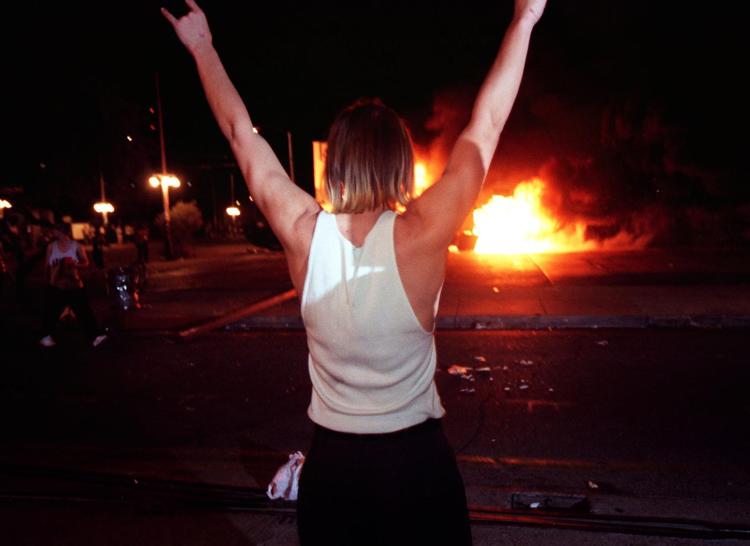 On April 2, 2001, The University of Arizona basketball team again played in the NCAA championship game.
They lost to Duke. Fans showed their dismay by rioting on Fourth Avenue.
From The Arizona Daily Star, April 3, 2001:
4th Ave. rioters set vehicles afire; police nab 6 in post-game melee
Enric Volante
The Arizona Daily Star
Rioters torched three vehicles outside a North Fourth Avenue tavern in post-game disturbances that sent two people to the hospital and at least six people to jail.
Tucson police dispatched nearly 500 officers to the scene, many of whom marched down Fourth Avenue hitting their riot shields to clear the street of crowds.
Rioters burned two cars and a motor home, and the fires spread to The Hut, 305 N. Herbert Ave. Windows were broken in the structure, but the extent of damage was not immediately known.
Assistant Police Chief Roberto Villaseñor said the order to disperse the crowd was issued at about 10 p.m., just as the crowd turned over a vehicle and set it on fire at Fourth Avenue and Eighth Street.
A couple and three of their children were inside the recreational vehicle when a crowd began to gather outside, said Michael Pogue, an acquaintance of the couple.
They got out before the fire was set.
Pogue, 26, of Tucson, said the couple use the RV to sell Zeppelin hot dogs, familiar to people who frequent Fourth Avenue weekend nights.
He identified the owner as Joe Martinez of Vail.
"This is devastation," Pogue said. "I'm absolutely in awe of the whole situation."
Arlene Leaf, owner of Tucson Thrift, 319 N. Fourth Ave, said her shop suffered broken windows in the melee.
"It's just so very stupid, just sad and tragic," she said. "Right now I think of all the people in the world who have real problems and they're doing this over a game."
Police cleared the streets by 11:15 p.m. Earlier, the avenue was filled curb to curb from immediately after the game till about 10 p.m.
Officers fired tear gas and rubber and wooden bullets to break up the crowd. As officers moved along Fourth Avenue, rocks and bottles were thrown at them, Villaseñor said. No officers were injured.
He said at least six people had been arrested on charges related to the disturbance. The charges ranged from disorderly conduct, disturbing the peace and criminal damage to assault and resisting arrest.
Police said at least two people who were hospitalized with facial injuries. One of the victims was thrown through a window.
Jonathan Gettleman, 25, a UA law school student, said he was riding his bike when he was struck by two rubber bullets fired by police.
Shortly after 10 p.m. rows of helmeted police marched north on Fourth Avenue.
Officers cleared the crowd with dozens of stun grenades, pepper spray and physical force.
"I think it's disgusting. I'm ashamed to be in Tucson," said a young woman as she watched rioters setting fire to the vehicles.
She turned and ran to help a friend who was sprawled on the ground after police blasted him with pepper spray.
"Move back now," screamed an officer as he blasted a long stream into the face of a young man who was videotaping the fires from across the street.
Nearby, two other young men on the ground were crying and wiping spray from their faces with their shirts.
"This is like Bosnia. It's crazy out here," said UA student Jeff Sitkowski, a Chicago native.
Police made repeated sweeps up and down the avenue.
As soon as police cleared the street, firefighters arrived to put out the vehicle fires as well as the building fire.
The intersection of Fourth Avenue and Eighth Street was like a block party immediately after the game but the mood turned ugly about 9:30 p.m. as gangs of young men began tearing down stop signs and street light fixtures.
Fire and police officers responded to a series of fires set at Jefferson Commons apartments, 850 E. Wetmore Road. They were small and quickly put out, police said.
Other calls included an overturned car outside Famous Sam's Restaurant, 2480 W. Ruthrauff Road, and shots fired outside the Wildcat House, 1801 N. Stone Ave.
After the Wildcats won the national championship in 1997, jubilant fans overturned cars, shinnied up light poles and scrambled onto rooftops to proclaim their triumph over the University of Kentucky.
Police announced several measures to prevent a repeat of those problems
* Star reporters Thomas Stauffer and M. Scot Skinner contributed to this story.
2002: UA student kills 3 faculty members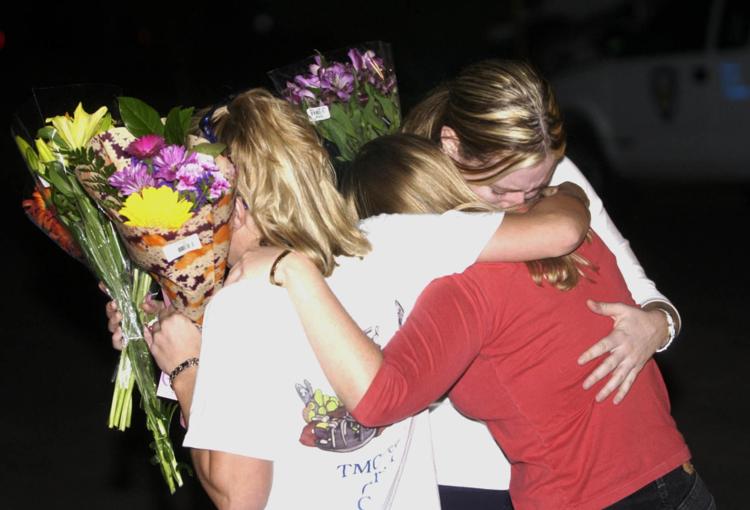 At the University of Arizona college of Nursing, a student opened fire killing three members of the faculty and then himself on October 28, 2002.
A shocked university and community mourned and memorialized the lost faculty members
From the Arizona Daily Star, October 29, 2002:
Evil, grief at UA
Student kills three on faculty, himself
L. Anne Newell
Arizona Daily Star
A man fatally shot three of his professors in the University of Arizona's College of Nursing early Monday, gunning down two in front of a room of students before apparently killing himself as people rushed from the building in hysterics.
The man was identified as Robert Stewart Flores Jr., 41, who authorities and witnesses said failed a pediatric nursing class last semester and was failing critical care - the 8 a.m. class that he barged into armed with five handguns and up to 250 rounds of ammunition Monday.
Tucson Police Chief Richard Miranda said Monday night that he had no doubt that Flores wanted to create "holy hell for this community" when he walked into the building.
Officials said Flores apparently targeted clinical assistant professors Robin E. Rogers, 50, and Barbara S. Monroe, 45, and Cheryl M. McGaffic, 44, a clinical associate professor who taught the critical care class, because they'd given him failing grades.
"This is the last place you'd expect this," said pharmacy graduate student Stephen Machatha as he stood with dozens of other students near the building after the shootings, talking quietly and struggling to understand what had happened.
Classmate Phil Kuehl said: "You don't want to expect it anywhere, or believe it can happen anywhere."
Shock waves at university
The murders sent shock waves through the UA community, which witnessed only two homicides ever before Monday. There were 20 murders on college and university campuses across the country in 2000, according to Security on Campus Inc., and none on UA property in four years.
Students and faculty members wept as they walked arm in arm near the nursing building. Dozens of others talked on cell phones, assuring relatives they were well.
"School is a place you're supposed to be safe," said Lyndsay Edwards, 21, who lent her cell phone to the first woman out of the classroom and watched as she ran down the sidewalk with it, screaming and crying.
Jamie Kearney, 21, a first-semester nursing student, said: "The worst part is knowing this person was going to be a nurse. He wanted to help people, but he murdered two teachers."
Police said Flores, a divorced father of two and a Persian Gulf War veteran who worked at the VA Southern Arizona Health Care System while earning his degree, went to the nursing building, East Mabel Street and North Martin Avenue, around 8:30 a.m.
He entered a second-floor office and shot Rogers, said spokesmen from the Tucson and UA police departments. Witnesses said Flores locked the door, then moved to the fourth floor, where he went into the classroom, displaying the guns.
Students said they thought he was playing a Halloween joke and were shocked as he asked the professors if they were ready to meet their makers, then shot them several times each. Police said each victim was shot at least two times in the upper torso or head.
The approximately 50 students dived for the floor as shots rang out, hiding under desks and trying to inch toward the exit. Students feared Flores would kill them, too, because he had so much ammunition, but they said he told them to leave, urging them not to rush.
Still, they ran from the building screaming and crying, even vomiting from fear, and helping each other as they fell down.
Police said Flores shot himself to death after they'd left.
Quick police response
University police arrived within minutes because they were responding to another incident nearby, and Tucson police also arrived quickly because they were training in Himmel Park, spokesmen said.
They began securing the building but were faced with another danger when a bomb-sniffing dog indicated possible explosives in Flores' vehicle. The dog also indicated there may have been explosives in a backpack Flores was wearing. In that backpack, police said, were ammunition and one of his five guns.
Police evacuated hundreds of students in the nursing building and the adjacent buildings housing the College of Pharmacy, Life Sciences and Basic Sciences, all in the Arizona Health Sciences Center complex. They also closed North Campbell Avenue between East Speedway and East Elm Street most of the day while they conducted a floor-by-floor sweep of the building.
University Medical Center also shut down for several hours, diverting incoming patients and visitors, a spokeswoman said.
Apartment searched
Police also searched Flores' home of about one year, in Broadway Village Apartments, 150 S. Eastbourne Ave., but found no explosives. They did find a rifle and more ammunition in the home, police said.
Flores' neighbors were surprised to hear the news, describing Flores as quiet and polite, dedicated to his black Great Dane, Bridget, and host to his now 10- and 15-year-old children last summer.
"No one would ever think anything like this would ever happen," said Peggy Martin, 73. "He was very friendly, very intelligent, always dedicated to his work and his dog. He was very courteous, very jovial, always calm and collected."
Another woman who lives in the 28-unit complex, populated by retirees, students and single mothers, said she talked to Flores almost every day, often as he left to take his dog for a walk.
"He was very devoted," said Violet Allis, 75. "If he had to crawl, he'd take that dog over to the park. . . . I can't imagine him owning a gun, let alone firing one."
Previous threats reported
Still, police said Flores had shown his dangerous side before. UA police Commander Brian Seastone said a faculty member - not one of the victims - complained to police last April that Flores made threats, and Tucson Chief Miranda said a witness told officers Flores had made a prior threat against the College of Nursing in recent weeks.
Seastone said the staff member filed a report in April 2001, noting Flores' depression. The staffer said there was concern Flores might harm someone, but police had received no other reports on him since.
Nursing school colleagues said the school - which has 60 staff members, including the faculty, and about 400 students - is tight-knit. But they said Flores didn't have many close friends because he'd been left back and joined the current senior class last year.
Court records show no other problems with the law, although on Oct. 4 his wages were to be garnisheed to pay child support for two children, who are believed to live out of state with their mother, whom he divorced in 1996.
Complaint about student
Still, McGaffic's husband, Walter, told The New York Times that his wife recently had complained about a student, presumably Flores, who was hostile and disruptive.
"Cheryl told me several times she felt threatened by him," he said in a telephone interview.
He encouraged her to report the student to school authorities, but she told him, "That won't do any good."
McGaffic said his wife said the student had a military background and was "very, very intimidating."
He described his wife as a person of deep faith and made a point of instructing her students in the spiritual aspects of health care. She'd worked as a volunteer chaplain at UMC and was considering making chaplaincy a full-time vocation.
Kind and considerate
Some students waiting expectantly in the parking lot said they knew the dead professors, describing them as good teachers who were kind and considerate. Other students waiting around said they'd run into students from the classroom, some begging for help. Some said they talked to people who'd hidden in the building until police told them it was safe to leave.
Anu Nigam, a microbiology graduate student, had just parked her car when a woman ran from the building, yelling that a man had a gun and to call 911. The girl was crying so hard that it was hard to understand her, Nigam said. Another student immediately pushed an emergency button at a shuttle stop. "The moment he hit it, we could hear the sirens," Nigam said. The woman ran into the pharmacy building, but other students ran to the parking lot.
"Running and screaming"
Jessie Mance, one of about 75 pharmacy students who were in an immunology class when the shooting occurred, said: "I heard the students running and screaming - we didn't know what to do."
Students were told to remain in their seats, knowing there had been a shooting but knowing nothing more about the gunman.
"That was the most nerve-racking part," Mance said, describing the next 10 minutes as terrifying. Many students cried. More than half took out their cell phones and called their families or close friends.
University officials took students from the nursing building and nearby buildings and offered them counseling immediately. Services also will be offered in the coming weeks, they said. Classes for the more than 1,600 students in the medical, pharmacy, nursing and public health colleges were canceled for the day, and officials were still deciding how to handle them today.
Similar situation for Likins
UA President Peter Likins was in a similar situation before - he was president of Lehigh University in 1986 when the Pennsylvania school recorded its first campus murder. Overnight, he said, Lehigh was viewed as a dangerous place.
He urged people not to think of the UA as dangerous and emphasized, along with police, that the killings were not random. However, he said it's too early to say if they will prompt security changes on campus.
He also asked for compassion for the victims, their families and witnesses to the shootings.
"We grieve for those whom we have lost in this tragedy and for their loved ones," he said. "The days ahead will be unspeakably difficult. Our prayers are with them."
Star reporters Joseph Barrios, Carmen Duarte, Sarah Garrecht Gassen, Inger Sandal, Jennifer Sterba, Eric Swedlund, Mitch Tobin and Ric Volante contributed to this story.
The day after the shootings, the Arizona Daily Star received a manilla envelope containing a 22-page letter written by the shooter and mailed the same day as the shootings.
Killer sends 22-page letter to publisher
Mitch Tobin
Arizona Daily Star
As he prepared to kill his professors and himself, Robert Stewart Flores Jr. mailed a 22-page typewritten letter to Arizona Daily Star publisher Jane Amari that tried to justify Monday's rampage as "a reckoning" and "a settling of accounts."
"Greetings from the dead. You have received this letter after a rather horrendous event," began Flores' rambling yet impassioned suicide note.
"I understand that I have committed homicide and that I have broken the laws of our society," he wrote. "I will save the taxpayers money and take care of the problem."
The letter was accompanied by a packet that included his nursing license, college transcripts, military evaluations, recommendations from employers and two birthday cards - one religious, one crude.
In his letter, Flores sketched in painstaking detail his failed marriage, poor health and perceived slights from a nursing school he claimed treated male students as "tokens."
Flores' letter mentions two of his victims by name, and two other University of Arizona staffers who were not hurt.
Flores' desperate depression permeates the text, which closes with his wish for "a well deserved rest" in suicide.
"I find no joy in the future. Even food seems to hold nothing for me," he wrote.
The portrait of Flores that emerges from his letter is that of a man pushed to the breaking point by his recent failures at school and home, someone who felt only his Great Dane loved him unconditionally.
It appears Flores wrote the letter in two stages separated by several weeks, with all but the first two pages written on the eve of his massacre.
"Tonight is my last night on this planet so I guess I will finish this letter," he wrote.
The Star offered copies of Flores' package to the three victims' families, all of whom declined to comment on its contents Tuesday night. Cheryl McGaffic's husband did not accept the materials, while families of Barbara Monroe and Robin Rogers accepted them.
Star justifies publishing letter
The package, postmarked Monday, was delivered in a plain Manila envelope to the Star newsroom Tuesday evening.
Amari, reached on a business trip to Northern Arizona, had not read Flores' package but said his decision to send it was "clearly the act of a desperate mind."
"The fact that he chose me had nothing to do with me," Amari said. "I think if he, in his unbalanced last moments, wanted to have a platform for what he was doing, the thing to do would be to send it to the news media."
Star Managing Editor Bobbie Jo Buel said Flores' letter, however one-sided, still constituted news the Star should publish.
"A basic element of any news story is 'why.' Why were Cheryl McGaffic, Barbara Monroe and Robin Rogers murdered?" Buel said.
But former Presiding Pima County Superior Court Judge Michael J. Brown opposed the publishing of any part of Flores' essay after he was read excerpts late Tuesday.
"There's no voice for the victims - it's 'I've been done wrong and I'm going to get my 15 minutes of glory after I've killed these people and shot myself,' " Brown said.
"I wouldn't run it because I think it aggrandizes someone who committed some terrible crimes. Why should he get space in the paper to tell about his life when he murdered three people?" Brown asked.
Brown said he was also concerned because it is unknown how many people in the community are also on the edge. "My concern is, you get copycat people from a psychological standpoint who identify with that letter or part of its contents or think similar kinds of thoughts and think 'Gee, I ought to do that,' " Brown said.
Shortly after receiving the package, Star editors called Tucson police, who took the documents as evidence and reviewed them Tuesday night. Police found no other suicide note from Flores, said Assistant Police Chief Robert Lehner.
The letter may shed light on whether Flores, who had five guns and some 200 rounds of ammunition, planned to kill others Monday, Lehner said.
"From the physical appearance of the scene it appears his plans were much more sinister than the end result, even though the end result was pretty sinister," Lehner said.
Police Chief Richard Miranda said analyzing the letter may help prevent future tragedies.
"Any information that we glean helps us be better able to understand and comprehend what is going on with these individuals."
Shooter mentions sniper
Flores recognized the world would soon be questioning his motives, and in his letter he sought to debunk some theories he expected people will float.
"To the sociologist, it wasn't the Maryland sniper," he wrote. "I have been thinking about this for awhile."
"To the psychiatrist," he wrote, "it's not about unresolved childhood issues. It is not about anger because I don't feel anything right now."
Addressing Boston Globe columnist Ellen Goodman, he said the gun control debate isn't relevant. "A waiting period or owner registration would not have stopped me. I have a concealed carry permit but I have never brought a gun to the University, (until now)."
Although Flores said his rampage wasn't about revenge, in the end he tried to justify Monday's murders as just deserts for an uncaring university.
"The University is filled with too many people who are filled with hubris. They feel untouchable. Students are not given respect nor regard."
Flores' letter underscores a key personality trait that he shared with others who have committed similar crimes, said forensic psychologist Paul S.D. Berg. The trait: narcissism.
"Look how self-indulgent this is," Berg said Tuesday night, after passages of the letter were read to him. "Everything is about 'me.' "
Flores' narcissism apparently motivated him to try to control how he is viewed posthumously, through the letter, Berg said.
"That's the height of a self-centered person who will not tolerate anything but total control over his destiny and all the information that comes out," Berg said.
But it's not that unusual among people who commit similar crimes, Berg said.
"They're afraid that if they do this kind of thing and remain alive, they will then be the object of hatred. They will be confronted with evidence of how bad they were."
Berg, who has worked mostly in California, is shifting his practice to Tucson. He is married to a College of Nursing faculty member.
Berg said Flores sounded bright in the letter and that he diagnosed himself, apparently correctly, with depression.
"There's a certain amount of insight even," Berg said. "Don't you wish this was the kind of thing he had brought to a therapist instead of to a publisher posthumously?"
Among the other details in Flores letter:
His childhood
Flores' letter began with a detailed accounting of his childhood. He complained of "marginal parents at best," including a police officer father who "wasn't especially physically or emotionally abusive. Just distant" and a mother who was "a classic enabler with low self-esteem."
A former boyhood friend, Henry Weiss of Rowland Heights, Calif., confirmed much that Flores wrote about his childhood. But Weiss questioned whether Flores comprehended why he murdered.
"It's like he's trying to combine everything into one last, giant problem to justify what he was going to do," Weiss said. "But in a rational life, we can't justify what he did. There's no reason to kill other people."
His marriage
Flores complained about his wife failing to get work after they moved to Tucson from San Angelo, Texas.
In describing a "stormy" divorce, Flores said his wife "stated all the politically correct buzz words" and falsely accused him of being "cruel and abusive." "She controlled the economics of the household for ten years so she could state that I kept her in economic bondage."
She could not be reached for comment.
His poor health
Flores wrote of a severe gastrointestinal illness suffered while serving with the military in Kuwait and Saudi Arabia, then blamed it on being "in the chemical downwind path when engineers blew up munitions and bunkers that had nerve agents stored in them."
He also complained of back pain stemming from a head-on car crash that damaged one of his discs, saying he couldn't sleep more than five or six hours and has trouble with his sex life and depression because of the injury.
His grudges against UA
Throughout the letter, Flores railed against the UA: "After the fact, the University of Arizona will attempted (sic) to portray me as a misanthropic, marginal student who was undisciplined and could not follow instructions."
As soon as he entered the UA's nursing program, Flores said, he felt "being a male and nontraditional student, and (shudder!) assertive was not compatible with the instructors."
He said he complained to Pam Reed, assistant dean of students, about instructors, but got nowhere. Instead, Flores wrote, Reed confronted him with the Student Code of Conduct and said he was "interfering with the conduct of the class."
Reed's husband, reached Tuesday night, said his wife had no comment.
Flores then wrote about Robin Rogers, the professor he shot first in her second-floor office. Rogers was in charge of Flores' first pediatric rotation and presented him with "four unsigned statements" from hospital staff and patients.
The criticisms "were a shock to me," he wrote, but before he could defend himself "Ms. Rogers cut me off and stated that it didn't matter what I said as the statements in themselves showed a trend and that she was failing me in clinicals because of it."
Next, Flores wrote of another victim: Professor Barbara Monroe. After a four-page, convoluted recounting of his dealings with Monroe, filled with medical jargon, Flores said Monroe gave him a failing grade.
Flores said he told Monroe the failure would make it impossible for him to pay his student loans or child support and that he wouldn't be able to renew his nursing license.
"I would be back in the same state I was in when I got out of the service, no marketable skills. Ms. Monroe stated 'It doesn't matter,' " Flores wrote, putting Monroe's comment in boldface. "The worse insult arrived when she stated that I was unsafe. That was the biggest insult."
Witnesses to Monday's shooting reported that Flores recounted that conversation with Monroe before shooting her to death, saying, "Well, it does matter to me" and "Are you ready to meet your maker?" before firing three shots.
UA President Peter Likins said he was saddened by the brief excepts he heard Tuesday night. But, he said, they also provided some insight into violent people.
"When people do horrible things, and this man did a horrible thing, we always ask ourselves after he fact, 'What could have been on his mind? What could he have possibly been thinking? How could he justify such atrocities in his own mind or was he so deranged he wasn't thinking at all? You ask yourselves those questions," Likins said.
The letter also clearly reveals, Likins said, that Flores lacked the mental stability needed to be a nurse.
Flores' letter also suggests he was superstitious and was striving for dramatic literary effect. He skipped from page 12 to 14, omitting Number 13. And on the letter's first page he debated whether to revise the text or to "subscribe to the Jack Kerouac method and write as the thoughts arrive for a more honest work."
The final days, 'regrets'
Flores cited his confrontation with Monroe as the "precipitating event" to his attack, then recounted his final days.
Last Friday, "when I was basically informed that I was washed up at the College of Nursing," Flores stopped by the IGA supermarket at East Speedway and North Swan Road. He witnessed a shoplifting in progress and helped a security guard subdue the thief, he wrote in a confusing section. "For my trouble," he wrote, "I received a rip in the only pair of good slacks that I had."
The IGA supermarket confirmed Flores' story about a shoplifter with a silver claw hammer but declined further comment.
That event, Flores wrote, "underscored the dichotomy of my situation" - he claimed he was caring for others but getting only grief in return.
In his final pages, Flores portrayed his life as hopeless. He couldn't pay his bills and had no time to socialize. "I am tired, tired and weary," he wrote. "I realize that I am depressed but even with treatment it will not change my future."
Although aware of his "hallmark pearls of depression," Flores said he couldn't follow one unnamed instructor's advice to seek medical help - "it cost money and I would get kicked out of the program if I was candid."
And, after referencing the flurry of lawsuits that followed the 1999 Columbine school shootings near Denver, Flores wrote that he didn't want to give "more ammunition" to litigants who might try to change the face of education at the UA.
In closing, Flores wrote of his "regrets" - his ex-wife estranged his children from him; he'd leave behind his dog, Bridgett.
Flores' last message
The following is a list of the contents of a Manila envelope addressed to Arizona Daily Star Editor Jane Amari. The package was received Tuesday at the Star's Park Avenue offices. All contents were handed over to police:
1. A 22-page, typed, double-spaced letter from Flores titled "Communication From the Dead," with Page 13 skipped.
2. Studio portrait of Flores with his two children.
3. Birthday card.
4. A second birthday card.
5. Texas Board of Vocational Nurse Examiners certificate to "practice as a licensed vocational nurse" dated 1995.
6. U.S. Army Certificate of Appreciation from Fort Huachuca, for outstanding marksmanship, 1988.
7. Letter for recommendation from an employer, 1995.
8. Letter of recommendation from another employer, 1993.
9. Certificate of attendance from a diabetes outreach program, 1996.
10. Military evaluation reports, 1985.
11. Resignation letter from Flores to an employer, 1996.
12. Letter from the UA Health Sciences Center, dated Dec. 20, warning Flores that his grades might cause him to be disqualified from the program.
13. Certificate of attendance, pediatric advanced life-support provider course, 1996.
14. Transcripts from Howard college 1992-1995.
15. Transcripts from the University of Arizona evaluating Howard College credit, 1994.
Star reporters Carol Ann Alaimo, Paola Banchero, Carmen Duarte, Stephanie Innes, Patty Machelor, Inger Sandal, Tim Steller and Enric Volante contributed to this report.
2001: 12 illegal entrants die in the desert
Dozens of illegal border crossers die each year in the Southern Arizona desert. they die from exposure, dehydration and injuries. It often is barely a blip on the national consciousness, but when a dozen died in one day, it was noticed.
From the Arizona Daily Star, May 24, 2001:
Desert kills 12 migrants
L. Anne Newell and Carol Ann Alaimo, The Arizona Daily Star
At least 12 illegal entrants died of heat exposure after a smuggler left them in the desert outside Yuma - the worst case of border crossing deaths in Southern Arizona in more than 20 years, Border Patrol officials said.
Agents had found 11 survivors by late Wednesday and were looking through the night along the Pima-Yuma County line for four others.
Temperatures climbed to 115 degrees in the Yuma area. Record highs are expected today, bringing additional worries about other migrants making the dangerous crossing.
"According to the information we're receiving, the smuggler dropped them off and never returned, leaving the undocumented migrants to fend for themselves," said Supervisory Border Patrol Agent Rene Noriega.
Noriega said the migrants, all male and believed to be from Mexico, realized they were in trouble and split into two groups sometime after the smuggler left them Saturday about 1 p.m. Members of those groups went for help and flagged down Border Patrol agents about 10 a.m. Wednesday.
The agents came upon some migrants in the rugged Cabeza Prieta National Wildlife Refuge, about 30 miles south of Dateland, 25 miles north of the border.
Noriega said a rescue operation began and agents in helicopters found the first group about 12:40 p.m. Seven were dead.
The second group was found a short time later, he said, with four members dead. A 12th migrant died on the way to the Yuma Regional Medical Center.
Machele Headington, a hospital spokeswoman, said 11 males ages 17 to 35 were brought in. Two were in serious condition and nine were in fair condition. All were suffering from heat exhaustion and dehydration.
The deaths triggered a wave of outrage from law enforcement officials and from activists who have worked to prevent such deaths.
"This is an absolute atrocity regarding the ruthlessness and the callousness of the smugglers. Their lack of care for human life is evident in this situation," Noriega said.
The Rev. John Fife, pastor of Southside Presbyterian Church in Tucson, has helped migrants for two decades. He said the deaths weren't surprising. "We absolutely knew this was going to happen, and they knew this was going to happen."
Fife said activists have been warning U.S. officials for years that the body count would explode unless the federal government changed policies that effectively funnel illegal entrants into the deadliest sections of the Sonoran Desert.
The Border Patrol's strategy in recent years has been to put a heavier buildup of officers in urban areas to discourage illegal entries there. That has led migrants to cross in more desolate areas.
"Christ would be weeping over the crucifixion of people in the desert," he said.
The news of so many deaths in one day gave Fife a sad sense of deja vu. He was around when the single-day death record for Southern Arizona was set in July 1980. The bodies of 13 migrants from El Salvador were found in Organ Pipe Cactus National Monument, about 50 miles east of Wednesday's tragedy.
The deaths led Fife to co-found the Sanctuary movement, a Tucson-based underground railroad for migrants fleeing persecution in Central America. Later, he was sentenced to five years probation for harboring illegal entrants.
Rick Ufford-Chase, executive director of Border Links, a Tucson-based group that aims to increase public awareness of border issues, agreed that Wednesday's tragedy was expected, given U.S. border policy.
"Last year, somewhere between 50 and 100 people lost their lives in the desert, but nobody gets morally outraged because it happened one or two people at a time," he said. "I'm outraged that there are people in Washington who think the way to control immigration is to give people a death sentence for coming into this country."
The Rev. Robin Hoover of First Christian Church in Tucson works with Humane Borders, a new group that has been setting up water stations in desert areas. He said the group hopes to get permission to put drinking water near the sites of Wednesday's deaths.
National Weather Service meteorologist Nic Sherwood said temperatures the next few days are "definitely going to be pretty bad. I'd expect the whole area to be somewhere between 111 and 114 degrees."
2003: Aspen fire burns Summerhaven community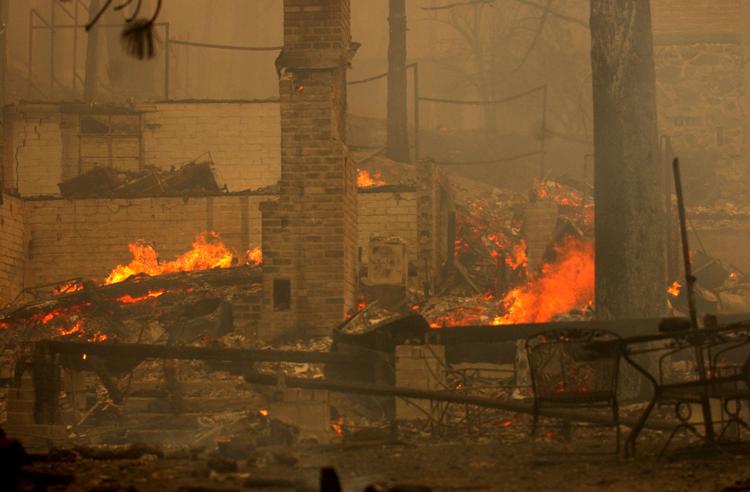 The community of Summerhaven, atop Mt. Lemmon, was forever changed when the Aspen fire ravaged the area in June, 2003.
The fire began on June 17, 2003, and was human-caused according the fire department. It ran through Summerhaven two days later. Some buildings survived, but the damage was severe.
From the Arizona Daily Star, June 18, 2003:
Mt. Lemmon blaze prompts evacuations
'Significant fire' burns 2-3 miles south of Summerhaven
Mitch Tobin
Arizona Daily Star
Summerhaven residents were ordered to evacuate Tuesday evening as a wildfire quickly leapt into the treetops of a forest still tinder dry from the drought.
The Aspen Fire was two to three miles south of the mountaintop village, near Marshall Peak, and burning through rugged wilderness.
The fire started at about 3 p.m. on the west side of Marshall Peak and soon climbed over the peak. Fire officials estimated its size at 100 acres by Tuesday night.
"They're calling it a significant fire," said Forest Service spokeswoman Sharon Brown. "I've been told it has lots of potential for growth."
The 30,563-acre Bullock Fire, which forced the evacuation of Summerhaven on May 25, 2002, burned on the other side of Mount Lemmon Highway, which firefighters used effectively as a fuel break. The Bullock Fire began several thousand feet lower in elevation, on the mountain's eastern flank, and took nearly a week to scale the range and force evacuations.
"It's déjà vu," said Don Underhill, owner of the Alpine Lodge, where about 50 residents had gathered before the evacuation order was given around 7:30 p.m. "We're probably a little stressed."
Summerhaven residents said little smoke was visible in the village. But Tucsonans could easily see an ominous column rising from the Catalinas by day, and the orange glow of flames by night.
The cause of the fire is under investigation, but it was human-caused, said fire information officer Heidi Schewel.
About 45 firefighters were on the blaze as of late Tuesday, with more coming today, she said.
Schewel said that unlike last year's Bullock Fire, which started in lower terrain not so heavily forested, the Aspen Fire started with a lot of fuel to burn. "Up here, once it gets cooking, it's really going to cook," she said.
Federal fire officials quickly assigned the same, elite "Type I" management team that handled the Bullock blaze. Such Type I teams are usually ordered only for the most threatening and complex fires. But the move may also be a reflection of how busy the fire season has become, said Mary Zabin-ski, a fire information officer with the Southwest Coordination Center in Albuquerque.
The Southwest's other Type I team also got marching orders Tuesday. It was assigned to the Cherry Fire, a prescribed burn in the Prescott National Forest that escaped control lines when winds kicked up. That blaze, reported at 400 acres, forced the evacuation of about 15 homes.
Another fire broke out Tuesday near the top of the Rincon Mountains east of Tucson. The fire, dubbed Helen's II, had burned a half-acre in Saguaro National Park. A fire crew was ferried to the site by helicopter.
The spate of fires that has broken out across Arizona in the past week has created more competition for firefighting resources, but it's nothing like 2002. "There's some juggling, but it's certainly not the scope of last year," Zabinski said.
Mount Lemmon Highway was closed at the base of the Catalinas and all residents living above Mile Marker 20 were told to evacuate.
The Pima County Sheriff's Department was assisting but was uncertain how many people were leaving. There are about 700 homes and 15 businesses in the Catalinas, most of them around Summerhaven.
The Red Cross was setting up a center at Sabino High School, 5000 N. Bowes Road, for evacuees.
Susan Glegg, a part-time Summerhaven resident who has owned her cabin for 21 years, was leaving the area Tuesday night and said the tight-knit community is tense during fire season.
"What really upsets us is our whole community is threatened by people who really don't understand they impact everybody," she said, referring to the man-made fire. "People come up to the mountain and don't mind using it but don't take care of it."
Fire-behavior models show the flammability of heavy fuels in the Rincons and the Catalinas remains far above normal, but still slightly below last year's figures, when high country timber was drier than lumber sold at hardware stores.
For months, experts have been predicting the 2003 fire season would be shorter than 2002's. But they have also warned that more extreme fire behavior was likely because of tree-killing insect outbreaks, the long-term drought and decades of aggressive fire suppression that have chocked the Southwest's forest with kindling.
In a sign of the danger facing Summerhaven, forest officials said that some "crowning" had been observed on the Aspen Fire, meaning that flames had reached the forest canopy, a situation firefighters are often helpless to counteract.
A pair of air tankers were expected to fight the blaze today, along with four "hotshot" crews, the best-trained and best-equipped wildland firefighters.
Firefighters are expected to face hot and dry conditions, with sustained winds from the southwest of 10 to 15 mph and a high temperature of 77 in Summerhaven, said Gary Zell, a National Weather Service meteorologist.
Radar imagery showed some thunderstorm activity over the Catalinas on Tuesday, he said.
Although there was neither sight nor smell of the Aspen Fire in Summerhaven on Tuesday evening, resident Fran Zimmerman said villagers are always worried anytime there's a fire on the mountain.
"That's part of living near big trees," she said.
Ironically, Summerhaven resident Alex Carrillo had just finished taking down some trees on his property, which borders the Coronado National Forest, when the Fire Department came by to alert him to the Aspen Fire.
Carrillo, who runs the Aspen Trail Bed and Breakfast, said he hopes all his clearing of brush and tree-cutting in recent years will make his property more fireproof.
"There's not a lot of burnable fuels directly behind us," he said by phone Tuesday afternoon, the sound of passing air tankers audible in the background. "Unfortunately, our neighbors haven't done the same."
Reporter Eric Swedlund contributed to this story.
2008: Phoenix lands on Mars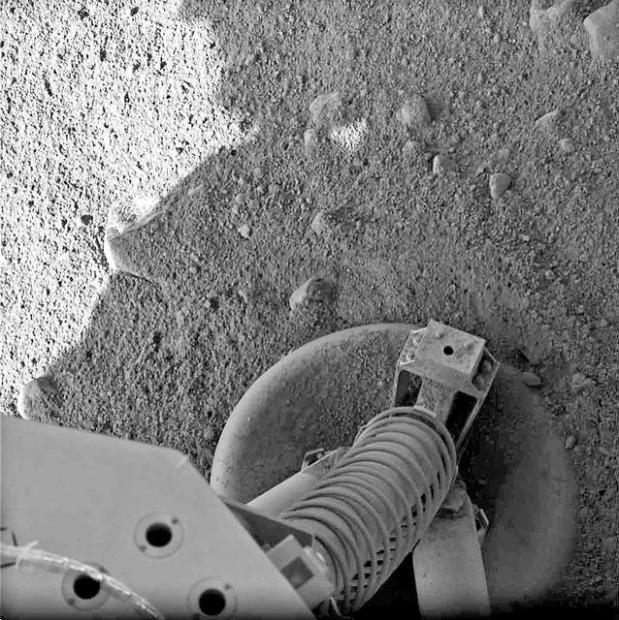 The University of Arizona led the project with NASA to send the Phoenix to Mars to explore. The lander touched down May 25, 2008, launching celebrations on Earth, especially at UA.
The Phoenix "talked" to NASA and the UA scientists for several months.
From the Arizona Daily Star, May 26, 2008:
Mars landing 'perfect'; images elate scientists  
UA contingent takes control from NASA
By Aaron Mackey, Arizona Daily Star
With a flawless landing under its belt, the UA-led Phoenix Mars lander unfurled its solar wings Sunday evening and captured unprecedented images of the planet's fractured polar tundra — signs experts say point to a subsurface filled with ice.
Capping off what University of Arizona scientists and engineers called a historic day for the UA, mission planners in Tucson took control of the Phoenix Mars Mission a few hours after the spacecraft touched down.
The UA team planned to work overnight to decide what tasks to have the lander do today, as it prepares to begin digging beneath the soil to analyze ice and determine if Mars ever had a climate suitable for life.
The lander is sitting "in an almost perfect position" at the planet's northern pole, said Peter Smith, UA's lead investigator on the mission, speaking from NASA's Jet Propulsion Laboratory in Pasadena, Calif.
"I was right to be optimistic," said Smith, who had correctly predicted that the final descent — dubbed "Seven Minutes of Terror" — would turn into "Seven Minutes of Joy."
"This team performed perfectly. They couldn't have done a better job," Smith said.
Mission planners expressed pride and awe after learning that Phoenix perfected a complex, 422-million-mile journey that went better than even the most optimistic projections.
"We never expected that it would be this perfect," said David Spencer, NASA's deputy project manager for the mission. "We didn't have any hiccups."
The landing is a relief for NASA since Mars has a reputation of swallowing spacecraft. More than half of all nations' attempts to land on Mars have failed.
In Tucson, Smith's wife joined a group of celebrants who popped champagne corks in the UA's Science Operations Center with hundreds of other onlookers. Nearby, a thousand people gathered on the UA Mall to celebrate the landing.
UA is the first public university to run day-to-day operations of a NASA mission. University engineers working on the lander's camera went to work almost immediately after getting word that Phoenix touched down safely.
Crews from the Jet Propulsion Lab in Pasadena transferred control over to the Tucson crew around 6:30 p.m. local time.
After the lander's main camera took pictures of its solar panels and landing legs to make sure everything was working, it turned toward the horizon and captured surface views of Mars unlike anything researchers have seen before, said Chris Shinohara, the Science Operations Center manager.
The images show a surface void of large rocks and riddled with shaped patterns.
Although Phoenix has had a great deal of success, including an entry that saw it launch a parachute, free fall and, finally, ignite small jets to land softly, critical steps remain before the lander can be deemed fully operational.
In the coming days, engineers will test all instruments on the lander to make sure they weren't damaged during the 10-month journey and are up to the task of exploring Mars for the next three months, Shinohara said.
Early data from Phoenix showed that the lander was charging its batteries and had turned on its heater, a vital aspect of the mission, as the planet has an average temperature of minus-81 degrees Fahrenheit.
Testing on the lander's robotic arm will be critical, as the mechanism is the keystone of the mission, allowing researchers to dig down into Mars' soil, Spencer said.
Mission planners expect the extensive testing to last several days. Once everything checks out, crews will begin looking around the lander and try to find a good place to dig.
In Tucson, engineers in charge of a full-scale mockup of Phoenix began working to put the test lander into the exact same circumstances that Phoenix faces.
As more images of the lander's surroundings are sent back, UA students and engineers will strive to create a near-facsimile of the lander, including placing the model on a slight tilt and arranging small rocks around it, Smith said.
Evan McKelvy, a UA student who works with the model, said he couldn't breathe during the final moments of the lander's descent, but now he's ready to get to work.
"Now that we've actually landed, we have to go get good science," he said.
It was the landing that had mission planners most nervous, though it turned out Phoenix encountered no problems during its descent.
Radio communication with the lander remained constant throughout the landing, with nearly all of the stages occurring at roughly the same time mission planners had expected.
"This was just perfect," Smith said of the landing. "It didn't seem real."
For UA's Pat Woida, one of the mission's lead engineers, the exhilaration is only beginning.
"She's talking to us, and she looks great," a thrilled Woida said, referring to the lander. "I will take whatever Mars throws at me now."
2010: Immigration bill SB 1070 hotly debated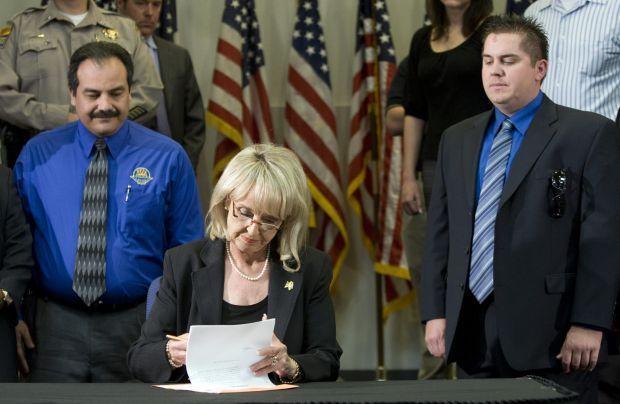 An immigration bill authorizing police to check the immigration status of those they encounter passed the Arizona Senate and was signed by Arizona Governor Jan Brewer.
The bill was protested in Arizona and all over the country. There was talk of boycotts of Arizona by tourists and organizations who might hold conventions in the state.
From the Arizona Daily Star, April 20, 2010:
Bill giving cops enforcement of legal status goes to Brewer
Howard Fischer, Capitol Media Services
PHOENIX - The question of whether police will be required to ask people if they are in this country legally is now in the hands of Gov. Jan Brewer.
On a 17-11 margin Monday, the state Senate gave final approval to a package of changes in state law that proponents say will help crack down on illegal immigration. Sen. Russell Pearce, R-Mesa, the architect of the plan, said state action is necessary because of the political failure in Washington to secure the border.
While some changes are minor, like making it a crime to stop in traffic to solicit a day laborer, the heart of the bill is aimed at what Pearce said is "removing the handcuffs" from local police.
SB 1070 would overrule any policy or procedure of a city council or police department that keeps officers from enforcing federal immigration laws. It also says, when practicable, police must inquire about the immigration status of those they encounter as part of their regular activities.
It permits anyone who believes police aren't doing all they should to sue, with judges required to impose fines of up to $5,000 a day if the citizen suit succeeds.
It also lets police arrest illegal immigrants and charge them with the state crime of not carrying their visas or resident-alien documents issued by the U.S. government.
Sen. Linda Lopez, D-Tucson, said the result will be racial profiling.
Pearce disagreed, noting the bill forbids race or ethnicity from being used as the sole factor in stopping and questioning someone.
Thomas Saenz, president and general counsel of the Mexican American Legal Defense and Educational Fund, said that if Brewer signs the bill his organization will sue to stop the law from taking effect. He said the law prohibits race and ethnicity from being a factor at all. That, and the wording of federal statutes specifically reserving all rights to enforce immigration laws to federal officials and those they designate, will be the basis of a federal challenge if Brewer signs the bill
Brewer was noncommittal about the legislation on Monday, other than saying she wants to ensure it does not violate equal rights or promote racial profiling. Brewer has to act before Sunday.
If enacted, the legislation likely would become the toughest state law on the issue of illegal immigration.
2011: Rep. Gabrielle Giffords shot in head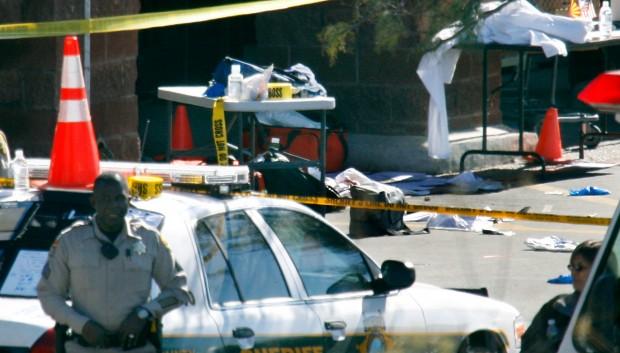 On January 8, 2011, U.S. Rep. Gabrielle Giffords was holding one of her "Congress On Your Corner" events at a Safeway Supermarket in Tucson when a gunman approached and shot her point blank in the head.
She survived, but six others were killed including a federal judge and a child. Several others were wounded.
Bystanders took the gunman down and disarmed him.
From the Arizona Daily Star website, tucson.com, January 8, 2011:
Rep. Giffords shot, judge and 5 others killed at Tucson event
Arizona Daily Star
U.S. Rep. Gabrielle Giffords was shot point-blank in the head on Saturday at a northwest-side grocery store, but surgeons say they are optimistic about her recovery.
Meanwhile, Gov. Jan Brewer's office is confirming federal Judge John Roll was among the dead, as was Gabe Zimmerman, Giffords' director of community outreach.
Sheriff Clarence Dupnik last night said there were six dead, including a child, among the 19 dead or injured. The girl slain in the attack was later identified as Christina-Taylor Green, 9. Later, Dorwan Stodder, a church volunteer, was identified as being one of the people killed.
Giffords was in critical condition following surgery at University Medical Center, said Dr. Peter Rhee, a UMC surgeon. The bullet passed cleanly out her brain, exiting her head.
Rhee said she was following commands, which is a good sign.
The shooting occurred at a Safeway supermarket where Giffords was holding one of her regular "Congress on Your Corner" events, which allows her to speak directly with constituents in her district.
The gunman has been identified as 22-year-old Jared Loughner, according to The Associated Press, although Dupnik declined to identify the assailant and said police are not convinced he acted alone.
Loughner has had at least two minor run-ins with police, according to online court records.
In October 2007, he was cited by the Pima County Sheriff's Department for possession of drug paraphernalia, a charge that was dismissed in November 2007 when he completed a diversion program.
One year later, in October 2008, Loughner was charged with a "local charge" in Marana Municipal Court. That charge was also dismissed following the completion of a diversion program in March 2009.
Court records indicate the Marana case file is due to be purged in December 2013. It's unclear what the exact charge was.
He had several nonsensical postings on various social-media sites.
Giffords has held several events since first taking office in January 2007 although this was her first event since her re-election to a third term in November.
"I've never been so shocked in my life as the events that happened today," Dupnik said, taking the opportunity to warn against "vitriol" in the political sphere.
"It's not only a very sad day for tucson and for the family, the friends of all the victims of this horrendous, senseless unbelieveable crime. But it's a sad day for America."
Giffords, 40, was talking to a couple in the store when a gunman rushed her, shouting as he fired his weapon.
The gunman fired at people in line and got within 4 to 5 feet of the congresswoman, said Mark Kimble, a former Tucson newspaper executive who is now on her staff.
The gunman fired at Giffords then ran out, continuing to shoot.
Members of Giffords' staff were among the wounded. District director Ron Barber remained in surgery, but his life was not expected to be in danger.
Pam Simon, Giffords' community-outreach representative, was also shot and injured, but expected to survive, Giffords spokesman C.J. Karamargin said.
Zimmerman, 30, who had a master's degree in social work from Arizona State University, had been with the congresswoman since her first election.
"He was a social worker through and through," Karamargin said. "He gave help to people for a living and he was very good at it."
Karamargin said Zimmerman was in the middle of making plans for his wedding, and the two had recently spoken about possible honeymoon plans.
He said the 9-year-old girl had been brought by her family to meet the congresswoman to see how government works.
He said Roll had worked with Giffords' office most recently in helping to secure funding for the Yuma courthouse.
A tearful U.S. District Judge Frank Zapata of Tucson, meanwhile, said he was "devastated" to hear of Roll's death. "We've been friends for 25 years and he was a tremendous judge and a tremendous person."
Karamargin said there was no warning, and said there had been no security at the event, although local law enforcement was typically notified of such town hall meetings.
When asked if there should have been more security at the community event, Karamargin said Giffords worked to be accessible to her constituents.
"She always prided herself on reaching out to the people who elected her and it would compound this tragedy if that were to change," he said.
She has done 20 such "Congress on Your Corner" events, he said.
Two individuals at the event tackled the man after the shooting, Dupnik said, adding there was still ammunition in the semi-automatic pistol.
Dr. Steven Rayle, a hospice doctor who used to work in the emergency department at St. Mary's Hospital, went to the event to meet the congresswoman, whom he'd never met before.
Rayle said he was walking toward her, about 8 to 10 feet away, when he saw a man about 2 feet away from her side shoot her in the head.
There was no warning of the shot, he said. The man didn't say a word.
The congresswoman fell to the ground and a staff member ran to her side. She was conscious and he saw her sitting up against a wall - signs he considered encouraging.
He said he heard another 15 to 20 rounds. He helped hold the suspect down after other witnesses tackled and disarmed him.
'It was surreal. Gunshots sound less real in person," Rayle said. "I thought someone was staging a protest. It just didn't feel real."
Alex Villec, a 19-year-old volunteer, organized the line of constituents when the shooter approached the line outside Safeway.
The shooter said "Can I talk to the congresswoman?", or something to that effect, Villec said. He told him to stand at the back of a line to wait for about 20 minutes.
A few minutes later, the shooter left the back of the line and walked toward Giffords amid a group of 20 to 25 constituents, employees and volunteers.
"He was intent," Villec said. "He was intent when he came back - a pretty stone-cold glance and glare. ... I didn't see his gun, but it was clear who he was going for. He was going for the congresswoman.
"A few staff members were caught in the crossfire ... . His goal was the congresswoman."
The shooter walked past Villec and to his left, past tables and toward Gifford. Villec saw him raise his hand and heard gunshots before ducking behind a pillar and later running across the Safeway parking lot to a bank for safety. "It was bedlam," he said. "People were getting down on the ground. They were screaming. I just did what I could to keep myself protected."
Matthew Laos, 43, was the first person in line at the event. He came to talk to Giffords about his U.S. Army assignment and show her an award he had received.
"I was proud to show her the award. And I even said to her that I was so proud she had won this election under the most difficult circumstances," Laos said, adding he spoke with her for seven minutes, then it dawned on him he was monopolizing her time, with some 20 people in line behind him.
As he was driving away, he saw law enforcement vehicles speeding by. "It was just too close to the event," he said, adding he had a strange feeling. When he got home, he turned on the news, then drove to Giffords' midtown congressional office, 1661 N. Swan Road, to try to get more information on her condition.
By noon, about 15 people had gathered at the office, some bringing flowers.
Mary Helen Kaser, 69, was crying when she arrived.
Kaser had worked on all of Giffords' congressional campaigns. She drew a parallel to the assassination of President John F. Kennedy. "This is as bad," she said. "Actually, this is worse, because I knew her so well.
"She was such a bright light on Congress. She had such a future. I hope she still does."
Shortly after 1 p.m., an impromptu gathering of people stood on the corner of Pima and Swan in front of the office.
Some held signs. Others held up the two-finger peace sign at passers-by.
One sign read, "Don't make this about politics. Republicans and Democrats deplore this kind of hatred and violence."
Another said, "Best American assassinated. Fight peace killers."
Marty Johnson, 36, held a sign on the corner, saying, "Let Us Mourn Together," as a shrine started in front of the congresswoman's nameplate.
"I came here hoping for a sense of togetherness and unity in mourning," he said.
The group later started a prayer circle.
Daniel Viehland, a 21-year-old student studying political science who was among the crowd gathering at the office, said he hopes people take a lesson away from the shooting.
"It's a symptom of what's been going on in this country," Viehland said. "On both sides you've got this extreme rhetoric." He noted Sarah Palin's controversial posting last year in which she put a target on districts she wanted Republicans to take back. "One thing this made me realize is I need to be very careful about what I say on Twitter or Facebook and make sure I'm not responding with anger," he added.
Last March, Giffords' Tucson office was vandalized after the House vote overhauling the nation's health-care system.
Giffords had just started the congressional session. She tweeted welcomes to new Republican Congressman David Schweikert and had just sponsored legislation, with Republican Congressman Ron Paul, to cut congressional salaries.
U.S. Rep. Raul Grijalva, Giffords' seatmate from Southern Arizona, said, "It's horrific. It's heartbreaking. It's very frightening. I hope she comes out of it. This is not what public service is all about."
The heated rhetoric and civil discord creates an environment for something like this to happen, he said.
He lamented a series of incidents demonstrating the buildup that leads to something like this, including an envelope of white powder sent to his Tucson office as well as a shot fired at his Yuma office.
"Gabby's contributions were all in the future. Her career was all in the future."
Washington, D.C., authorities urged his staff to "stay put," concerned about whether the attack might have been a conspiracy.
His family in Tucson now has security, but he doesn't know yet whether he will have a Secret Service detail in the future.
Giffords married Cmdr. Mark E. Kelly, 46, a NASA astronaut and Navy pilot from New Jersey, in December 2007 at a wedding attended by Robert B. Reich, the former labor secretary. Kelly flew in to be by his wife's side early this afternoon.
At the grocery store, Alfred Maynes stood outside the police tape waiting for his daughter Bryanna, 19, to emerge from Safeway.
The Maynes family was making pancakes at 9:45 this morning when they ran out of butter. Bryanna ran into the store without her cell phone and never returned.
She borrowed a phone inside to let her family know she was safe.
"I wanna talk to her when she gets out here," Alfred said. "We're assuming she's OK."
The White House sent out a statement mourning the "unspeakable tragedy."
"We do not yet have all the answers," President Obama said. "What we do know is that such a senseless and terrible act of violence has no place in a free society. I ask all Americans to join me and Michelle in keeping Representative Giffords, the victims of this tragedy, and their families in our prayers."
Giffords was elected to Congress in 2006, the third woman in Arizona history elected to Congress and the first Jewish member of Congress from Arizona. She is a member of the fiscally conservative Blue Dog Coalition in the U.S. House and was named by a political magazine as one of the most centrist members of Congress.
Giffords prided herself on her accessibility to the public, even though some of the meetings grew heated, particularly those focusing on the health-care overhaul. She held several large public meetings in 2009 about the legislation that drew vocal and rowdy protesters.
She told the Star during her tenure in Congress that speaking with the people she represented was one of the most rewarding, and sometimes difficult, parts of her job.
Jonathan Paton, a Republican who ran for her seat last year, said he was "devastated" by the shooting.
He recalled in 2000, when the two faced each other for the first time for a seat in the state Legislature, that they ended up on the wrong street and jokingly walked up to each other to deliver their political pitches. "Things got testy in the election, but she is a sweet person and a good person," Paton said, adding she is also "extremely smart."
Authorities are investigating dozens of victims and witnesses.
The FBI is involved in the investigation. Obama sent Robert Mueller, the bureau's director, to Arizona to head the investigation.
2012: Little girl missing from home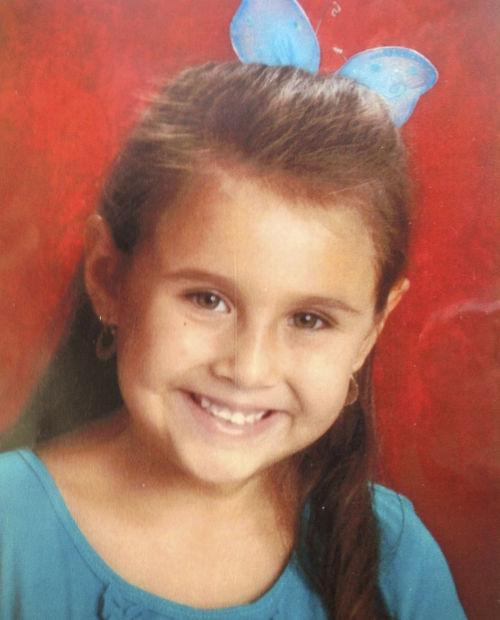 On April 21, 2012, Isabel Celis' father found her bedroom empty when he went to wake her up. He and his sons searched the home and then called police when the 6-year-old girl didn't turn up.
With each day that she wasn't found, anxiety and suspicion grew.
From the Arizona Daily Star, April 23, 2012:
Police still searching for missing girl, 6
Carmen Duarte Arizona Daily Star
About 400 people, many holding lit candles, prayed Sunday evening for a safe outcome in the disappearance of 6-year-old Isabel Mercedes Celis as the search for her continued for a second day.
Tucson Police Chief Roberto Villaseñor called her case suspicious and a possible abduction.
"We've used just about every resource we could find to try and locate Isabel," Villaseñor said at a news conference Sunday afternoon at a shopping center on the southeast corner of South Craycroft Road and East Broadway, where friends of the family gathered to pray.
Valerie Ballesteros, one of the vigil organizers and who works with Isabel's mother, said, "Children are a true blessing ... we have to give Isabel back to the Celis family."
Villaseñor said he could not provide new information on Isabel's case, but he said a multi-agency force had scoured a 2.5-mile radius looking for clues.
Investigators have "no definitive break-in" at the home, but they did locate some "suspicious circumstances surrounding a potential entry point," said Sgt. Maria Hawke, a Police Department spokeswoman.
Several search warrants were served at various locations, but Villaseñor declined to say what the searches revealed.
At this time, investigators are "not ruling out anything," Hawke said. She would not say if any materials were taken by investigators from the family's home.
Hawke did say there are "no names of suspects connected to this case."
Villaseñor said the investigation has not narrowed and that every possible scenario is being pursued.
Law enforcement teams have looked in buildings and in the open desert, conducting a "thorough, methodical search," and investigators are sorting through tips and leads, Villaseñor said. He said teams have revisited locations and have conducted interviews, but he declined to elaborate.
The search will continue today. Villaseñor said up to 250 officers worked on the case over the weekend.
Sex offenders living within a three-mile radius of Isabel's home have been interviewed by investigators, which is standard protocol, he said.
The family of Isabel, known as "Isa," told police the child went to bed at 11 p.m. Friday, and when a family member went to wake her up at 8 a.m. Saturday she was gone. The family did a quick search of the house before calling 911 to report her missing.
Isabel lives in the 5600 block of East 12th Street, near East Broadway and Craycroft Road, with her parents and two older brothers. The family is cooperating fully with the investigation, said Hawke.
The Rev. Miguel Mariano, pastor at St. Joseph Catholic Church, 215 S. Craycroft Road, where the family attends Mass, prayed with the family in solitude. "I assured the family they have the parish community's support and prayers. We are one with them in their time of distress," Mariano said.
The family is "emotionally distraught," and their faith is helping them through the ordeal, said Mariano. He described the family as "very quiet and private."
The schools that Isabel and her siblings attend will have counselors available to students, faculty, staff and parents, according to Bud Stewart, superintendent of the Academy of Tucson Schools.
Isabel attends the Academy of Tucson's elementary school, and her siblings attend the middle and high schools.
The schools will keep their schedule, and students and staff will not be interrupted, Stewart said in a press release.
Scores of police officers scoured Isabel's neighborhood all day Saturday, stopping anyone who came or went and checking inside cars and trunks. They also handed out fliers with Isabel's photograph and asked neighbors to be on the lookout for her.
Family, friends and volunteers had posted about 10,000 fliers with a picture of Isabel across the city by Sunday morning. She is shown wearing a dark blue uniform, holding a recognition certificate from her school.
The FBI sent agents and an evidence-recovery team to help in the search. A special FBI search dog arrived Sunday from Quantico, Va., to help.
The U.S. Marshals Office is helping in the search, and the Arizona Department of Corrections sent bloodhounds. Both the Pima County Sheriff's Department and the multi-agency Rapid Response Team sent search-and-rescue personnel. The Tucson Fire Department provided equipment and personnel.
Authorities did not issue an Amber Alert on Saturday because they said they were uncertain whether the child was abducted or walked away from her home. Federal guidelines require that law enforcement confirm that a child has been abducted before issuing an Amber Alert; the fear is that false alerts will make people stop taking the system seriously.
Also, in an Amber Alert, authorities must have the identity of a suspect, a description of the vehicle the child is traveling in and the location of travel - none of which fits Isabel's case, Hawke said.
At the vigil, people prayed the rosary and consoled one another.
"Tonight when you go home, give your kids an extra hug, an extra kiss," organizer Ballesteros said.
Friends opened an account for the Celis family. Ballesteros said the public can donate money to the family through Tucson Medical Center at https://www.tmcaz.com/TMCFoundation/
David Andrews, a co-worker of Isabel's mother, said she takes care of everyone else's children, and that he and others came to support the Celis family.
"Isa, we're looking for you, baby girl. We love you," he said.
Five years later, Isabel's remains were found in the desert in Pima County.
2014: Police officer shoves girl during crowd control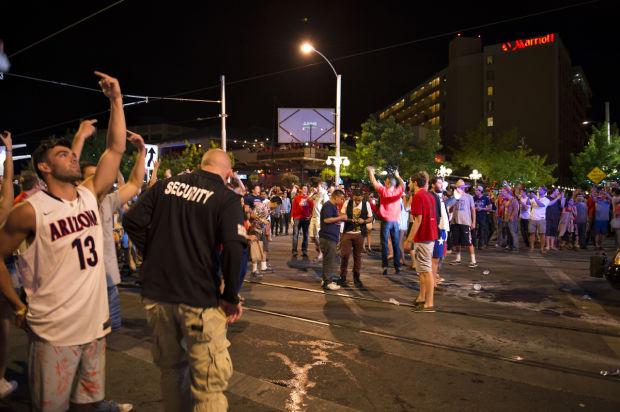 On March 29, 2014, following the Arizona Wildcats elite 8 loss in the NCAA tournament, crowds got unruly at Main Gate Square near the University of Arizona.
A video released after the incident on YouTube showed a young woman being shoved into a bench by a Tucson Police officer, sparking cries of police brutality.
An investigation ensued. The Arizona Daily Star reported on the results July 3, 2014:
Police chief rethinks tactics to deal with unruly crowds
Kimberly Matas
Arizona Daily Star
Tucson's police chief is rethinking tactics employed during the unrest that followed the University of Arizona's March loss in the NCAA tournament after a board of inquiry released its findings.
In a memo to the city manager released late Wednesday, Chief Roberto Villaseñor said not all of the board's recommendations will "prove useful," however, the department will have to take into consideration the power of social media to foment crowds and the effect a visible police presence has on large groups.
The raucous crowd that gathered March 29 at East University Boulevard and North Tyndall Avenue in Main Gate Square near the university following the Wildcats' loss in the Elite Eight round of the tournament was a departure from past years.
"In all the previous years we never had any problems for all the lead up games," Villaseñor said. "This year it was somewhat surprising for us, as well as other cities across the nation, that problems started occurring at the Sweet 16 level. We've never staffed this way for Elite Eight in the past. Staffing levels definitely played a role."
The police board of inquiry said TPD "staffing levels hindered the ability to quickly arrest the significant number of persons violating the law." Added the board, "The inability to address the conduct of persons inciting the crowd and fomenting riotous behavior allowed the situation to escalate."
The board suggested that during future crowd-control situations, in addition to more swiftly arresting "inciters," officers make greater use of "aerosol munitions" to disperse the crowd. TPD uses canisters of aerosolized pepper spray that can be thrown into a crowd to drive them back.
During the March unrest, nine aerosol canisters were used and about 200 rounds of pepper ball ammunition were fired.
Although the crowd was peaceful at first, some began taunting officers and throwing bottles, cups of liquid and firecrackers at officers.
TPD had what Villaseñor called a "significant presence" in Main Gate Square — almost 150 officers; enough manpower that leaders expected crowd members to obey orders to disperse.
Instead, "they're just launching stuff at us and staying there and not leaving and we'd push them back and they'd come right back in. It's unfortunate, but I think in the future we're going to have to staff additional (officers) to keep this from happening," Villaseñor said.
The board suggested the use of lights and sirens on policed cars may have agitated the crowd as did seeing officers dressed in riot gear.
Villaseñor said next time TPD will rethink having officers visible in full riot gear.
"I think this time it served to antagonize some of the kids," he said. "Maybe that's the lesson we learned to keep them out of sight." However, "You don't know which way to go. You have to protect your people. If I have them out there without helmets and face shields, I can't say they shouldn't have that equipment out there, but it's going to be the judgment of the incident commander.
"Maybe we'll still have officers nearby, but not visible so it doesn't become a focal point and a challenge," to unruly members of a crowd, Villaseñor said.
"It's an exercise in human psychology in some of these things and what sets them off," he said of the unpredictability of crowds. "I have no doubt we are going to be in the same situation next year."
He and senior staff also are considering asking the city council to enact an ordinance to create "celebration zones" for future "significant events" that would close streets to vehicle traffic and establish guidelines for business owners.
One area where Villaseñor has little control: social media. It likely played a part in stirring up the crowed, too, he said, especially after video went viral of one TPD officer appearing to shove several people on the street.
"Instantaneous communication, that shapes a perspective of an event," Villaseñor said. "If you look at all the coverage, it's the same clips over and over and over and that starts to shape people's perspectives that it's a war out there."
Though there were moments of volatility, the incident quickly subsided. Officers had the streets cleared within an hour and the only property damage was a bent street sign, Villaseñor said.
But from the video clips taken by people in the crowd, "the community, and for that matter the nation, has a whole different perspective of the situation," he said.
Video clips causing the most reaction featured Sgt. Joel Mann, an 18-year veteran of the TPD. One clip shows him shoving a young woman over a sidewalk bench.
Body cameras were worn by 50 TPD officers the night of the NCAA loss. Late Wednesday video from Mann's camera was released, showing the incident from his perspective. The clip shows a woman talking on her cell phone as she walks by Mann, seemingly unaware that he is repeatedly yelling for the crowd to "get back." As she passes, Mann rushes her and pushes her down on a bench.
Another segment of Mann's video shows him walking through the crowd yelling, "Get off the sidewalk." When he spots a woman standing next to a man who is seated at a sidewalk table, Mann walks up to her, shoves her down on top of the seated man and repeatedly yells, "Move." As the seated man struggles to stand up, Mann continues to shout at him to "move" while shoving him back down into his chair.
The Arizona Department of Public Safety and the TPD's Office of Internal Affairs have reviewed Mann's actions, and the FBI is reviewing his behavior for civil rights violations.
Though findings of those reviews have not been released, Mann will be served with a disciplinary action when he returns to the TPD in mid-August, Villaseñor said. He is currently on a military deployment.
"I can't talk too much about that right now. Even though the administrative investigation has been completed, it hasn't been served," Villaseñor said. However, he does not want Mann's behavior to mitigate the actions of the other officers working crowd control that night.
"The board said Sgt. Mann's actions were inappropriate. I agree, but there were a lot of good actions that night by our department and people who bash police just don't want to accept that," Villaseñor said.
"My officers, it hasn't been talked about enough, the amount of restraint they showed. For 20 or 30 minutes they were just enduring projectiles thrown at them. I think they showed restraint in responding to that and I think they minimized impact."
The video:
2015: Marana police vehicle hits suspect
On February 19, 2015, a Marana police officer struck a suspect with his cruiser. In April, the dashcam video of the incident went viral.
From the Arizona Daily Star website, April 14, 2015:
Dash cam captures Marana police car ramming suspect
On Feb. 19, a Marana police officer used his patrol vehicle to stop an armed man who was allegedly involved in multiple criminal acts across town.
The man, later identified by police as Mario Valencia, reportedly stole a rifle from a Marana Walmart store and fired the rifle as he walked away.
Here is the dashcam video:
Tucson celebrities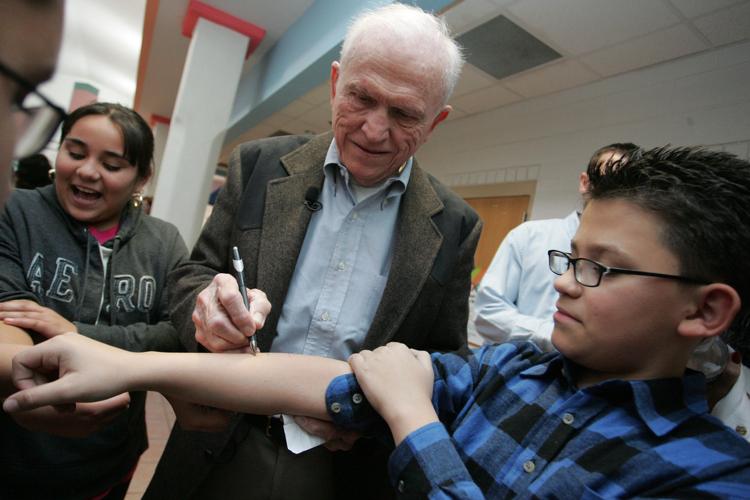 Tucson and the University of Arizona have sent their share of celebrities and mover and shakers out to the world.
Movies filmed in Tucson, Arizona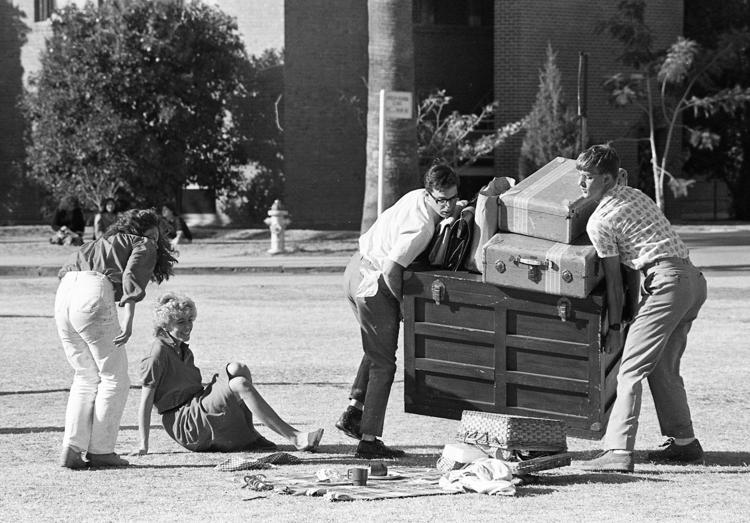 The following movies were filmed in or around Tucson, at least in part. Click the titles to link to the films' IMDB pages. Yes, we've probably missed some. Email eds@tucson.com
Aces: Iron Eagle III - 1992
Alice Doesn't Live Here Anymore - 1974
Almost Famous - 2000
Arizona - 1940
Away We Go - 2009
Baraka - 1992
The Bells of St. Mary's - 1945
Bodies, Rest & Motion - 1993
Boys on the Side - 1995
Broken Arrow - 1950
Cannonball Run II - 1984
The Cannonball Run 1981
Can't Buy Me Love - 1987
Confessions of a Dangerous Mind - 2002
Death Wish - 1974
Duel in the Sun - 1946
Easy Rider - 1969
Eating Out - 2004
El Dorado - 1966
Fast Getaway II - 1994
Fire Birds - 1990
Geronimo: An American Legend - 1993
Glory Road - 2006
Goats - 2012
Groom Lake - 2002
Gunfight at the O.K. Corral - 1957
Harley Davidson and the Marlboro Man - 1991
Hawmps! - 1976
Hombre - 1967
How the West Was Won - 1962
Jesus' Son - 1999
A Kiss Before Dying - 1956
Mary Shelley's The Last Man - 2008
Lilies of the Field - 1963
Los Locos - 1997
Lost Horizon - 1937
Major League - 1989
McLintock! - 1963
The Mine with the Iron Door - 1924
Nemesis - 1992
Night of the Lepus - 1972
The Outlaw Josey Wales - 1976
Perdita Durango - 1997
The Quick and the Dead - 1987 TV movie
Red River - 1948
Revenge of the Nerds - 1984
Rio Bravo - 1959
Rio Lobo - 1970
Romy and Michele's High School Reunion - 1997
South of Heaven, West of Hell - 2000
A Star is Born - 1976
Stay Tuned - 1992
Stir Crazy - 1980
Terminal Velocity - 1994
¡Three Amigos! - 1986
Tin Cup - 1996
Tom Horn - 1980
Tombstone - 1993
Transformers: Revenge of the Fallen - 2009
The Trial of Billy Jack - 1974
The Villain - 1979
The Westerner - 1940
White Line Fever - 1975
Winchester '73 - 1950
Wings - 1927
The Wraith - 1986
The Young Animals - 1968
Young Guns II - 1990