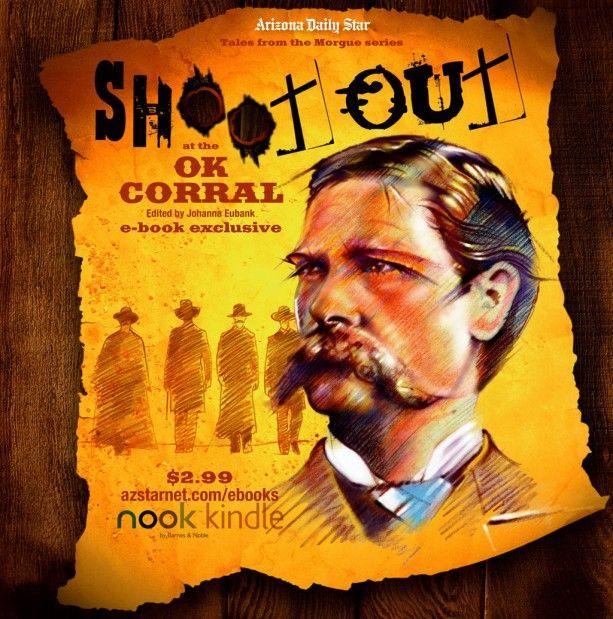 When the incident in Tombstone happened, it was barely a blip. The article in the Arizona Weekly Star didn't even have a headline.
If the Earps, Clantons and their respective companions had stopped there, Tombstone might not be a tourist site and dozens of movies and books would not exist.
Here is the story of the "sanguinary shooting affray" that ran in the Arizona Weekly Star, October 27, 1881:
(Special Dispatch to the Star.)
TOMBSTONE, October 26.—A sanguinary shooting affray occurred on Fremont Street this afternoon. Four cow-boys have been in town for a few days past, drinking heavily, and making themselves generally obnoxious by boisterous conduct. This morning City Marshal V. W. Earp arrested one of them for disorderly conduct, and was fined $25 and disarmed, in the Justice's Court. He left swearing vengeance. The Sheriff and Marshal Earp and his brother, Morgan, tried to induce them to leave town, but they were thirsty for gore, and refused to be pacified. About 3 p. m. the Earp brothers and J. H. Holliday met the four, who drew upon them at once, when a lively fire commenced from the cow-boys against the three citizens. About thirty shots were fired rapidly. When the smoke of the battle cleared away, it was found that Jim and Frank McLoury were gasping in the agonies of death, and Bill Clanton mortally wounded. Shortly after Morgan Earp was wounded in the shoulder, thought to be seriously. V. W. Earp received a flesh wound in the calf of the leg. Holliday escaped unhurt with several bullet holes in his clothing.
The streets immediately filled with resolute citizens, many of whom were armed with rifles and pistols. There is great excitement but no further trouble is anticipated. Ike Clanton, one of the cow-boys escaped with a slight wound and is now in jail. He was slightly wounded. The sheriff's posse are now under arms. Morgan Earp, after being wounded and fallen struggled to his feet and continued the fight till he emptied his revolver. His wound is not thought to be serious. Citizens are armed and determined to put down the riotous element at all hazards.
Read more of the story, told as it unfolded in the newspapers of the day, in the Star's ebook, available free for Star subscribers who have activated their account.