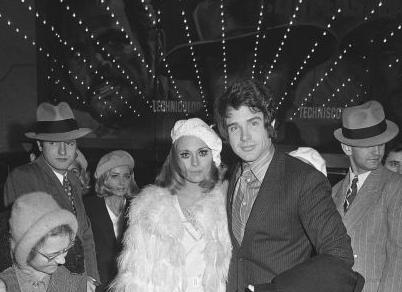 What are the odds that years after the famous pair, Bonnie and Clyde, made their names, there would be another Clyde Farrow (that's pretty darn close), and he would marry a woman named Bonnie?
The coincidence must have been quite an conversation starter at parties.
In 1968, however, Bonnie and Clyde had a bit of a legal issue with Old Tucson.
From the Arizona Daily Star, Thursday, March 21, 1968:
Rewriting The Script
Bonnie, Clyde Invoke Remedies Of The Law
Bonnie and Clyde are in the news again.
Clyde Farrow, and his wife, Bonnie, sued Farrow's employer, Old Tucson Development Co., sometimes involved in movies similar to one depicting the bank-robbing pair of the 1930s.
Mr. and Mrs. Farrow of today filed a lawsuit in May 1966 in Superior Court asking $25,000. While working one day in October 1965, Farrow was attacked and robbed of $94 by unknown persons. As a result, the suit contended, Farrow was investigated by police and eventually fired from his job.
Court Commissioner James Howsare yesterday dismissed the case after attorneys for both parties settled out of court on undisclosed terms.
We scoured the archives looking for more on this story, but nothing came to light. So we don't know why Farrow was investigated and lost his job. We doubt he was accused of robbing a bank. That would certainly have made the newspapers of the day.
Johanna Eubank is an online content producer for the Arizona Daily Star and tucson.com. Contact her at jeubank@tucson.com
About Tales from the Morgue: The "morgue," is what those in the newspaper business call the archives. Before digital archives, the morgue was a room full of clippings and other files of old newspapers.