Tales from the Morgue: Merry-go-round marathoner
George Fontaine broke the Guinness record for the longest marathon ride on a Merry-go-round in 1979. Compiled by Johanna Eubank, Arizona Daily Star.
He's taking a spin for the book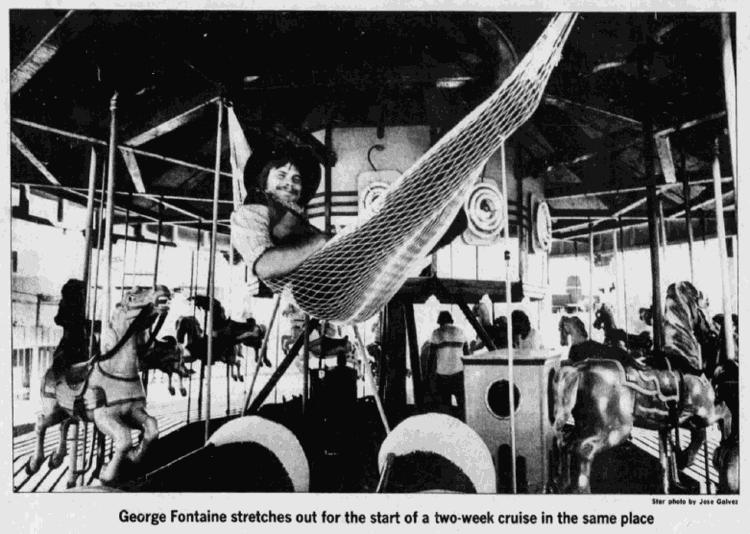 This article ran in the Arizona Daily Star Saturday Sept. 1, 1979:
For the next two weeks, surrounded by wooden horses, metal poles and shining mirrors, George Fontaine will try to sleep, eat and keep himself busy as his world turns. And turns. And turns.
Fontaine climbed aboard the carousel at the Tanque Verde Swap Meet at 7 p.m. yesterday to begin what he hopes will be a world record merry-go-round ride.
To set the mark and get his name in the Guinness Book of World Records, Fontaine will have to keep going in circles for more than 312 hours, 43 minutes, the record set Aug. 20-Sept. 2, 1976 in Portland, Ore.
If he goes the distance, Fontaine will be on the amusement ride for at least 18,764 fun-filled minutes. At the rate of five revolutions per minutes, that means he'll get to see the intersection of Tanque Verde and Grant 93,820 times.
The carousel will be open to the public during the record attempt with proceeds from anyone riding during the Labor Day weekend going to the Muscular Dystrophy Association. Three-minute rides cost 50 cents each.
Fontaine suggested a marathon ride to Swap Meet owner Richard Chapin when Chapin purchased the 23-horse contraption three months ago. Chapin suggested that since it was Fontaine's suggestion, Fontaine should do the riding.
Since Fontaine works for Chapin, he did not take the suggestion lightly. Besides, he said, he loves merry-go-rounds. Honest.
"I love the little kids and the music," said Fontaine, who has no previous history of irrational behavior in his 25 years. "I think it'll be fun."
To make things as homey as possible, Fontaine will have a television, books food and drink and a fishnet hammock tied between two of the horse poles.
"I've slept in worse places," Fontaine said, climbing into the hammock and trying to act comfortable. "When I was in the military I had to stay in a wall locker for 24 hours once."
According to the Guinness regulations for marathon stunts, Fontaine is allowed a five-minute break every hour, a necessary concession considering the merry-go-round is not equipped with a portable toilet.
Chapin said judges will be on hand to verify that Fontaine doesn't sneak off to solid ground. There will also be mechanics available in case the carousel, built in 1946, should break down.
Fontaine says he expects no adverse physical effects from his 13-day trip, although he admits he's liable to be a little cranky towards the end.
"I'm sure there will be some mental stress," he said, "but there should be no real problems as long as I'm eating right."
Merry-go-round marathoner halfway
This article ran in the Arizona Daily Star Saturday, Sept. 8, 1979:
More than halfway to his goal and an entry in the Guinness Book of World Records, marathon merry-go-round rider George Fontaine is not ready to shout, "Stop the world, I want to get off."
Although not worried about his own stamina, Fontaine is concerned about the merry-go-round's ability to make the two-week record.
"If it breaks down, I'll go out and hang myself," said the tired and now scruffy-looking 25-year-old yesterday, after a week of riding around and around at the Tanque Verde Swap Meet.
Except for the five-minute breaks he is entitled to each hour but doesn't always take, Fontaine has been on the carousel since 7 p.m. Aug. 31 to try to beat the record of 312 hours, 43 minutes set three years ago in Portland, Ore.
Along the way, he has raised $2,100 for the Muscular Dystrophy Association.
Circular saga is one for the Book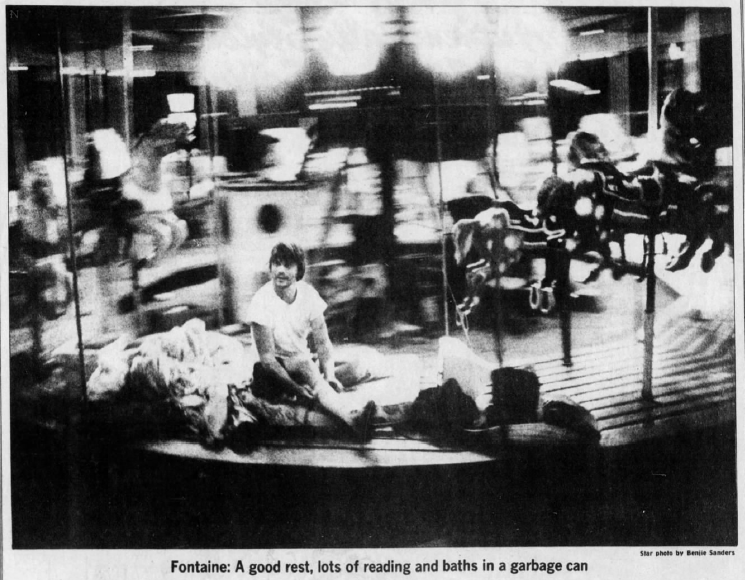 This article ran in the Arizona Daily Star Friday Sept. 14, 1979:
"The seasons, they go 'round and 'round, and the painted ponies go up and down."
—Joni Mitchell
That sone was about a young kid growing up, with Mitchell mentioning a carousel in the lyrical refrain as a metaphor for life, singing, "We're captive on the carousel of time."
So last night was George Fontaine, just as he had been since Aug. 31.
At 8:16 p.m., he qualified for a listing in 8-point type (compared to 9-point type for this story) in the Guinness Book of World Records. His feat: longest merry-go-round ride in documented history.
Unlike the song, Fontaine didn't grow up or spend all that much time aging. But he did have time to grow a beard, eat high on the hog — or ponies — read "The Amityville Horror," the "Lord of the Rings" trilogy, and something by Alexander Solzhenitsyn, which was just too much to recall last night.
Fontaine's major purpose in trying for the record was to raise money for the Muscular Dystrophy Foundation. Donations amounted to $2,199.37.
As he set the world record at the Tanque Verde Swap Meet, Fontaine turned away from viewing the "Holocaust television series to talk to reporters.
"I've had a good rest," he said, diving into a bucket of fried chicken and potato salad.
But the marathon revolutions haven't been all rest and relaxation. For instance, during some of the hourly five-minute breaks he has been allowed under the rules of Guinness long-term endeavors, Fontaine has taken fast baths — better than none at all — while standing in a green garbage can filled with water. As he soaps himself up, his wife Sylvia hoses him down.
But those are the breaks when you're going after the big time.
Perhaps worse off was the machinery that propelled Fontaine 'round and 'round at 6 mph for 312 hours and 46 minutes.
According to mechanic Jim Young, the 1946 Le Roy engine has already damaged a rod, and the continual stress meant the kids who came to watch Fontaine had to stay off the merry-go-round.
But Fontaine hasn't stopped yet.
He doesn't plan to say, "Whoa there, ponies" till he racks up 336 hours and 15 minutes at 7:40 tonight.
Carousel owner Richard Chapin promises a gala celebration with balloons and champaign. But George Fontaine isn't promising anything except a world record growing minute by minute.
Note: We attempted to find out who the current record holder is but the Guinness web site didn't reveal that news. It did show the record for the longest marathon amusement park ride at far fewer hours than Fontaine rode this carousel. However, Fontaine's record wasn't set at an amusement park.