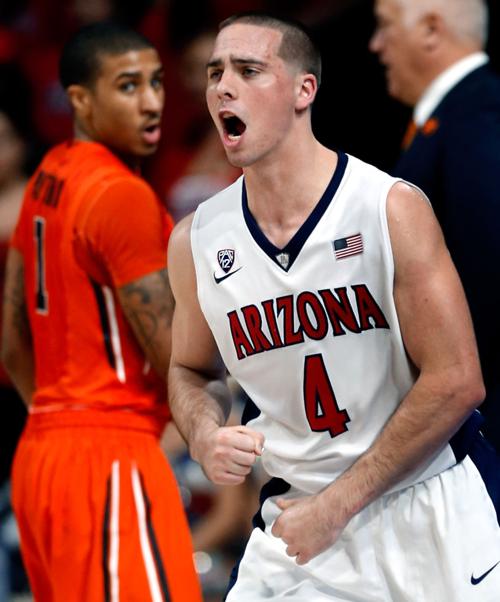 Arizona has produced seven Pac-12 basketball Players of the Year: Sean Elliott, Chris Mills, Damon Stoudamire, Mike Bibby, Jason Terry, Derrick Williams and Nick Johnson. All of them averaged at least 16 points a game.
Is T.J. McConnell due to be No. 8?
In the last week, Oregon State coach Wayne Tinkle and Pac-12 analyst Bill Walton both weighed in on McConnell's value and POY worthiness.
McConnell averages 9.0 points a game; the lowest average by a Pac-12 Player of the Year was Cal guard Jorge Gutierrez's 13.0 three years ago.
Gutierrez won the award in a down year of Pac-12 hoops. He was viewed as a defensive stopper. He had 39 steals that season; McConnell already has 48 this season, including eight Friday against the Beavers.
"He is the consummate playmaker, leader, winner. He's our team's heart and soul," said UA coach Sean Miller. "A lot of other players get credit and deservedly so. But nobody's more important to Arizona than T.J."
After Arizona beat Utah 69-51, a game in which McConnell scored 16 points and had six assists, Utes coach Larry Krystkowiak referred to McConnell as "the head of the snake."
Who scores more than McConnell? How about ASU guard Gerry Blakes and USC's Katin Reinhardt? But it's not about points.
I believe McConnell's greatest play as a Wildcat came with 2:44 remaining in last year's Sweet 16 against San Diego State. With Arizona up 54-51, McConnell dove to the floor, stealing the ball from Aztec guard Xavier Thames. Rather than call timeout in a jostle for the ball, he had the presence to whip it to Gabe York, who passed to an open Johnson for an easy layup. Game over.
You didn't see that on "SportsCenter's" Top 10 plays list, but it led to the year's most important victory.
"No player we've recruited has been more impactful than T.J." said Miller.
At the midpoint of the Pac-12 season, I, too, would vote for McConnell as Player of the Year in a close race over Stanford guard Chasson Randle.
Not bad for an undersized, 15-year-old guard who committed to Duquesne on Oct. 22, 2007, and eight years later has become a heavyweight.