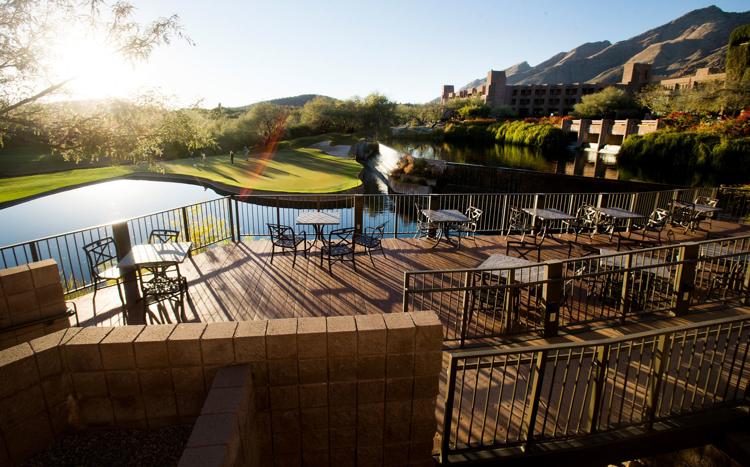 Given the decline and departure of so many Tucson sports enterprises over the years — spring training baseball, the LPGA and PGA tours, the Pacific Coast League and more — I was immediately attentive last week when I heard a radio spot announcing membership availability at the Ventana Canyon Golf and Racquet Club.
Ventana Canyon's golf properties are the crown jewel of Southern Arizona golf, the gold standard.
I had never heard them advertise membership availability.
I feared, much like the recent hardships of elite Tucson courses such as Golf Club of Vistoso and Arizona National, that Ventana Canyon might be next to be caught by financial issues in the declining golf industry.
So I went to the stylish Lodge at Ventana Canyon on Friday and it wasn't that way at all.
The practice area was alive, far busier than I've seen at the Randolph Golf complex on almost any day. Golf magazine teacher of the year Susie Meyers was giving a lesson. John Basden, one of Arizona's leading golf instructors, was giving a putting lesson on the practice green.
The tee sheet was booked until noon on a day it would reach 105 degrees in Tucson.
More members? This is golf's slow season in Tucson. Ventana Canyon's Saturday tee schedule included a robust out-of-town group that has been  flying here to play the members' scenic Canyon Course for the last 23 years.
I asked George White, CEO and General Manager at Ventana since 2003. He said the radio ads merely reflect the generational change in membership through the years. Most of those who were part of the almost 1,000 members at Ventana Canyon 15 to 20 years ago are getting older and not playing as much golf.
"This is a natural cycle," he said. "We're fine. But we do want people to know you can be a part of all of this."
The Ventana Canyon Golf and Racquet Club is not part of the Loew's Hotel business at Ventana Canyon. They have reciprocal agreements to help one another, but Golf and Racquet Club members paid $15.5 million to buy the Canyon Course from the Wyndham International hotel group in 2003. It has nicely survived the crash of golf that has affected most of Southern Arizona's golf facilities.
Amazingly, Ventana Canyon is now 35 years old. It seems like yesterday that ABC staged a made-for-TV "shootout" at the course, involving Tom Watson, Payne Stewart, Fuzzy Zoeller and Ben Crenshaw, among others.
At the time, ABC play-by-play man Jack Whitaker referred to Ventana Canyon as "a thing of beauty like few I've ever seen."