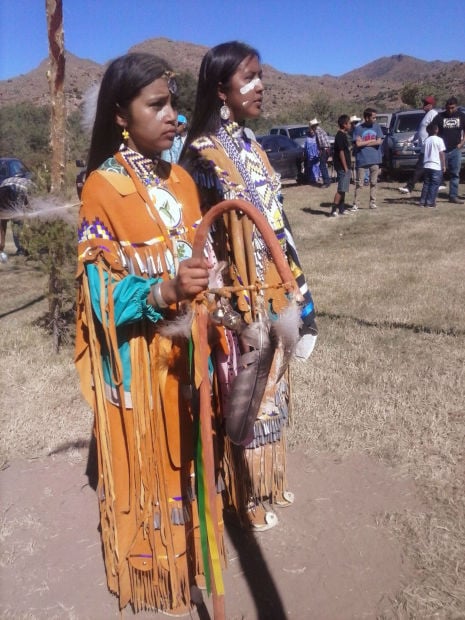 Apache leader Wendsler Nosie issued a call for solidarity in the fight against Congress' recent decision to give sacred Native American land to a foreign mining company.
Speaking to a crowd of about 75 gathered Friday in South Tucson, Nosie invited people of of all races, religions and political affiliations to stand up against what he calls the "dirty" way in which legislators approved the land swap in December. He invited everyone to a spiritual gathering and protest at Oak Flat, about 100 miles north of Tucson, next Saturday.
"This is not just our fight. This is an American battle," said Nosie, former chairman of the San Carlos Apache Tribe. The reservation's border is just east of the proposed copper mine at Oak Flat, sacred to Western Apache and Yavapai people.
Friday's event, held at the Global Justice Center in South Tucson, was hosted by Indigenous Alliance Without Borders, which advocates for the rights of indigenous peoples in the borderlands between Mexico and the U.S.
Speakers included representatives from the nonprofit Save the Scenic Santa Ritas and Arizona Mining Reform Coalition.
Since 2005, Resolution Copper Mining — a subsidiary of foreign mining giants Rio Tinto and BHP Billiton Inc. — has been trying to acquire 2,400 acres of Tonto National Forest, which sits above a massive copper deposit, through a legislated land-swap bill. A dozen earlier versions of the stand-alone bill failed to make it through Congress.
But the land swap finally made it through Congress last month, after legislators — led by Sen. John McCain, R-Ariz. — slipped it into the must-pass National Defense Authorization Act.
When Nosie learned the land deal had passed, "the only thing I could do was cry," he said on Friday. "Our indigenous homelands continue to be taken away."
SILVER LINING
But opponents say there's a silver lining to the way the land deal passed: The situation has now gotten national attention, provoking outrage and giving intense momentum to opposition, they say. Opponents intend to continue seeking legal or legislative ways to revoke the land swap.
"It took something devastating to happen for it to get attention," Standing Fox, a 30-year-old artist, said before Friday's event. He grew up on the San Carlos Apache reservation and is Chiricahua Apache. He's been working to organize resistance to the mine proposal for almost a decade. "It's all about taking the punches and looking to the next step."
The site of the proposed mine contains areas long held sacred to Native American tribes, as well as recreational sites beloved by birders, hikers and rock climbers.
Oak Flat, known as Chich'il Bildagoteel to the Apache, is the site of ritual collection of acorns and medicinal plants for tribe members, and coming-of-age ceremonies. The San Carlos Apache believe their spiritual beings reside in Oak Flat and in the nearby Queen Creek and Gaan Canyons, which could be dewatered by the mining activity.
Resolution Copper has projected the crater formed on the surface of Oak Flat, resulting from block-cave mining, would be two miles wide and 1,000 feet deep at its center.
MINING COMPANY RESPONSE
Resolution officials said on Friday they are committed to working with the tribes.
"We have been really trying for at least a decade to build a relationship with the San Carlos Apache Tribe to discuss mutual benefits of the project," including mining jobs that could help alleviate high unemployment on the reservations, said Vicky Peacey, Resolution Copper's senior manager for environment, permitting and community. "We've done a poor job of communicating the potential benefits."
The company is required to comply with cultural-protection regulations such as the National Historic Preservation Act and Native American Graves Protection and Repatriation Act, she said.
"Tribes with interest in the project must be consulted through the whole process," she said. "We will look for ways to avoid, minimize and — if we can't do that — mitigate, cooperatively with tribe's input, the impact of the project."
But tribe members, as well as U.S. Secretary of the Interior Sally Jewell, have said that tribes should have been consulted before the land swap gave away Native Americans' ancestral lands to a private company.
The latest version of the land exchange prohibits mining under the culturally significant cliffs at Apache Leap, but opponents say the mining company can't guarantee it won't be affected.
The legislation also guarantees that Native American tribes can continue to visit Oak Flat until it becomes too dangerous. That will likely be more than a decade from now, Peacey said.