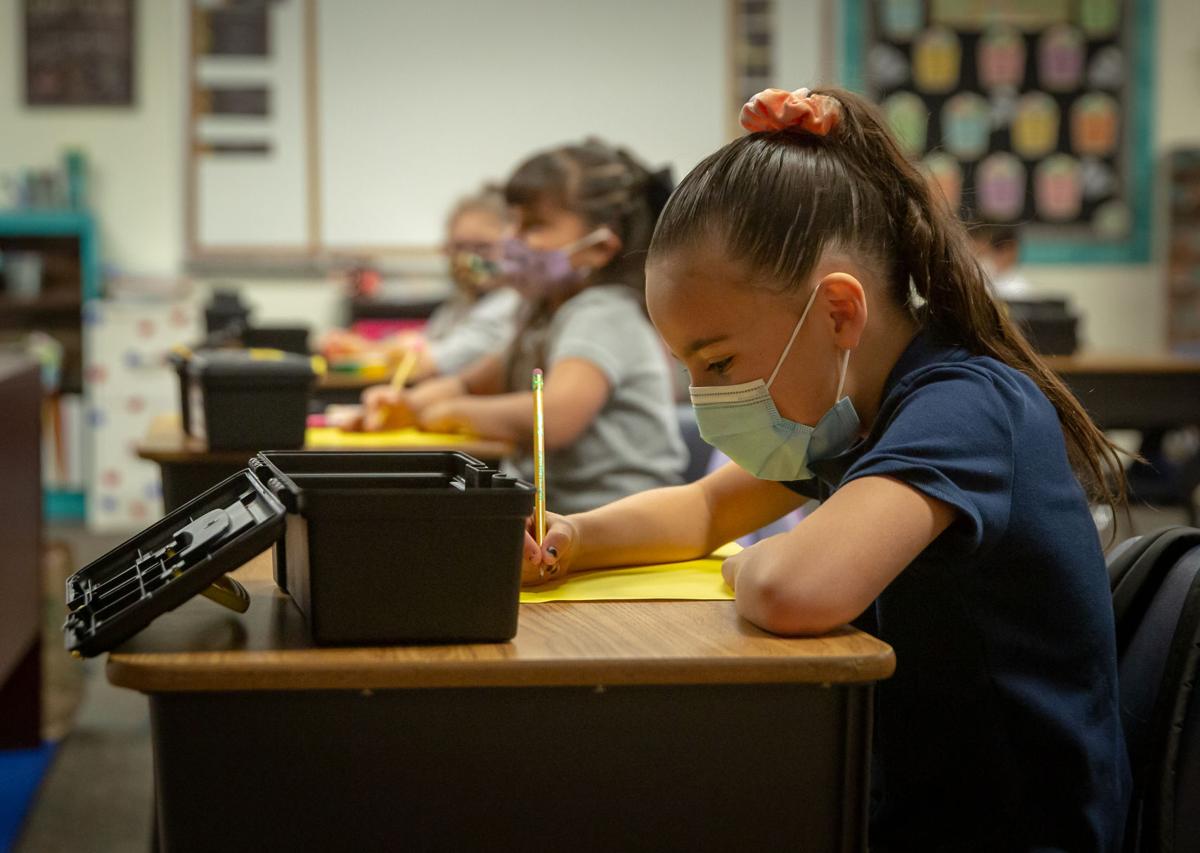 PHOENIX — A business group has spent more than $8.6 million in a last-ditch effort to defeat a state initiative that would hike taxes on the state's wealthiest residents to help fund K-12 education.
The disclosure, filed electronically on Saturday by the Arizona Chamber of Commerce and Industry, was filed at least four days after the deadline. Plus it was not made until a complaint was filed with the Secretary of State's Office.
The report indicates a third, separate pot of money designed to convince voters to vote against Proposition 208. It's also the largest since source of cash.
Arizonans for Great Schools and a Strong Economy has listed $3.7 million in expenses in its last report that was filed on time. That includes $350,000 directly from the Arizona Chamber.
And a separate No on 208 committee, financed by different business interests, posted a report detailing $1.8 million in spending.
But even with the new infusion of dollars directly by the Chamber — far more than the $350,000 it listed as directly contributed to the Arizonans for Great Schools and a Strong Economy — the opposition is still being outspent by proponents.
The most recent reports of the Invest in Ed committee show $21.6 million in contributions, fueled largely by $7.75 million from the National Education Association and $5.1 million from Stand for Children.
That latter group does not disclose its donors in its state campaign finance reports. And Rebecca Gau, executive director of the Arizona chapter, said she does not know as the dollars come through the national organization.
But the most recent financial report of Stand for Children Inc. list the major donors as The Michael R. Bloomberg Revocable Trust, The Ballmer Philanthropy Group and Stacy Schusterman, the last being a U.S. businesswoman, heirless and philanthropost.
The $16.9 million listed as spending by proponents, however, is not just on advertising and promotion.
It also includes what initiative organizer David Lujan said is about $4 million to hire paid circulators.
On top of that, he said, are the fees for attorneys — he had no figures — for the legal fight all the way to the Arizona Supreme Court to keep the measure on the ballot in the face of a challenge by the Arizona Chamber.
Disclosure is late
The Saturday disclosure by the Arizona Chamber says the money it has spent dates back as far as Sept. 15. And any expenditures through the end of September should have been disclosed in a report due on Oct. 15, a report the organization never filed at all.
The Oct. 26 deadline was supposed to cover all the other expenses between Oct. 1 and 17, the period leading up to the general election, including funding already set for yet-to-run last-minute commercials.
Chamber spokesman Garrick Taylor said that waiting until Saturday before disclosing any of his organization's spending was not intentional.
"We inadvertently did not file on time, and once the issue was resolved, the chamber took immediate action last week to resolve the filing," he said. And Taylor said the group's name was listed on advertising.
Saturday's filing came a day after David Lujan, director of the Arizona Center for Economic Progress, filed a complaint with state Elections Director Bo Dul pointing out that the Arizona Chamber apparently was spending money and had yet to file any sort of campaign finance disclosure report. Lujan helped write the proposition.
Support may be waning
The expenditures come as the most recent poll on Proposition 208, done by Monmouth University in New Jersey, show 60% of Arizonans questioned favor the measure that would impose a 3.5% surcharge on income above $250,000 a year for individuals and $500,000 for couples filing separately.
But there are indications that backing for the proposal may be softening.
An identical survey of registered voters done by Monmouth found 66% support in September. And opposition has grown from 25% in September to 34% in October.
And the Arizona Free Enterprise Club, which opposes the measure, said early last month that its own survey found just 47% in support. Supporters say the levy, which would affect only about 4% of filers, would generate about $940 million a year.
As described by backers, half of that would be for schools to hire teachers and classroom support personnel, a category that also includes librarians, nurses, counselors and coaches. Those dollars also could be used for raises.
Another quarter would be for support services personnel. That category covers classroom aides, security personnel, food service and transportation.
---
Election Day Guide: How to cast your vote
Many Pima County voters have already turned in their early ballots or voted early but a sizeable number of people will head to the polls on Tuesday, Nov. 3 to cast their ballots in person.
To help our readers more easily navigate the ins, outs and must-haves for voting in person in Pima County, the Opinion page team presents to you an illustrated guide to what you need to know.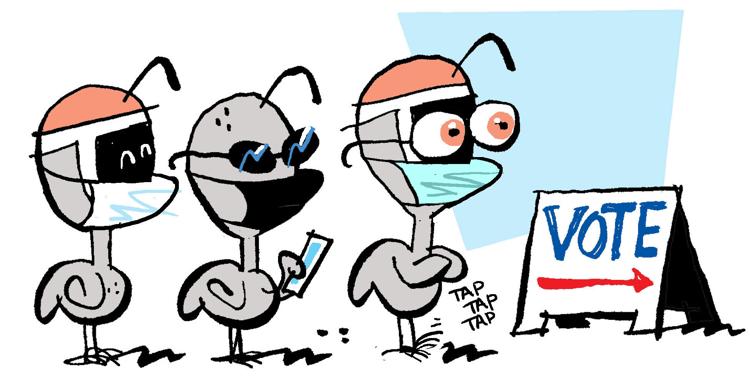 I'm a registered voter in Pima County. How do I find my voting precinct?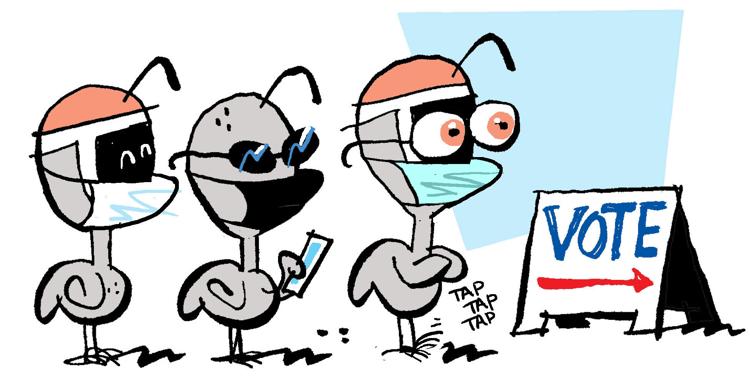 There are a few ways to locate your precinct. 
You can look at your Voter Registration Card, where your precinct number can be found near the top left-hand corner.
You can also go to the Pima County Recorder's website and, under the header "Voter Information," enter your address to find your voting precinct and what Congressional, state legislative, county, school districts and other districts you live in. 
More information: https://www.recorder.pima.gov/VoterStats/PrecinctDistrictData
OK, I know my precinct number, but what about the address?
Want to figure out what address corresponds with that precinct number? Head over to Pima County's "My Polling Place Locater" online and type in your mailing or home address and your precinct's polling place address will pop up.
Polling places can change from election to election, so double check the address instead of simply heading out to where you voted last time. 
You can also use a similar tool found on the Pima County Recorder's website.
Now that I know where to go, what should I bring with me?
This is where it gets interesting. If you have an Arizona driver's license or non-driver identification card, some form of tribal enrollment or identification form, or some type of federal, state or local government-issued identification card that lists your name and address matching what's recorded on the voter signature roster, you can proceed on to vote.
The poll workers will ask for your identification before passing you along to sign in and receive your ballot. 
For a better understanding of what to do if you don't have one of the above listed identification types, visit the Arizona Clean Elections website to parse through the different documents you can bring to help identify yourself and vote.
Hold up, there is a pandemic going on! Are there any sort of social distancing or mask requirements?
Voters will need to submit to social distancing guidelines and maintain 6 feet of space from each other while waiting in line and to please wear a mask. If a potential voter appears to be sick, or is unwilling to submit to required face covering protocols, they will not be allowed inside the facility — but they will still be allowed to vote. Election staff will accommodate those individuals outside the precinct facilities.
Additionally, voters are encouraged to bring their own blue or black pens to fill out their ballots and cut down on chances of COVID-19 transmission.
I want to avoid those Election Day crowds, but I still want to vote in person. Is that possible?
In Pima County, there are several early voting locations with varying times and hours of operation that will be open before Election Day, Nov. 3. For a complete list of early voting locations and hours of operation, visit the Pima County Recorder's website.
If you have your early ballot finished, signed and sealed, drop it off Nov. 3 at any polling location. DO NOT MAIL IT. 
I voted by mail already! But how can I make sure my vote counted?
Luckily, both the state and Pima County have easy-to- access portals for you to check on the status of your ballot. All you'll need to enter is your name, date of birth and either your voting identification number of your driver's license number.
I got to my precinct but was told I'd need to fill out a provisional ballot. Why?
Provisional ballots are given to anyone who is not listed on a precinct's roster, or who shows up without proper identification. This can happen if you have recently moved, you're at the wrong precinct, you requested an early ballot and lost it or if your voter registration has lapsed. 
Provisional ballots are counted once the voter's signature has been verified by Pima County Recorder staff. If you are given a provisional ballot because you brought no identification to the polling place, you must bring proper identification to the Recorder's Office before the ballot can be counted. 
An election isn't over until every eligible ballot is counted. It's worth casting a provisional ballot instead of wasting your opportunity to vote.