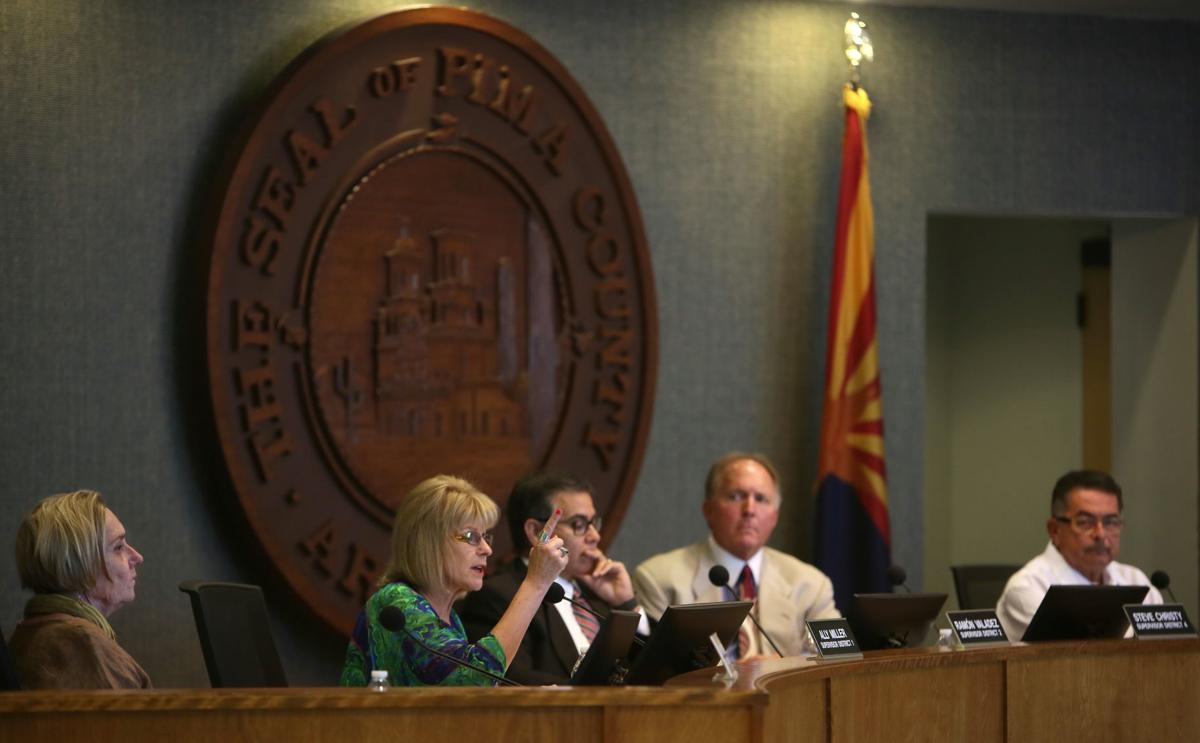 The Pima County Board of Supervisors voted 3-2 Thursday to extend business closures through April 10 due to the coronavirus outbreak.
The measure, which went into effect March 19, limits restaurants to drive-thru and takeout and also calls for the closure of fitness centers, movie theaters, bingo halls, performance venues and similar public gathering sites. Pharmacies, grocery stores, banks and other essential services are not affected.
While the closures were supposed to end by March 31, the supervisors voted to extend that timeline during an emergency meeting Thursday.
The decision coincides with Gov. Doug Ducey and Superintendent of Public Instruction Kathy Hoffman's order to close all K-12 public schools through April 10. The board said it will reconsider the business closure every two weeks.
Republican Supervisor Steve Christy voted no, along with Supervisor Ally Miller, to extend the closure based on what he called "arbitrary" reasoning and uncertainty for local businesses and employees.
"These deadlines, made only to be extended, cause damaging uncertainty to business," said Christy. "Businesses cannot survive on uncertainty."
The board also voted 4-1 to send a letter to the governor urging him to consider all options, including a shelter-in-place order, for the entire state. Tucson Mayor Regina Romero announced a similar plan Tuesday.
"What we want to do is flatten the curve," Supervisor Sharon Bronson said. "The sooner we act, the better. It's all uncertain. This is all new. Today does not look like tomorrow, and we may have to act differently tomorrow as we learn more about this virus, but again, we need to flatten the curve."
In addition to extending the business closures, the board adjusted the penalties that some businesses face for not adhering to these new requirements. While the initial measure established a misdemeanor charge for owners that violated the order, the county will now issue civil penalties instead. Businesses in violation of the order will be issued an initial warning and will receive financial penalties if the violation continues.
"It's difficult to tie up law enforcement for such a matter so we feel much better issuing a civil penalty," said county administrator Chuck Huckelberry.
The meeting also addressed the fact that certain businesses such as swap meets, farmers markets and hair salons that have continued to operate. While swap meets were not included in the order, Huckelberry said the Tanque Verde Swap Meet has voluntarily closed.
Last week, Ducey listed certified farmers markets, hair salons and barber shops as essential services in the state of Arizona, which are not required to close. Huckelberry said local farmers markets have developed specific guidelines to protect customers and employees as they continue to operate and provide necessary services for the public during this time.
As of Thursday afternoon, a total of 508 cases of COVID-19 have been confirmed in Arizona with 75 known cases in Pima County. The state health department has identified eight coronavirus related deaths in Arizona, including two Pima County residents.
Concerned about COVID-19?
Sign up now to get the most recent coronavirus headlines and other important local and national news sent to your email inbox daily.