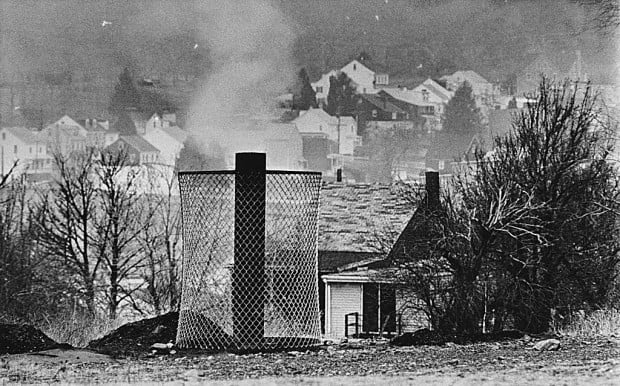 CENTRALIA, Pa. - Standing before the wreckage of his bulldozed home, John Lokitis Jr. felt sick to his stomach, certain that a terrible mistake had been made.
He'd fought for years to stay in the house. It was one of the few left standing in the moonscape of Centralia, a once-proud coal town whose population fled an underground mine fire that began in 1962 and continues to burn.
But the state had ordered Lokitis to vacate, leaving the fourth-generation Centralian little choice but to say goodbye - to the house and to what's left of the town he loved.
"I never had any desire to move," said Lokitis, 39. "It was my home."
After years of delay, state officials are now trying to complete the demolition of Centralia, a borough in the mountains of east-central Pennsylvania that all but ceased to exist in the 1980s after the mine fire spread beneath homes and businesses, threatening residents with poisonous gases and dangerous sinkholes.
More than 1,000 people moved out, and 500 structures were razed under a $42 million federal relocation program.
But dozens of holdouts, Lokitis included, refused to go - even after their houses were seized through eminent domain in the early 1990s. They said the fire posed little danger to their part of town, accused government officials and mining companies of a plot to grab the mineral rights and vowed to stay put.
Steve Fishman, attorney for the state Department of Community and Economic Development, said "benign neglect" on the part of state and local officials allowed the residents to stay for so long.
No more. Fishman told The Associated Press that the state is moving as quickly as possible to take over of the remaining homes and get them knocked down.
In 2006, there were 16 properties left standing. A year ago, the town was down to 11. Now there are five houses occupied with fewer than a dozen holdouts.
Centralia appears to be entering its final days.
The remaining holdouts, weary after decades of media scrutiny, rarely give interviews. But the town's mayor, Carl Womer, 86, said he doubts he'll have to go. Indeed, Lokitis and others believe that elderly residents will be allowed to live out their lives in Centralia, even after a judge decides next month how much they should be paid for their homes.
"Nothing's happened. We're still here," said Womer, whose wife, Helen, who died in 2001, was an implacable foe of relocation. "No one's told us to move."
Like Womer, John Lokitis Sr., 68, father of Lokitis Jr., was polite but short. "Why worry about it? When it comes, it comes," he said, shutting the door.
Those who remain in Centralia like to keep up appearances. In mid-January, Christmas decorations still adorned the street lamps, a large manger scene occupied a corner of the main intersection and a 2010 calendar hung in the empty borough building. But the holdouts are fighting a losing battle. The building's wooden facade is in dire need of paint, and in the Odd Fellows Cemetery vandals recently knocked over dozens of tombstones. Nature has reclaimed parts of the town.
In reality, Centralia is already a memory - an intact street grid with hardly anything on it. All the familiar places that define a town - churches, businesses, schools, homes - are long gone.
"It was a real community, and people loved the place," said author and journalist Dave DeKok, who has written about Centralia for 30 years and recently published "Fire Underground," an update of his 1986 book on the town. "People lived their entire lives in that town and would have been quite happy to get rid of the mine fire and keep on living there."
With swifter action, DeKok said, that might have been Centralia's destiny.
The fire began at the town dump and ignited an exposed coal vein. It could have been extinguished for thousands of dollars then, but bureaucratic half-measures and a lack of funding allowed the fire to grow into a monster - feeding on millions of tons of slow-burning anthracite coal in the abandoned network of mines beneath the town.
At first, most Centralians ignored the fire. Some denied its existence. That changed in the 1970s, when carbon monoxide began entering homes and sickening people. The town divided into two camps, one in favor of relocation and one opposed.
Finally, in 1983, the federal government appropriated $42 million to acquire and demolish every building in Centralia. Nearly everyone took the buyouts; by 1990, only 63 people remained.
Two years later, Gov. Robert Casey decided to shut the town, saying the fire had become too dangerous. The holdouts fought condemnation, blocking appraisers from entering their homes.
Until recently, Lokitis Jr. had been one of Centralia's most vocal defenders - star of a 2007 documentary. He expressed hope that the town could stage a comeback.
State officials say the fire continues to burn uncontrolled and could for hundreds of years, until it runs out of fuel. One of their biggest concerns is the danger to tourists.
While Lokitis felt he was in no danger, he had little recourse other than to move from his late grandfather's two-story row home.
He couldn't bear to watch the home get knocked down a few weeks before Christmas. But he couldn't stay away, either, going back after the wrecking crew had finished its work.
"It was part of my life for all 39 years, that house," he said. "It was difficult to leave it and difficult to see it demolished."