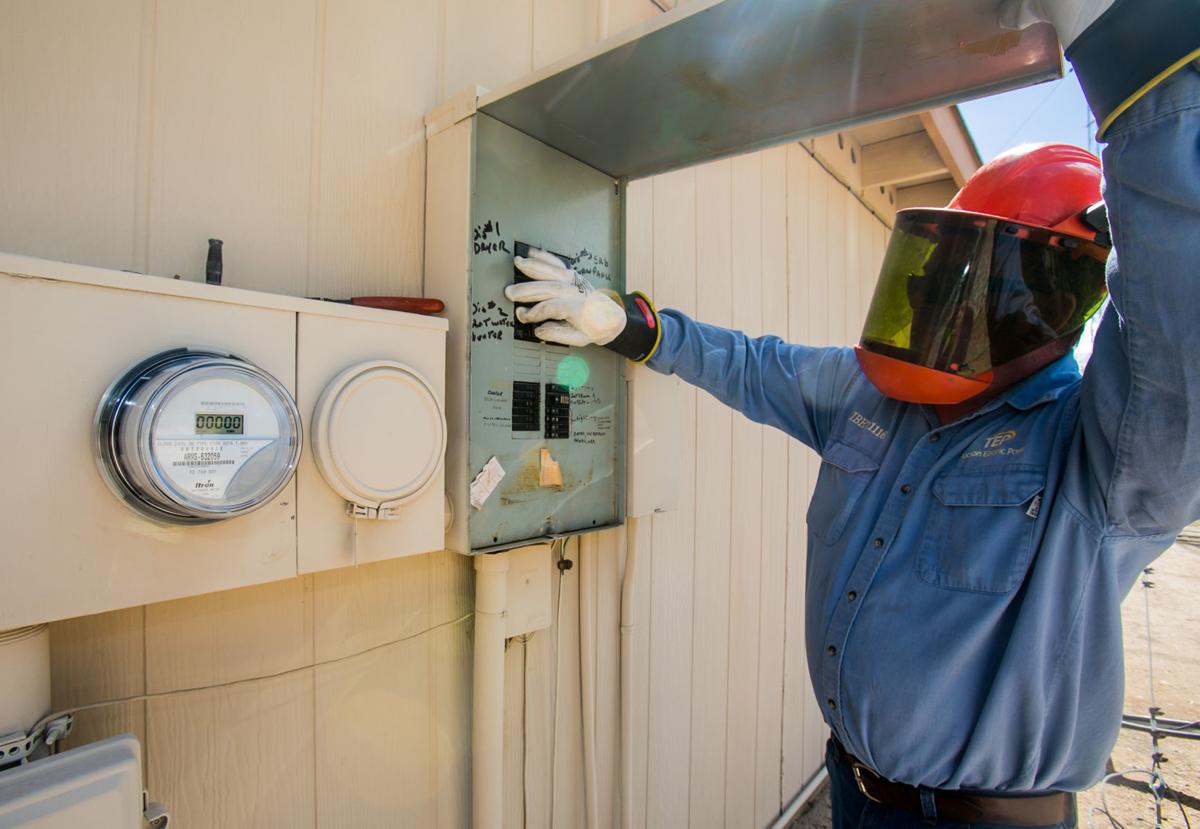 The bill is coming due for nearly 7,500 customers of Tucson Electric Power Co. who were saved from having their power disconnected for nonpayment under a summertime ban on shut-offs.
The Arizona Corporation Commission imposed an emergency ban on shut-offs in June, to run through Oct. 15, after the heat-related death of an Arizona Public Service Co. customer in Sun City West. That customer's power was cut off for nonpayment of $51.
As the moratorium ends, delinquent customers will owe hundreds more on their bills, but there are plans to soften the blow.
Unless they've contacted TEP and made other arrangements, customers whose accounts remain slated for shut-off at the end of the state-ordered moratorium Tuesday will automatically be placed on a four-month plan to pay off their arrears in installments, said TEP spokesman Joe Barrios.
The number of TEP customers slated for disconnection more than doubled during the first three weeks of September, to 7,418 from 3,108 total in July and August, TEP said in a report to regulators. TEP serves about 425,000 customers, including about 384,000 residential accounts.
The average past due amount in August was $484, TEP said, up 15% from August 2018.
TEP customers subject to disconnection will receive automatic phone notifications and letters with their regular bills, detailing their past-due balances and the amount of monthly installments they must pay to catch up, Barrios said.
TEP also will work out longer payment plans with customers who can't pay their arrears off in four months, he said, noting that the company always arranged payment plans on a case-by-case basis before the moratorium.
"If four months isn't enough, or you just need help paying the bill, our service reps deal with that all the time," Barrios said. "If we don't hear from anyone, they're automatically placed in this plan, but if they can't pay the first installment they need to call us."
TEP also refers customers to local agencies that distribute utility-assistance funding to low-income households.
The process is the same for UniSource Energy Services, a TEP sister utility that serves Santa Cruz and Mohave counties, which as of Sept. 20 had just over 1,000 customers slated for disconnection, he said.
Barrios noted that the emergency rule also prohibits disconnection of residential service if the customer's outstanding balance is $75 or less, if the customer has paid at least half of his or her outstanding balance within the last 25 days, or if the local weather forecast includes conditions that regulators determine to be "especially dangerous to health."
Any deposits will be applied to past-due amounts, TEP says.
Trico Electric Cooperative, which serves about 46,000 home customers in rural areas surrounding Tucson, said in regulatory filings that it had 335 disconnect-eligible accounts with an average bill of $440. The nonprofit co-op said the number of those delinquent accounts dropped in early October, as many customers contacted Trico to make payment arrangements.
Meanwhile, the Corporation Commission, utilities and other stakeholders have been considering new, permanent disconnect rules to apply after the emergency rule expires in mid-December.
State rules have long prohibited shut-offs that "would be especially dangerous to the health of a customer or a permanent resident residing on the customer's premises," or those with electrically powered "life supporting equipment."
At a stakeholders' meeting last week, some speakers, including a TEP representative, cautioned against extending the payment period beyond the four-month period in the emergency rule.
"We don't want to give them so much time that it goes into the next moratorium, because that's when you see the issue snowballing," said Denise Richerson, TEP director of customer service and programs.