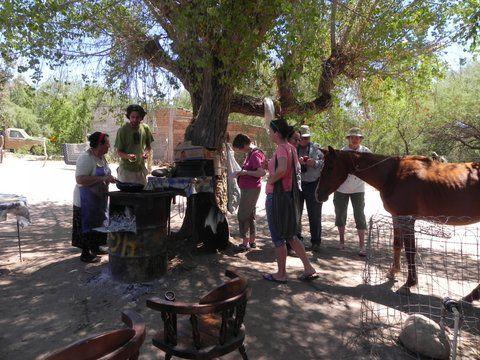 This originally ran Oct. 3, 2014.
There's a new kid on our folklife block, and its name is the Southwest Folklife Alliance. It grew out of Tucson Meet Yourself, when that organization started to move beyond the production of our festival in Tucson.
Now don't panic – the Tucson Meet Yourself festival will continue under the same name, with the same shape and mission, with the new Alliance as its support organization.
As my next two blogs will show, this year's TMY will be as exciting as ever, and perhaps even more so.
Under the dynamic leadership of Maribel Alvarez, the Alliance has formed a partnership with the University of Arizona's College of Social and Behavioral Sciences which will allow us to expand our activities and our geographic scope. (I say "our" because I'm on the Board of Directors.)
Over the last three years TMY has run three field schools, given two series of workshops called "Diggin' Deeper" and presented a few concerts and a one-day mini-festival, all in anticipation of this change.
Our hopes and plans for the future are much greater in scope. We hope to start a folk artist apprenticeship program with cash grants to both master and apprentice. We are planning a small-business incubator for traditional cooks, farmers, and food artisans. We have already begun to consult with other communities and organizations that wish to start their own folklife programs.
At the University, we have already hired Nic Hartmann as Folklorist in Residence and will increasingly provide opportunities for students to get involved in various projects. And of course we'll continue learning through fieldwork, and passing that knowledge on to the public by means of our programs.
And that's just the beginning. You can look for an explosion of projects over the next few years. And speaking personally, as one of the folks who started TMY back in 1974, this expansion exceeds my wildest hopes and dreams.
One way to keep up with what we're learning and doing is to read Borderlore, our monthly on-line newsletter presented by the University's Southwest Center. For information about this year's Tucson Meet Yourself festival, check out www.tucsonmeetyourself.org.