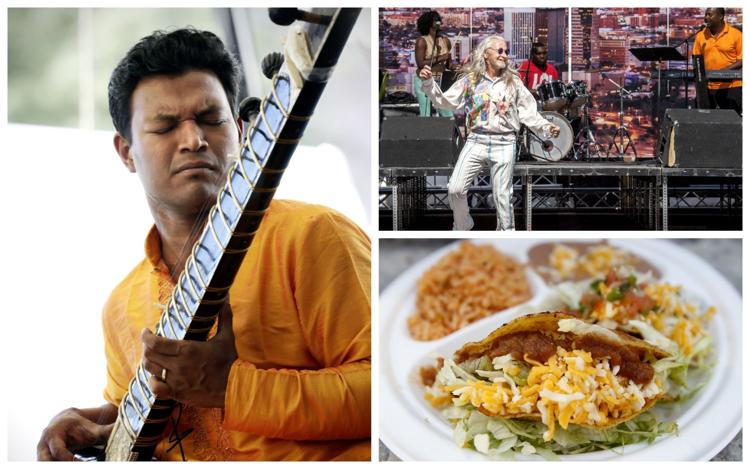 This originally ran Oct. 9, 2015.
Tucson Meet Yourself is happening, and here are some of the things to look for on Saturday and Sunday. You can also head Downtown today.
The more than 50 food booths will be open during festival hours with the usual mix of ethnic and regional goodies. (There will be lists and maps on our website, as well as posted in the park.)
Over at the Old County Courthouse, the folk artists will be demonstrating and discussing their traditional skills.
Yaqui and O'odham artists will be featured on Church Street just east of the Courthouse.
On Church south of Pennington, the Low Rider Show and Shine will feature a wide variety of beautifully customized cars.
The "100 Years of Anthropology" exhibit will be open both days in Jacome Plaza.
The annual AIDSWALK happens Sunday morning, followed by the ritual unfolding of NAME quilt panels in Jacome Plaza.
If that weren't enough, the usual rich assortment of music and dance performances will be presented on all three stages. This year, featured artists have been given the opportunity to bring in special guests from outside our region to augment their presentations. On Saturday, the featured artists include
Ragazona, with a program of Indian classical music,
Key Ingredients of African Soul, including music and dance from Ethiopia,
The Barbea Williams Performing Co., with African and African American dance, and
A Taste of My Cuba, with an overview of Cuban music.
On Sunday, the Lajkonik Polish Folk Ensemble will present a Polish Harvest Festival.
Those are just the featured presentations. In addition, there will be the usual wonderful TMY mix of genres and styles. When I tell you that Saturday starts with a Chinese Lion Dance and Sunday ends with a Tohono O'odham Circle Dance with everyone joining in, you'll get the picture.
In between there will be Mariachi music, Bluegrass, bagpiping, Iranian dance, and just about everything else you can think of. And with three stages, you can't possibly experience it all!
The best part is, that it's all free (except for the food and other sale items.) We'll be giving you plenty of opportunities to help keep it that way, by buying water, sodas, and T-shirts and by making contributions. We are now a membership organization as well, and you'll have a chance to join us! (Full disclosure: I helped start the festival 42 years ago, and am on the board of the Southwest Folklife Alliance, our sponsoring organization.)
A full program and other festival information may be found on our website, tucsonmeetyourself.org. Hope to see you at TMY!