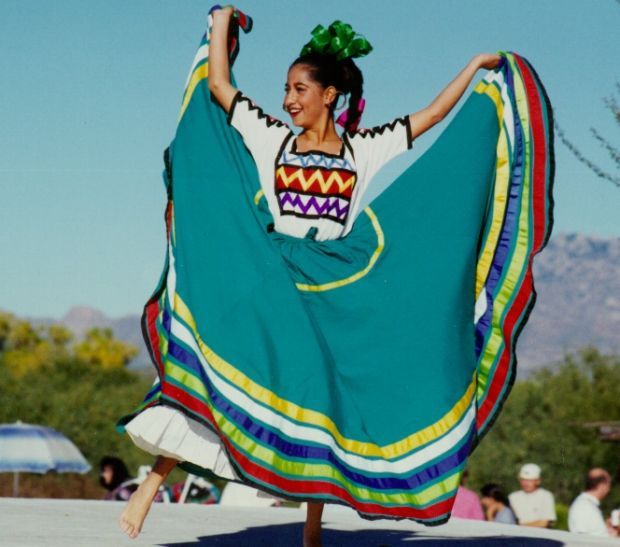 Let's interrupt our tales of lost mines and buried treasure to describe a real treasure in the upper Santa Cruz Valley: The 43rd annual Fiesta de Tumacácori, which will take place this year over the weekend of December 7th and 8th.
It happens at Tumacácori National Historical Park, just off I-19 south of Tubac, and is a celebration of all the cultures that have lived in and influenced the Santa Cruz Valley. There will be food, hands-on experiences, information booths and performances.
I look at it as a kind of Upper Santa Cruz Valley block party. It's a very neighborly, un-pressured affair with lots to do, see, hear and taste. Let's take a look.
On both days there will be tours of the mission and walks along the Santa Cruz. There will be folks selling Mexican, O'odham and other foods. There will be demonstrations of O'odham basket-making, horse-hair and rawhide braiding, tortilla stretching, and paper flower making. The kids' Discovery Corner will have hands-on traditional crafts and activities (the adobe making is always popular) and live raptors.
Saturday the stage will feature waila music, mariachis, folklórico dance, Apache Crown dancers, Latin music, and bluegrass, all from 9:45 a.m. till 5 p.m.
Sunday's program starts at 10 a.m. with a mariachi procession through the fiesta grounds, followed by a Mass in front of the mission church. (Please do not photograph the procession or the sacred dancers. There will be "NO PHOTOS" signs posted at the appropriate times and locations.)
Following the Mass, there will be old-time fiddlers, waila music, folklórico, and mariachis on the main stage. The final act of the day is traditionally a Tohono O'odham waila band, with everyone invited to dance.
It's a lot of fun, good food, interesting folks to talk with in the information booths and admission is free. There will be living history demonstrations at the fiesta, of course, but the fiesta itself is living history in a sense. A special day set aside from the rush of daily life in which one can worship, greet friends, eat special foods, and have various kinds of fun — that's been going on for as long as there has been a mission at Tumacácori.
I'll be going on Saturday — See you there! For more information, go to www.nps.gov/tuma