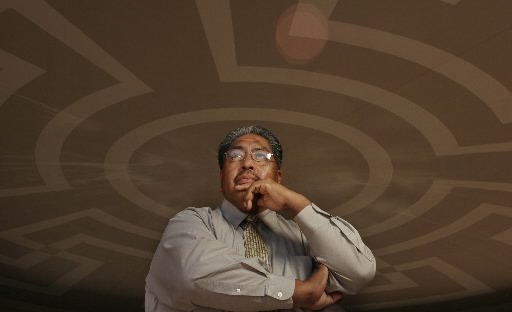 Tohono O'odham Nation Chairman Ned Norris Jr. says the law raises potential for racial profiling; Cuba and Mexico President Calderon also express their opposition.
TOHONO O'ODHAM NATION OPPOSES NEW IMMIGRATION LAW
SB 1070 is unfunded mandate; raises potential for racial profiling
SELLS, Ariz. – The Tohono O'odham Nation (Nation) strongly opposes enactment of Arizona's new immigration law, SB 1070. The law fails to address the border security crisis, while raising a host of troubling concerns about the potential for racial profiling, the burden on local police and the negative impact on the state's economy.
One of the most serious concerns the Nation has with this law is its potential for racial profiling of minorities, a concern shared by public officials and legal experts across the political spectrum. This is one of the reasons the Nation's Legislative Council passed a Resolution strongly opposing SB 1070.
"This law creates a hostile atmosphere for minority groups who will have to carry identification at all times just to prove their right to be here," said Ned Norris Jr., Chairman of the Tohono O'odham Nation.
As a result of these fears, the sense of trust between local law enforcement and their communities will be undermined. If a segment of the community is afraid to cooperate with the police, everyone in the community suffers for it. The ability of the police to do their real job—protecting the public—must not be hamstrung by a mandate to take on federal immigration responsibilities.
With 75 miles of international border with Mexico, the Nation has a unique perspective on this law. For decades the Nation has been on the forefront of the border security crisis. At various times, Tohono O'odham Police Officers have spent up to 60 percent of their day dealing with border security issues, for which the Nation receives no reimbursement from the federal government. SB 1070 does not address this crisis.
Because of this law, the state will most likely see fewer tourists and less investment, leading to fewer jobs and less revenue. The Arizona Hotel and Lodging Association has reported that in just a few days, meetings and conferences with an economic impact of more than $6 million have already canceled in protest of SB 1070. The Mexican government has issued a travel advisory against visiting Arizona, discouraging tourism from Mexico that contributes $10 billion annually to the state's economy. Arizona cannot afford this misguided law, especially in this economic climate.
The disastrous consequences of this law are what led the Nation and 19 other members of the Inter-Tribal Council of Arizona to formally oppose SB 1070 in a letter to Governor Brewer.
"This misguided and detrimental law must be repealed before it inflicts any further harm on Arizona," said Chairman Norris. "For its part, the Tohono O'odham Nation will continue its extensive efforts to assist in protecting the U.S. border on its lands. However, it is imperative that comprehensive immigration reform at the federal level is implemented in order to confront all aspects of this problem."
If you missed it, Mexico President Felipe Calderón outlined his opposition to the law while in Washington D.C.:
"Cuban lawmakers have passed a resolution denouncing Arizona's new immigration law as "racist and xenophobic," recalling an old dispute in the process: the argument that the United States' purchase of Arizona from Mexico in the 19th century was tantamount to theft."