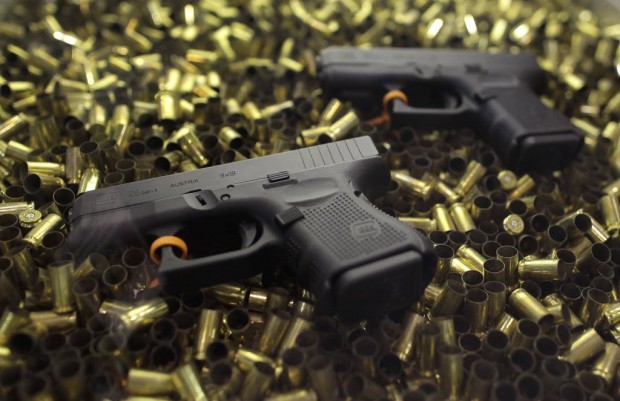 My colleague, Tim Steller, and I did extensive research for our Sunday story about gun issues raised by the Jan. 8 mass shooting in Tucson. As is often the case with these in-depth stories, not all of the interesting information we found made in the story.
Much of it will likely be included in future articles we write on the topic, but here's one nugget I thought you would find interesting — gun ownership levels in the United States over the last two decades.
Any guess on whether it's gone up or down?
If you guessed down, you were right.
The percentage of adults who personally owned a firearm has decreased from 29 percent in 1980 to 21 percent in 2010, survey data shows.
Here is a breakdown of the surveys done by the NORC over the past 20 years:
Year — Have gun in home/ Gun belongs to respondent
1980 — 52 percent/ 29 percent
1982 — 51 percent/ 29 percent
1984 — 48 percent/ 26 percent
1985 — 48 percent/ 31 percent
1987 — 48 percent/ 28 percent
1988 — 43 percent/ 25 percent
1989 — 49 percent/ 27 percent
1990 — 46 percent/ 29 percent
1991 — 44 percent/ 28 percent
1993 — 46 percent/ 29 percent
1994 — 44 percent/ 29 percent
1996 — 43 percent/ 27 percent
1998 — 37 percent/ 23 percent
2000 — 34 percent/ 22 percent
2002 — 36 percent/ 26 percent
2004 — 37 percent/ 26 percent
2006 — 35 percent/ 22 percent
2008 — 36 percent/ 24 percent
2010 — 32 percent/ 21 percent
Meanwhile, the National Rifle Association has made a new fundraising video aimed at countering the argument that American gun owners are to blame for the weapons being used in Mexico's drug wars:
The video brings into question the infamous "90 percent" statistic about Mexican crime guns coming from the United States. The NRA calls the figure a myth.
Here's the accurate way to describe the statistic: 90 percent of the guns recovered in Mexican crimes in the past three years have been traced back to the United States, according to data from the Bureau of Alcohol, Tobacco, Firearms and Explosives, commonly known as the ATF.
That's no myth, but it doesn't account for all the guns not recovered and traced in Mexico, which is why the NRA has long disputed the claim. They say are so many guns unaccounted for that the figures is irrelevant. The gun rights organization also says fully automatic rifles, grenades and rocket launchers used by the Mexican cartels are illegal to sell in the United States, and must come from other countries.
If you interested in the the issue of guns being smuggled from the United States to Mexico, here are three stories and blog item I've written about increased efforts by the U.S. to slow the southbound flow of guns to Mexico and the challenge they face: